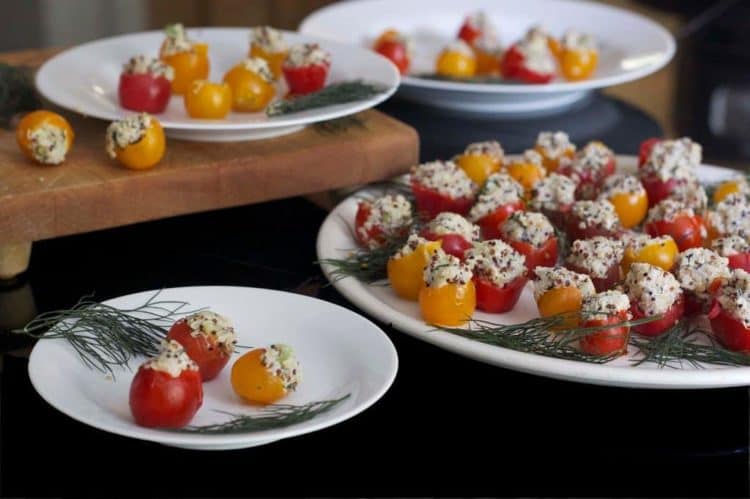 Tomato season is approaching its height, here in Wisconsin.  There seem to be tomatoes everywhere you turn; at the farmer's markets, the produce stands, our garden at home, and even at our little cottage where our sole plant has a lone Charley Brown-style tomato that is almost ready for picking.  Yes, we have tons of tomatoes and I'm making it my personal mission to take full advantage of this manna that is offered to us only during these last days of summer.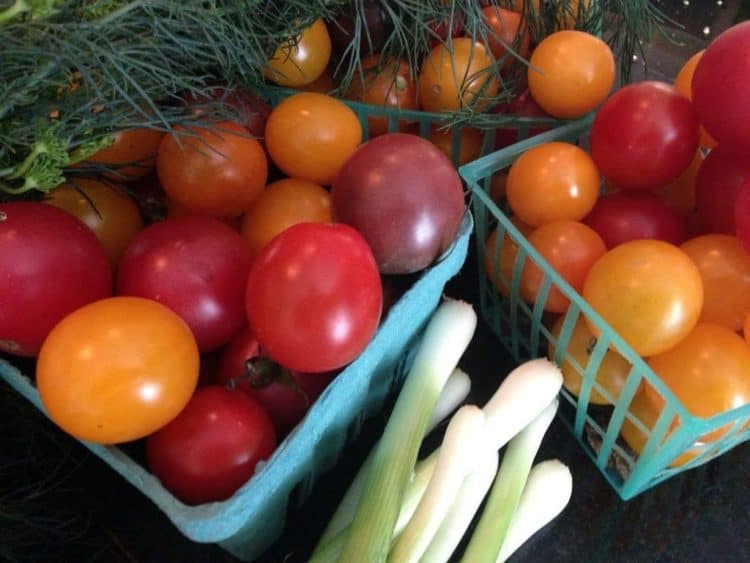 A couple of Fridays ago we decided to do an overnighter on Friday, in town.  Typically we make a beeline for the lake on Friday afternoon but perhaps because we were kidless we veered off course a bit and headed up Saturday mid-morning.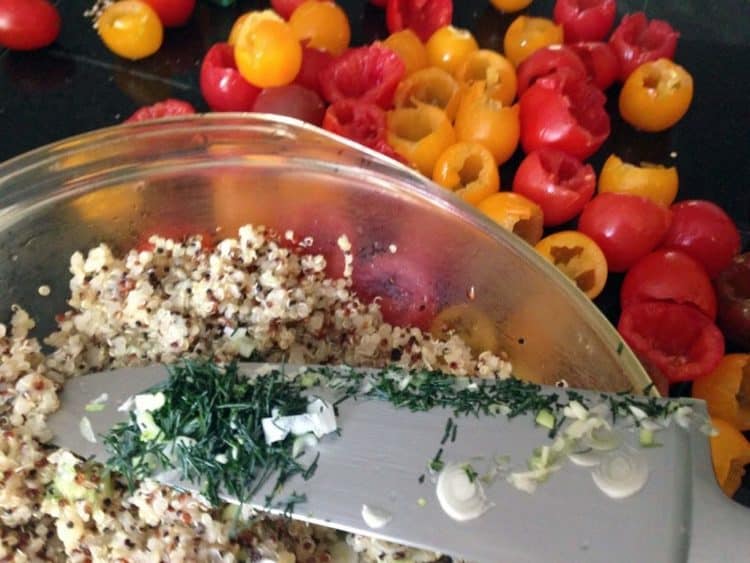 Elkhart Lake is a mostly summer town and being close to the cottage, it is also a favorite place to grab a great cup of coffee in the morning and stroll about the small farmer's market.  Knowing the market is usually packed up before the noon hour I wasn't optimistic we would be able to pick up some fresh produce that day but nonetheless was looking forward to a great sandwich and cold draft at the Lake Street Cafe.  As it turned out, the farmer's market was open, even a few minutes after we pulled into town.  Not only did I get the cold beer and delicious sandwich I was pining,  when we returned to the cottage we brought with us a bag of fresh dill, green onions, and 2 pints of some yellow and red cherry tomatoes.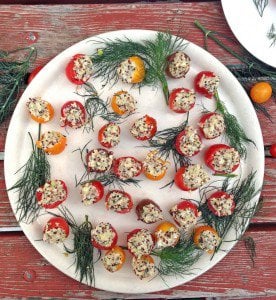 Many of you reading this post are familiar with quinoa (pronounced keen-wah.)   If however you are like I was, you may be wondering what all the buzz is about when it comes to quinoa.  In a nutshell, it's a nutty-tasting seed, it's delicious, it's full of anti-oxidants and protein.  Take a look at this link for more information on quinoa.
Now that you may have learned a little bit more about quinoa, one more very important thing I should share with you is this:  It's very easy to make.  A sauce pan filled with hot water, a cover, and about 15 minutes.  What could be more simple?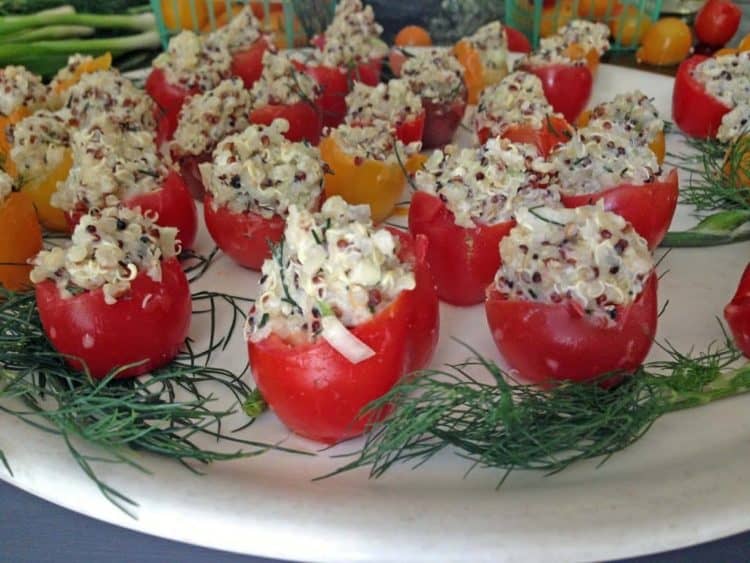 This was the first time I've made anything with quinoa, it won't be the last and so if you are a Platter Talk follower, you can be sure there be more dishes and ideas using quinoa coming down the line.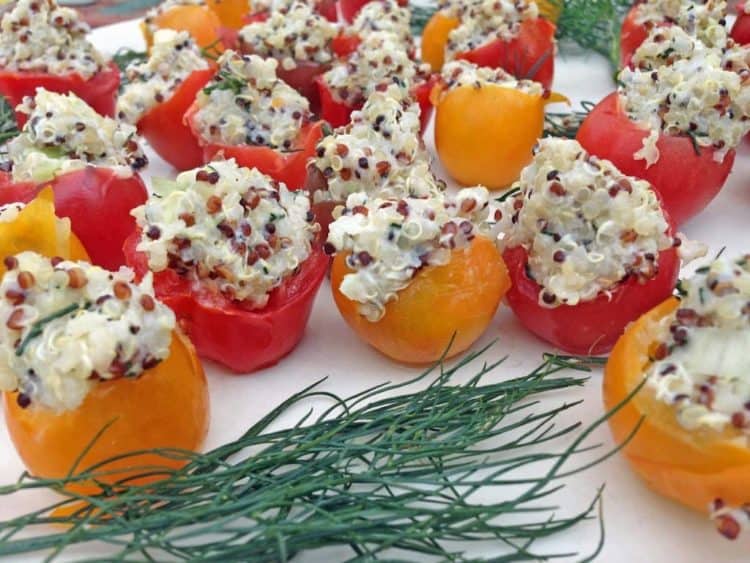 These went with us to a church picnic on Sunday afternoon and seemed to go over pretty well.  I intentionally went a little light on the amount of goat cheese that I used but next time I will step it up a notch.  Quinoa lends itself to all sorts of complimentary formats and it seemed to do particularly well with the creamy structure lent by the cheese.   The 90-plus degrees, the cold beverages, and the fun crowd all went well with this little appetizer.  Give it a try and let me know what you think!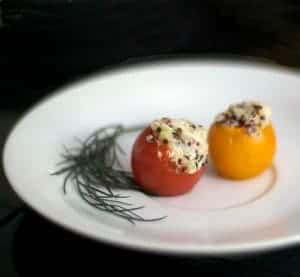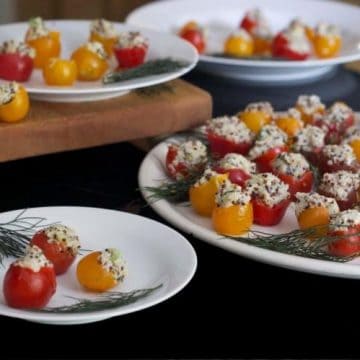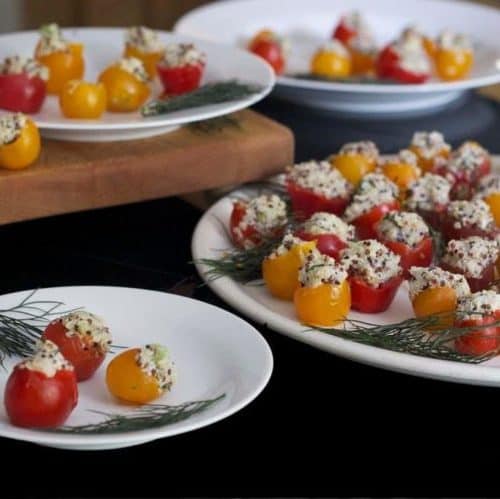 Quinoa and Goat Cheese Stuffed Cherry Tomatoes
A Platter Talk Exclusive
Print
Pin
Rate
Ingredients
2

pints

cherry tomatoes

4

oz

goat cheese

1 ½

cup

dry quinoa

⅓

cup

fresh dill

chopped

4-5

green onions

chopped

1

lime

juiced

1

teaspoon

kosher salt
Instructions
Bring 3 cups water to boil in medium sized sauce pan. Add quinoa, cover, and reduce to simmer. Continue to simmer 12-15 minutes until liquid is absorbed.

Remove quinoa from heat and allow to cool

Core tomatoes, removing seeds and pulp.

In large mixing bowl, combine quinoa with goat cheese, dill, green onions, lime juice, and salt.

Mix thoroughly

Use teaspoon to stuff tomatoes

Cover with plastic wrap and refrigerate until ready to serve.
Notes
Use pairing knife to cut small level surface on bottom of tomatoes. This will help stabilize them and prevent them from rolling around like a bunch of edible marbles.
Rinse the quinoa seeds with cold water, prior to using. This will wash away the saponin which is a bitter tasting plant compound.
Nutrition
Calories:
73
kcal
|
Carbohydrates:
11
g
|
Protein:
3
g
|
Fat:
2
g
|
Saturated Fat:
1
g
|
Cholesterol:
3
mg
|
Sodium:
144
mg
|
Potassium:
191
mg
|
Fiber:
1
g
|
Sugar:
1
g
|
Vitamin A:
374
IU
|
Vitamin C:
13
mg
|
Calcium:
24
mg
|
Iron:
1
mg