Fall Shepherd's Pie, with Butternut Squash
on Nov 27, 2016, Updated Jan 01, 2021
Recipe for Shepherd's Pie, Featuring Butternut Squash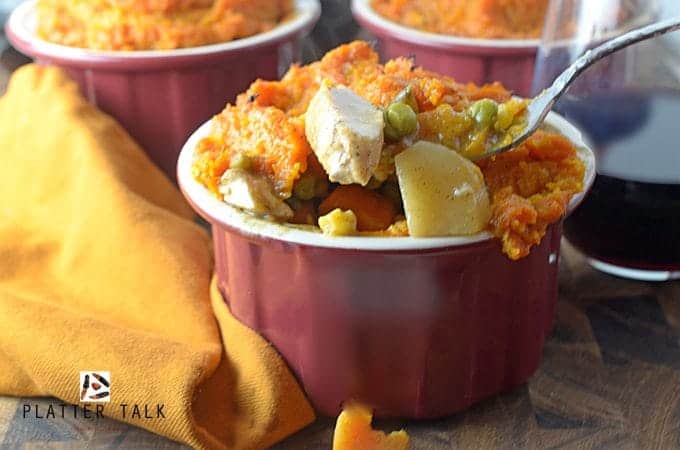 Every once in a while I play a game called "Shop my Pantry". In this game, I can only use what I have available on hand to cook with.
Sometimes this game is not challenging at all, but other times, it is darn almost impossible. Well, my friends, I am pleased to tell you that not only did I play "Shop my Pantry", well I crushed it with a winning recipe for shepherd's pie that I like to call Fall Sheperd's Pie.
About this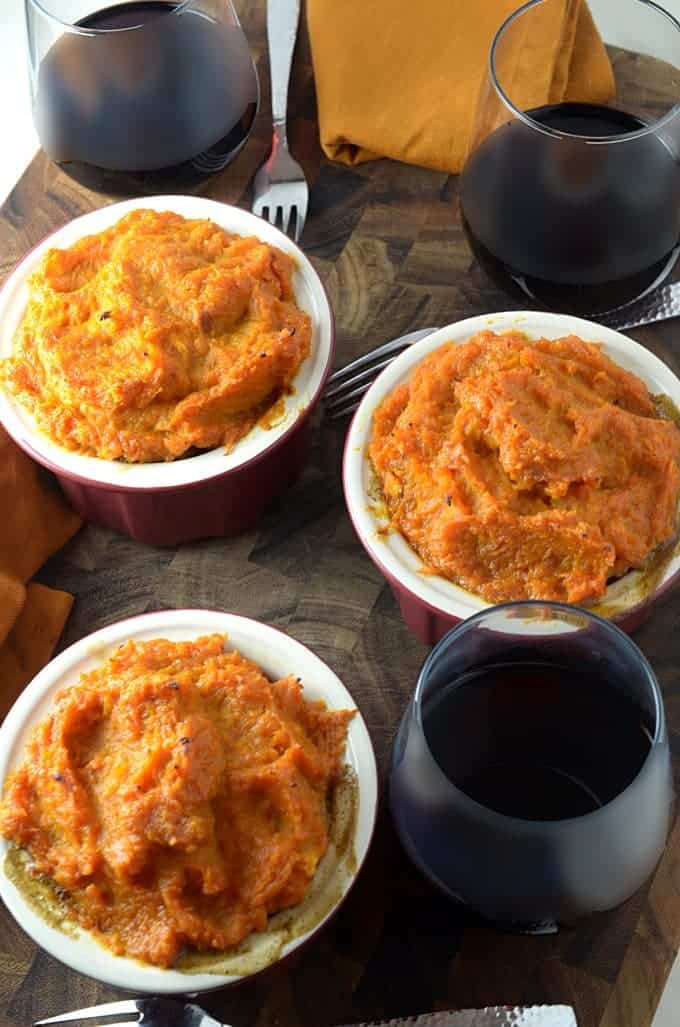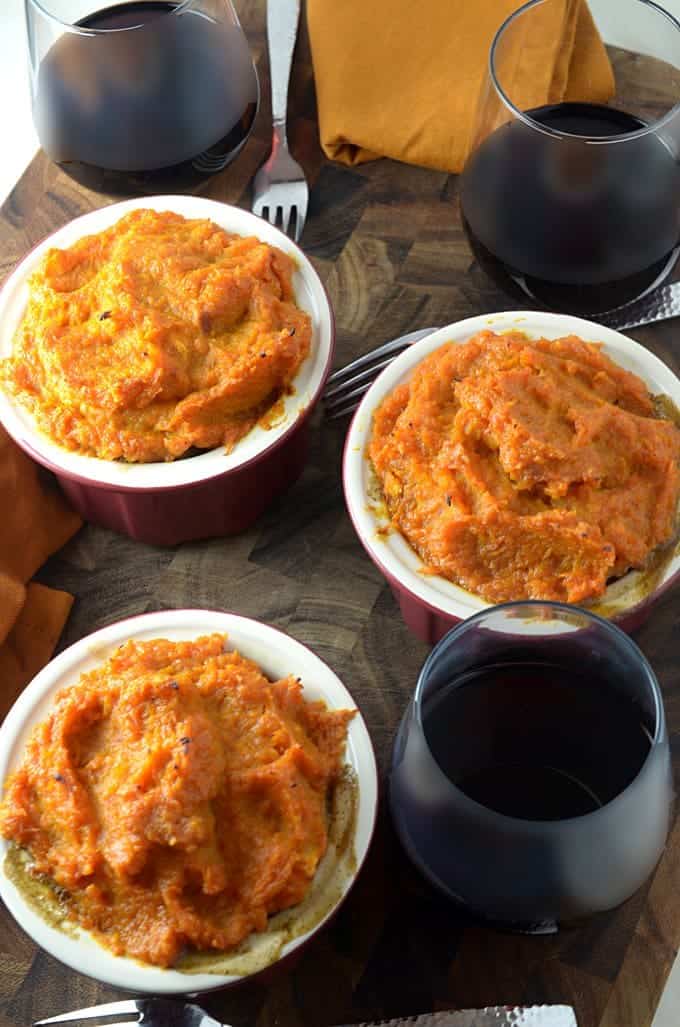 After a full weekend of running errands, cleaning the house, and washing and folding about a hundred loads of laundry (maybe not a hundred loads, but it sure does feel like it with 6 kids plus Dan), I thought I was Superman.
That was until Monday when I realized that I didn't go to the grocery store to stock us up for the week. Unfortunately, I did not figure this out until I got home from work on Monday, and I needed to get something started for supper.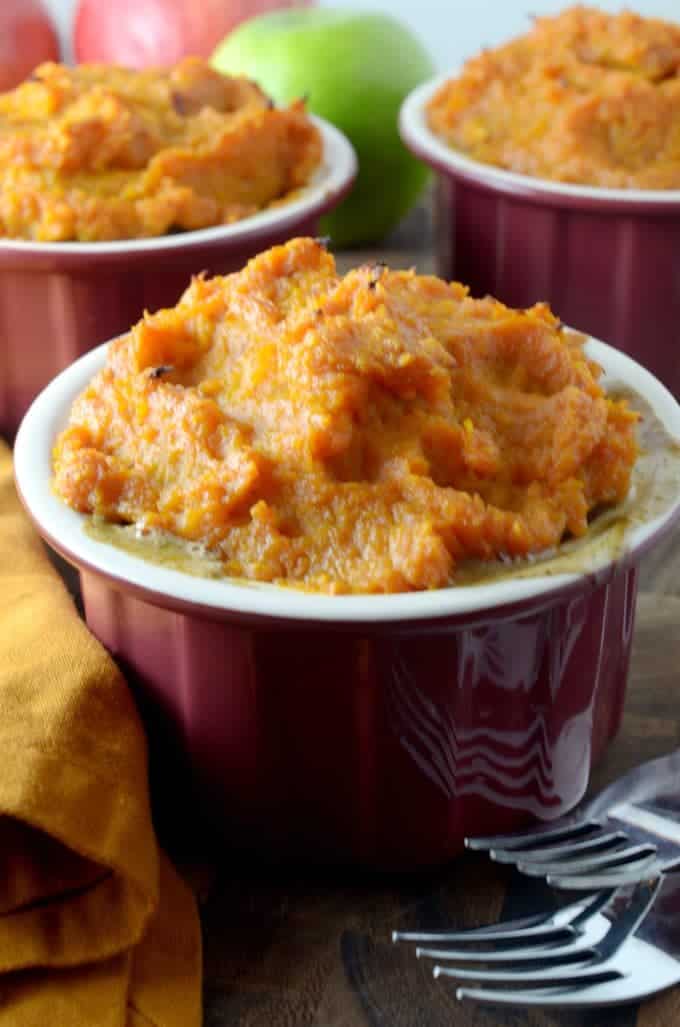 Well, this is when survival mode kicked in, and my super-heightened ninja senses engaged. I quickly surveyed all around me. I noticed on the counter a butternut squash.
This is the same squash that I bought several weeks prior with grand ideas. However, it sat on my counter as a fall decoration. Don't judge me. This immediately went into the oven to roast.
I had no clue what I would be using it for, but I knew that it would be included in that days bounty.
Next, I searched for some protein for this meal. The refrigerator yielded nothing, so I turned my attention to my freezer's tundra. I am not proud to say this, but I have lost many a nice cut of meat to freezer burn because I forget what I have on hand.
That is why a good game of "Shop my Pantry" is necessary from time to time. Thank goodness I was able to find some frozen boneless chicken tenderloins. They are perfect for quick meals because they defrost in the microwave and cook up even quicker.
Before I closed the freezer, I also noticed a bag of mixed frozen vegetables. Without missing a beat, I grabbed them as well. Somehow they would be incorporated into this meal.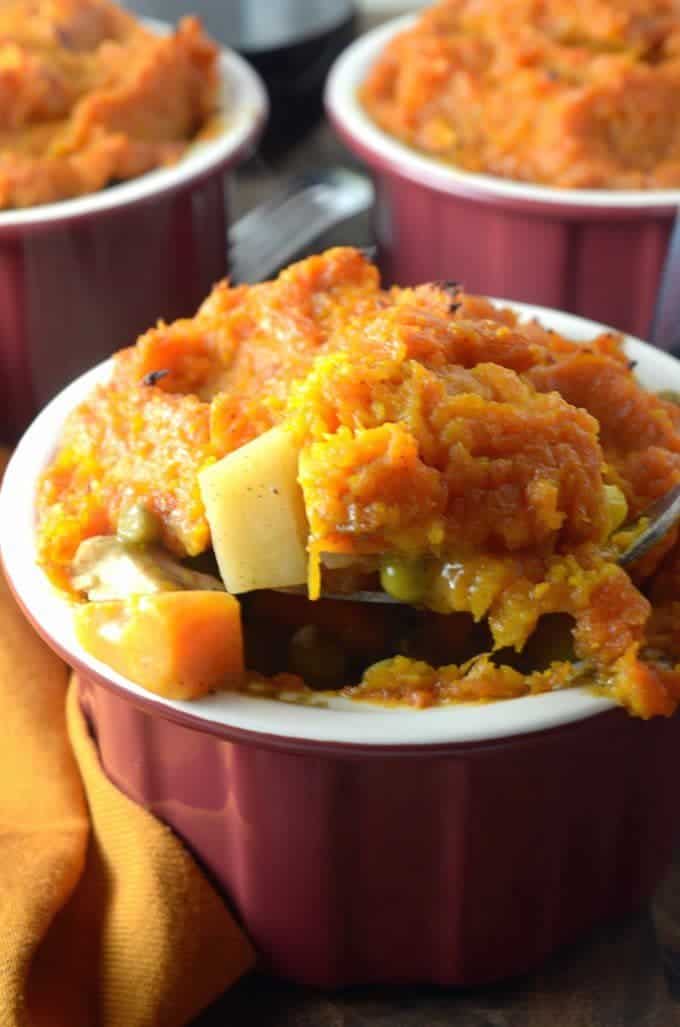 What you need to make this:
Some russet potatoes
Chicken breast or tenderloin
An onion or two
Granny Smith apples
Cream of mushroom soup
Chicken stock
Garlic
On a side note, we always have garlic on hand just in case we are ever under attack by a rogue gang of vampires, but I digress.
So there everything sat on my counter. As I looked at all that I assembled, the ingredients to this nameless meal stared back at me as to mock me.
I quickly turned away so it could not see my fear. It was at that time I spotted our seldom used ramekins. Then it hit me like a bolt of lightning, Shepard pie. Or, in this case, a version called Fall Shepard Pie. The butternut squash would be used as my topping for the chicken and veggie filling that I would make.
As soon as I had my vision, the meal came together quickly and without really any effort. Once I presented my creation to the judges (my family), they all agreed that I was the winner of this week's "Shop my Pantry" challenge.
Even though I did not win a washer or dryer or an all-expenses paid vacation, I was a winner of a grateful family and that is worth more to me than anything. I hope that you make my Fall Shepard Pie for your family very soon. I know that you will love it. -Scott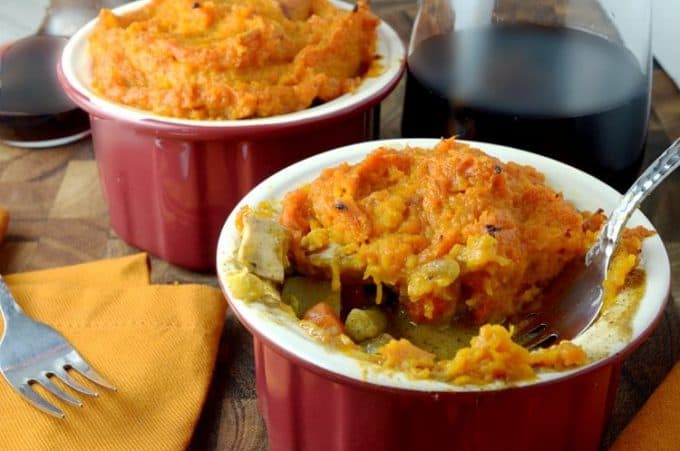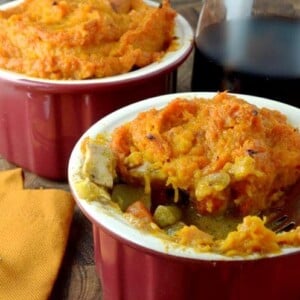 Ingredients
1

lb

boneless chicken tenderloins cubed

1

small onion

a medium sweet potato peeled and diced

1

medium russet potato peeled and diced

1

granny smith apple peeled and diced

2-3

tablespoons

minced garlic

10

oz

can cream of mushroom soup

1

cup

chicken broth

1/4

cup

white wine

1

bag of frozen mixed vegetables

3

TBS

olive oil

Poultry seasoning to taste

1

butternut squash

2

TBS

butter

1/4

cup

maple syrup

1/4

cup

brown sugar

Salt and pepper to taste
Instructions
Preheat oven to 400 degrees.

Cut butternut squash in half and scoop out seeds from center.

Place in roasting pan with flesh side up.

Place 1 tablespoon of butter in each center of each half.

Drizzle maple syrup on each half and sprinkle with brown sugar and salt and pepper.

Place in oven and cook until tender for approximately 50 to 60 minutes.

Let cool and scoop cooked squash from flesh.

Mash the squash so that it is smooth and creamy. Feel free to add a little more butter or salt and pepper to taste.

Place to the side.

Over medium heat in a pan add olive oil and add onion and cook until onions soften.

Add chicken and garlic and season with salt and pepper.

Cook until chicken is no longer pink.

Add sweet potato, russet potato, and granny smith apple.

Stir in wine and cook for a minute or two.

Add chicken broth and cook until potatoes begin to soften.

Add cream of mushroom soup and poultry seasoning.

Stir to incorporate. You may need to add a little more chicken broth if mixture seems to thick.

Add bag of frozen vegetables and continue to cook until vegetables thaw and warm.

Spoon chicken mixture into ramekin and top with the mashed butternut squash.

Place in oven and cook until squash browns, about 10 minutes or so.
Nutrition
Calories:
587
kcal
,
Carbohydrates:
68
g
,
Protein:
31
g
,
Fat:
21
g
,
Saturated Fat:
6
g
,
Cholesterol:
91
mg
,
Sodium:
920
mg
,
Potassium:
1598
mg
,
Fiber:
6
g
,
Sugar:
35
g
,
Vitamin A:
20165
IU
,
Vitamin C:
55
mg
,
Calcium:
160
mg
,
Iron:
4.3
mg
Nutrition information is automatically calculated, so should only be used as an approximation.