Apple Fritter Bread
on Oct 25, 2013, Updated Oct 13, 2021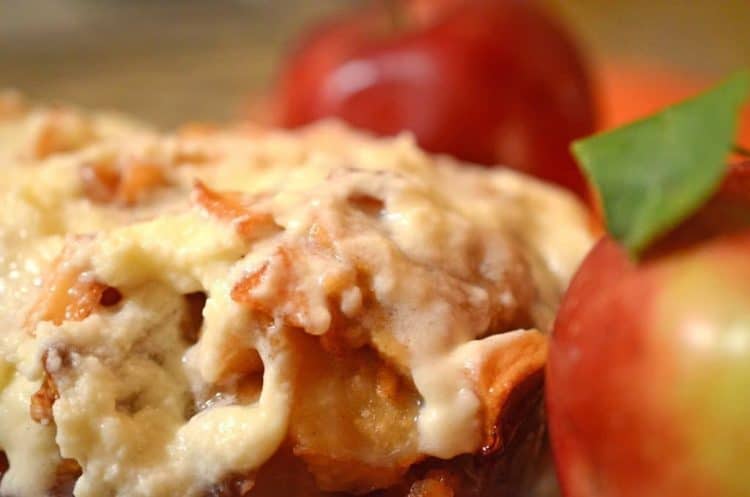 This past Thursday, I found myself in the rare and highly coveted position of being completely alone for the better part of an entire evening.
Well, not exactly alone. Ellie, our beautiful little English bulldog, was at my side throughout. Together, she and I enjoyed a light bite of dinner, we picked three large bags of apples from the back yard, and then we made this loaf of Apple Fritter Bread. Just me and Ellie.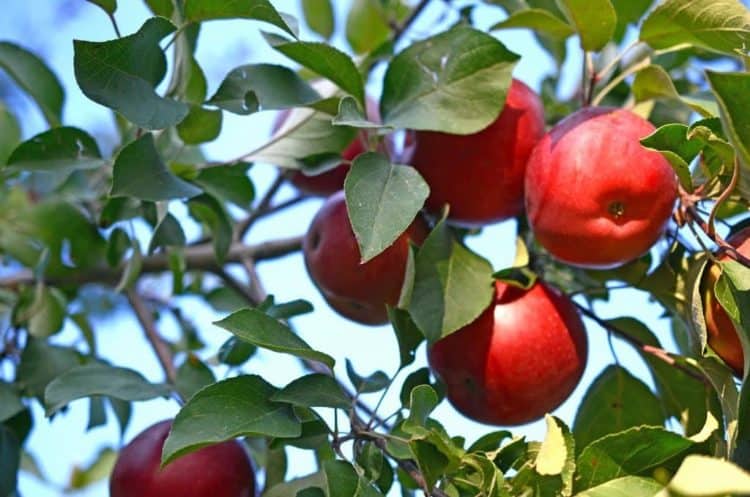 Granted, Ellie may not have picked any apples from our honey crisp tree, but that's not to say she didn't enjoy a bite or two from some that had dropped from the branches that were dramatically hanging low to the earth from the weight of their fruit. Besides, Ellie and I were a team that wonderful Thursday night, we were in it together.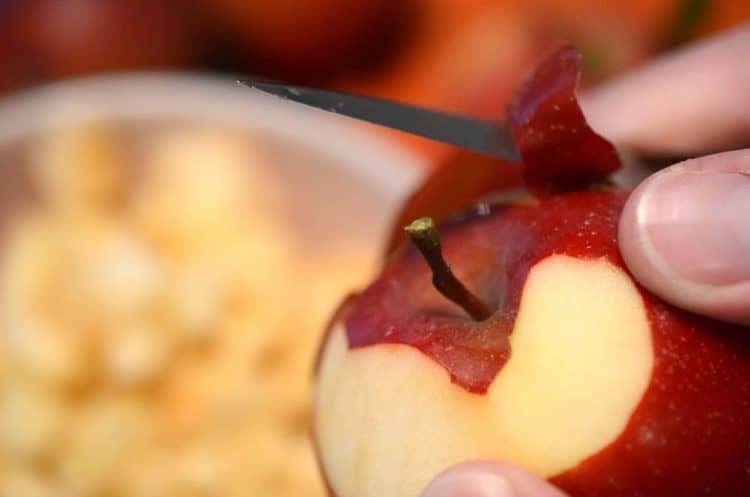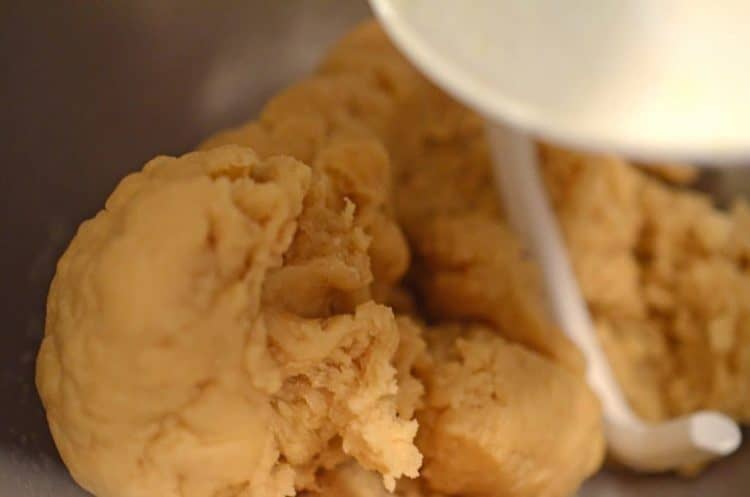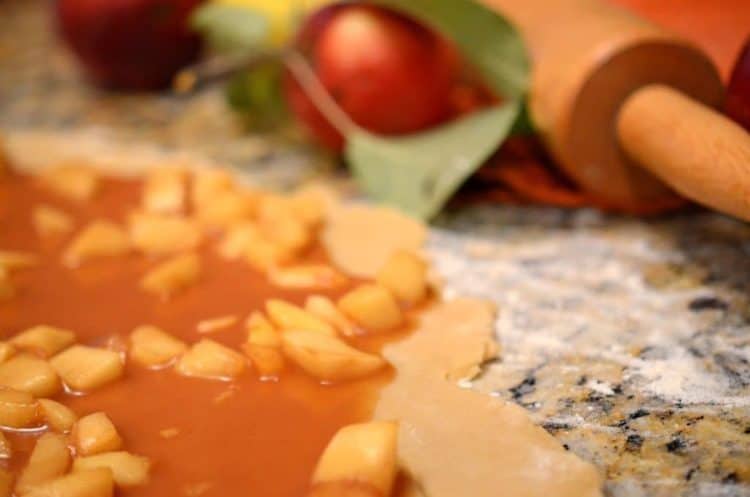 Scott and a friend left around 5:00 to catch a play at the high school in town. One of the last things he said to me before he walked out the door was a single instruction and request, "Please, do not get the kitchen floor dirty."
We were expecting family from out of town later that night and in our anticipation of their arrival, we had toiled in readying the house throughout the prior three nights.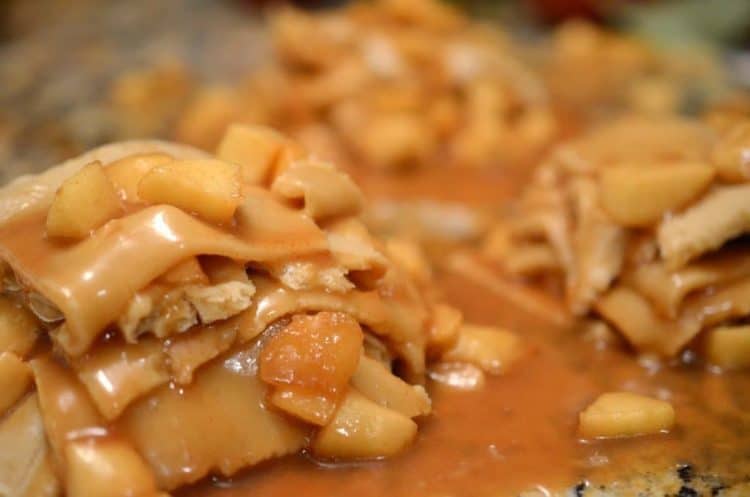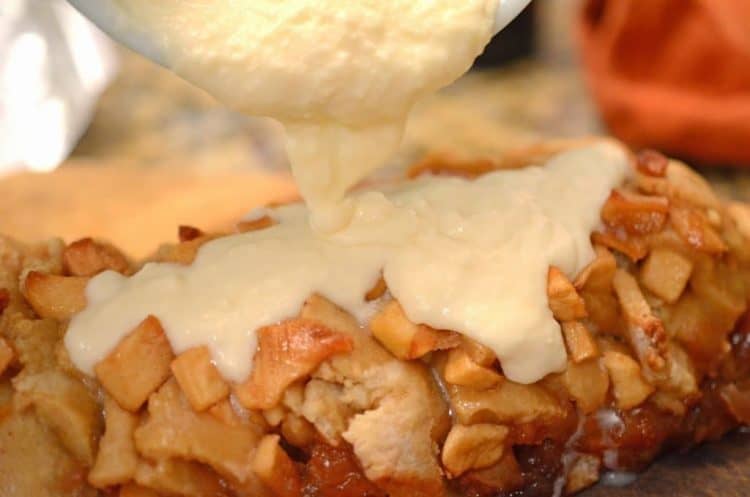 Anyone who knows me knows that if there is one thing that I am not, especially when it comes to food (making and eating), it is neat.
I'm not going to deny the fact that this recipe is messy. It is way messy. As hard as I tried, it was written in the stars that certain parts of the ingredients would find their way to the newly washed, polished, and honed, hardwood floors below.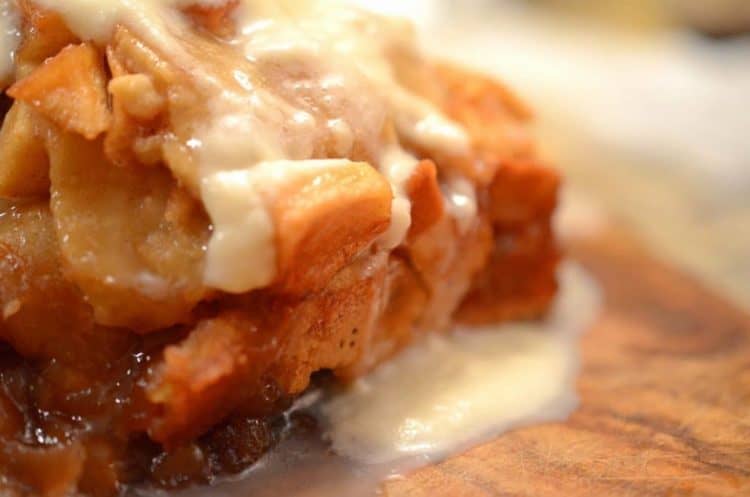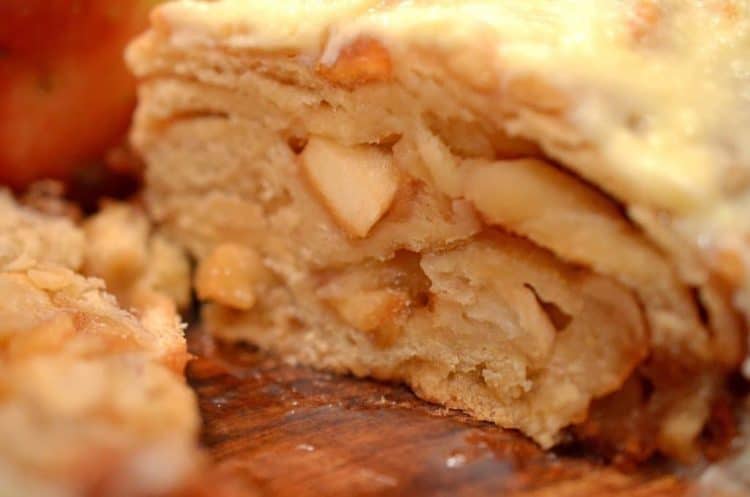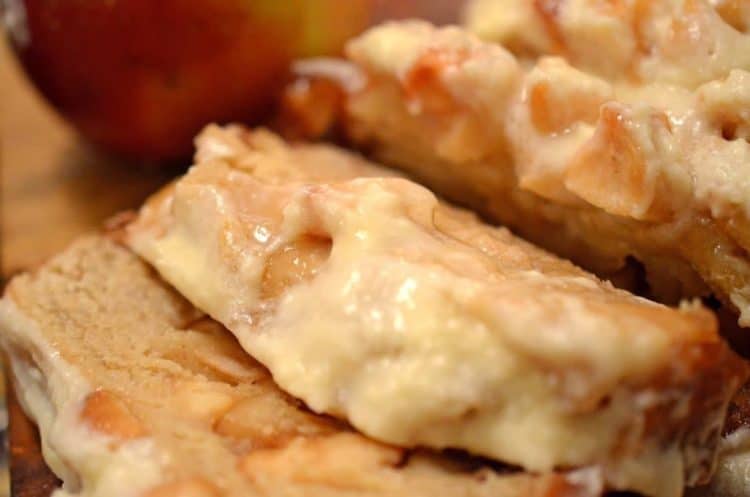 Enter Ellie, or in this case, Ellie's tongue. I would not have been able to pull this recipe off and keep the kitchen in order without her constant surveillance of droppings and drips of goodness from the countertop above.
Ellie's role in this recipe and the ensuing posts may have been indirect, but there is no question it was a vital one. Although I felt she deserved a piece of the finished product as a reward for her contribution to the process, I instead allowed her to stay up well beyond her bedtime so that she could play with her little human cousins who showed up later that night, all under the age of 8.
She was in pure heaven with the kids, while we adults were in a heaven of our own, enraptured by the fresh, warm loaf of Apple Fritter Bread, as prepared and shown here.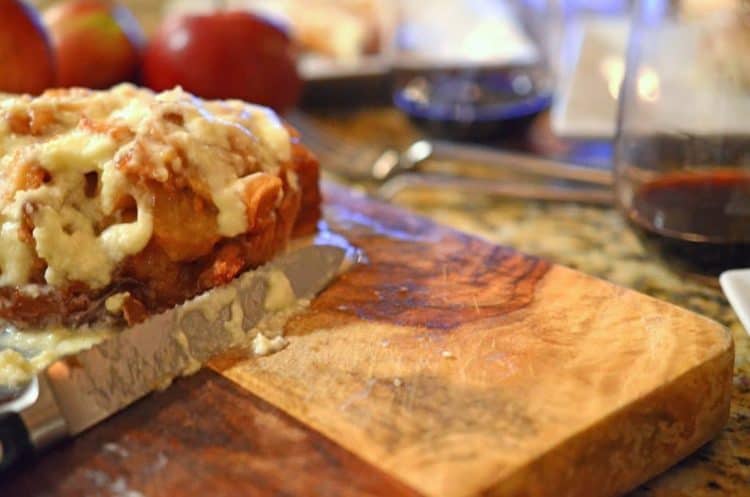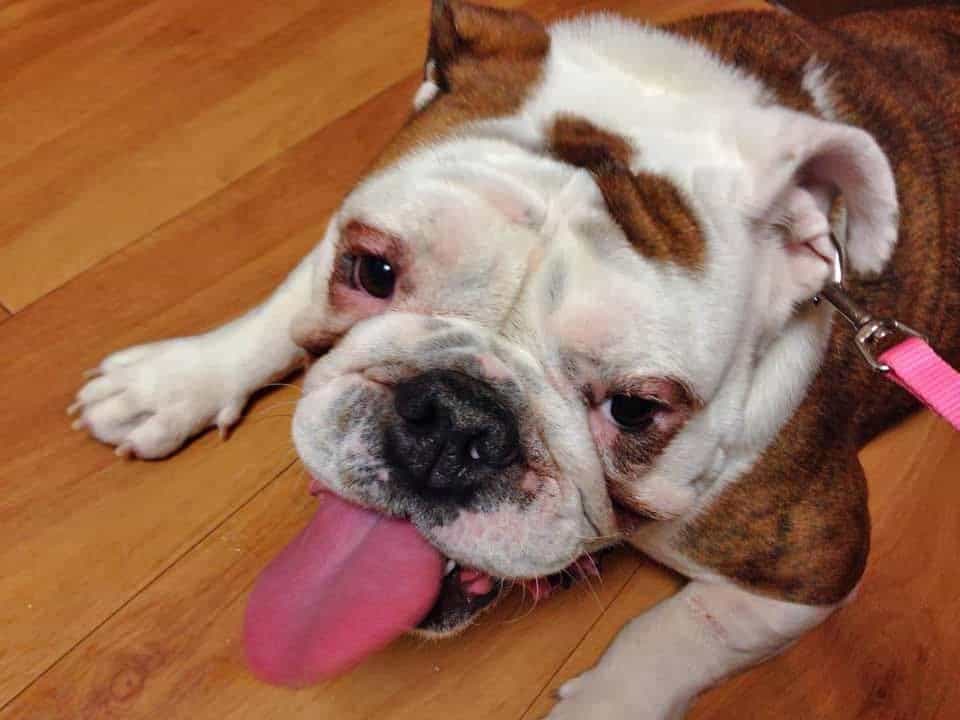 This is a fantastic and seasonal tasting treat. If you are fortunate enough to have apple trees of your own, or you have access to some locally grown juicy reds, take advantage of the moment. Grab some apples and your best friend and try your hand at this Apple Fritter Bread.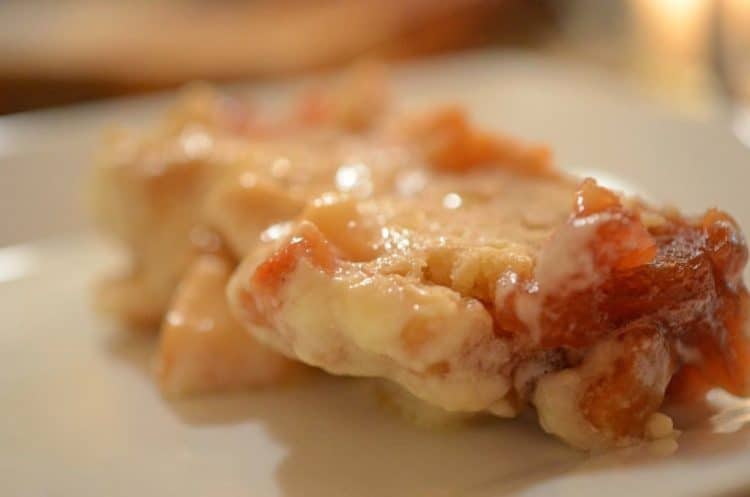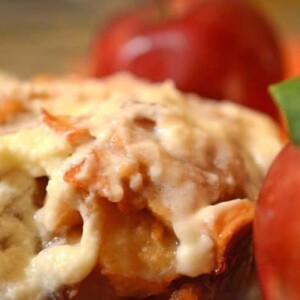 Apple Fritter Bread
Adapted from Flour Me with Love
Ingredients
for the dough
3

cups

bread flour

1

package dry active yeast

1/4

teaspoon

salt

1/2

cup

brown sugar

1/4

cup

water

1

egg

,

beaten

3/4

cup

milk

4

tablespoons

butter

,

1/2 stick
for the glaze
1

tablespoon

butter

,

softened

1

teaspoon

vanilla extract

3/4

cup

powdered sugar

3

tablespoons

cream
Instructions
Preheat oven to 350 degrees.

Grease a 9" x 5" loaf pan

Combine filling ingredients in skillet and cook over medium high heat, stir until thickened then set aside to cool.

Using small sauce pan, heat milk until it scalds then remove from heat.

Add butter and stir until melted then set aside to cool

Combine flour, yeast, and brown sugar in mixer bowl.

Add water, egg, and milk and butter mixture

Using dough hook, mix thoroughly then knead for an additional five minutes.

On a well floured surface, roll dough into rectangle.

Evenly distribute filling on top of dough and spread to edges.

Cut dough into even squares, in approximately 5"x5" squares.

Carefully stack prepared squares onto each other, forming four separate piles.

Place piles, stacked on their sides, into prepared loaf pan.

Bake 45-50 minutes, until golden brown.

Allow to cool for 15 minutes and remove from pan.

Combine glaze ingredients in small mixing bowl and mix with a hand mixer until a creamy consistency is achieved.

Pour glaze on top of apple fritter bread and allow to set for a few minutes.

Cut slices, or pull pieces apart and enjoy.
Nutrition
Calories:
592
kcal
,
Carbohydrates:
110
g
,
Protein:
9
g
,
Fat:
15
g
,
Saturated Fat:
8
g
,
Cholesterol:
57
mg
,
Sodium:
196
mg
,
Potassium:
309
mg
,
Fiber:
6
g
,
Sugar:
67
g
,
Vitamin A:
529
IU
,
Vitamin C:
8
mg
,
Calcium:
94
mg
,
Iron:
1
mg
Nutrition information is automatically calculated, so should only be used as an approximation.