Balsamic Mushrooms on Pizza with Caramelized Shallots & Microgreens came to me in a vision...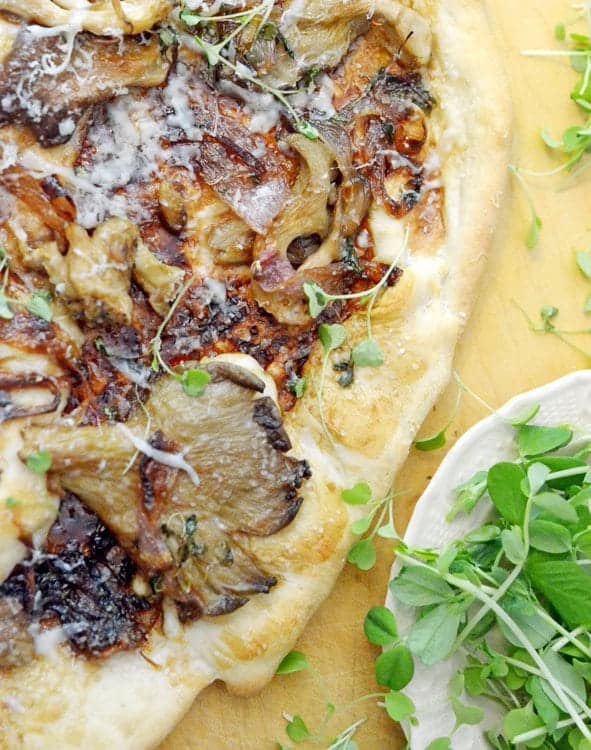 Does this sound religious, to you? It absolutely should, as this pizza is nothing short of a religious experience. It likely seems wacky to you but sometimes I dream about food, especially pizza. Don't judge me, O.K? After all, I can't imagine a world without pizza, can you?
What is this?
The Stuff Dreams are Made of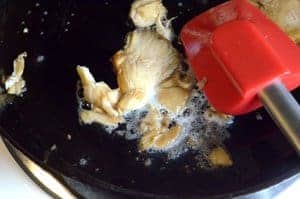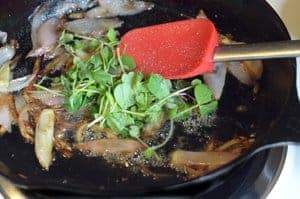 This Balsamic Mushroom Pizza with Caramelized Shallots & Microgreens starts with fresh mushrooms and fresh microgreens, organically grown from our urban farm friends at Grow Local here in Neenah.
We added some caramelized shallots to the mix, all atop a fresh pizza dough slathered in 18-year-old balsamic vinegar. Again, if this combination of vegetables and flavors sounds heavenly, it's all that and more.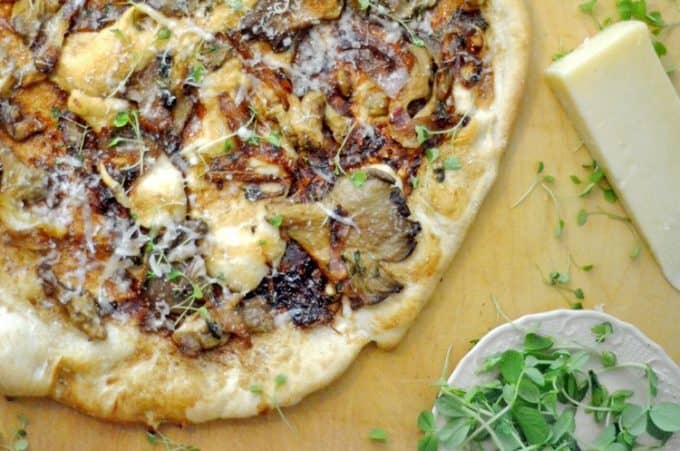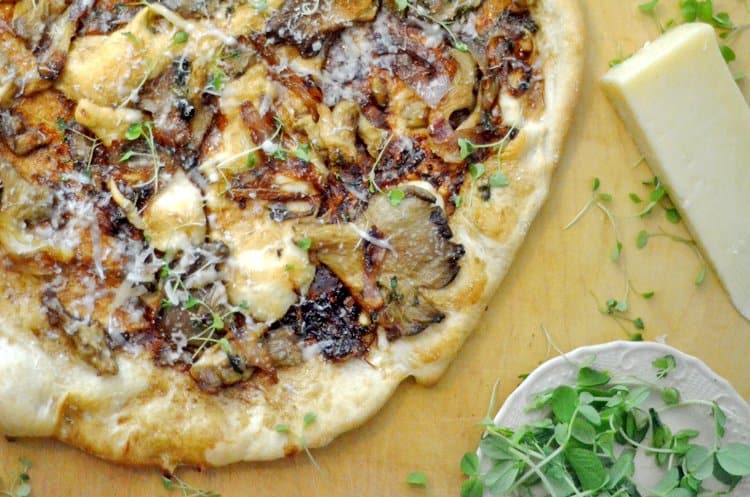 Wanting to ensure there would be no chance of ending up in culinary purgatory, I topped this food for the Gods with some fresh grated Asiago cheese. It worked. When our 11-year-old son foodie-son, Isaiah, took his first bite of this Mushroom Balsamic Pizza with Caramelized Shallots & Microgreens, he gave me a knuckle-bump before he even got to the second bite. This was a very good sign.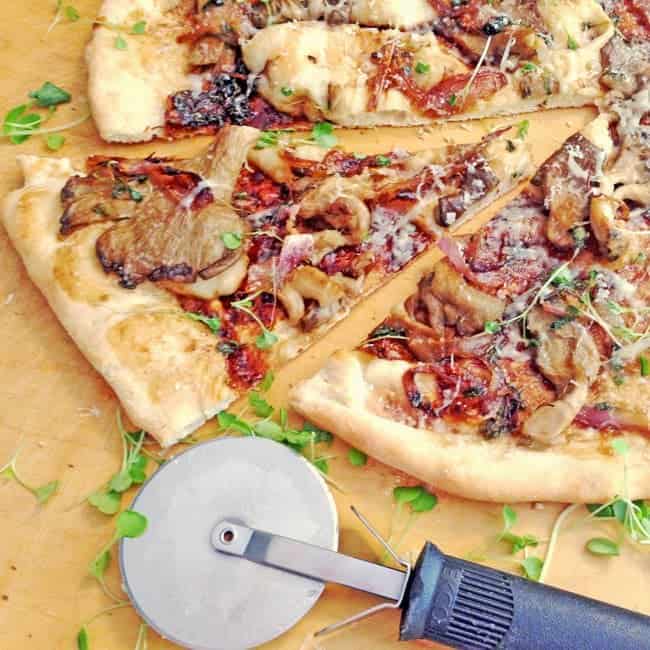 All religious signs aside, pizza is a passion of ours here on Platter Talk. We've recently discovered the beauty and taste of cooking with fresh microgreens and the relevance of sustainable agriculture on our planet of dwindling and finite resources.
Top tips for making pizza

Think hot and fast. If using a stone, you want your oven as hot as possible. Reduce heat to 450 if using a metal baking pan.
Place dough on a hot pizza stone for a crispy and chewy crust.
To enhance their flavor, briefly saute vegetables like mushrooms, peppers and onions prior to placing them on the pizza. Don't over-saute your vegetables as they are going to continue to cook in the oven.
Save the cheese topping until the pizza comes out of the oven. This prevents the cheese from over-baking and will preserve its flavor.
Ditto for delicate herb toppings such as basil, for the same reason.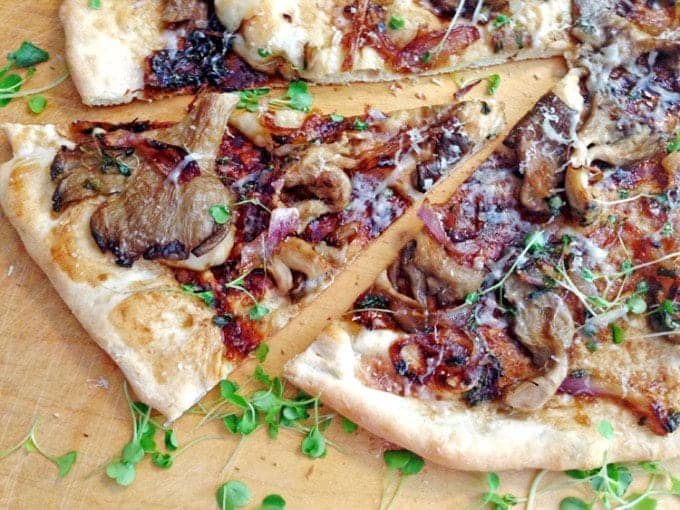 It was fun putting this incredibly great-tasting pizza together with locally produced products. Besides the fresh mushrooms and microgreens, our butter for this pizza comes from Pine River Dairy, a butter factory just a stone's throw from our country cottage and one that's been in the same family for generations.
Finally, the high-quality, aged, balsamic vinegar that coats this pizza is from another local business, The Olive Cellar. We featured some of their products a few weeks back with our Roasted Red Pepper Salad. Next on your list of things to do: make this pizza together. It's bound to give you heavenly dreams as well. -Dan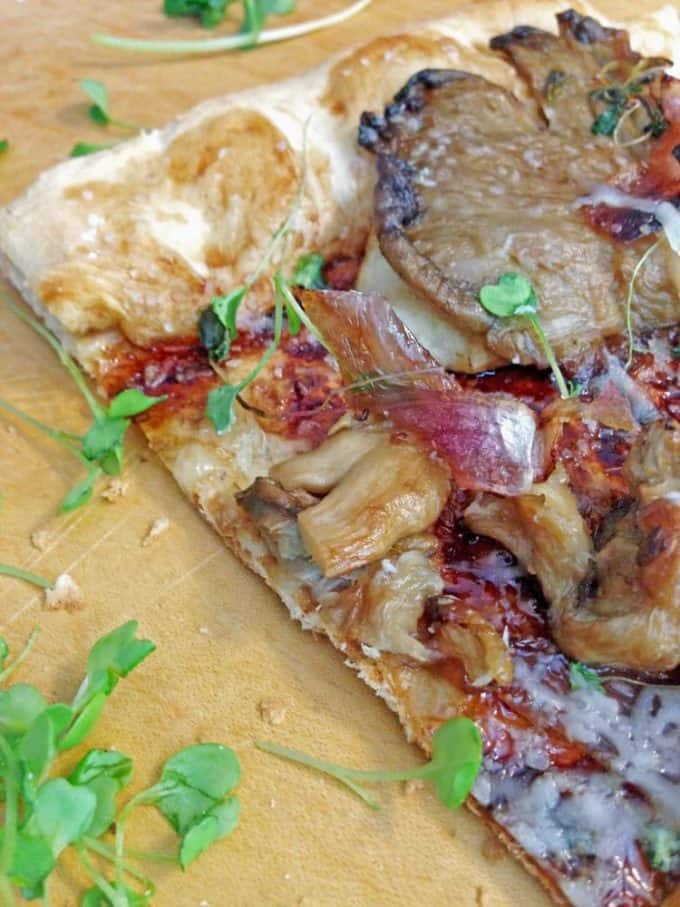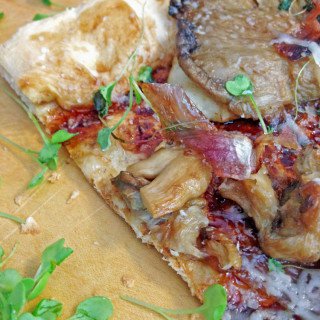 Balsamic Mushrooms on Pizza & Caramelized Shallots & Microgreens
A Platter Talk Exclusive
Print
Pin
Rate
Ingredients
1

pizza dough

stretched to conform to pizza stone.

3

tablespoons

butter

divided

1

cup

fresh mushrooms

thin slice

1

shallot

skin removed, root intact.

pinch

sugar

1

tablespoon

red wine vinegar

1

cup

fresh microgreens

¼

cup

aged balsamic vinegar

pinch

kosher salt

2

oz

Asiago cheese

grated
Instructions
Preheat oven to highest setting.

Prepare pizza stone with non-stick coating, place in oven.

Using skillet, melt 1 tablespoon butter over medium high heat, saute mushrooms until tender, remove and set aside.

Reheat skillet over medium heat, add remaining 2 tablespoons butter.

Slice shallots lengthwise, about ¼" thick, then slice again to form square "matchstick" slices.

Place shallots in skillet and saute for about 10 minutes, stirring frequently, until brown.

Add sugar and vinegar, stir and add microgreenss.

Remove from heat and set aside.

Remove stone from oven and place pizza dough on top.

Using pastry brush, evenly apply balsamic vinegar.

Top with mushrooms, shallots, and microgreens and place in oven.

Reduce heat after 5 minutes and bake an additional 5 to 10 minutes until brown and crispy.

Remove pizza from oven, sprinkle Asiago cheese on top.

Allow to rest a few minutes then serve and enjoy
Nutrition
Calories:
398
kcal
|
Carbohydrates:
52
g
|
Protein:
14
g
|
Fat:
15
g
|
Saturated Fat:
8
g
|
Cholesterol:
32
mg
|
Sodium:
1088
mg
|
Potassium:
128
mg
|
Fiber:
2
g
|
Sugar:
10
g
|
Vitamin A:
386
IU
|
Vitamin C:
2
mg
|
Calcium:
177
mg
|
Iron:
3
mg