Blooming Peach and Blueberry Tart
on Sep 09, 2013, Updated Apr 07, 2020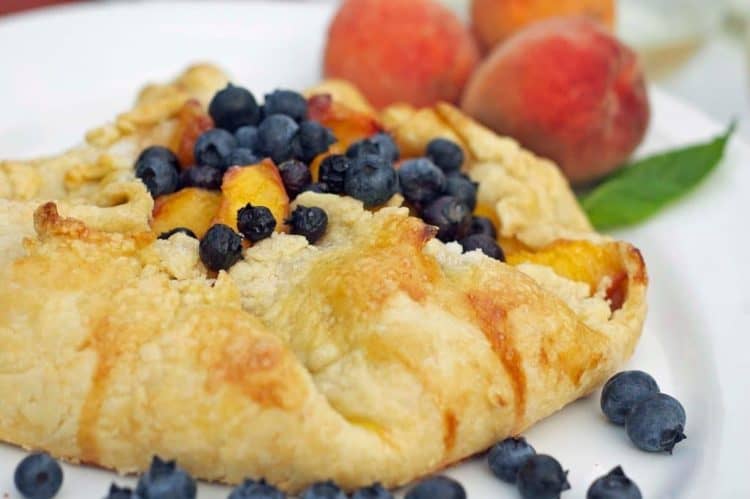 Can we squeeze out just a few more days of summer? Pleaaaaaase? The season is just too comfy, fragrant, and downright delicious to let go without a fight. To that end, there are still some summertime favorites lingering at the farmer's markets, the produce stands, and on our kitchen counter. We have well established the great relationship between peaches and blueberries. Here is one more and it's for you, September.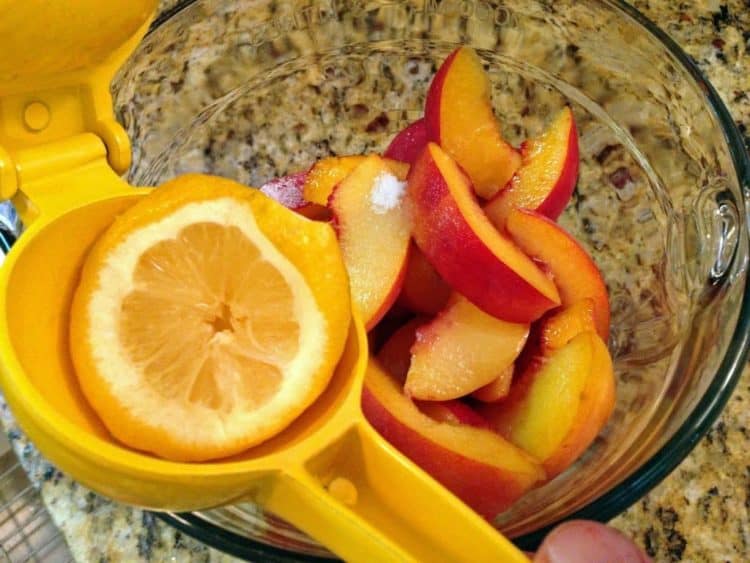 This is one of those treats that I played around with a little. I'm fortunate to have great work colleagues who are always willing to sample my "experiments." The folks I work with are always so nice, sometimes a bit too nice. For instance, when I brought in the initial rendition of this recipe, I thought something was missing. No one voiced similar sentiment but my suspicion is that it was out of sheep politeness on their part.
Perhaps what I brought into the folks at work was just fine, maybe even delicious. The next time 'round though at home, I made it even better. Pouring in just a wee bit of Rum Chata elevated this dessert pastry from an "Ooooooo," at best, to a solid "Ahhhhhhh."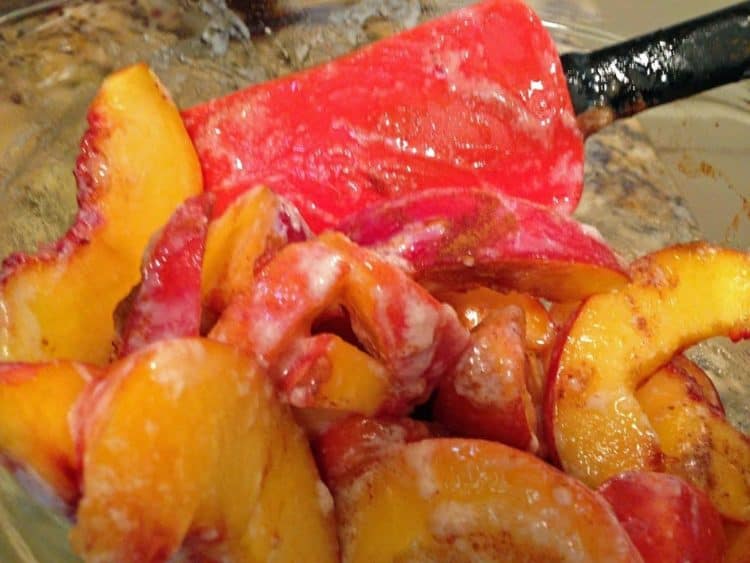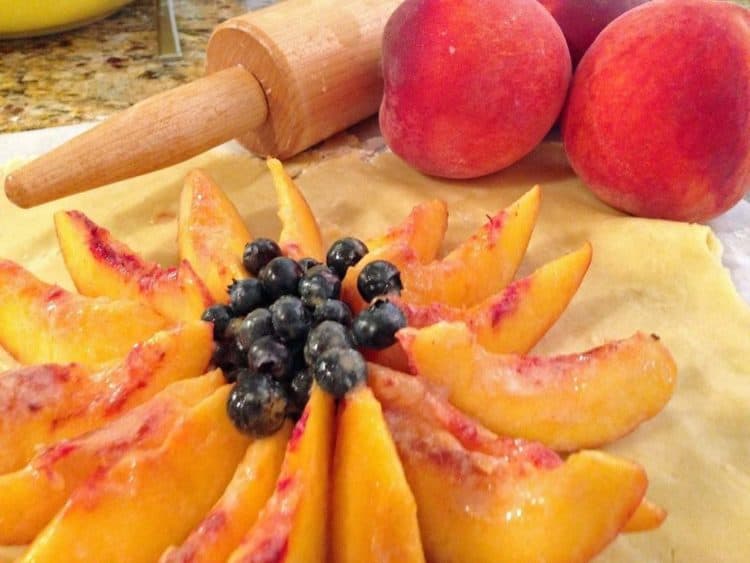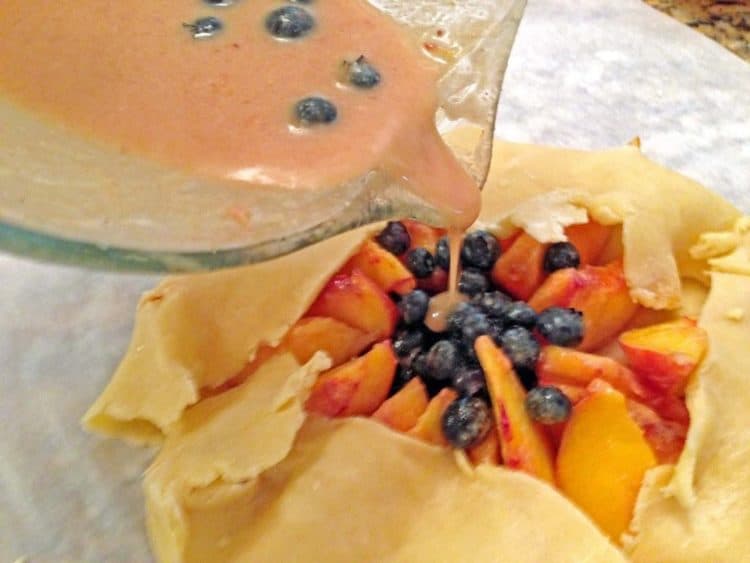 It is amazing what you can put together if you start with a base of a good pastry recipe. Or pizza dough recipe, or cookie recipe, or sauce recipe.. You get the idea – the possibilities are only as limited as your imagination.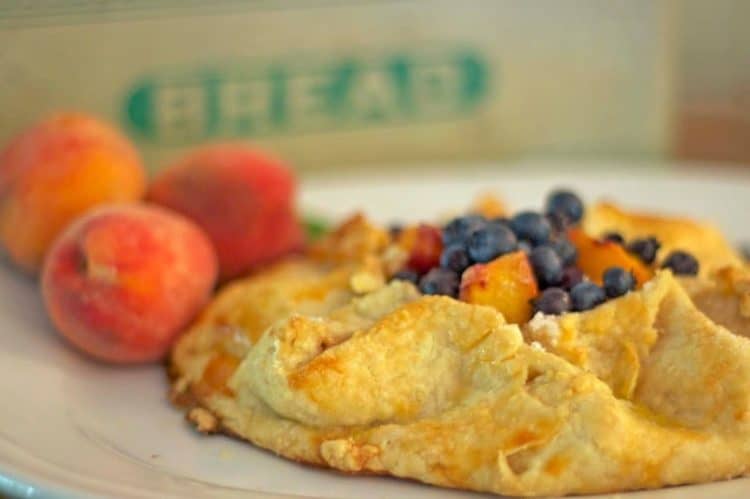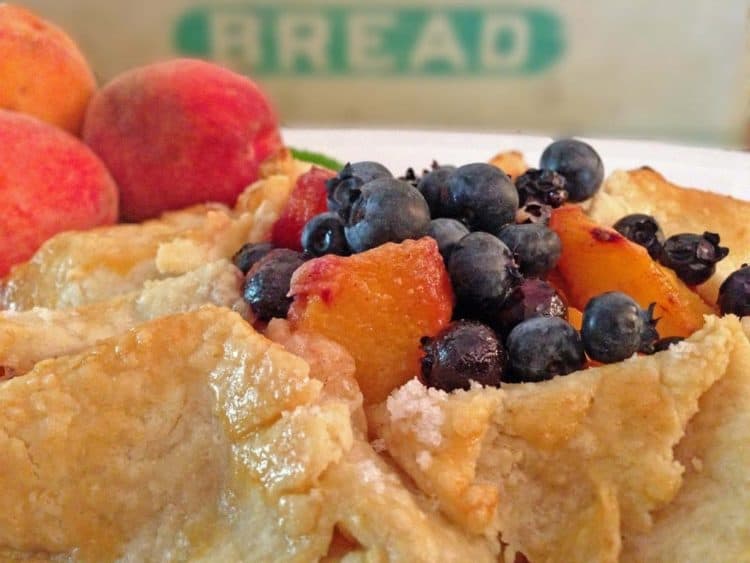 For this tart, maybe it was the fresh peaches, it could have been the wild blueberries, or it could have been the crisp bottle of Sauvignon Blanc from Villa Maria. I think it was all of this, and the Rum Chata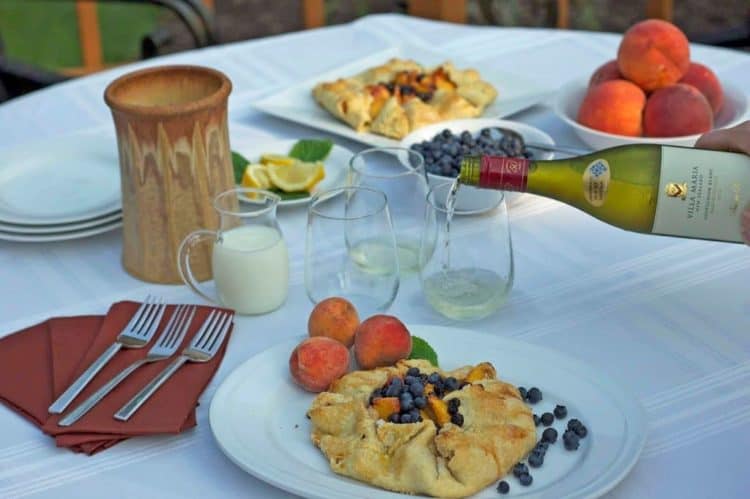 We served this to some guests, on a warm mid-summer day with abounding sunshine and an eastern breeze coming off the adjacent corn fields.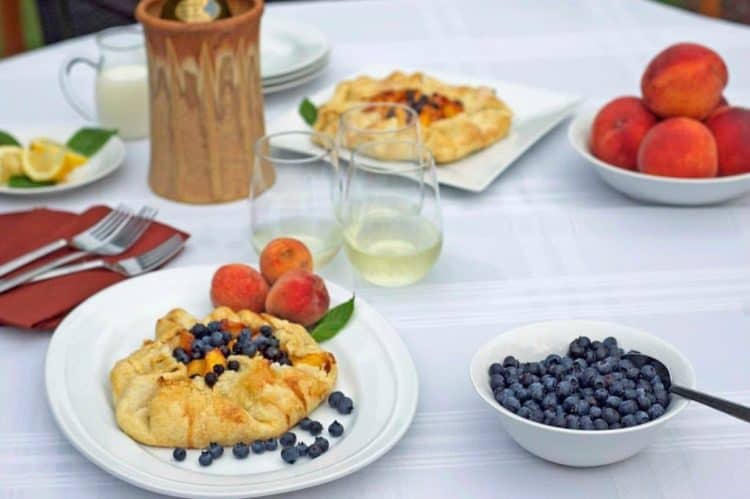 Make this while the days permit. The pumpkins are getting bigger with each day, and it won't be long before the apples are ready to be plucked.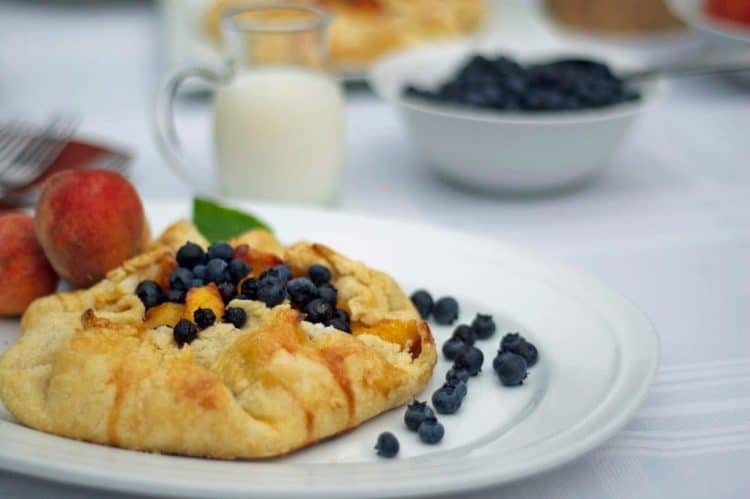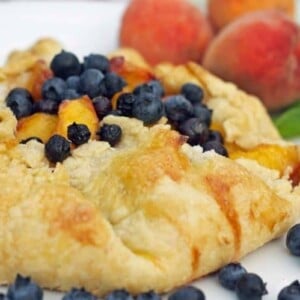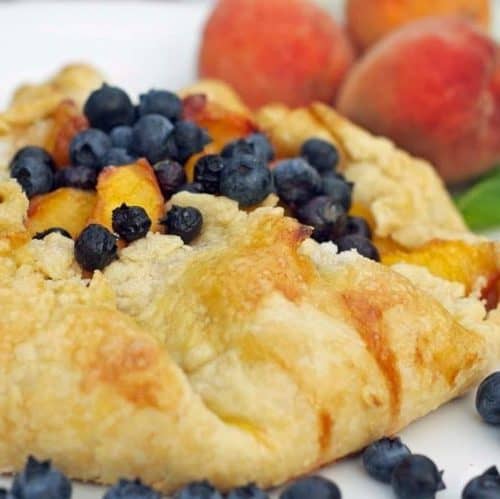 Blooming Peach and Blueberry Tart
A Platter Talk Exclusive
Ingredients
for the crust

3

cups

all-purpose flour

1

cup

shortening

1

teaspoon

salt

1

tablespoon

sugar

1/3

cup

ice water

2

eggs

,

beaten separately. Reserve one for egg wash.

1

tablespoon

white vinegar

for the filling

6

ripe peaches

,

washed with skins in tact

1

cup

fresh blueberries

juice from 1/2 lemon

1

cup

sugar

1

tablespoon

cinnamon

1

teaspoon

nutmeg

,

optional

1

teaspoon

ground cloves

,

optional

1/2

cup

Rum Chata

1

tablespoon

corn starch
Instructions
Preheat oven to 400 degrees, F.

for the crust

Combine flour, shortening, sugar, and salt.

Work together with fork until consistency is pebbly..

In separate small mixing bowl, beat egg, add water and vinegar, beat again.

Add liquid mixture to flour and shortening..

Stir with fork, combine thoroughly, form into ball, divide in two

Roll one ball out on lightly floured piece of parchment paper, to 12 inch diameter

Repeat with remaining ball of dough.

for the filling

Slice peaches in half, remove pit, slice each half lengthwise again.

In large mixing bowl combine peaches with remaining ingredients and gently stir until well mixed.

Allow mixture to sit 5 minutes.

To Assemble Tart

Arrange peach slices in circular pattern around center of each shell crust

Divide blueberries between the tarts, carefully spooning them out in the center of peaches

Fold dough over fruit, pleating as you go.

Brush egg wash over pastry

Sprinkle with course sugar

Bake for 45 minutes or until golden brown.
Nutrition
Calories:
629
kcal
,
Carbohydrates:
85
g
,
Protein:
7
g
,
Fat:
28
g
,
Saturated Fat:
7
g
,
Cholesterol:
41
mg
,
Sodium:
311
mg
,
Potassium:
293
mg
,
Fiber:
4
g
,
Sugar:
45
g
,
Vitamin A:
436
IU
,
Vitamin C:
9
mg
,
Calcium:
32
mg
,
Iron:
3
mg
Nutrition information is automatically calculated, so should only be used as an approximation.