Blueberry Buckle with Peach Yogurt Streusel
on Jul 28, 2014, Updated Oct 13, 2021
Blueberry buckle is one of the most delicious ways you can use blueberries.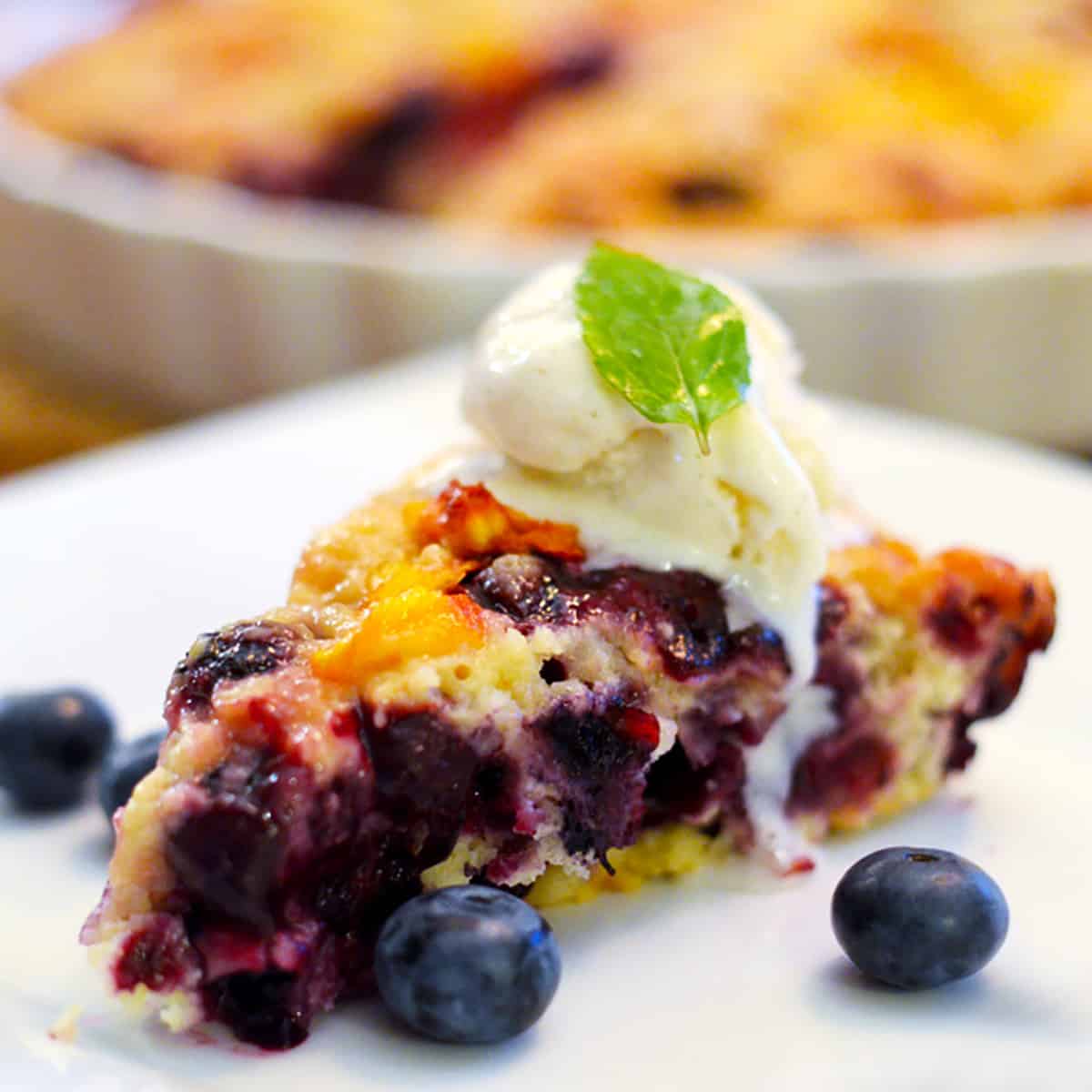 About this
It's high summer. That means fresh fruit, which among other things, means delicious seasonal treats.
And in many parts, particularly New England, this means buckle. When you think of buckle, which of the following comes to mind?
noun: buckle; plural noun: buckles
a flat, typically rectangular frame with a hinged pin, used for joining the ends of a belt or strap.
verb: buckle; 3rd person present: buckles; past tense: buckled; past participle: buckled; gerund or present participle: buckling
fasten or decorate with a buckle.

"he buckled his belt"

I'm sure I've enjoyed buckle before, only because I've consumed if not devoured just about any dessert known, at one time or another it seems. Buckle, as it turns out, is somewhat of a hybrid among desserts; with components of cake, coffee cake, and pie all coming into play. Often times it is topped with a streusel of sorts and filled with delicious berries or fruit. By now you have surely noticed that I opted to use the queen of all summer berries, the regal blueberry – along with her favorite lady in waiting, the fresh summer peach.

Although this lovely dessert had a delicious and happy ending; it did not come without its challenges; principally among them – this was my first buckle That however is not where the obstacles to putting this together ended. As unbelievable as it seemed, I had not an ounce of butter in the house – not even a pat. And cake flour, well, I have never had that in my pantry.

Like most of you reading this, I've had my share of life challenges. The fact that I was missing a few key ingredients to put this buckle together honestly did not come close to derailing my aspirations. Who needs butter when they have plain Greek yogurt in the fridge? Turns out, it's a widely accepted substitution at a 1:1 ratio in baking, as long as the amount is no greater than 1 cup. And cake flour? Well, if you've got all some all-purpose flour and bit of corn starch, you're good to go. That's what my friend

Joy the Baker

taught me. I followed

her instructions

to the letter and this buckle was none the worse for it. To the contrary, with a little vanilla ice cream, a cottage-fresh sprig of mint, and a warm summer evening; all of these things combined to make this a dessert that can only be defined as heavenly. Happy summer to you. -Dan

Other delicious desserts

Blueberry Buckle with Peach Yogurt Streusel

Inspired by Alton Brown

Ingredients

for the cake

9

ounces

cake flour

,

approximately 2 cups

1

teaspoon

baking powder

1/2

teaspoon

kosher salt

1

teaspoon

fresh ginger

2

ounces

plain Greek yogurt

5 1/4

ounces

sugar

,

approximately 3/4 cup

1

large egg

1/2

cup

half & half

,

or milk for a lower fat/lower calorie option

10

ounces

fresh whole blueberries

,

approximately 2 cups

for the topping

3 1/2

ounces

raw sugar

,

approximately 1/2 cup

1 1/2

ounces

cake flour

,

approximately 1/3 cup

2

ounces

plain Greek Yogurt

1-2

peaches

,

peeled and diced

Instructions

for the cake

Preheat the oven to 375 degrees F.

Spray a 9 by 9-inch glass baking dish with nonstick spray and set aside.

In a medium mixing bowl whisk together the flour, baking powder, salt and ginger. Set aside.

In the bowl of a stand mixer, with the paddle attachment, beat together the yogurt and sugar on medium speed until light and fluffy, approximately 1 minute.

Add the egg and beat until thoroughly combined, approximately 30 seconds.

Add 1/3 of the flour mixture and beat on low speed just until incorporated and then add 1/3 of the milk and beat until incorporated. Repeat, alternating flour and milk until everything has combined.

Gently stir in the blueberries and pour the mixture into the prepared baking dish.

for the topping

In a small bowl combine the sugar, flour and ginger.

Add the yogurt and work into the dry ingredients using a fork to combine.

Continue until the mixture has a crumb-like texture.

Place and gently press peaches into top of cake while sprinkling the streusel on top of the cake.

Bake on the middle rack of the oven for 35 minutes or until golden in color.

Cool for at least 10 minutes before serving.

Notes

As with any recipe, make this one your own. Don't care for ginger? How about a dash of nutmeg, a sprinkle of cinnamon, or all of the above?
An alternative to folding the berries into the batter is to pour half the batter into baking pan, evenly distribute berries on that layer, then pouring remaining cake batter over berries.

Nutrition

Calories:

213

kcal

,

Carbohydrates:

44

g

,

Protein:

5

g

,

Fat:

2

g

,

Saturated Fat:

1

g

,

Cholesterol:

18

mg

,

Sodium:

111

mg

,

Potassium:

132

mg

,

Fiber:

1

g

,

Sugar:

24

g

,

Vitamin A:

109

IU

,

Vitamin C:

3

mg

,

Calcium:

43

mg

,

Iron:

1

mg

Nutrition information is automatically calculated, so should only be used as an approximation.