Peach Pie and Pie Crust Recipe
on Aug 01, 2014, Updated Jul 15, 2020
Peach pie is like a part of our family. In our household it seems that it is always pie season.
We love homemade pie recipes of all types. in the fall we love apple pie, in the winter we love pecan pie, and in the spring we love strawberry pie.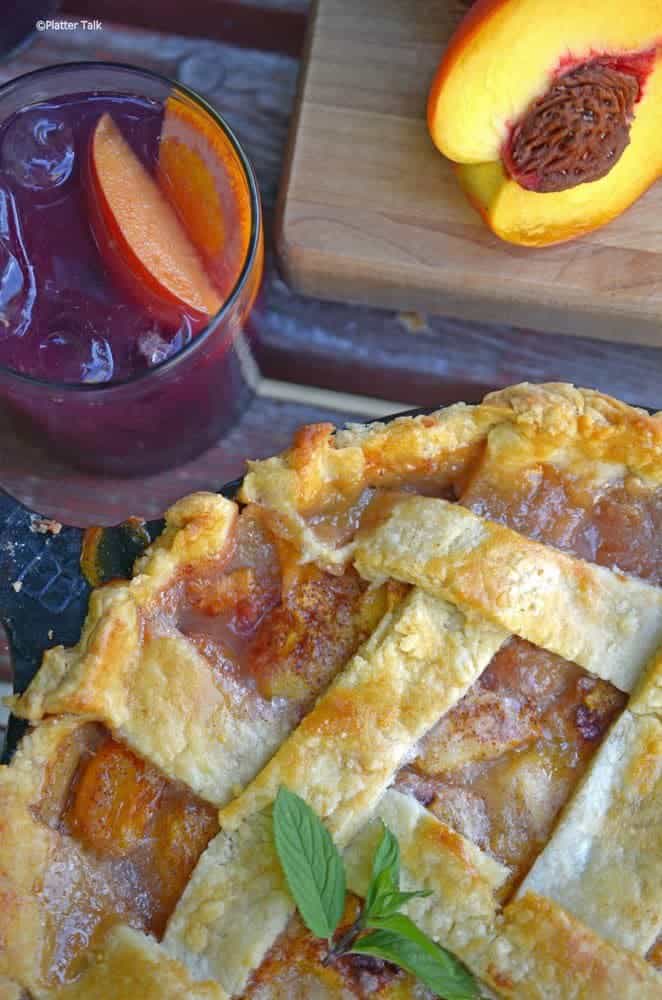 Of course, there are all kinds of pies for all seasons, right now though our focus is on summer, and there's no better time of year for fresh peaches and that means peach pie.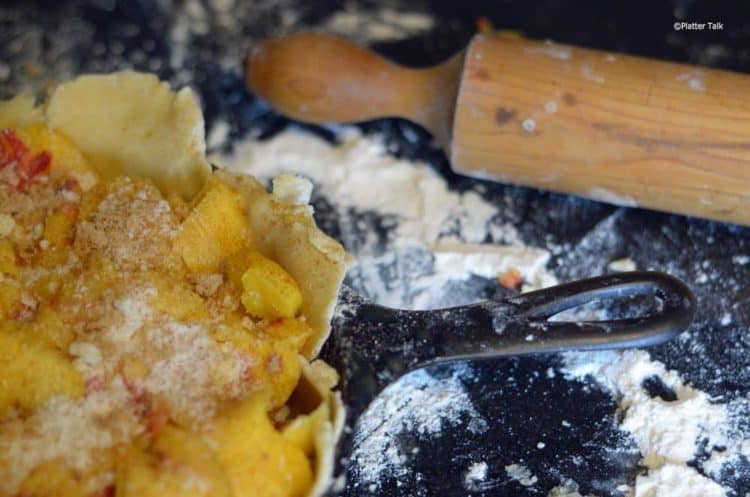 Like our family recipe for peach cobbler, we put this pie together a couple of Saturdays ago at the cottage. When I say we, I refer to myself and our blue-eyed 10 year-old, Isaiah – who we affectionately refer to as Ike.
In truth, Ike sat on one side of the kitchen island while I stood on the other, rolling out the dough and slicing fresh juicy peaches. It was early morning and none of his five brothers were up yet, giving us a wonderful hour or so of one on one time.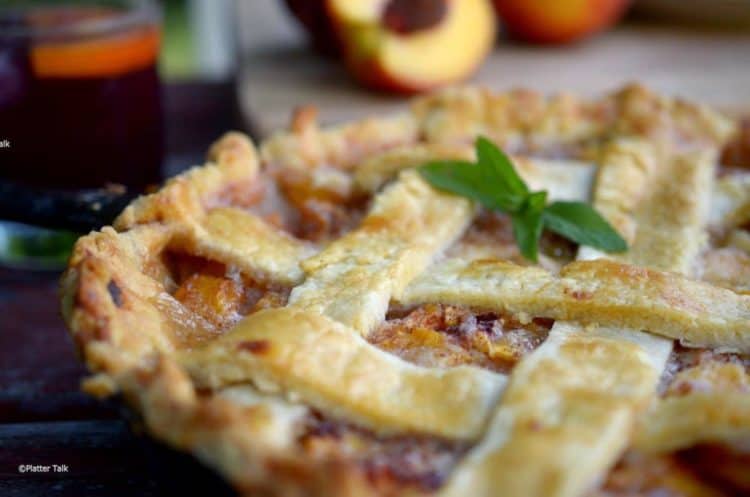 It's beyond all certainty that I helped contribute to an abundance of gray hair in both my parents. It seemed hardly like just karma when Ike's older brothers were born and they began to develop into mellow and easy going boys.
Then came Ike, the boy I refer to as the messenger from God that I knew was coming. He is the one who keeps everyone on their toes, questions everything, and (in his own mind at least) is able to subsist on just a few hours of sleep.
Of all our boys, he reminds me the most of his father. Ike is exactly the type of son that I as a father was due, and I wouldn't change him for all the peaches in Georgia.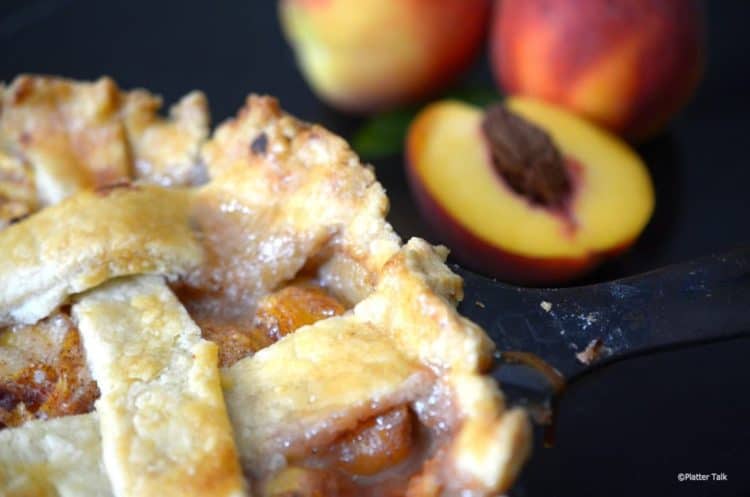 On this Saturday morning while Ike sat across from me enjoying his bowl of breakfast yogurt, I leisurely put this peach pie together, opting to use the timeless skillet that "came" with our little cottage, so many years prior, in lieu of a traditional pie pan.
As I worked, I imparted to Isaiah the versatility of the cast iron skillet – how you can fry eggs in it, use it as a weapon against intruders, or even take a bath in it (his eyes grew pretty wide with that suggestion.)
Then, as I rolled out the dough, I conveyed to him the story behind his mother becoming the best pie maker I've ever known – how my Mennonite sisters tricked her into thinking she would be the one responsible for all the pies at the family Thanksgiving feast many, many years ago.
True to form, she over-compensated in large fashion and now can masterfully craft pie crusts from scratch with her eyes closed, or so it seems.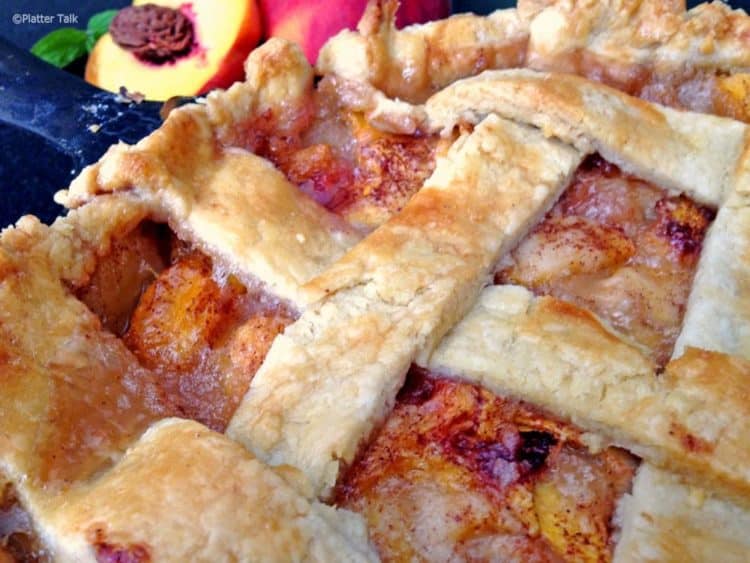 Putting this pie together gave me and my son an hour or so of dad and son time. I loved it, he loved it, and when all was said and done, everyone loved the peach pie. Try this one and don't forget to make some time for just you and the ones you love. Happy summer. -Dan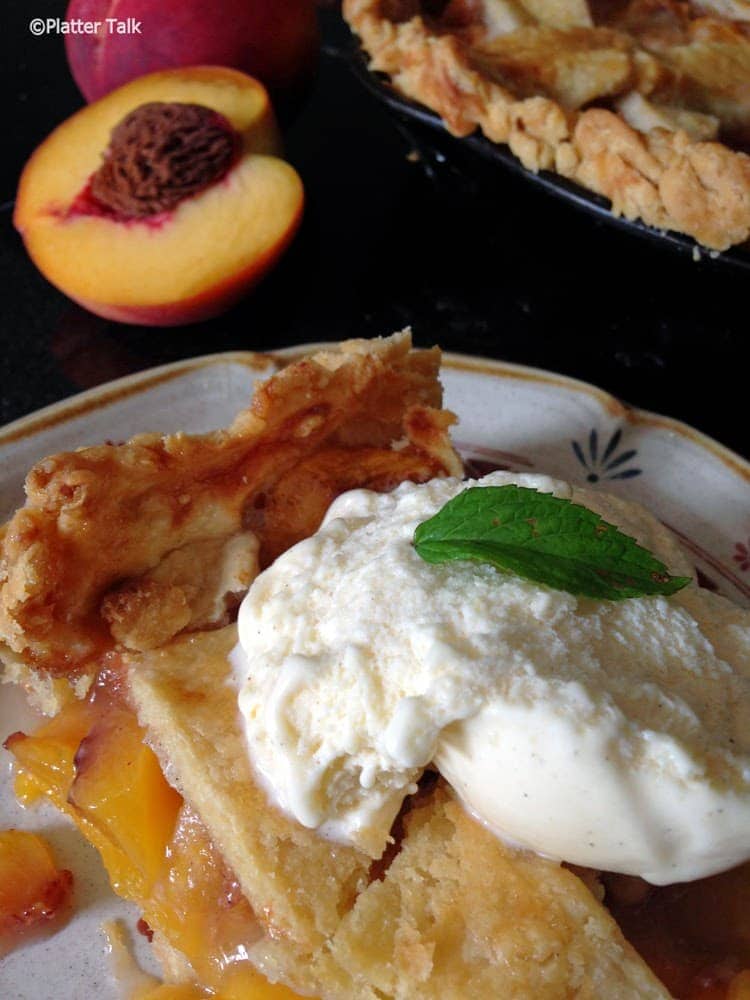 If you love peaches and you love pies, you have to try our old-fashioned egg custard pie recipe. Be sure and add some fresh slices of summer on top of it!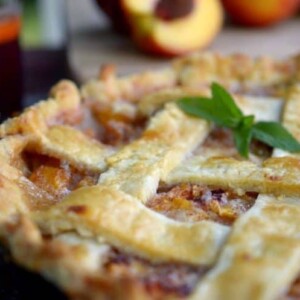 Pies of Summer Series: Peach Pie + Pie Crust Recipe
Peach Pie with Homemade Crust, adapted from Marcia Kammann
Ingredients
for the crust
for the filling
10

fresh peaches

,

pitted and sliced

1/3

cup

all-purpose flour

1

cup

white sugar

1/4

cup

butter

1

teaspoon

cinnamon
Instructions
Preheat oven to 450 degrees F.
for the crust
Combine flour, shortening, sugar, and salt.

Work together with a fork until consistency is pebbly

In separate small mixing bowl, beat egg and add water and vinegar, beat again.

Add liquid mixture to flour and shortening

Stir with fork and combine thoroughly and from into a ball.

Roll out on floured surface.
for the filling
Mix flour, sugar and butter into crumb stage.

Place one crust in the bottom of a 9 inch pie plate. Line the shell with some sliced peaches. Sprinkle some of the butter mixture on top of the peaches, then put more peaches on top of the the crumb mixture. Continue layering until both the peaches and crumbs are gone.

Top with lattice strips of pie crust.

Bake at 450 degrees F (175 degrees C) for 15 minutes, then reduce oven temperature to 350 degrees and bake for an additional 30 minutes.

Turn oven off and leave pie in oven while oven cools down, another 1 to 2 hours.
Notes
Variations in relative humidity can affect quantity of water necessary to form and roll dough.
Don't be afraid to add small amounts of water to achieved desired consistency.
Be generous with the amount of flour used on rolling surface.
To place crust in pan, roll it on pin, place pin over pan and then unroll.
Brush an egg wash over the top crust prior to baking. This provides a rich, brown glaze.
Nutrition
Calories:
651
kcal
,
Carbohydrates:
84
g
,
Protein:
8
g
,
Fat:
33
g
,
Saturated Fat:
10
g
,
Cholesterol:
36
mg
,
Sodium:
352
mg
,
Potassium:
420
mg
,
Fiber:
4
g
,
Sugar:
42
g
,
Vitamin A:
820
IU
,
Vitamin C:
12.4
mg
,
Calcium:
26
mg
,
Iron:
3
mg
Nutrition information is automatically calculated, so should only be used as an approximation.