Our easy peach cobbler recipe is a rustic form of a classic summer dessert. Read on and start preheating your oven!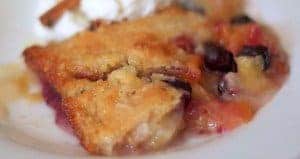 About this
We have all heard the adage about making lemon aid out of lemons. What about when life gives you peaches? Although there are plenty of good uses for lemons in the kitchen, given the choice between a peach and a lemon, I think most of us will choose a peach every time. I'm not going to play favorites here but I'll be honest, whenever I'm lucky enough to have access to fresh peaches, I will do everything in my power to make those babies sing. There is peach pie, there is peach ice cream, there is peach jam, and as we saw last week there are even peach scones. Among the other endless possibilities, there is fresh peach cobbler.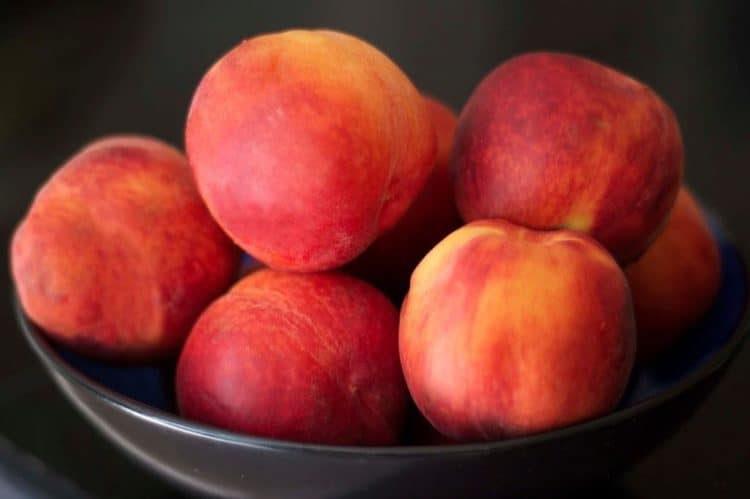 Last week, like millions of other Americans, our family celebrated the Fourth of July. We basked in the glory of summer at our small cottage on a small lake in the Middle of Nowhere, Wisconsin. We had just two guests join us, our good friend Lane and his chihuahua-pekingese son, Fernando. You may recall that I mentioned a dinner party at Lane's, a few months ago when I put together a Lime Fiesta Salad. Back then I was unaware that Lane knows his way around a cookbook and I was under the impression that he doesn't cook. Since that time I've learned more than a few times that I was dead wrong and I'm hoping that Lane will grace us with a guest post here on Platter Talk, at some point in the future.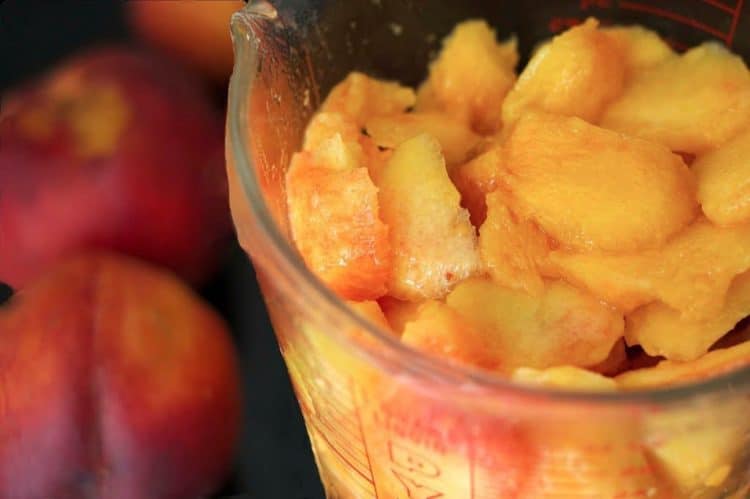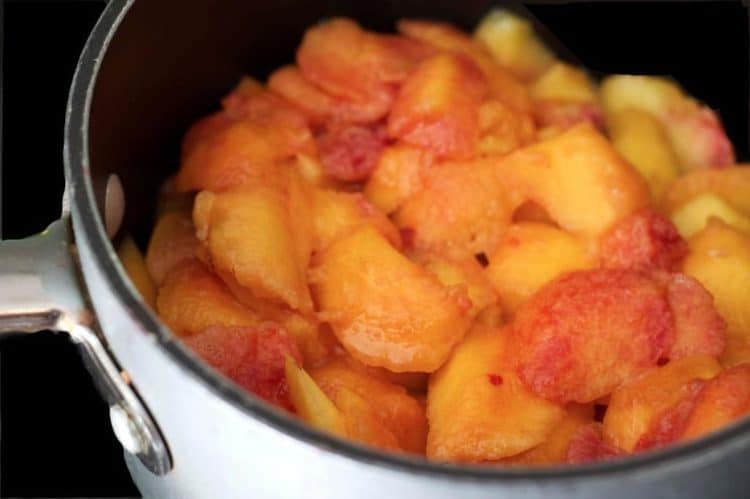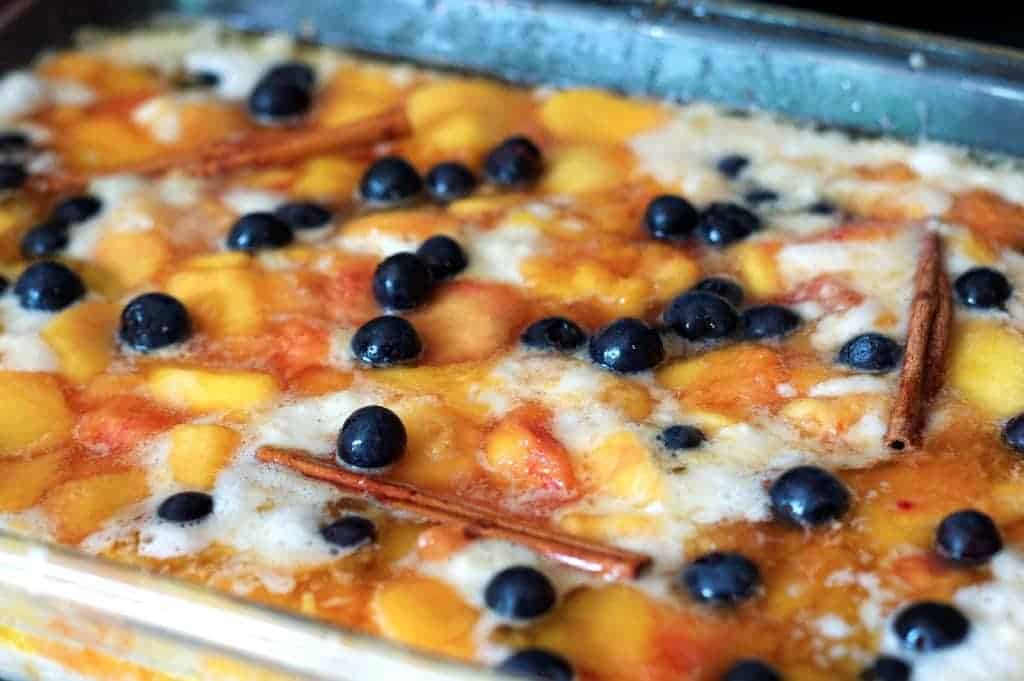 For today's celebration of our nation's birth, Lane volunteered to make some special burgers on the grill. Although I instructed him to not bring anything else, he arrived at our cottage bearing beef, salads, chips, and more. The only thing we needed was an appropriate dessert for this Fourth of July, and with my very limited Internet access, I was able to find something that was promised to be easy and called for a key ingredient of which we had plenty - fresh peaches.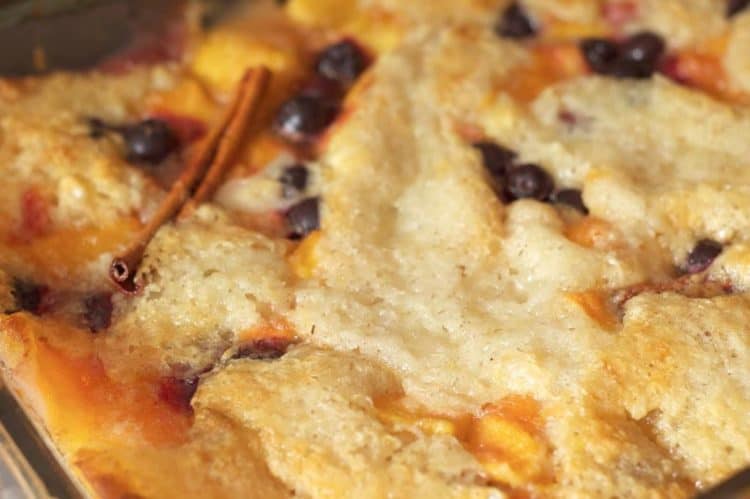 Throughout the day we sat at the end of our pier overlooking the placid lake, sipping peach iced-tea and chatting about nothing in particular and what seemed like everything in general. We enjoyed a picnic lunch on the deck with a new and delicious burger recipe hot off our grill. We took brief naps in our easy chairs while watching the antics of Robin Williams in the movie RV, for the 100th time. When all else had passed, we dove into this pan of fresh peach cobbler.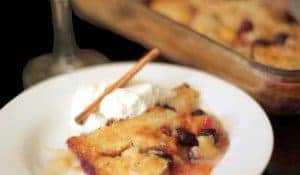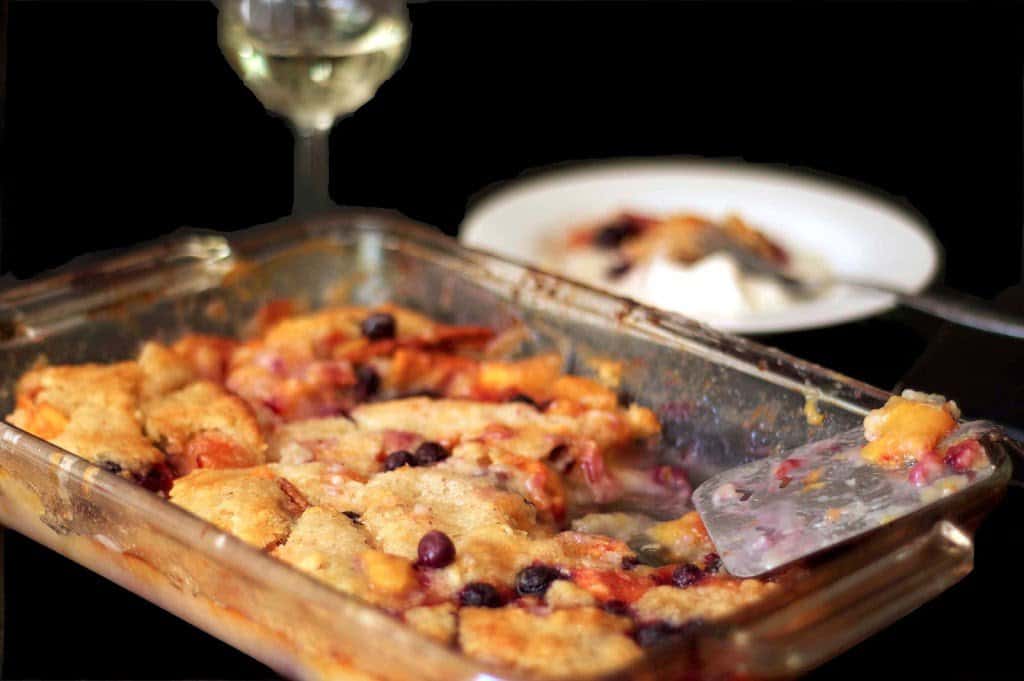 It was a delicious ending to our summer holiday spent with a good friend in a beautiful setting, during one of our favorite holidays of the year. Suffice it to say, we've had worse days. Here is to wishing everyone reading this has a happy summer, and remember - when life gives you peaches, for goodness sakes, make some of this peach cobbler!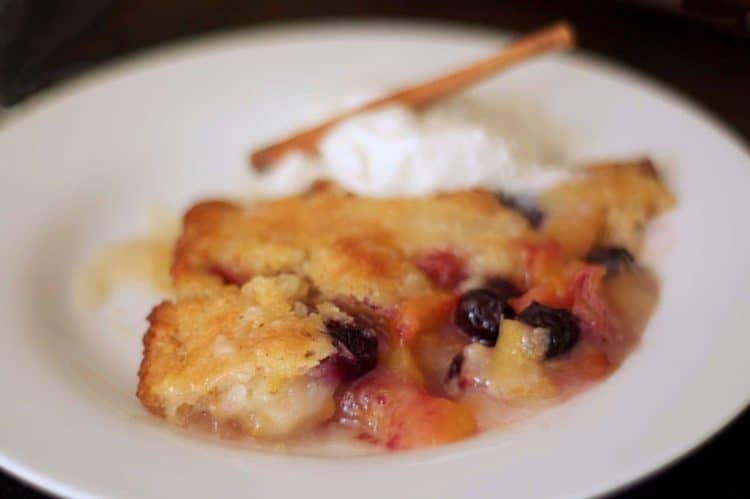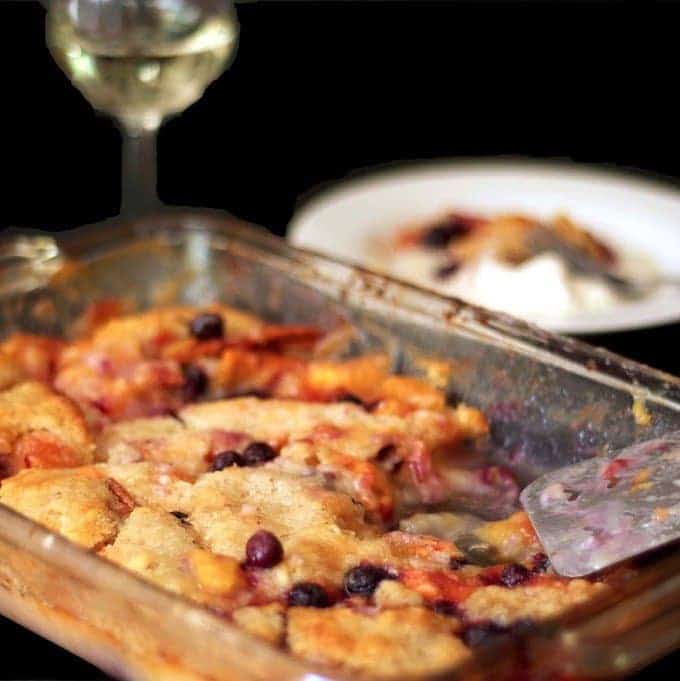 Easy Peach Cobbler Recipe
This simple recipe for peach cobbler is adapted from Taste of Home.
Print
Pin
Rate
Ingredients
4

cups

fresh peach slices

peeled

1

cup

flour

1

cup

milk

2

cups

sugar

1

tablespoon

baking soda

½

cup

1 stick butter

cinnamon and/or nutmeg to taste
Instructions
Preheat oven to 375 degrees F.

In large sauce pan, bring peaches, 1 cup of sugar, and cinnamon or nutmeg to boil, stirring constantly.

In 9" x 13" baking pan, melt butter.

In large mixing bowl, combine flour, baking soda, remaining 1 cup of sugar, and milk.

Mix until all dry ingredients are moist.

Pour batter into baking pan, being sure to distribute evenly.

Pour peach mixture over batter.

Place in oven and bake 40 to 45 minutes or until golden brown on top.

Serve warm or refrigerate for later use.
Notes
Add a cup of other fresh fruit if you like. In preparing this recipe, I tossed in some blueberries which contributed some nice color and flavor to the recipe.
Out of ground cinnamon? (As I was.) Place a couple of cinnamon sticks in the sauce pan with the peaches, then bake with the rest of the ingredients.
Have vanilla ice cream on hand to accompany this cobbler.
Nutrition
Calories:
401
kcal
|
Carbohydrates:
71
g
|
Protein:
3
g
|
Fat:
13
g
|
Saturated Fat:
8
g
|
Cholesterol:
34
mg
|
Sodium:
526
mg
|
Potassium:
203
mg
|
Fiber:
2
g
|
Sugar:
58
g
|
Vitamin A:
655
IU
|
Vitamin C:
5
mg
|
Calcium:
45
mg
|
Iron:
1
mg