Baked Brie with Fresh Peach and Blueberry Compote
on Aug 24, 2013, Updated Oct 07, 2020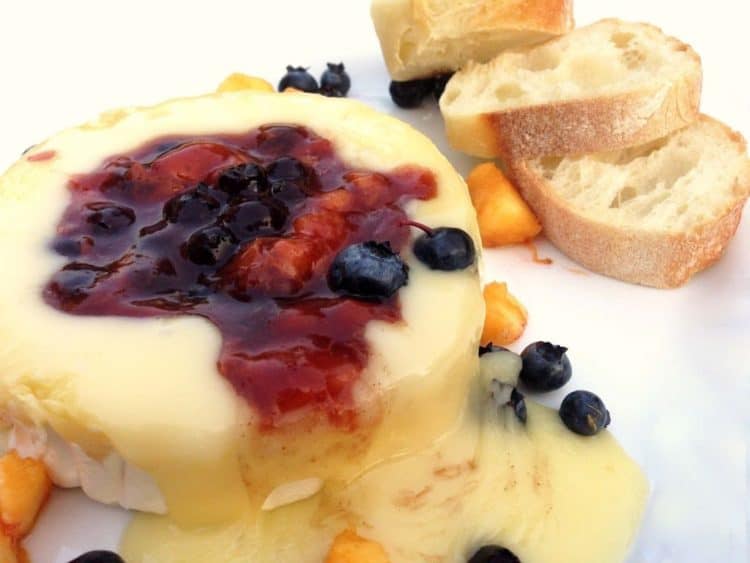 This post is a feature that embodies the central mission of Patter Talk. It's about good food, good friends, and good wine and how when all three come together the richness of life is front and center.
We were blessed with such a trifecta a few nights ago when it was manifested by the combination of our friends Tim and Dianne, some sauvignon blanc from Kim Crawford, and a heavenly wheel of baked brie topped with blueberries and peaches, fresh from the tree of our good friends, Nik and Alice.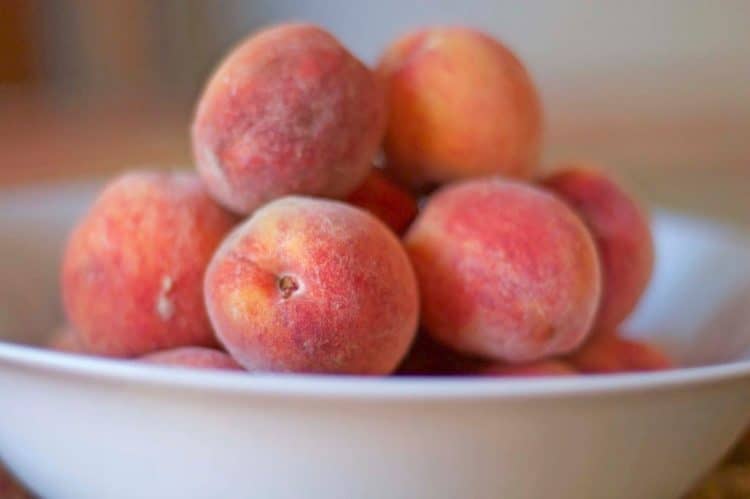 I can't think of a better way to start an August day than to get a text message from a friend stating there is a bag of fresh peaches from his tree, waiting for me. I had this experience a few days ago and when I arrived at my locker at work.
There sat 2 or 3 pounds of the most beautiful and soft dwarf peaches I had ever laid eyes on. Who knew peaches grew in Wisconsin.
Friend, let me tell you – they do, and quite nicely I might add.. The only question I had was how to make the best use of these, other than eating them, peach by peach – an option from which I had to force myself to restrain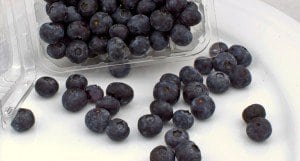 July may be national blueberry month but even in mid-August, we are swamped with pints and pints of fresh berries throughout.
We've touched upon the perfect friendship between peaches and blueberries in the past with some terrific muffins, surely there have to be other equally delicious combinations. I came across a score of ideas using the two of these together with a favorite delicacy of my favorite man, Scott.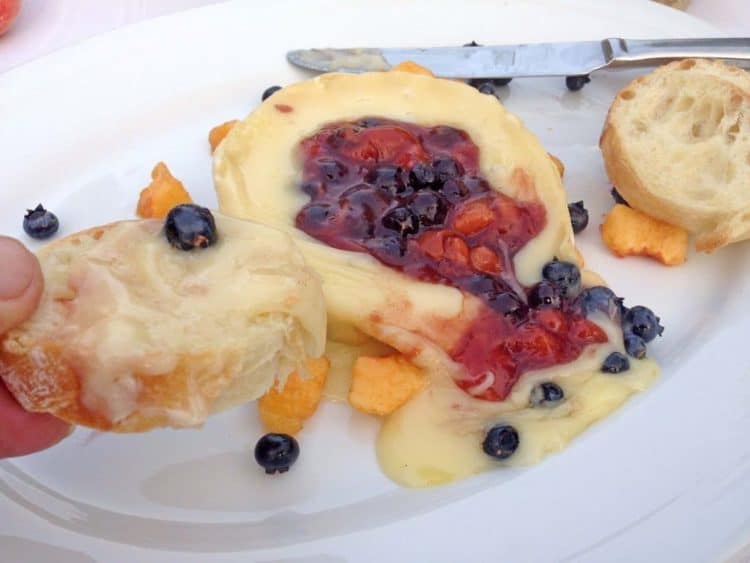 Now I have found myself on this sweltering mid-August afternoon with some delicious and fresh fruit, and a succulent wheel of brie cheese.
This was going to be too good to not share with some friends – and so I was delighted to get a confirmation from our friend Diane stating that she and her husband Tim would be happy to join us for a treat later in the evening, with the qualification they would likely be thirsty at the close of such a hot day.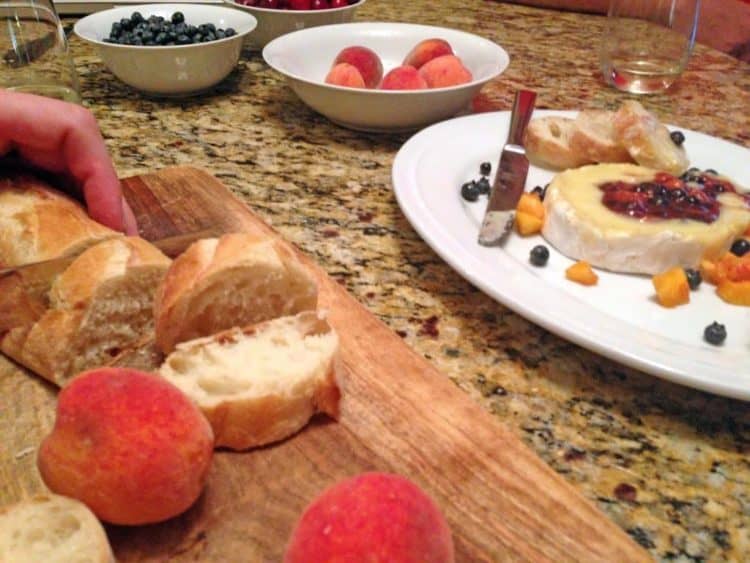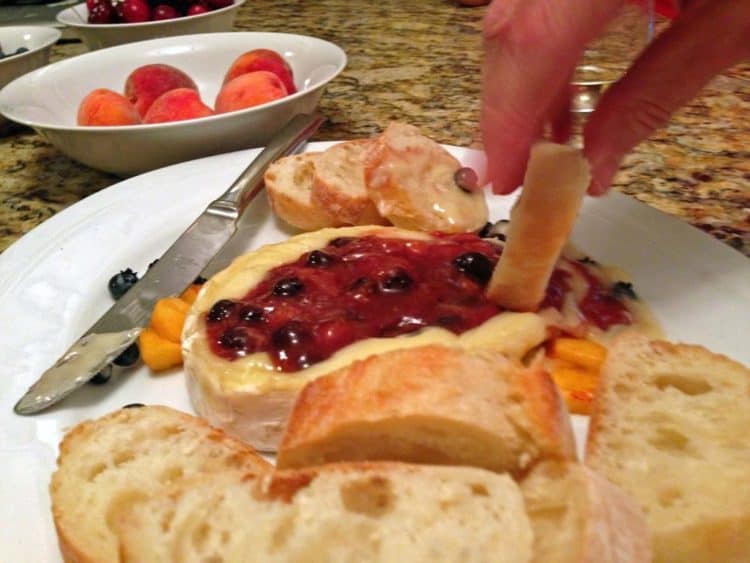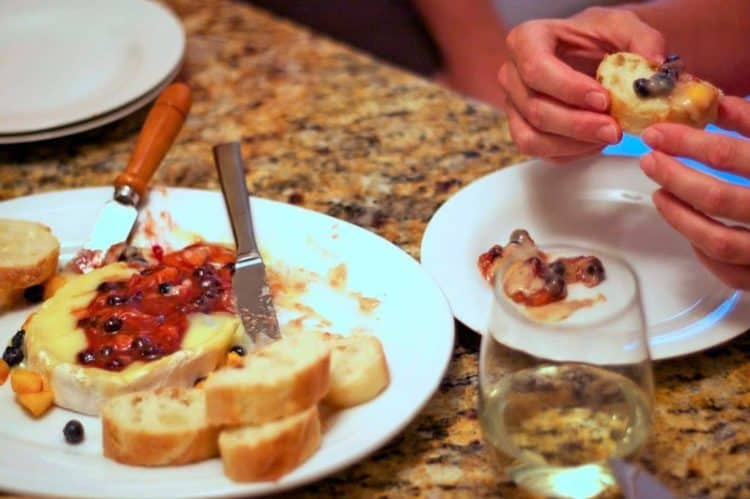 And so on this sweltering August evening, we hung around our kitchen with some great friends, excellent wine, and a delicious treat.
Ellie, our not-so-little English Bulldog, took great delight in slobbering all over her best friend Diane, who she is convinced is her twin. Diane is by all standards, gorgeous. Ellie – not so much. We do our best to enhance our little girl's self-esteem and thus just refrain from "going there."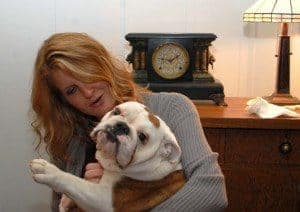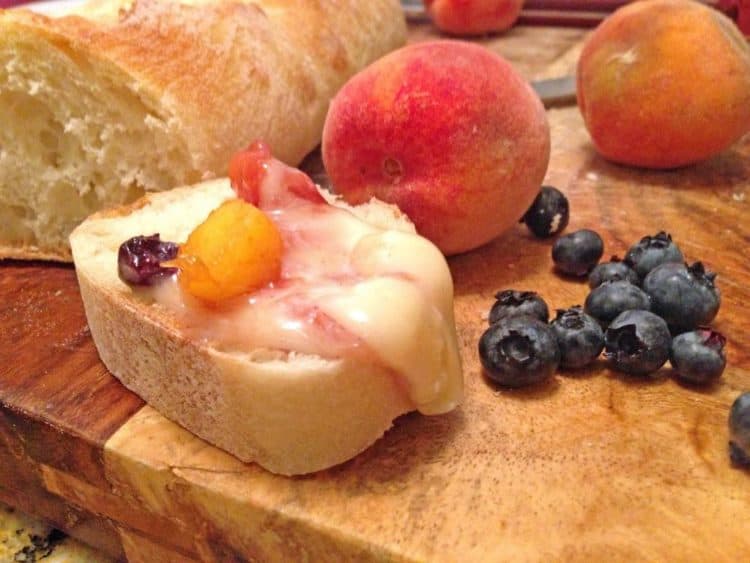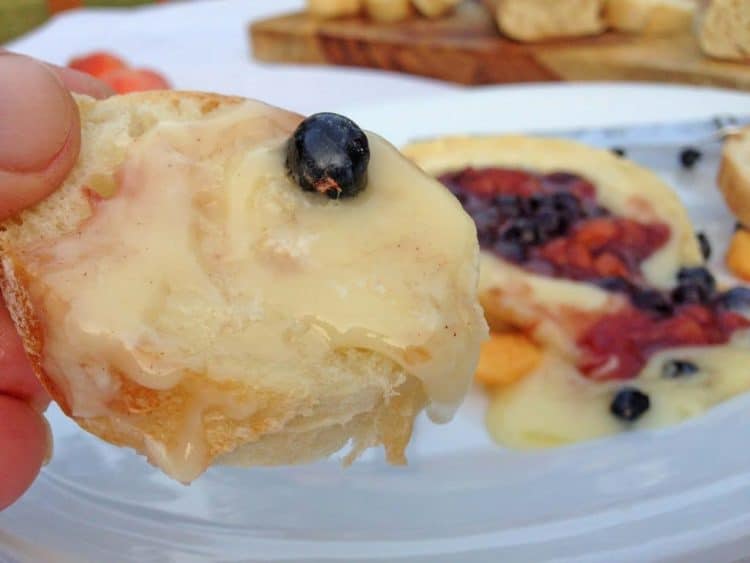 As the evening faded away, thus followed the brie and the wine. We bantered about life, talked with anticipation of the upcoming union celebration between Scott and myself, and began the discussion about a joint vacation at dates yet to be determined.
This was a night about what in my opinion should be a component of any full life; good food, good friends, and good wine.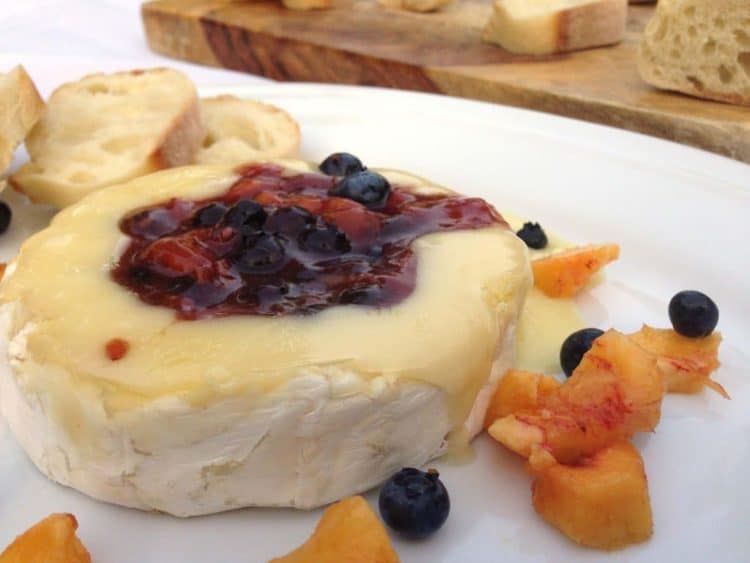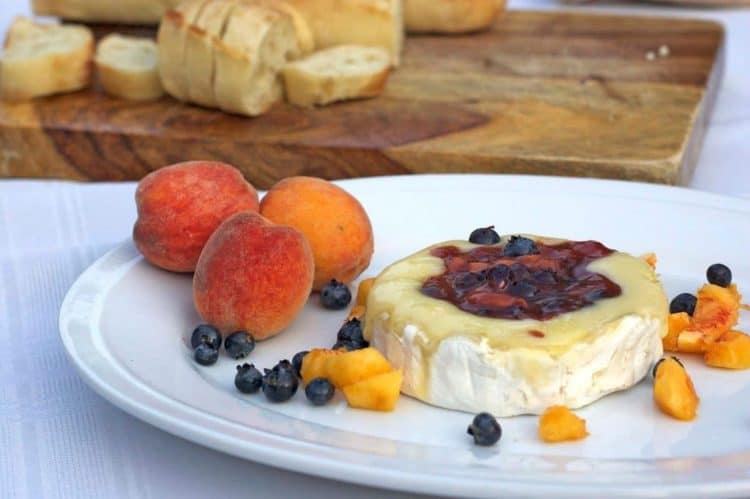 Other delicious snacks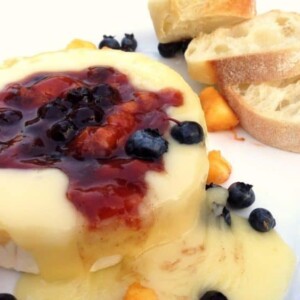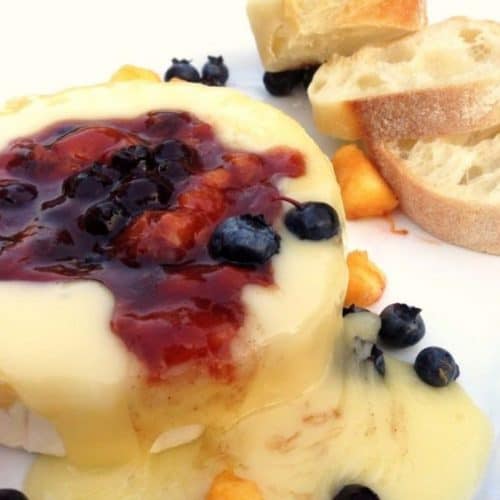 Baked Brie with Fresh Peach and Blueberry Compote
A Platter Talk Exclusive
Ingredients
1

wheel brie

1

cup

fresh peaches

,

washed and unpeeled, diced into 1/2 inch pieces

1

cup

fresh blueberries

1/3

cup

brown sugar

1

tablespoon

ground cinnamon

1

tablespoon

corn starch

2

tablespoons

fresh lemon juice

2

tablespoons

cider vinegar
Instructions
Preheat oven to 300 degrees F

Score rind of brie wheel around top perimeter but do not remove before baking.

Place brie on oven-safe baking dish or pan and bake for 30 minutes

Combine remaining ingredients in small sauce pan and gently fold until well combined

Place sauce pan over medium heat and simmer until compote thickens and peaches are tender.

Keep compote warm until brie comes out of oven

Remove brie from oven after 15 minutes and remove top rind from wheel

Spoon compote over warm wheel of brie

Serve immediately with bread or crackers.
Nutrition
Calories:
311
kcal
,
Carbohydrates:
31
g
,
Protein:
13
g
,
Fat:
16
g
,
Saturated Fat:
10
g
,
Cholesterol:
57
mg
,
Sodium:
363
mg
,
Potassium:
212
mg
,
Fiber:
3
g
,
Sugar:
25
g
,
Vitamin A:
481
IU
,
Vitamin C:
9
mg
,
Calcium:
140
mg
,
Iron:
1
mg
Nutrition information is automatically calculated, so should only be used as an approximation.