Bruschetta al Pomodoro (Garlic-Rubbed Toast with Fresh Tomatoes and Basil)
on Aug 30, 2013, Updated Apr 07, 2020
Bruschetta al Pomodoro (Garlic-Rubbed Toast with Fresh Tomatoes and Basil) might just be the best bruschetta you will ever taste and likely the best you will ever make.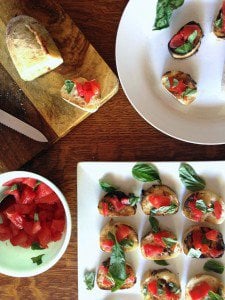 Bruschetta al Pomodoro
(Garlic-Rubbed Toast with Fresh Tomatoes and Basil)
A few nights ago we were invited to a very special event, a canine birthday party for our good friend Fernando. His grandparents were in town for the occasion, all the way from Wyoming. Over the last year, we have become good friends with them and also with his human, our friend Lane.
Lane's mom was making Chicken Parisienne, straight from the 1967 Betty Crocker cookbook that she has used for decades. Another of the guest, Gibson, was having his very pretty human named Karen bring a favorite fruit salsa. It seemed the only thing missing would be an appetizer.
And that's how Ellie, the English Bulldog who owns, volunteered my services and promised Fernando that although she had a bowling commitment that night with her neighbor Sassy, both her humans would be there to celebrate, with bruschetta in hand.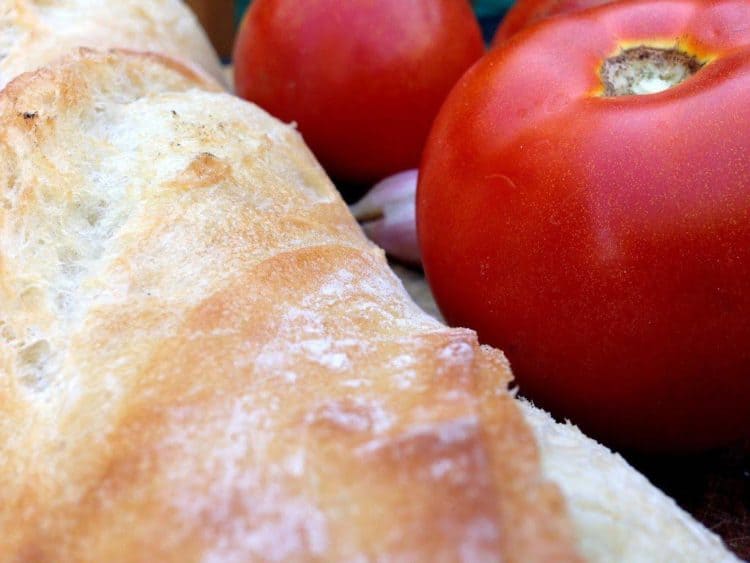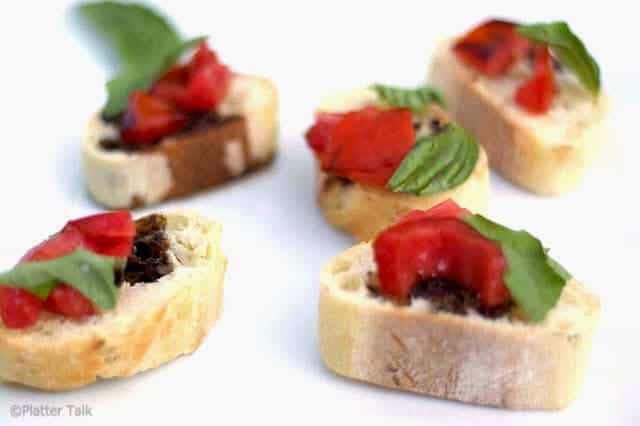 Fresh is Always Best
I thought the bruschetta sounded like a good idea and so I set out to find some ideas. You've read mention of my favorite new hangout, Oak Ridge Farms just down the road from our home.
They have scads of fresh tomatoes of all varieties right now, not to mention just about anything else you can imagine that comes from a garden in mid-summer. I knew exactly where my tomatoes would be coming from.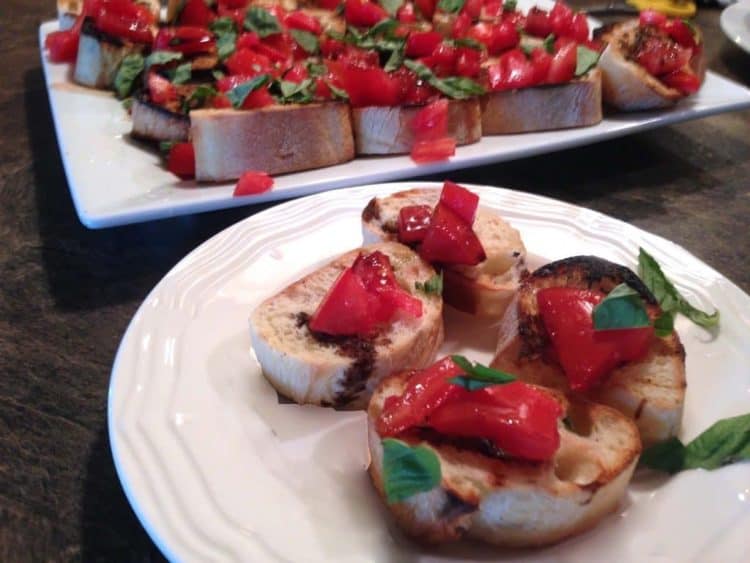 Bruscshetta can be found prepared in all different forms with all different toppings. There are cheeses, there are meats, there are melons and vegetables of all sorts and I'm sure if you look far enough you can find it topped with trees and automobiles (ok that might be a bit of a stretch.) But you get the point.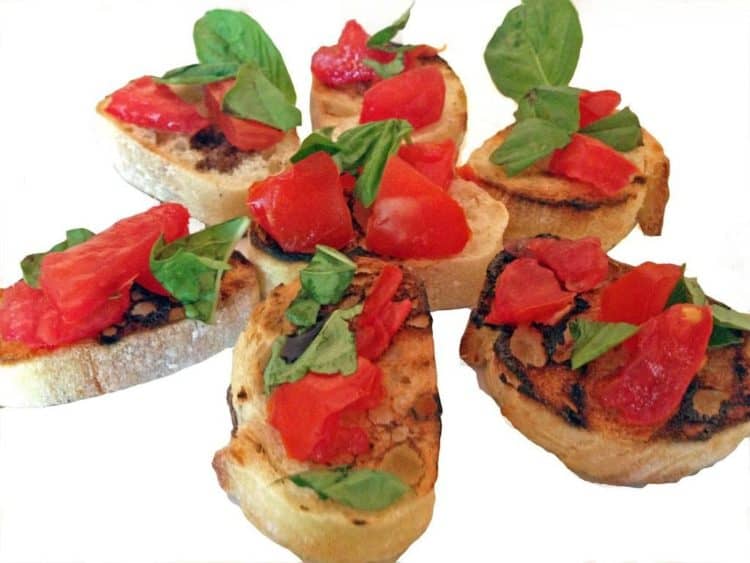 We find bruschetta at many venues now, from fast food joints to the finest white table cloth establishments and everywhere in between. And no wonder, this antipasto from Italy dates back to at least the 15th century.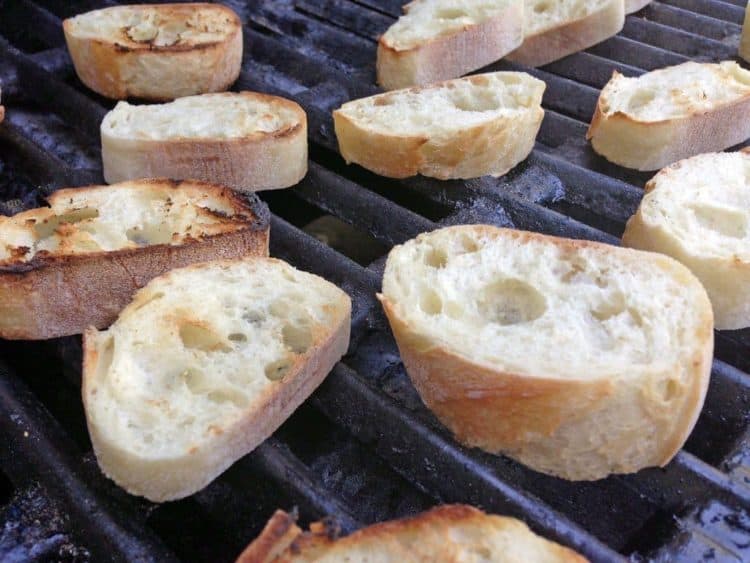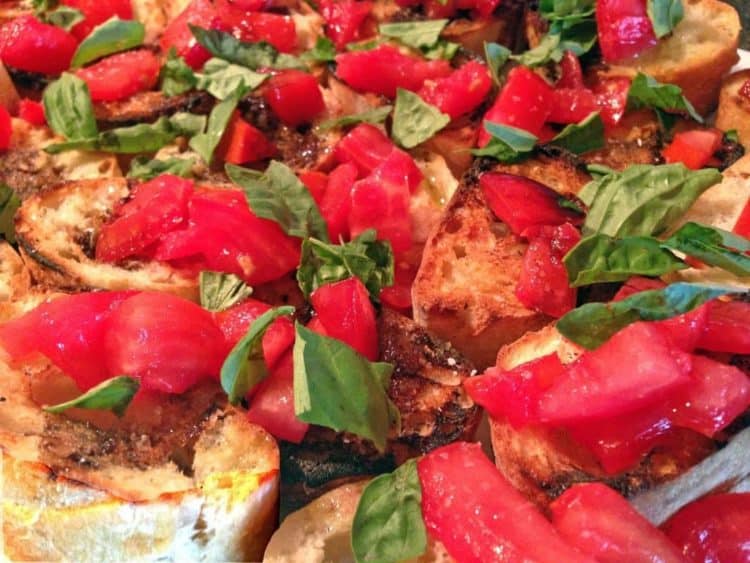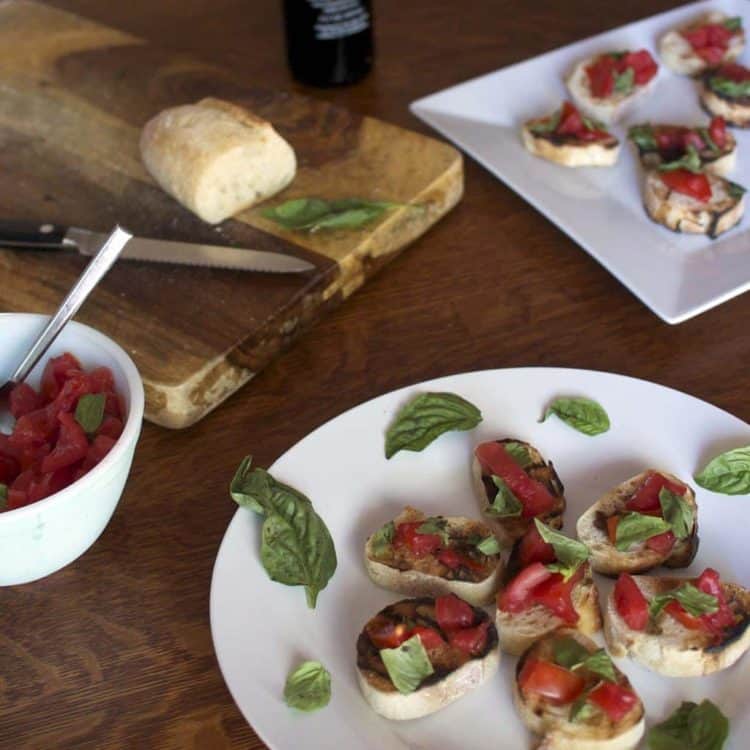 Bruschetta al Pomodoro is Summertime Fresh
Our dear friend and pastor, Paola, hails from the Abruzzo region of Italy where a variation of bruschetta made with a salami called ventricina is served. Paola prepared a rendition of this a week or so ago at our house, again defying direct orders to "bring nothing" for a small cookout we hosted.
Although she's not always the best listener in this regard, let me assure you that no one complained.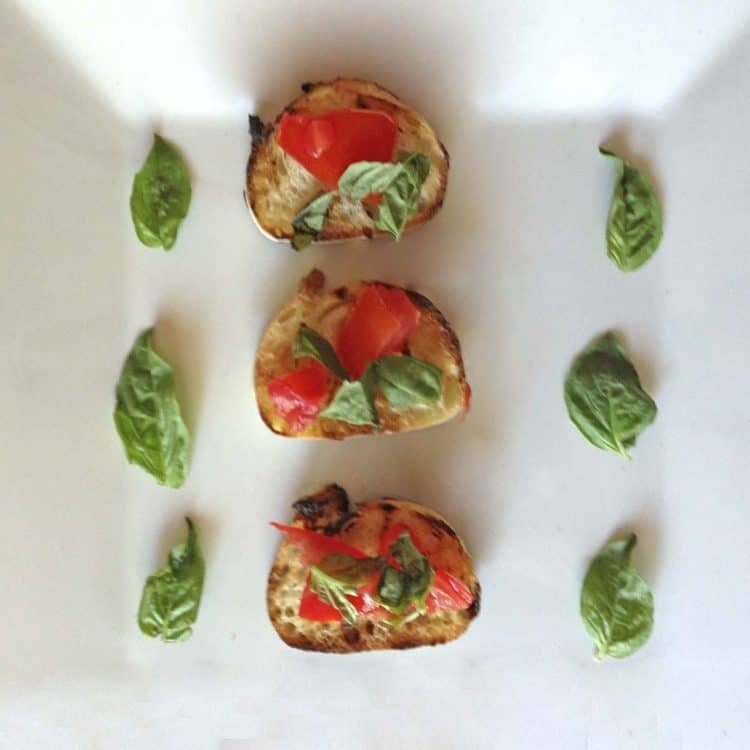 With this briefest background of bruschetta, and with thanks to our little Ellie, I now found myself thinking about how I would put together some of this seasonal antipasto for Fernando's birthday party. This was my first time preparing bruschetta and so I looked around a bit for some ideas and this is what I came up with. It was in this way we came up with this incredibly fresh summer treat, Bruschetta al Pomodoro.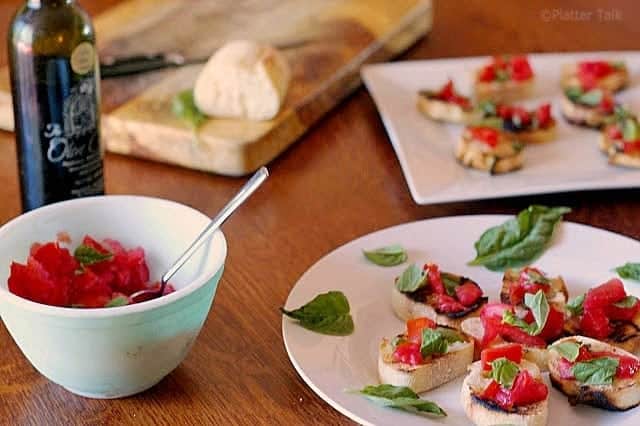 Keeping it Simple. Keeping it Delicious
A recurring theme in my life as I get older is that simpler is often, if not indeed usually, better. Williams-Sonoma echoes this philosophy with their rendition of bruschetta. It looked particularly appealing to me largely because of its simplicity and in spite of Fernando having his own fire engine red Mercedes, I thought he and his human guests would enjoy this too.
I had just put in a full day of work at my real job and therefore toiling away hours in the kitchen for a dog's birthday party was not exactly my goal for the end of the day.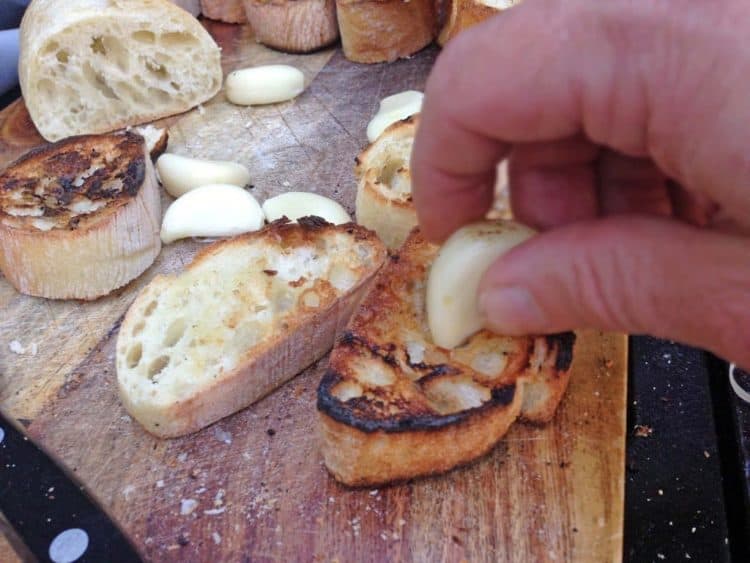 Besides the simplicity of this method of preparation, I liked the hands-on sound of it. Given the choice of using the hook of a mixer or my own hands to knead a dough I will use my hands every time. Why? I like the tactile aspect of preparing food.
How else can you really tell when a dough is ready than by stretching it with your own fingers? Similarly, rubbing whole cloves of garlic on bread toasted over a fire was right up my alley. Of note, I picked up some hard-neck garlic, versus the soft-neck variety, at Oakridge Farms. This added some octane to the bruchetta, kicking up the heat and spice considerably.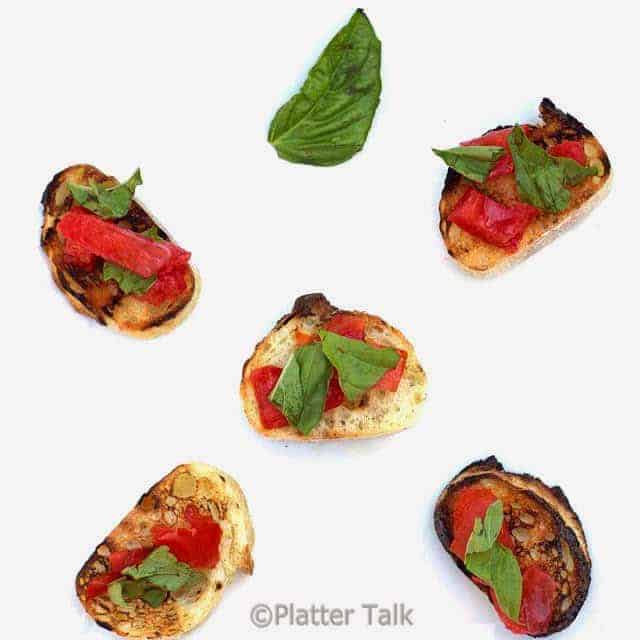 Try this Amazing Bruschetta
Turns out, this was some of the best bruschetta I've ever tasted. How could it not be? Everything was fresh, simple, and in season.
It's a good lesson for all of us when pondering what to make for dinner, what to don for clothing, and in general how to live our lives. Keep it simple, keep it seasonal, keep it classic. Bruschetta al Pomodoro does all that and more. I hope you will try it and let me know your thoughts.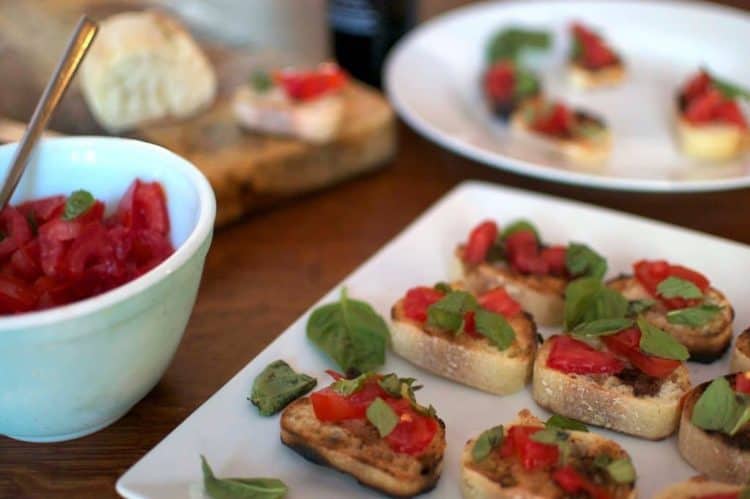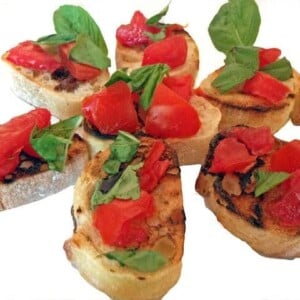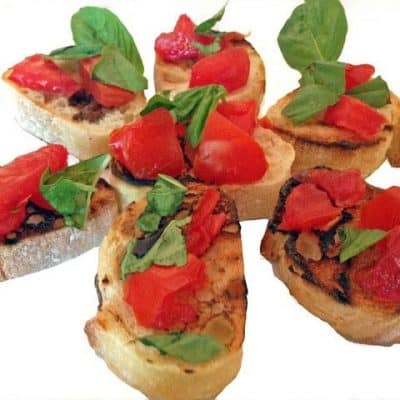 Garlic-Rubbed Toast with Fresh Tomatoes and Basil. (Bruschetta al Pomodoro)
Inspired by WIlliams-Sonoma
Ingredients
1

baguette bread

4-6

Roma tomatoes

,

cored, seeded, coarsely diced

3

cloves

garlic

1/4

cup

fresh basil

,

coarsely divided

2

tablespoons

olive oil

1

tablespoon

balsamic vinegar

,

optional

1

tablespoon

kosher salt
Instructions
Slice bread into 1/4 inch slices.

Over medium-high heat, grill bread until toasted.

Rub whole garlic cloves over each slice of toasted bread.

Evenly distribute tomatoes and basil over each slice of bread.

Drizzle lightly with olive oil and balsamic vinegar

Sparingly sprinkle salt over bruschetta.
Nutrition
Calories:
78
kcal
,
Carbohydrates:
11
g
,
Protein:
2
g
,
Fat:
3
g
,
Saturated Fat:
1
g
,
Sodium:
699
mg
,
Potassium:
73
mg
,
Fiber:
1
g
,
Sugar:
1
g
,
Vitamin A:
199
IU
,
Vitamin C:
3
mg
,
Calcium:
19
mg
,
Iron:
1
mg
Nutrition information is automatically calculated, so should only be used as an approximation.