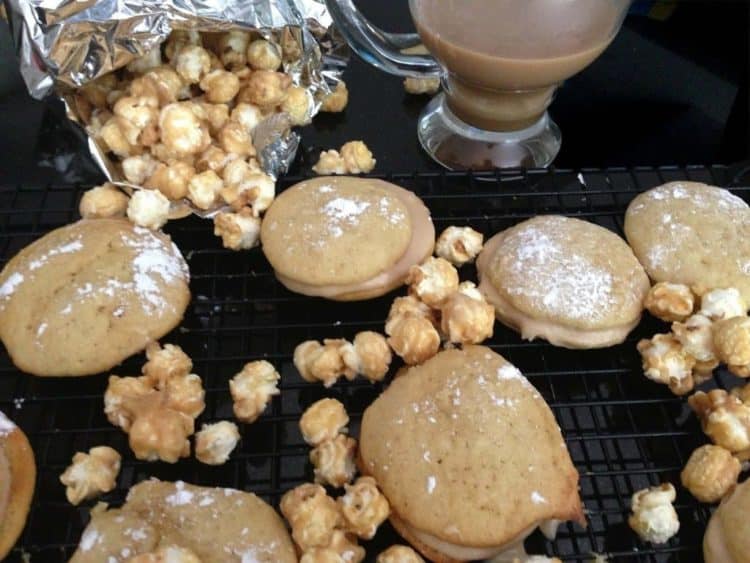 Summer is nearing it's end. Well, I hope not for a while but September is upon us. Nonetheless, there are still some stunningly beautiful summer days ahead for the year - for this I feel certain. It is an almost overwhelming time for things that grow in the field to be "done," or, "ready." That being said, I'm always up for a challenge, and for this post I looked a couple of ears of peaches and cream sweet corn right in the kernels and said, "Let's have at it!"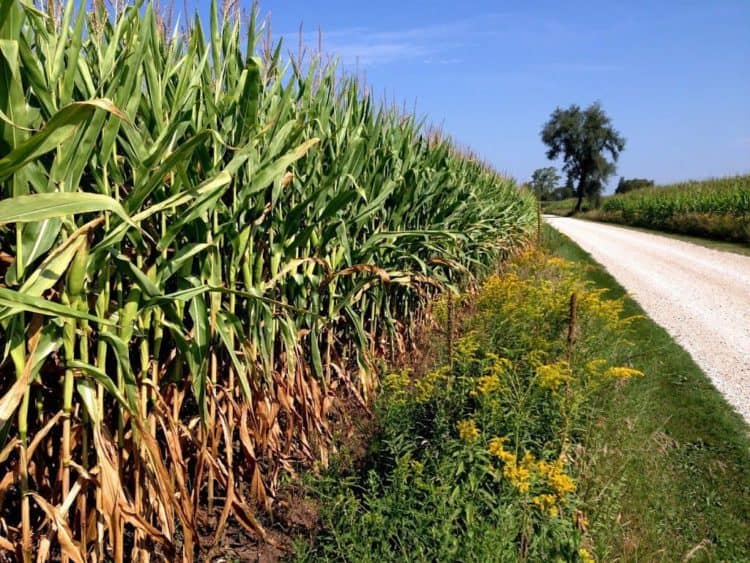 I am still breathing in the fumes from a blissful week spent with the boys at our small cottage on a small lake in The Middle of Nowhere, Wisconsin. I'm not referring to gasoline fumes, but the fumes of summer. Particularly the fumes of corn. I took a luxurious jaunt on my feet through what surely must be God's country, just a few mornings ago. While I was jaunting (which consists of a combination of jogging and walking) my olfactory senses were in overdrive - in a very good way. There was a pervasive scent in the air. Not only in the air, but in the summer landscape, upon the goats and sheep casually lounging in the shade, only a few feet from a gentle country brook making its way across the land, and even on the ancient barns and silos that still stood from another era, long beyond their days of use. Yes, this fragrance was almost sweet, not unlike that of a citrus grove and in no uncertain terms, completely pleasant. Of course being in Wisconsin, it wasn't oranges I was smelling. It was corn and it was literally all around me.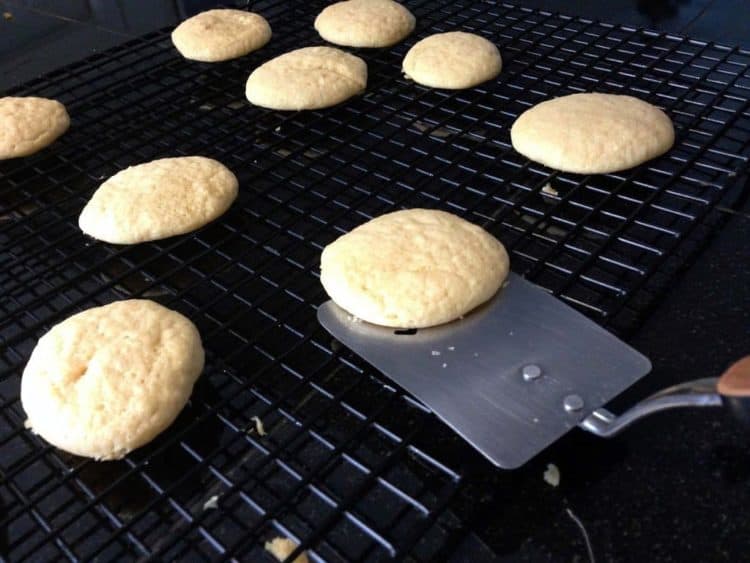 Yes, I grew up on a farm and yes, we grew among other things, corn. Lot's of it. That may have been in part, the source of the olfactory and visual buffet before me. The real reason though, it was just a beautiful morning. Warm, cloudless, and replete of hope. The very essence of summer.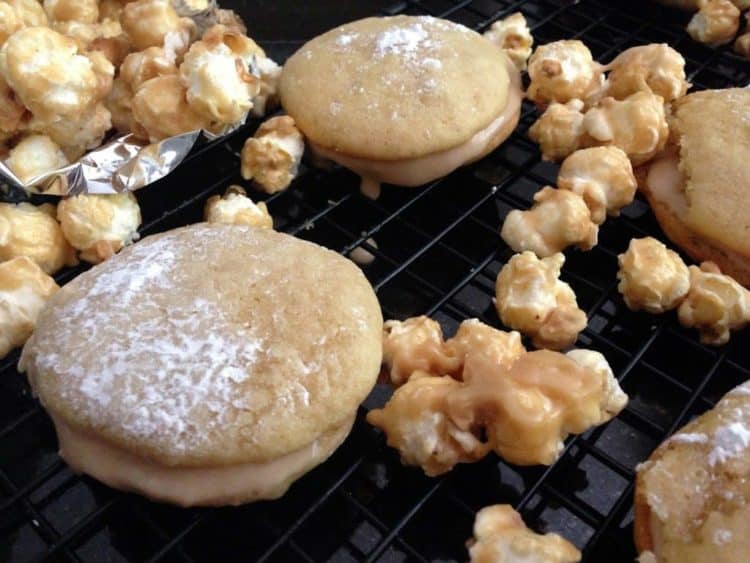 During my time off at the cottage, in between taxiing players of football and soccer, seemingly infinite loads of laundry, washing dishes from dusk till dawn, and catering to every need imaginable to a handful of jubilant boys and their English bulldog, I was able to sneak in a couple of private moments with just myself and my new favorite food magazine, Cuisine at home.
One, among many great pieces I came across was an idea that featured fairs and sweet corn. As Providence would have it, here in the mid-west we are in the midst of both, county fairs and acres and acres of sweet corn.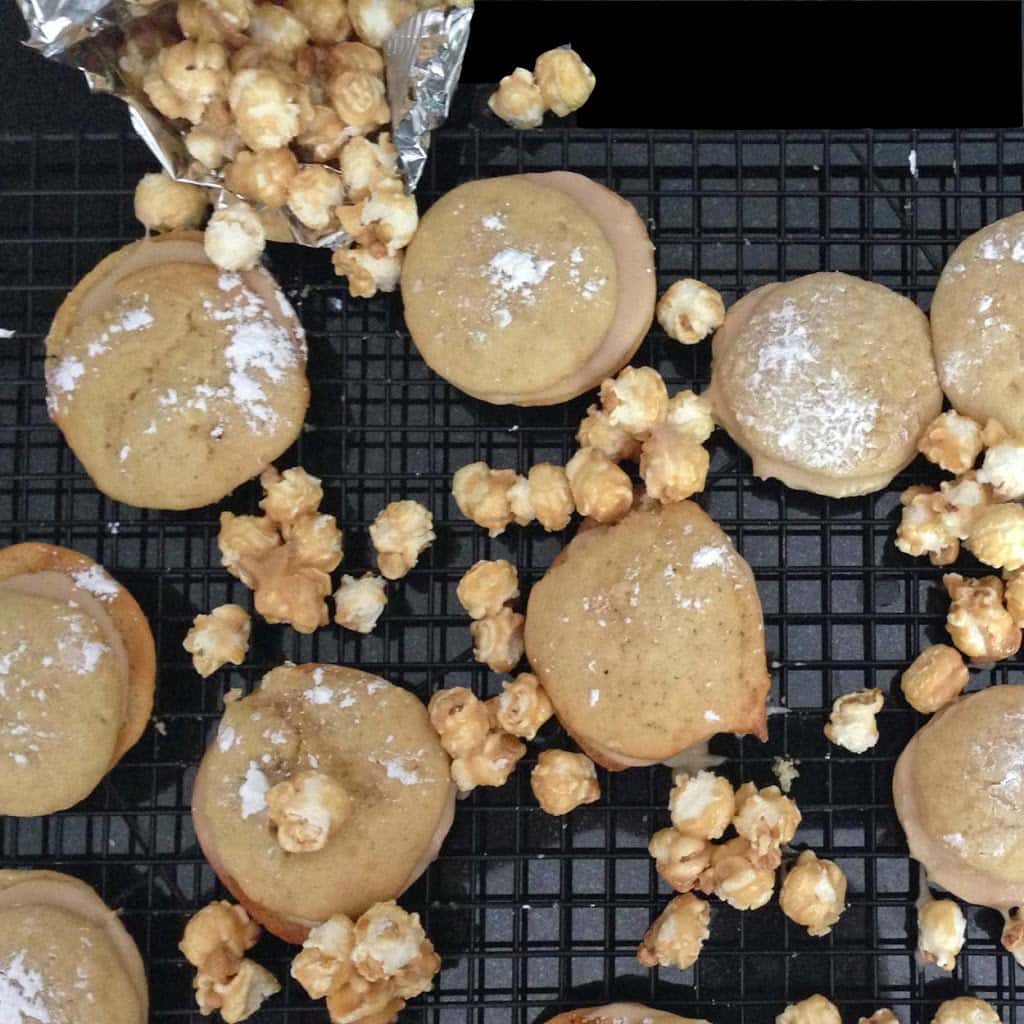 I started to make these whoopie pies at point A of one day, and finished them at point B of the next. I had no intention of not finishing them on the day I started making them, but that is just the point of being at the cottage. Other than the absolute necessities, intentions are optional and indeed discouraged. On Friday, the kids were fed, they were supervised while swimming, there was an ongoing mediation of squirt gun fights and cap gun showdowns, whoopie pies were started, and the entire family went to the county fair.
The cookie dough rested comfortably, sealed and tucked away in the refrigerator while on Friday evening the kids got all of their money's worth from the midway wristbands, while we made our way through the livestock and poultry barns, and while all eight of us passed out at night's end from sheer exhaustion. On Saturday, we had caramel corn whoopie pies. They were worth the wait.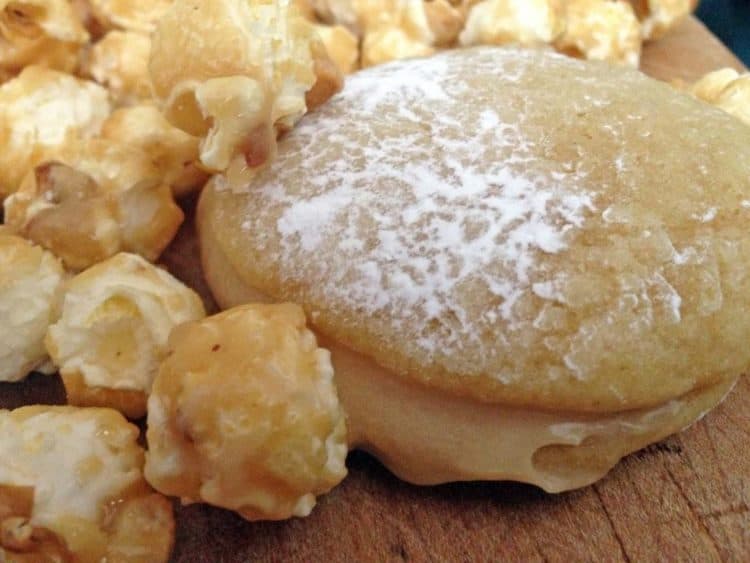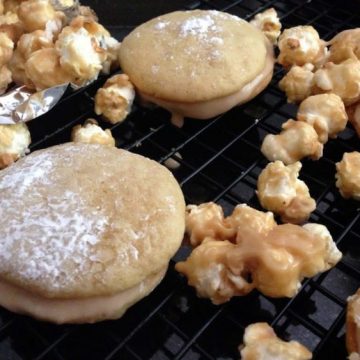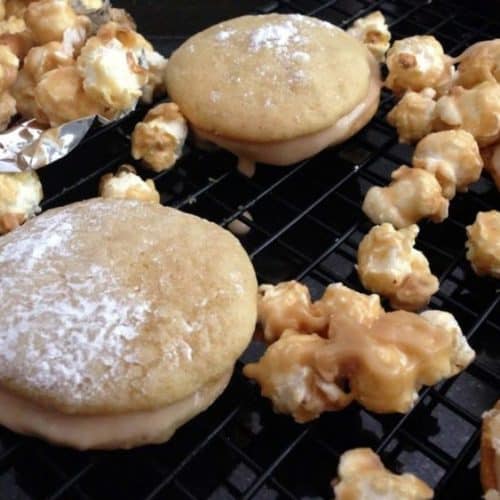 Caramel Corn Whoopie Pies
This whoopie pie recipe featuring fresh sweet corn and caramel comes from Cuisine at Home
Print
Pin
Rate
Ingredients
for the cookies

2

ears sweet corn

such a Peaches & Cream variety, cooked and cut off cob

½

cup

buttermilk

1

stick

½ cup unsalted butter, softened

¾

cup

granulated sugar

¼

cup

packed brown sugar

1

egg

1

teaspoon

vanilla

2

cups

all-purpose flour

½

teaspoon

baking powder

½

teaspoon

baking soda

for the filling

1

stick

½ cup unsalted butter, softened

2

tablespoons

purchased caramel topping

2

cups

powdered sugar
Instructions
for the cookies

Preheat oven to 350 degrees F.

Line baking sheet with parchment paper.

Puree corn and buttermrilk in a food processor.

Press puree through a mesh sleeve or food mill to yield one cup liquid; discard solids.

Cream 1 stick butter and sugars in a bowl with mixer until fluffy.

Beat in egg and vanilla.

Sift flour, salt, baking powder, and baking soda.

Alternately add flour mixture and corn liquid to creamed mixture, mixing after each addition.

Chill dough until firm, about 1 hour.

Scoop dough onto baking sheets with a #60 scoop (about 1 tablespoon)

Bake cookies until set, about 12 minutes.

Transfer to rack to cool.

for the filling

Beat 1 stick butter and caramel with a mixer until smooth.

Mix in powdered sugar until fluffy and smooth.

to assemble whoopie pies

Pipe filling onto half the cookies.

Sandwich with remaining cookies

Just before serving, dust top of whoopie pies with powdered sugar.
Notes
Warning: Do not eat hot caramel! (Speaking from experience!)
Nutrition
Calories:
246
kcal
|
Carbohydrates:
56
g
|
Protein:
3
g
|
Fat:
1
g
|
Saturated Fat:
1
g
|
Cholesterol:
15
mg
|
Sodium:
66
mg
|
Potassium:
104
mg
|
Fiber:
1
g
|
Sugar:
38
g
|
Vitamin A:
64
IU
|
Vitamin C:
1
mg
|
Calcium:
28
mg
|
Iron:
1
mg