Chicken Caesar Pizza Bites Appetizer
on Mar 30, 2016, Updated Apr 07, 2020
This post is sponsored by Girard's Salad Dressing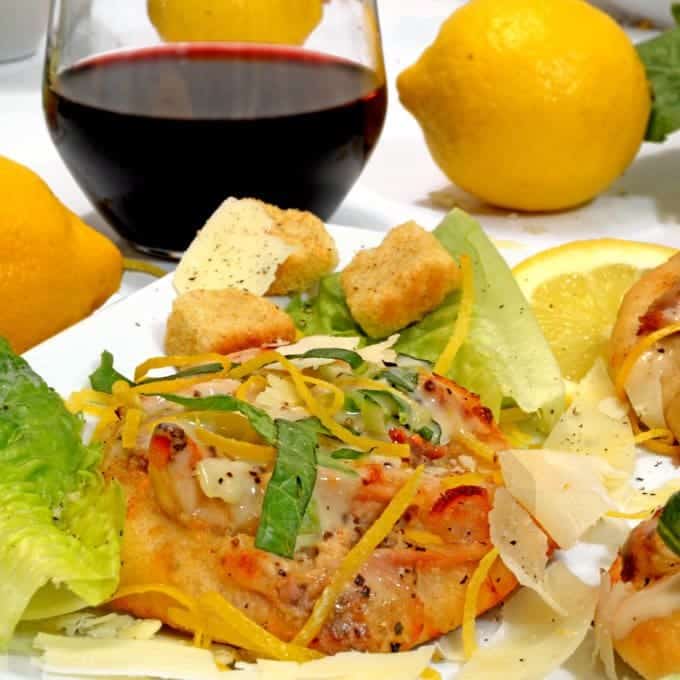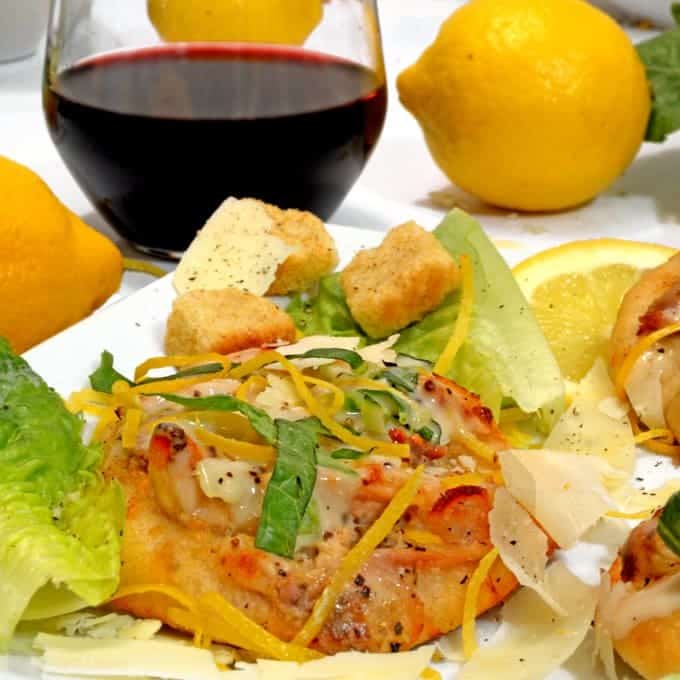 Chicken Caesar Pizza Bites Appetizer – There are certain foods that reign on top of my personal hierarchy of dishes. Much like Mercedes Benz and Porche dominate most other vehicles in luxury and opulence (in my book), Pizza and Caesar salad rule the roost, over my favorite eats. I've had the idea of combining the two together for sometime now, thinking it would be a sublime combination. May I just say, I love it when I'm right.
Chicken Caesar Pizza Bites Appetizer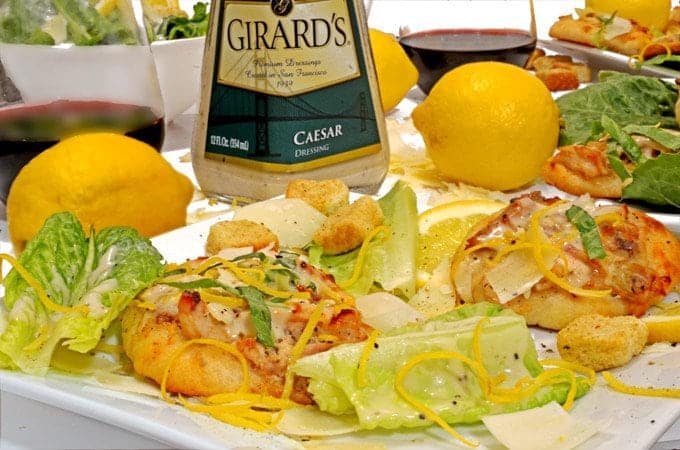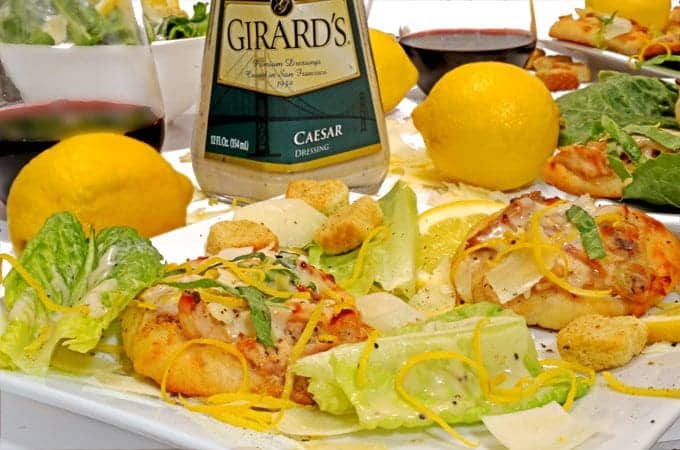 It's a pretty well-known fact among those who are close to me that I love my pizza. In fact, I think it's safe to say that for a time, I may have been obsessed with creating my own varieties. That phase of my life lasted for about a dozen years. In some ways it's a relief that I've moved on. Don't get me wrong, among all other foods, pizza still is nearest and dearest to my heart. Now, however I feel a bit more freedom to concentrate on other genres of good tasting eats.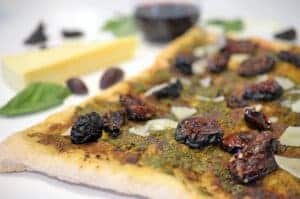 It's been a while since I've created a new pizza and with this Chicken Caesar Pizza Bites Appetizer we have a bit of a hybrid. It's part pizza, part Caesar salad, and 110% delicious. Sticking with quality ingredients, I took a few short cuts. Rather than making my own dough, I picked up a store-made fresh pizza dough. Instead of roasting my own chicken, I bought a rotisserie chicken from the grocery store. And finally, and most central to this recipe, I used Girard's Caesar Dressing to tie it all together. This trifecta serves as the base to an out of this world appetizer that is both easy and affordable to make.
Girard's Caesar Dressing offers a light creamy-based background with soft undertones of everything Caesar: light lemon, garlic, and cheese with subtle and mellow echo of anchovies. When we think of a Caesar dressing, a traditional Caesar salad usually comes to mind and sometimes if you want to jazz things up a bit, chicken Caesar salad.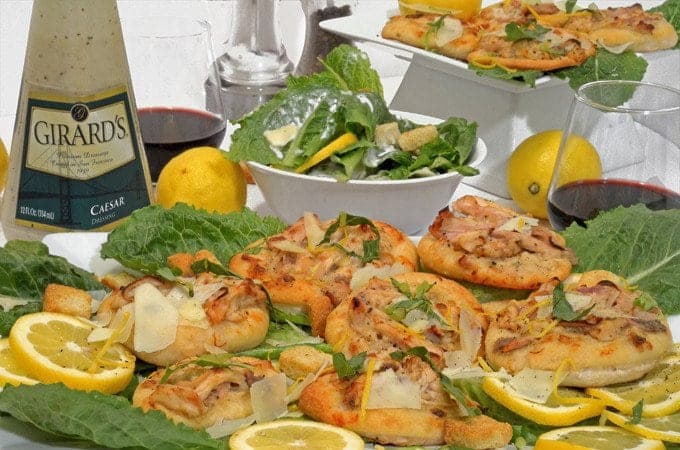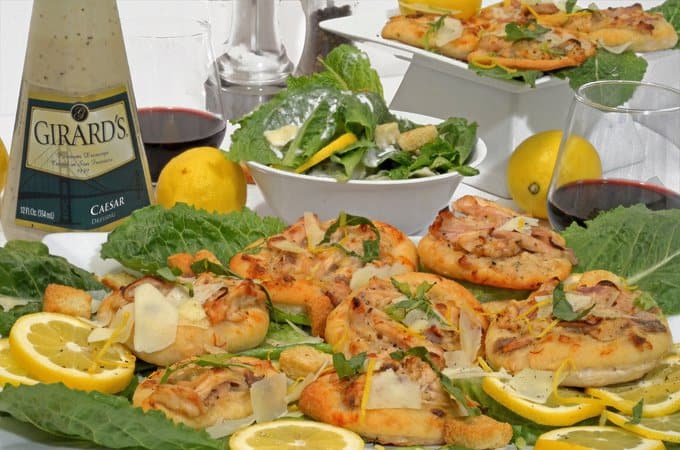 Why not take the chicken part of that concept along with the Caesar and create a new and delicious appetizer in the form of tiny mouthwatering pizzas? I had just the main ingredient in mind: Girard's Caesar Dressing. Smooth and pleasing, it is the ideal ingredient to tie everything else together for an easy and all-around delicious appetizer.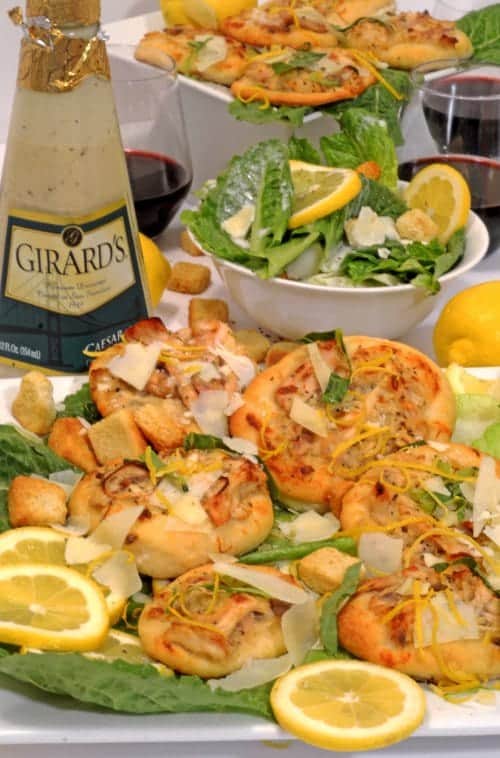 This Chicken Caesar Pizza Bites Appetizer is a great example of how you can take a quality salad dressing and do so much more than just pour it over a bowl of lettuce.
---
What we used to make this Chicken Caesar Pizza Bites Appetizer
(full recipe at end of post)
Girard's Caesar Dressing

Rotisserie chicken

Fresh pizza dough

Garlic and Anchovies

Shallots

Parmesan cheese

Lemon

Salt and pepper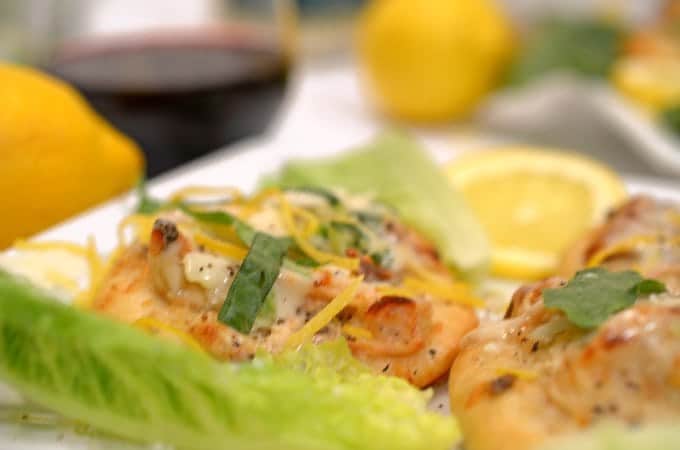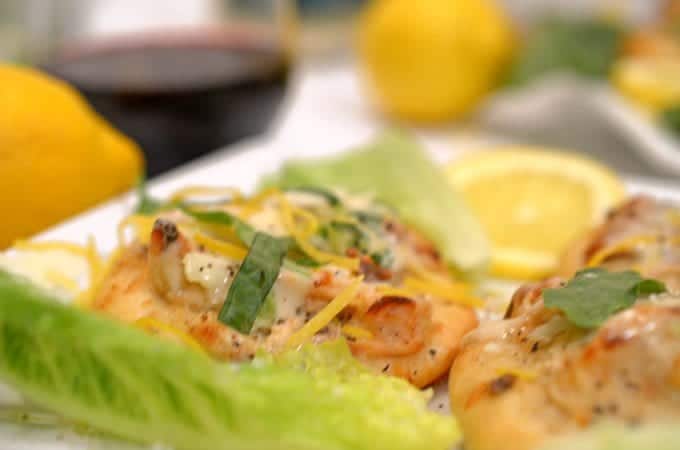 Just a few ordinary ingredients make this Chicken Caesar Pizza Bites Appetizer easy and affordable and Girard's Caesar Dressing takes it to an entirely new level of taste. Grab a bottle of this today, put these little pizza treats together and be amazed at the flavor and goodness that you can create. You're going to love this one! -Dan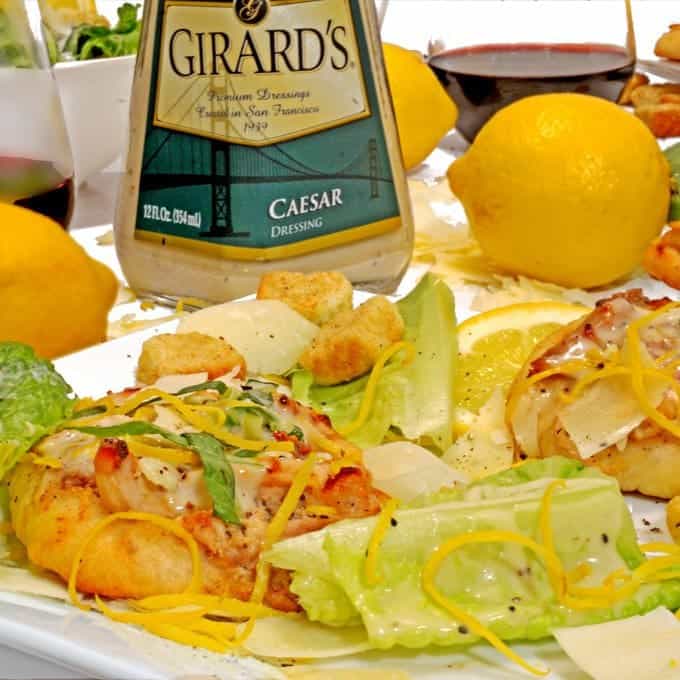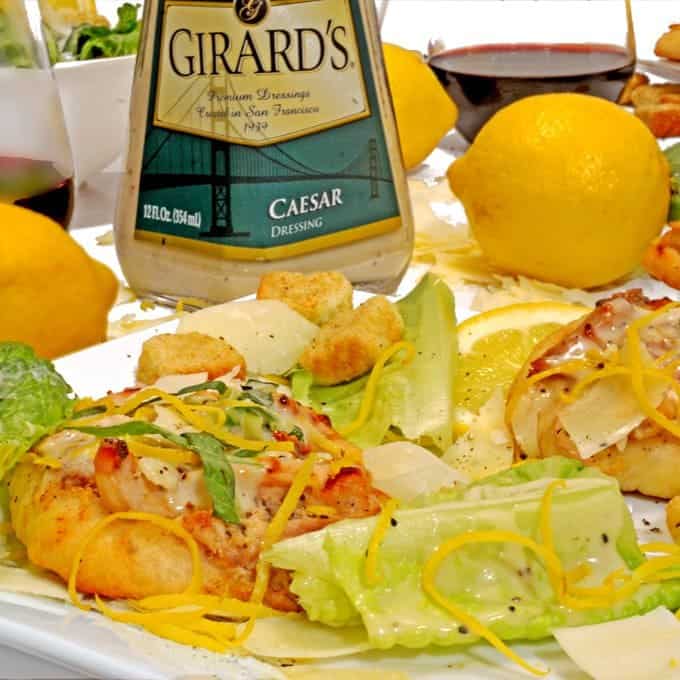 Premium Dressings Since 1939 – Created in San Francisco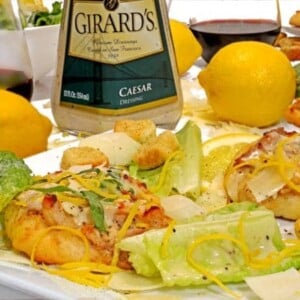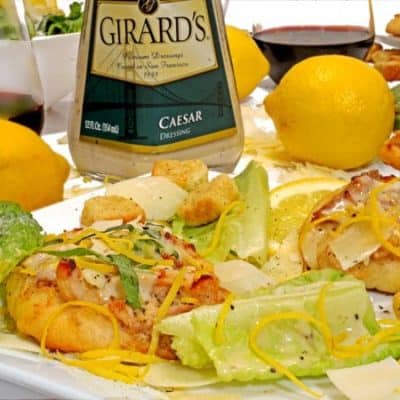 Chicken Caesar Pizza Bites Appetizer
A Platter Talk Exclusive
Ingredients
1

bottle Girard's Caesar Dressing

1

rotisserie chicken

1

prepared fresh pizza dough

1

tablespoon

finely diced anchovies

2

cloves

garlic

,

crushed

1

shallot

,

thinly sliced

1/2

cup

grated Parmesan cheese

zest from 1 lemon

1

pinch

Kosher salt

fresh ground black pepper
Instructions
Preheat oven to 450° F.

Remove meat from chicken, coarsely dice and place in large mixing bowl.

Add Griard's Caesar Dressing to chicken and stir thoroughly.

Fold in remaining ingredients.

Roll pizza dough on lightly floured clean hard surface to 1/4" thickness.

Use round mold to cut out portions. (We used a variety of sizes from drinking glasses to the container the cheese came in.)

Top each portion with chicken mixture and use spatula to place on prepared pizza stone or baking sheet.

Bake for 15 minutes or until golden brown.

Remove from oven and garnish with additional cheese and lemon zest if desired.
Notes
We took a couple of leaves of Romaine lettuce and cut thin ribbons for an colorful and attractive garnish.
This topping can be used for a regular (whole) pizza as well.
Nutrition
Calories:
318
kcal
,
Carbohydrates:
10
g
,
Protein:
17
g
,
Fat:
23
g
,
Saturated Fat:
5
g
,
Cholesterol:
62
mg
,
Sodium:
596
mg
,
Potassium:
40
mg
,
Fiber:
1
g
,
Sugar:
1
g
,
Vitamin A:
44
IU
,
Vitamin C:
1
mg
,
Calcium:
63
mg
,
Iron:
1
mg
Nutrition information is automatically calculated, so should only be used as an approximation.
First created by Chef Pierre Girard in 1939, all of Girard's Salad Dressings are made with the care and unique flavor found in a chef's touch that inspires delicious meals.