Chicken Pancetta with Asparagus
on Jun 04, 2014, Updated Apr 07, 2020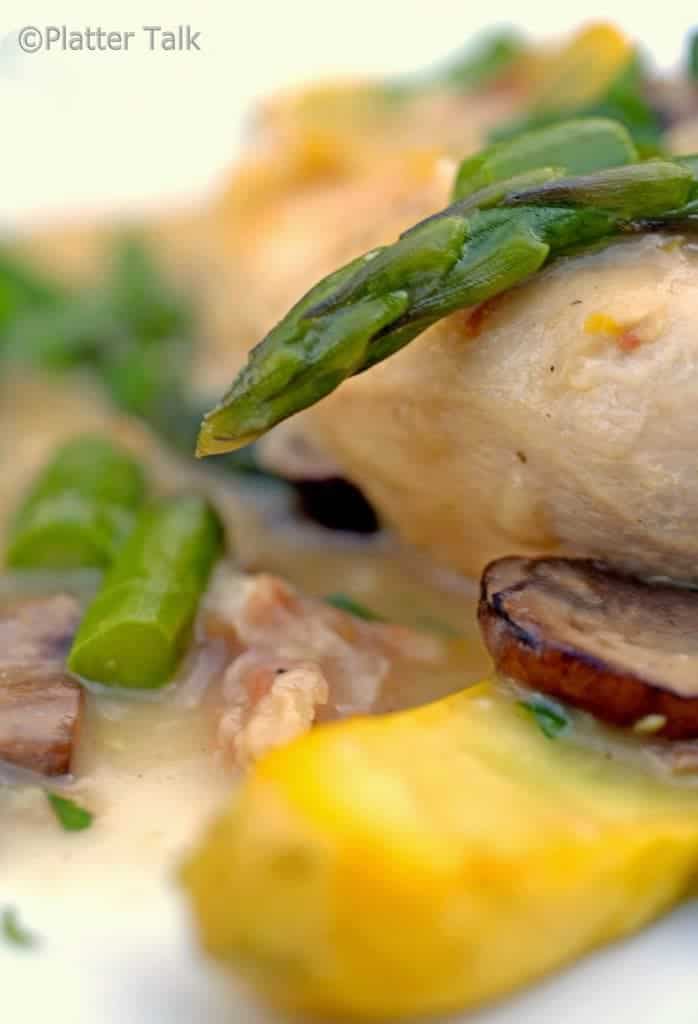 Our home in "town" is an older ranch, modest by the standards of most but nicely suited to our lifestyle. When we bought the house I wasn't crazy about the circa 1970's style of the place. The perfect linoleum floor in the kitchen, the narrow entry hall from the garage, the blue bathroom fixtures, or the plain and hollow oak veneer doors. None of these indoor features, which have all since been updated, drew me to the place. What was on the outside did. The acre lot, the 40 mature trees of many varieties (even a honey crisp apple,) and the large vegetable garden with asparagus that comes back for several weeks every spring.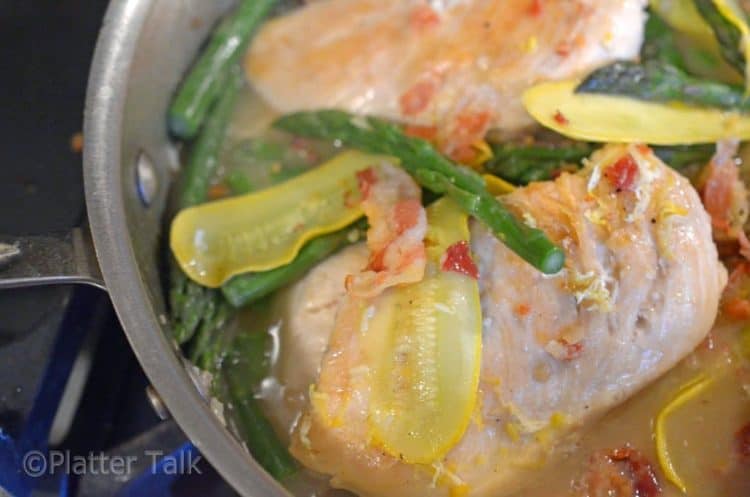 Having a fresh supply or asparagus from May through mid summer, we enjoy a fair amount of it. Often times we grill or broil it, almost always a a side dish. I looked around for some other ideas for using this healthy vegetable and came across one that featured a combination of chicken, asparagus, and some other vegetables, and bacon.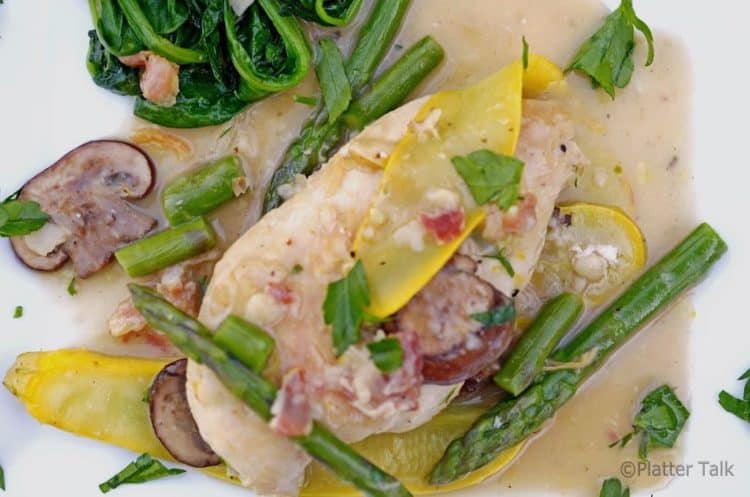 The flavor profile of this recipe sounded appealing to me but there was something else about this meal that really struck my fancy. Other than cooking the asparagus, it essentially is a one-pot wonder.
Thus I took the basic idea as described, made a few alterations in ingredients, but stuck to the premise of minimizing my cooking vessels. The result was a very easy meal to put together. Compact in preparation but expansive in flavor. I served this meal with some spinach, wilted from some of the pancetta drippings and a clove of crushed garlic. I hope you like this diner idea that is small in time and effort and big on taste.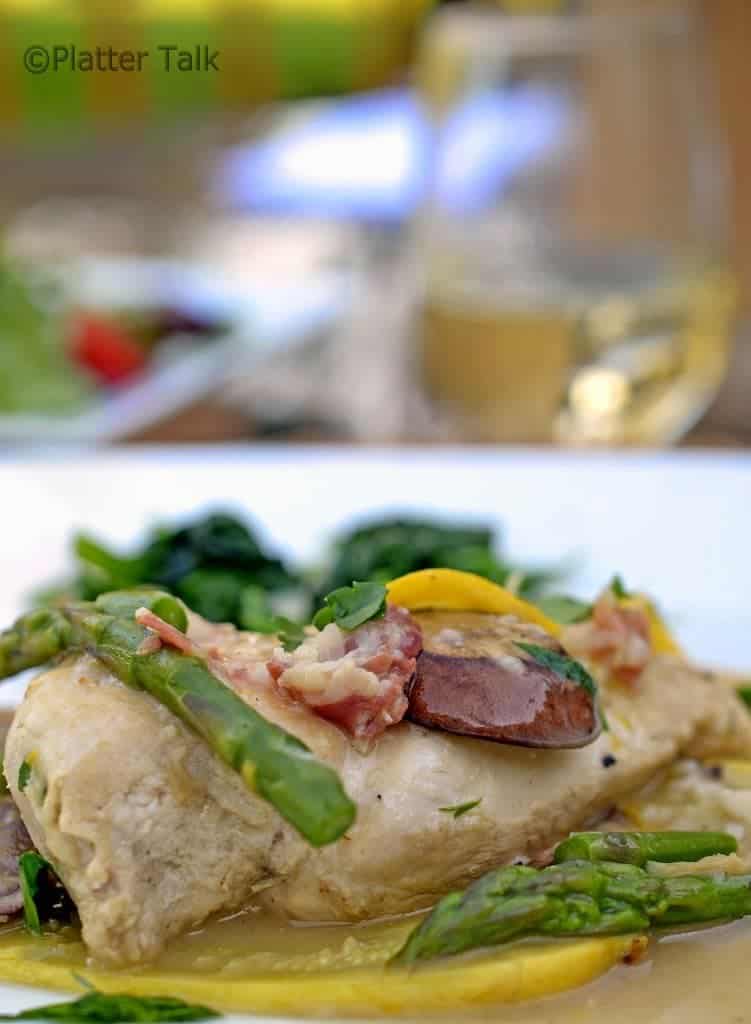 Chicken Pancetta with Asparagus
inspired from Better Homes and Gardens
Ingredients
2 butterflied boneless chicken breasts split in half
1/2 lb asparagus spears, washed and trimmed
3 oz pancetta
1 cup baby portobello mushrooms
2 baby crooked neck squash, washed and thinly sliced lengthwise
1 cup low sodium chicken broth
1/2 cup dry white wine
1 tablespoon all-purpose flour
1 tablespoon chopped fresh Italian parsley
1 teaspoon fresh lemon zest
salt and pepper to taste
lemon wedges to garnish
Instructions
In a large saucepan cook asparagus in a small amount of boiling water for about 3 minutes or until crisp-tender; drain. Immediately plunge asparagus into ice water to stop cooking.
In an extra-large skillet cook pancetta until crisp. Using a slotted spoon, remove the pancetta and drain on paper towels, reserving drippings in skillet.
Sprinkle chicken with salt and pepper. Cook chicken in the reserved drippings over medium-high heat for about 12 minutes or until brown, turning once. Remove chicken from skillet; keep warm.
Add squash and mushrooms to skillet; cook for 3 minutes, stirring occasionally. In a medium bowl whisk together broth, flour, and lemon peel; add to skillet. Add wine. Cook and stir until thickened and bubbly. Add asparagus and chicken to the skillet. Cook about 6 minutes more or until chicken is no longer pink (170 degrees F). Sprinkle with pancetta. Serve with lemon wedges.