Garlic Stuffed Artichokes Recipe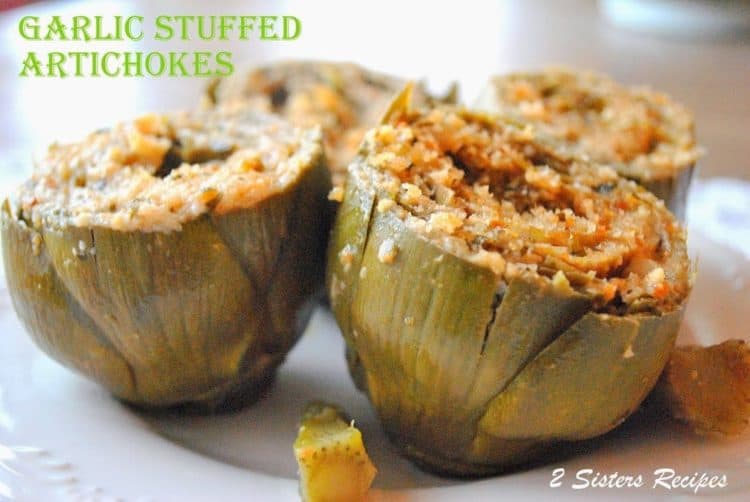 Baby artichokes stuffed with garlic, breadcrumbs, cheese and extra-virgin olive oil then steamed till they are super moist and tender, makes a fabulous fun finger-food for the whole family to enjoy!
I think we've all heard of two sisters who are well known for something they do together. Serena and Venus deliver a mean serve, Ann and Nancy are all Heart, and my friends Anna and Liz from 2 Sisters Recipes are two incredibly talented culinary artists.
To her daughters, their Italian-born mother passed a legacy, rich in Italian cuisine. This legacy is proving to be clearly hereditary as evidenced by the collaborative work that Anna and Liz do in the kitchen.
Did I mention they live in separate states? I'm so happy they are here today, showcasing this artichoke dish. I'm equally happy to introduce to you, Anna and Liz, form 2 Sisters Recipes.
Guess Who's Coming to Dinner?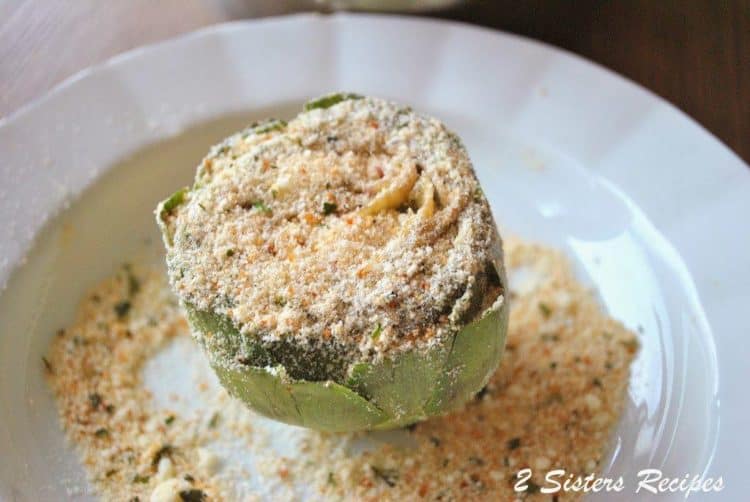 Platter Talk: What is your earliest kitchen memory?
2 Sisters Recipes: As a child, I would always wake up Sunday mornings to the delicious smell of my mother's sauce and fried meatballs. The scent permeated the entire house. Instead of making breakfast, I would just take Italian bread and spoon some of my mother's sauce right onto the bread while it was steaming hot. Those were the most memorable breakfasts...

Platter Talk: Can you tell me how the idea of a jointly-operated food blog started, between the two of you?
2 Sisters Recipes: We always wanted to do a cookbook based on my mother's recipes, which grew because not only did we use her recipes, but we had many of our own. As did my brother Danny. Our family really enjoys cooking and eating!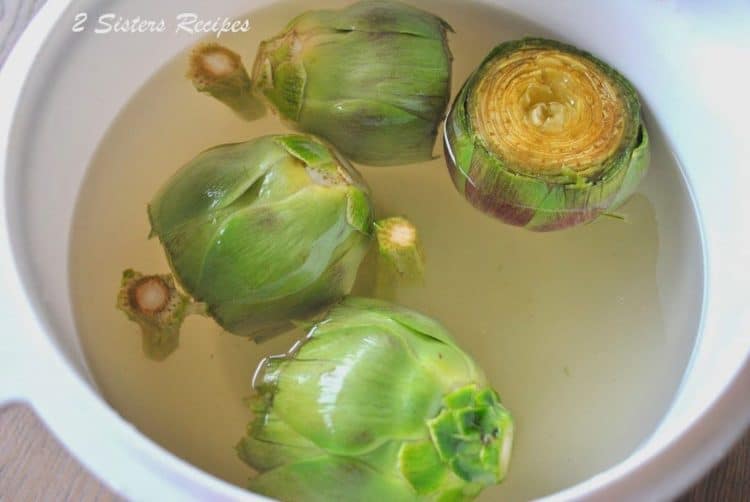 Platter Talk: How has this type of activity affected your sibling relationship?
2 Sisters Recipes: I want to kill my sister....Kidding.........She moved out of New York over a year ago and this was a way to keep us connected on a daily basis. To continue to do things together, even though we were miles apart.
Platter Talk: Do you have designated duties for the blog? Does one of you take care of certain elements of running the blog and the other takes care of another part(s)?
2 Sisters Recipes: Anna takes care of everything...........Kidding...There are no designated duties. We discuss what we could make that we haven't tried, then we experiment with different ingredients to see how it turns out.
Some come out great, some.....not so much! But, that is how we learn about what works and what doesn't. Once we agree on a dish and the ingredients, then it's time to take the photos of the finished piece. Which, is usually in the middle of a dinner party and everyone thinks we're nuts....But, who cares, we enjoy it!
After the first two parts are done, one will write the recipe along with instructions and the other will edit.
Platter Talk: What's the biggest challenge you have faced as a food blogger?
2 Sisters Recipes: Mostly computer technical problems. We're in an ever-changing technological environment. Once you master one site, a completely new one comes along, with a whole new set of rules.
Garlic Stuff Artichokes Recipe

Hello everyone! We are Anna and Liz, and we are very honored and delighted to be invited as guests here on Platter Talk with these two amazing guys, Dan and Scott, our friends!
Every time we get invited to a dinner party, we always consider the food we bring, to bring something everyone will enjoy.
As you know, Dan and Scott have six boys, and we thought of bringing our mother's Garlic Stuffed Artichokes Recipe as a side vegetable dish, for all to enjoy, especially the kids!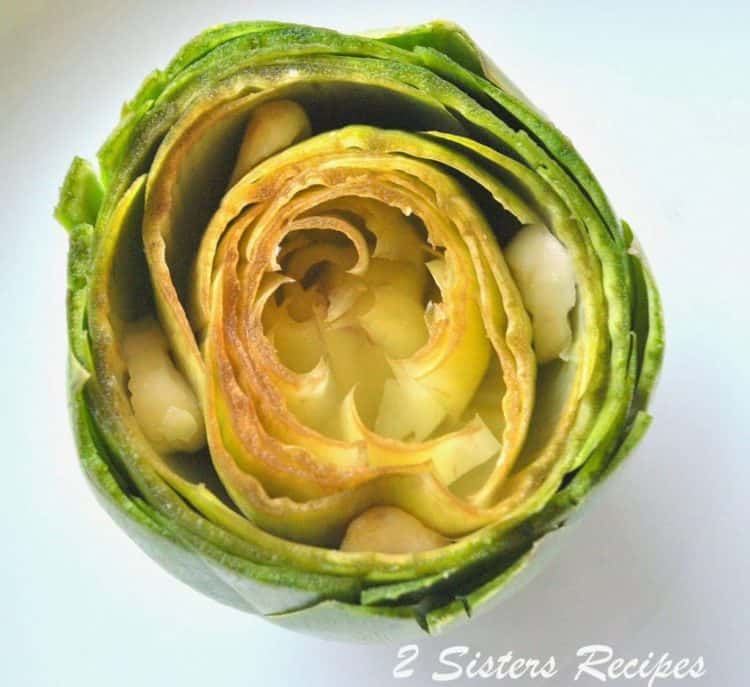 We used small artichokes for this Garlic Stuffed Artichokes Recipe like the ones sold at Trader Joe's. Because they are the smaller ones, they cook in half the time on stove-top.
The prep work takes about 10 to 15 minutes. Once they are trimmed, washed, and stuffed, they go into a pot with water and some broth. Covered, and steamed for about 30 minutes. That simple!
This Garlic Stuffed Artichokes Recipe is our family's absolute favorite way of eating them. So we always make plenty, making sure there is at least one for everyone.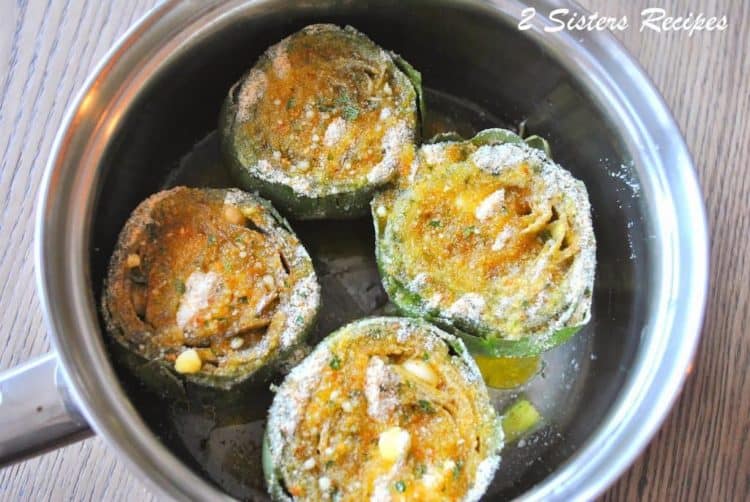 You just easily pull off a leaf of the artichoke and scrape the meat with your teeth; and continue until you can eat the entire leaf, including the center which is tender and soft. They are amazingly tasty!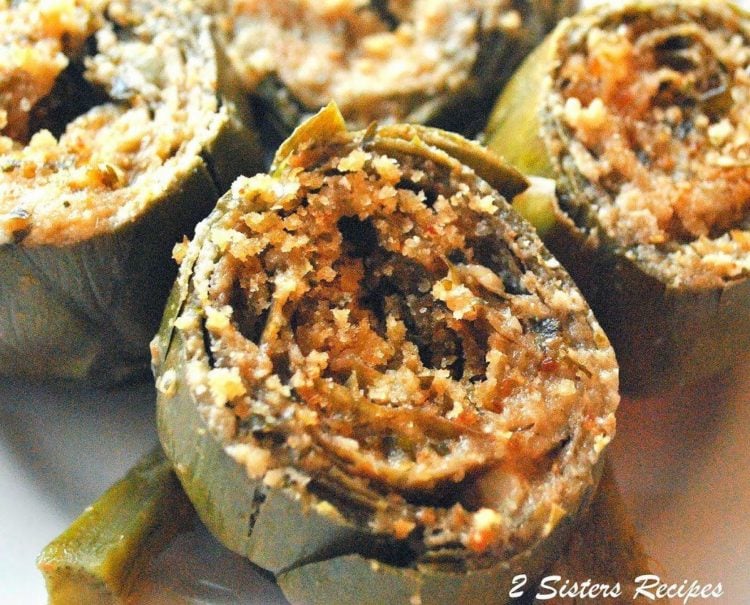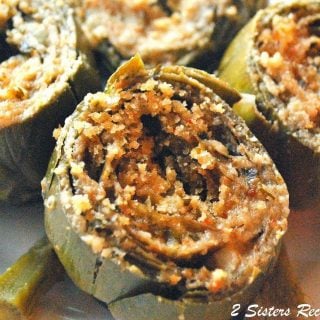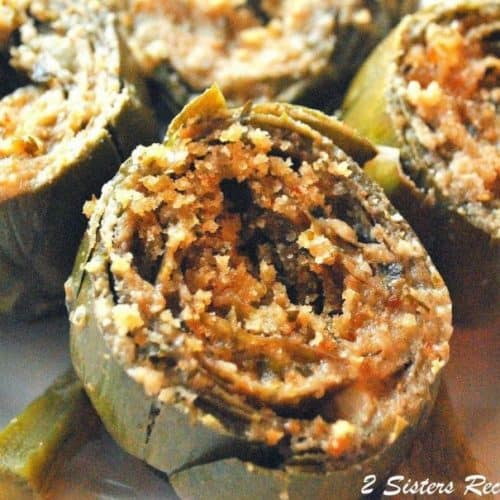 Garlic Stuffed Artichokes Recipe
A delightful appetizer brought to us from 2 Sisters Recipes
Print
Pin
Rate
Ingredients
4

artichokes

Small, trimmed and rinsed.

1

lemon

Juiced

2

tsp

salt

table salt

4

cloves

garlic

2

tbsp

Pecorino cheese

grated

3

tbsp

breadcrumbs

plain

1

tsp

parsley

driewd

¼

tsp

gartlic powder

cracked pepper

fresh, to taste

4

tsp

olive oil

extra virgin

¾

cup

water

½

cup

vegetable broth
Instructions
Take each artichoke and snap off to break some of the outer leaves, discard them. Cut about quarter of the tops off, and discard. Then cut the stems, and peel skins of each stem. Place artichokes and stems into a bowl of water and lemon juice

Sprinkle table salt over the artichokes while submerged in water.

In a small bowl, mix breadcrumbs, Pecorino cheese and dried parsley. Set aside. Then, in a small bowl, mix breadcrumbs, pecorino cheese and dried parsley. Set aside.

Note: If the center of the artichoke has purple tips, take your scissors and cut the purple tips out and discard them. Keep artichokes soaking in water for about 5 minutes or so. Drain and rinse each artichoke, shake out the excess water.

Begin to stuff the outer leaves by pushing slices of garlic inside each artichoke, include one slice of garlic inside the center. Then begin to spoon some breadcrumb mixture and stuff each artichoke, dividing the mixture evenly among all four artichokes.

Top with some fresh cracked pepper on top of each. Then, gently pour the water and vegetable broth, (the liquid should be around 1-inch to 1+½-inch surrounding the artichoke). Drizzle the tops of each artichoke with about one teaspoon of olive oil to moisten the breadcrumbs and tops. Cover with a lid.

Place on stove-top on medium heat and bring liquid to a boil. Lower the heat, and simmer on low heat for 25 to 30 minutes, or until a fork can easily slide through the center of the artichoke. Turn off heat, and let stand for additional 10 minutes. Gently remove and transfer chokes and stems to a plate. Serve warm
Nutrition
Calories:
153
kcal
|
Carbohydrates:
22
g
|
Protein:
6
g
|
Fat:
5
g
|
Saturated Fat:
1
g
|
Cholesterol:
2
mg
|
Sodium:
1488
mg
|
Potassium:
537
mg
|
Fiber:
8
g
|
Sugar:
2
g
|
Vitamin A:
80
IU
|
Vitamin C:
30.2
mg
|
Calcium:
109
mg
|
Iron:
2.2
mg
Be Sure and Keep Up with 2 Sisters Recipes