Scalloped Potatoes and Ham
on Apr 24, 2014, Updated Jan 01, 2021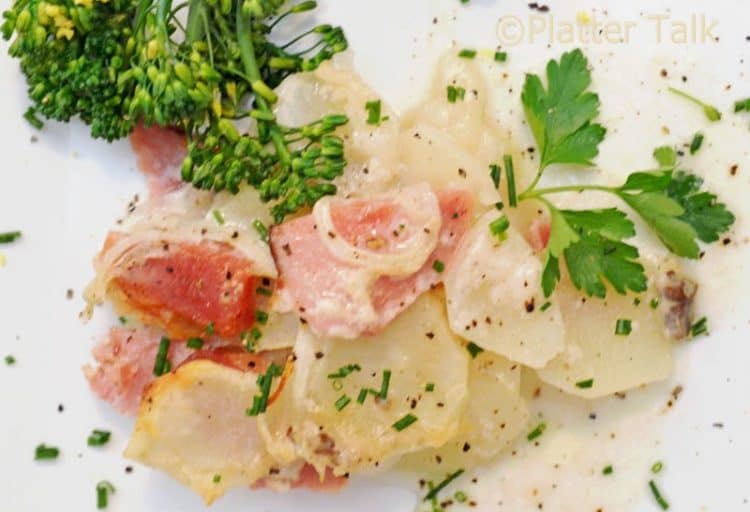 This post only took me about four days to put together. Perhaps it's my advancing age causing me to slow down – or the sunny, 60-plus degree days we were treated to following the Easter holiday. It could have been swim lessons for our twins too, or the fact we've had a few busy days at work. It could be any one of these factors, but I'm placing the lion's share of the blame on the spilled travel mug off coffee that caused a significant detour of my plans for Monday afternoon. No matter, several of our kitchen drawers and cabinets received an impromptu and complete cleaning and spiffing up, and this recipe (like many things that are roasted in the oven) is only enhanced by an unhurried and relaxed baking time. May I just say, it was well worth the wait.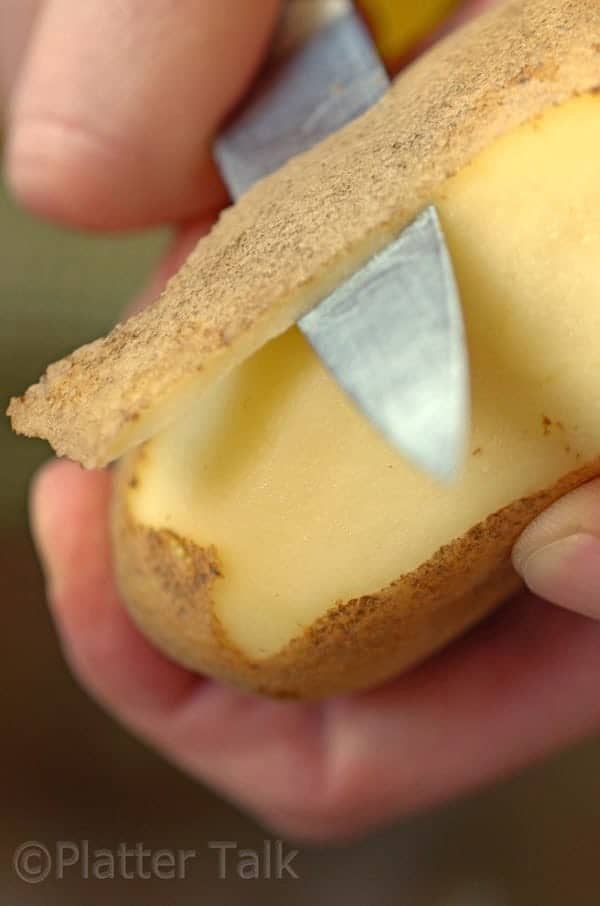 We only make scalloped potatoes a couple times each year, and every time I put this together I have to ask myself why we don't have it more often. This dish has it all: it's easy, economical, makes the house smell incredible, and everyone loves it – especially our boys. I have recently discovered one more reason for loving this dish: The opportunity to peel potatoes. Sounds odd, you say? Although I can't articulate how or why it happened, over the past few years it has dawned on me that I love to wield a paring knife, particularly with apples and potatoes. You can keep your trinkets and gadgets used for the same purpose – if you enjoy using them, I'm very happy for you. Myself, I've come to love the deft maneuvers required to efficiently (and safely) remove the skin from these things using a small knife. The angle of the blade, the part I am using (tip vs. edge), and the pressure exerted are all things I think about when performing this task. In fact at the I'm always just a bit disappointed when I find there are no more potatoes (or apples) to be peeled – kinda weired eh? Again, do not judge me!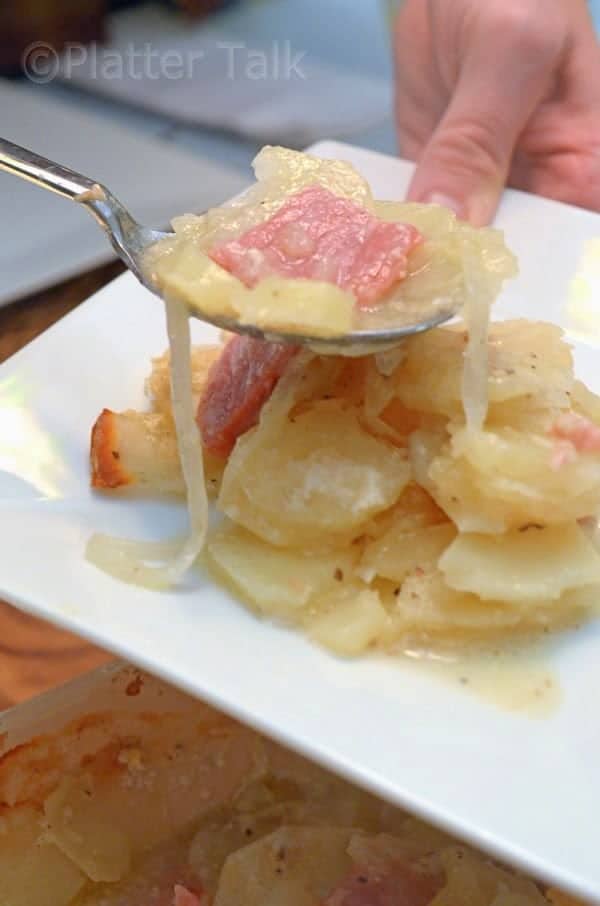 Of course, other than the chance to peel, I love this simplest of simple dishes for many other reasons. With or without the ham, the basic recipe requires precious few ingredients. Principally, potatoes, onions, milk, salt and pepper. Throw in a dab of butter, a little cream of something soup, and maybe some leftover ham if you have it and wham! Things start to delicious in a hurry.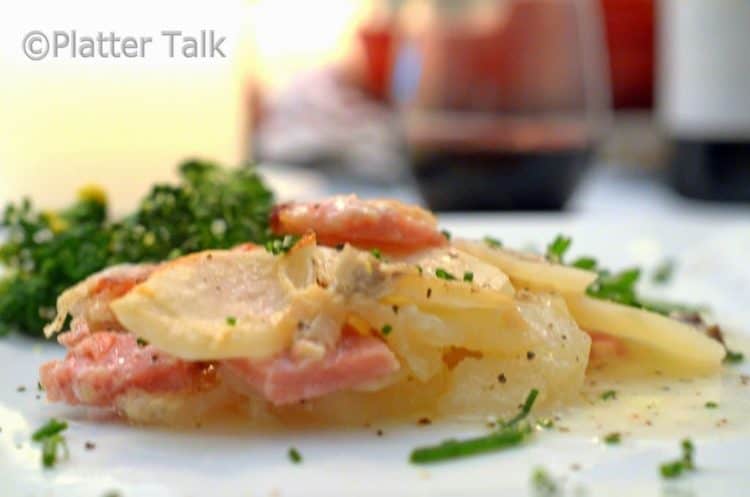 There are so many variation for preparing scalloped potatoes – none of them are wrong, as long as the end results are tantalizing and delicious. Like many dishes I make, this one always provokes precious memories of days gone by. Evenings in my mom's big farm kitchen with my family as a boy, where we always had "supper" en masse, after the cows were milked and the day's chores were completed. My late sister, Ann. She made scalloped potatoes like no other, except for perhaps another special lady to our family, Bea. This was her signature dish and the reason was always obvious with just one bite, which of course was usually the first of a two or three helpings.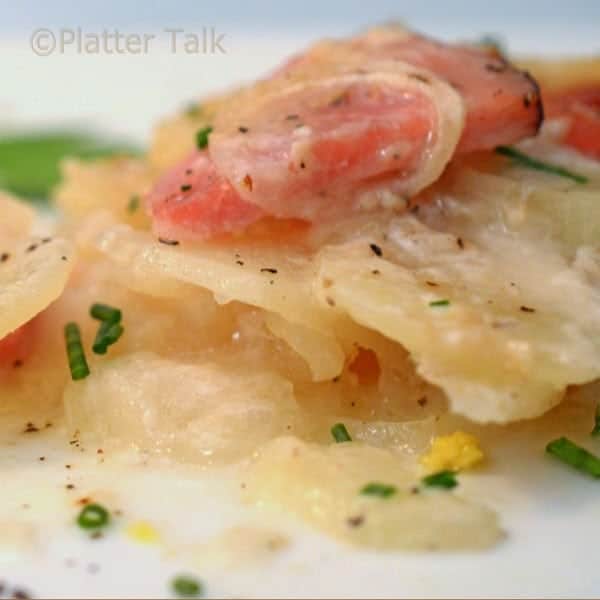 As alluded, I added some ham to this dish that was leftover from our good friend Lane's Easter dinner. We didn't make it to his place on time for the main event but the boat load of savory ham he sent home with us following our mid-afternoon visit was more than sufficient to help take this already delicious recipe to the next level. In our life it seems that where there are good friend will also be good food – a relationshiop that I find most appealing.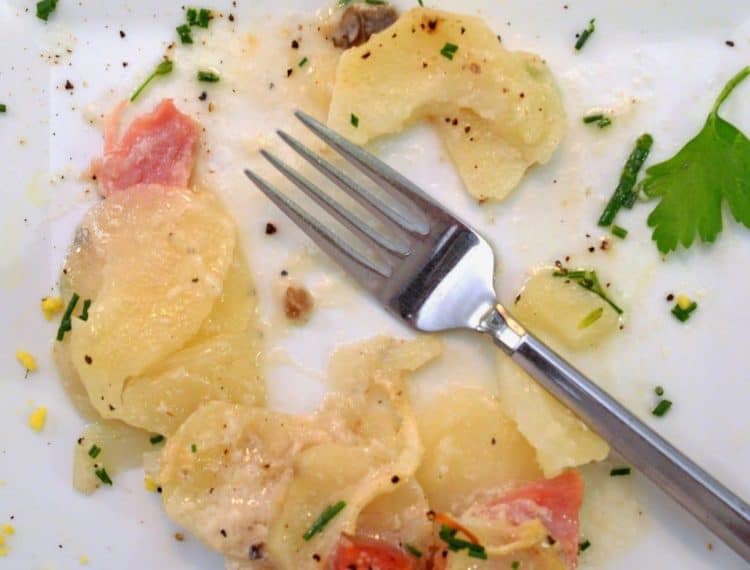 I served this with some steamed broccolini, garnished with lemon zest. The remnants of lemon peel added pleasing undertones of citrus that proved to nicely compliment the potatoes as well. Paired with a glass or two of Scott's favorite Malbec to wash it all down, this simple dish made for a dinner that tasted anything but simple. Here is a not so subtle reminder: Consider making this for your family, soon.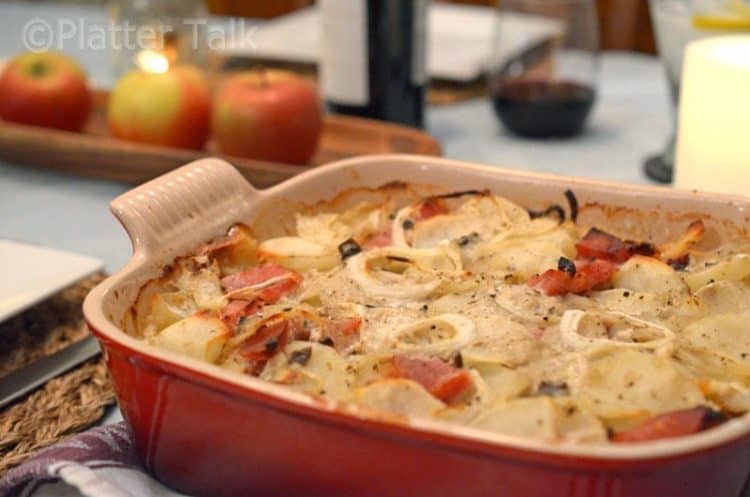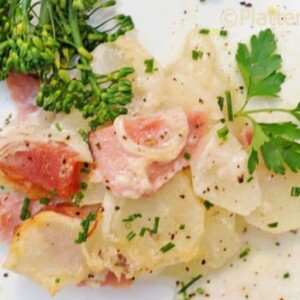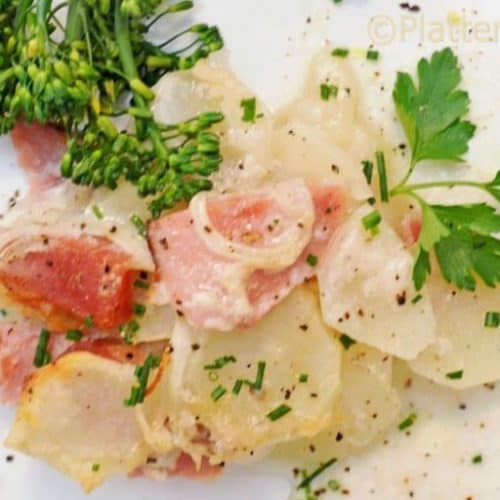 Scalloped Potatoes and Ham
Savory and classic scalloped potato dish for the family at home or the family reunion.
Ingredients
3

lbs

1.5 kg russet potatoes, peeled and thinly sliced.

1

medium size white onion

,

thinly sliced.

1 10

oz

can cream of mushroom soup

1

cup

milk

3

tablespoons

flour,

divided

1/4

cup

butter

8

oz

ham

,

thinly sliced or chopped

kosher salt to taste

fresh ground peppercorn to taste
Instructions
Preheat oven to 350 degrees F.

In small mixing bowl, combine milk and soup, stir until completely blended. Set aside.

Coat surface of baking dish with olive oil.

Place layer of potatoes, onions, and ham in baking dish, add salt and pepper and a couple of dabs of butter.

Repeat the above layer one or two times, adding a little flour to each layer.

Add half of milk and soup mixture to dish.

Continue adding layers of potatoes, onions, and ham (with dabs of butter and some of the flower) until all of these ingredients are used.

Add remaining milk and soup mixture to dish.

Cover with aluminum foil.

Bake for 60 minutes.

Remove foil and baked for an additional 30 minutes or until potatoes are tender.
Notes
Monitor dish a few times throughout oven-time. Add a bit more milk to dish if it seems dry.
Adjust baking time to depth of dish. Deep layers may require additional time while shallow layers may require less baking time.
Nutrition
Calories:
309
kcal
,
Carbohydrates:
37
g
,
Protein:
13
g
,
Fat:
13
g
,
Saturated Fat:
6
g
,
Cholesterol:
38
mg
,
Sodium:
691
mg
,
Potassium:
907
mg
,
Fiber:
4
g
,
Sugar:
3
g
,
Vitamin A:
227
IU
,
Vitamin C:
35
mg
,
Calcium:
63
mg
,
Iron:
2
mg
Nutrition information is automatically calculated, so should only be used as an approximation.