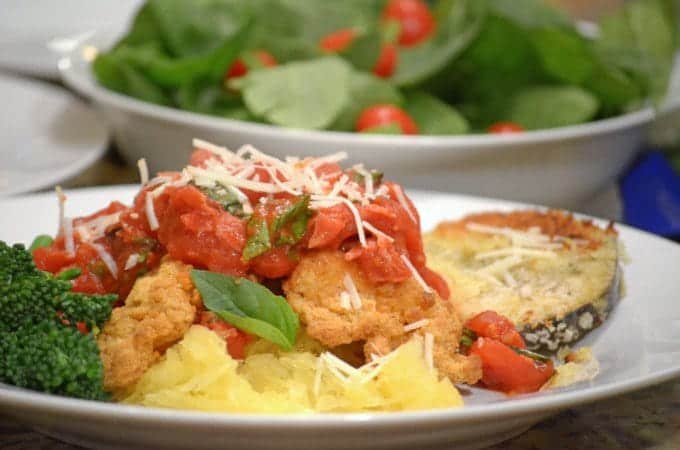 We are following up our previous post of Crispy Chicken Cordon Bleu Stromboli with another recipe that features Tyson Crispy Chicken Strips. The reason is simple and twofold: A) These 100% all-natural strips of crispy chicken from Tyson are delicious and B) We had half a bag remaining in the freezer, following yesterday's recipe. Tonight we are dressing things up just a bit. Don't confuse that with getting more complicated and expensive. That is hardly the case.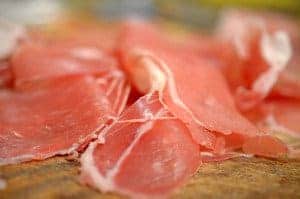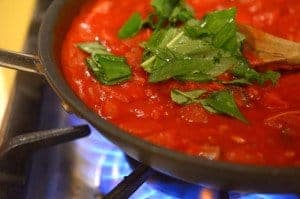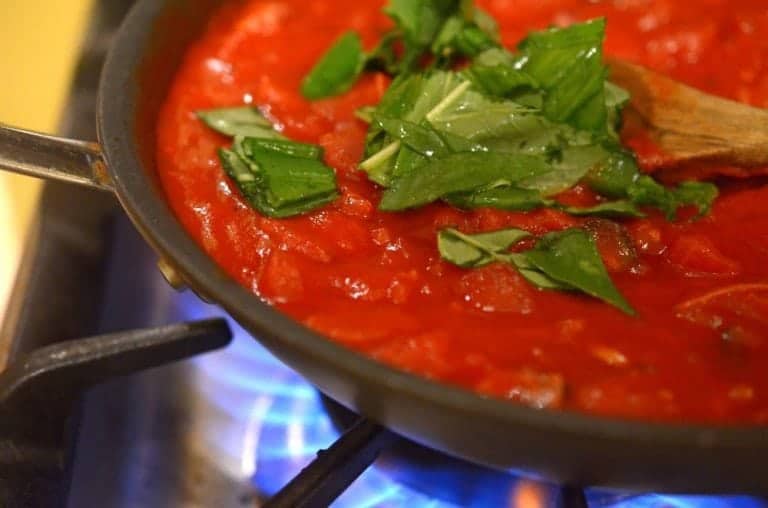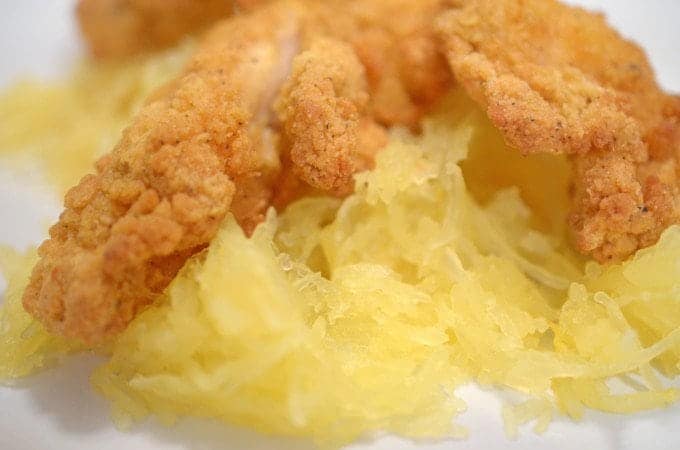 There is actually another reason we are making this tonight. One of the culinary networks with which we have the honor of being associated, The Daily Meal, extended an invitation to us asking if we would be interested in coming up with some ideas for this Tyson product. We are always interested in creating and enjoying good food and so our answer is of course, obvious.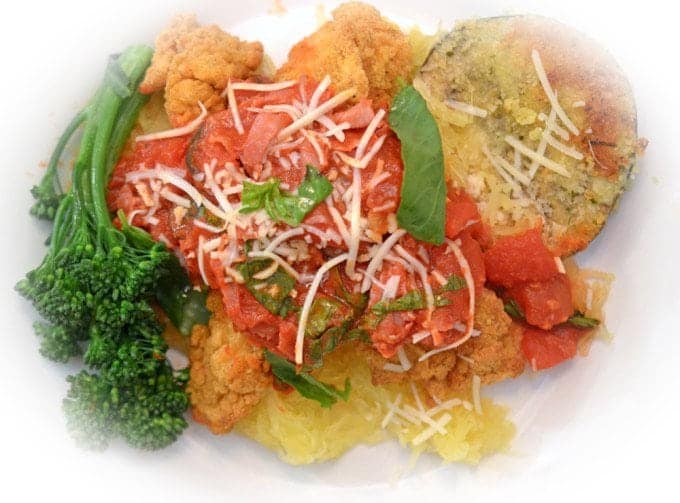 Scott and I put our heads together and came up with a list of ideas that would make these chicken strips shine; or rather crunch. Sadly, we only had a couple of days to put these together but two recipes are far better than none. With this dish, we marry the summer taste of fresh basil with that of prosciutto, the classic Italian dry-cured ham. Together, this flavorful combination blankets a couple of moist and flavorful on the inside/crispy on the outside, 100% all-natural Tyson Crispy Chicken Strips, all on a bed of healthy and all-natural low carb spaghetti squash.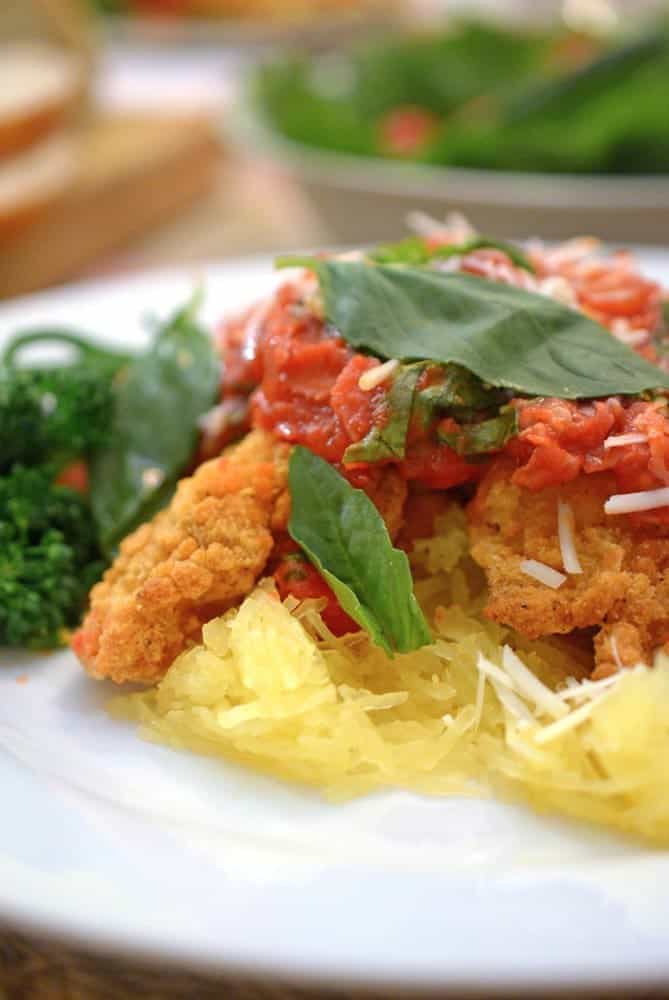 Is it a coincidence that we paired our last recipe using these chicken strips with ham as well? In light of the fact that good tasting chicken and good tasting ham are a match made in heaven, I submit to you that the possibilities for such parings are endless.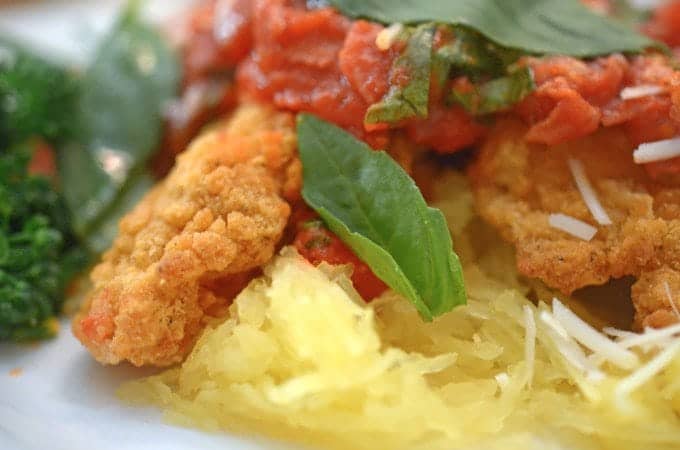 Of course it isn't necessary for you to make your own marina, but I can't for the life of me imagine why you would choose to do otherwise. Some canned chopped tomatoes, a little tomato paste, some sauteed aromatics, a little Italian seasoning and a dash of wine and you are home! Aside from knowing exactly what is in your own marinara, it's actually fun to put together and it makes your house smell like Mama Leone's (for all of you Billy Joel fans.) It's also worth noting that this meal costs about $10 or less to make. Who says you've got to spend big buck to live large? This elegant dish is affordable, can be made in the time it takes to bake a spaghetti squash (30-45 minutes,) and can make yourself look like a pretty decent cook. Give it a try, and when you're asked, be sure to tell 'em you got this one from the guys over at Platter Talk. Arrivederci, for now. -Dan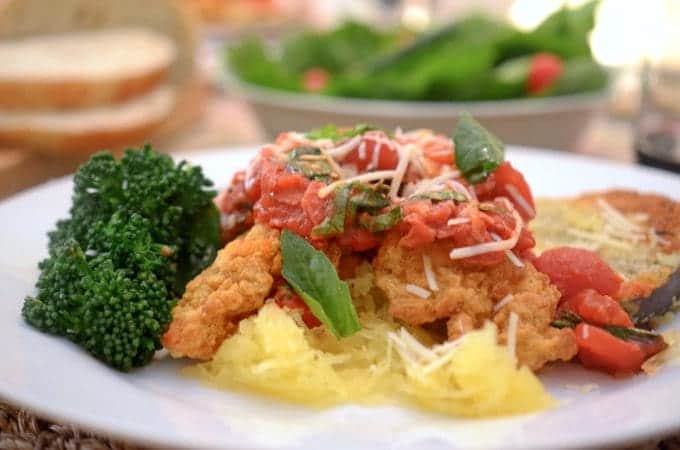 Other delicious entrees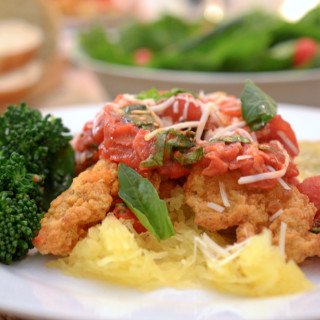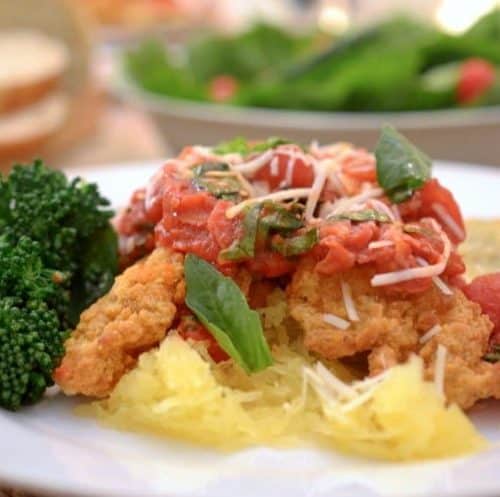 Crispy Chicken Strips with Prosciutto & Basil Marinara over Spaghetti Squash
A Platter Talk Exclusive
Print
Pin
Rate
Ingredients
½

bag Tyson Crispy Chicken Strips

about 12 oz

1

spaghetti squash

2

tablespoons

olive oil

3

oz

85 g prosciutto coarsely chopped or sliced

1

handful fresh basil

coarsely chopped

28

oz

can chopped tomatoes

6

oz

can tomato paste

½

small onion

medium chop

2

garlic cloves

crushed or sliced thinly

Italian seasoning

dash of red wine
Instructions
Preheat oven to 400 degrees F.

Cut squash in half, lengthwise and remove seeds. Place a small amount of water in cavities.

Bake for 30-45 minutes or until insides of squash are fork-tender.

Meanwhile, start the marinara by heating olive oil in large saute pan over medium heat.

Saute garlic and onion until soft and translucent.

Add prosciutto and cook down for about 3-4 minutes stirring frequently.

Add chopped tomatoes and wine, reduce slightly and add tomato paste.

Stir in Italian seasoning to taste and add basil.

Reduce heat and stir occasionally.

Place chicken strips on baking sheet and bake about 15 minutes, until crispy on outside.

When squash is finished baking, use fork to remove inside strands.

Place baked chicken strips over plated spaghetti squash.

Top with marinara and serve.
Notes
Garnish with fresh Parmesan cheese.
Serving suggestions as depicted here include broccolini and sautéed eggplant.
Nutrition
Calories:
813
kcal
|
Carbohydrates:
71
g
|
Protein:
52
g
|
Fat:
39
g
|
Saturated Fat:
9
g
|
Cholesterol:
137
mg
|
Sodium:
1803
mg
|
Potassium:
2903
mg
|
Fiber:
16
g
|
Sugar:
34
g
|
Vitamin A:
2518
IU
|
Vitamin C:
71
mg
|
Calcium:
299
mg
|
Iron:
9
mg