You may be tired of me extolling the virtues of our local farmer's markets here in the Fox River valley of Wisconsin. I am completely unapologetic. This past summer we blissfully spent almost every Saturday meandering through the stands of produce, the artisan soaps and crafts, the scads of bright and fresh cut flowers and the Saturday morning crowd collectively rejoicing in the luxury of a leisurely-spent weekend morning. We have a few keep-overs from one of the season's final markets and this evening I threw something together with one of the three spaghetti squash that have been claiming our dining room buffet as a temporary home.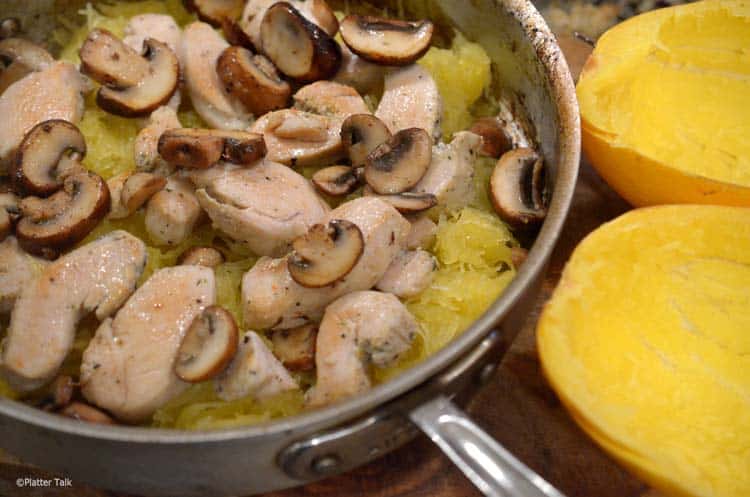 It's always fun for me to try something new from the kitchen, and it's really fun when the outcome is delicious. Add health and ease to the mix and it's a bona fide winner in my book.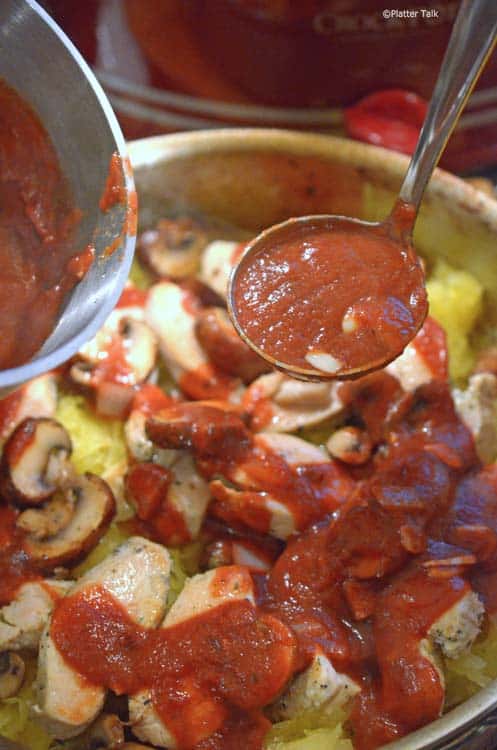 This was a meal of convenience, of sorts.  It started with a quart bag of freshly made vegetable broth that, sometime in the middle of the night, decided to inconveniently leak.  All of it.  From the top shelf of our side-by-side freezer.  This frozen mess initiated an hour long impromptu cleaning of our freezer which led to the discovery of some marinated chicken breast - that's when the dinner wheels started to spin inside my head.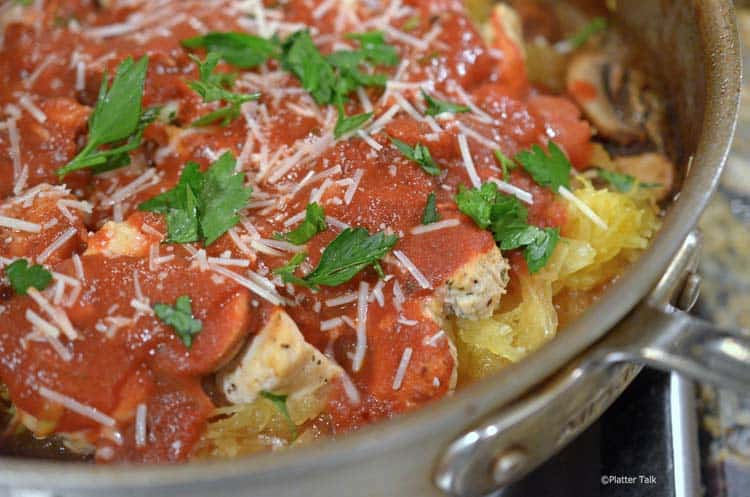 Typically when making anything with marinara, we almost always make our own.  Happily, I can't remember the last time I opened a can of processed sauce.  When we don't have fresh tomatoes (which is often), we usually heat up a can of diced ones, throw in some tomato paste, garlic, wine, seasoning and voilà.   It's rare that we have no diced tomatoes in our pantry and today was one of those times.  That's when I spotted the case of canned tomato sauce that resulted in a trip to Costco sometime ago.    As you can guess from reading this post and seeing the photos - one thing led to another with this meal.  Quite nicely.  We have a couple of spaghetti squashes remaining from our cherished farmer's market, I can only hope they end up in something as delicious as this autumn dish.  Speaking of autumn, I hope yours is going nicely.   -Dan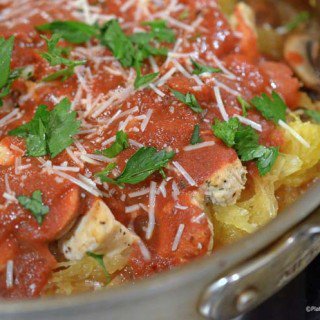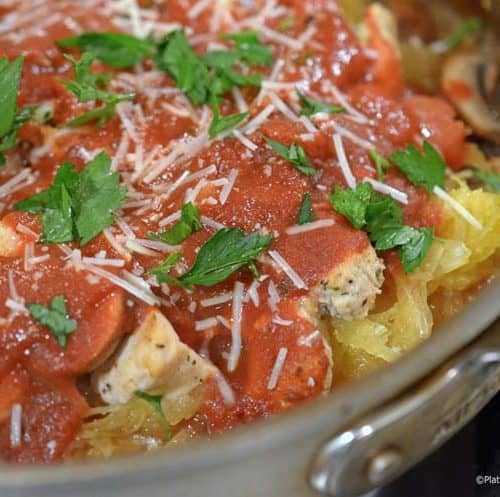 Baked Spaghetti Squash & Chicken Parmesana
A Platter Talk Exclusive
Print
Pin
Rate
Ingredients
1 15

oz.

can tomato sauce

2

cloves

garlic

thinly sliced

1

tablespoon

Italian seasoning

½

teaspoon

salt

3

tablespoons

diced onion

¾

cup

red wine

divided

4

tablespoons

olive oil

divided.

1

lb.

chicken breast

8

oz

sliced baby portabella mushrooms

¼

cup

chicken broth

¼

cup

shredded Parmesan cheese

2

tablespoons

chopped Italian parsley for garnish
Instructions
Preheat oven to 400 degrees F.

Split spaghetti squash in half, lengthwise, remove seeds.

Brush 1 tablespoon olive oil on flesh side of both squash halves.

Place squash flesh-side down on foil lined baking sheet and bake for 40 minutes.

Add 1 tablespoon olive oil to small sauce pan and place on medium heat.

Add onion and garlic, sauté until soft and translucent, about 4 minutes.

Add tomato sauce and ½ cup red wine, along with Italian seasoning and salt, stir, cover, and reduce heat to low.

Meanwhile, cut chicken breasts width-wise into ½" strips.

In oven safe sauté pan, heat 1 tablespoon over medium high heat, add chicken.

Sauté and stir chicken until no longer pink, about 7 minutes.

Transfer chicken to small bowl and tent with foil to keep warm.

Add remaining ¼ cup wine and broth to pan, deglaze and scrape brown bits to incorporate into liquid.

Reduce to half volume, add to tomato sauce, stir and cover.

Add 1 tablespoon olive oil to saute pan, heat over medium high heat and sauté mushrooms for about 5 minutes.

Transfer mushrooms to small bowl and set aside.

Add 1 tablespoon olive oil to the same sauté pan and coat bottom.

Use fork to remove stringy meat of squash, evenly distribute in pan.

Place chicken and mushrooms over squash, cover with tomato sauce.

Sprinkle Parmesan cheese over dish.

Bake for 30 minutes, allow to set 5 minutes before serving.
Notes
In lieu of an oven-safe sauté pan, use a shallow (casserole) baking dish.
Nutrition
Calories:
368
kcal
|
Carbohydrates:
12
g
|
Protein:
30
g
|
Fat:
19
g
|
Saturated Fat:
4
g
|
Cholesterol:
78
mg
|
Sodium:
1175
mg
|
Potassium:
1108
mg
|
Fiber:
3
g
|
Sugar:
7
g
|
Vitamin A:
769
IU
|
Vitamin C:
14
mg
|
Calcium:
119
mg
|
Iron:
3
mg