Baked Spareribs with Apple-Celery Stuffing
on May 14, 2014, Updated Apr 11, 2019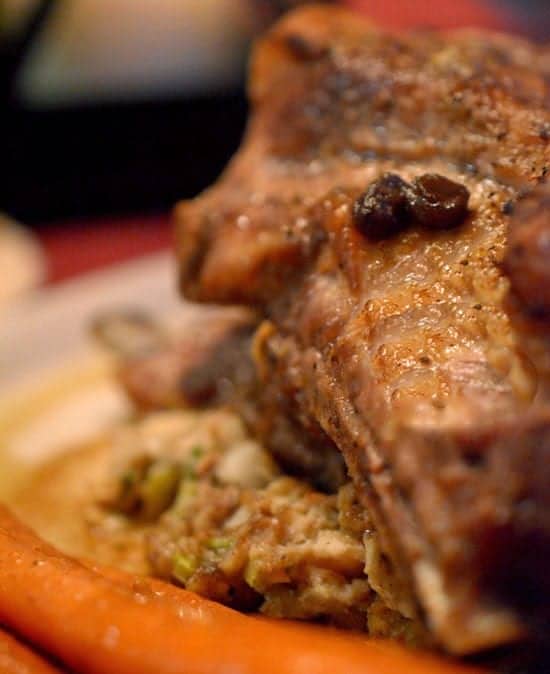 A few weekends ago found us at one of our favorite spots and weekend retreat, our small cottage on a small lake in the middle of Nowhere, Wisconsin. The protracted winter was stretching well into the days of spring with occasional flakes of snow and temperatures that had yet to break the 50 degree mark. This weekend seemed like an ideal time to putz in the kitchen, try some new things and see what we could come up with. That's exactly what we did.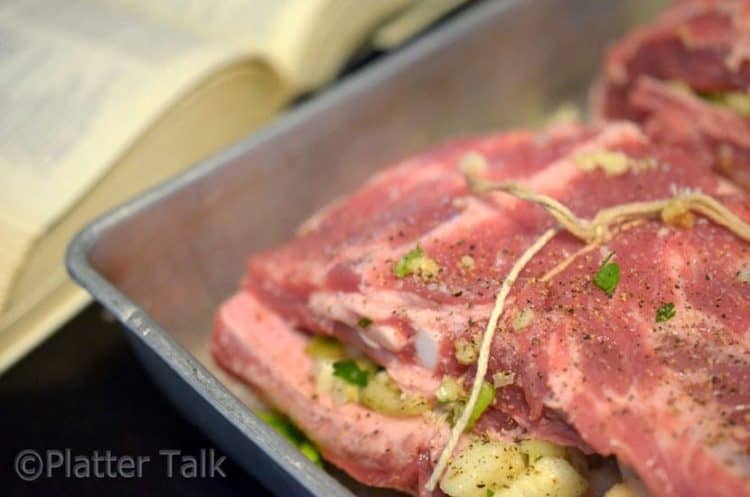 Yes, in retrospect this was one of those weekends where one could look back and say, "I accomplished nothing." After all, the weather was horrible. Thus, no outdoor work got done and let's face it, with a small busload of boys cooped up in a little lake cottage what can possibly be accomplished indoors?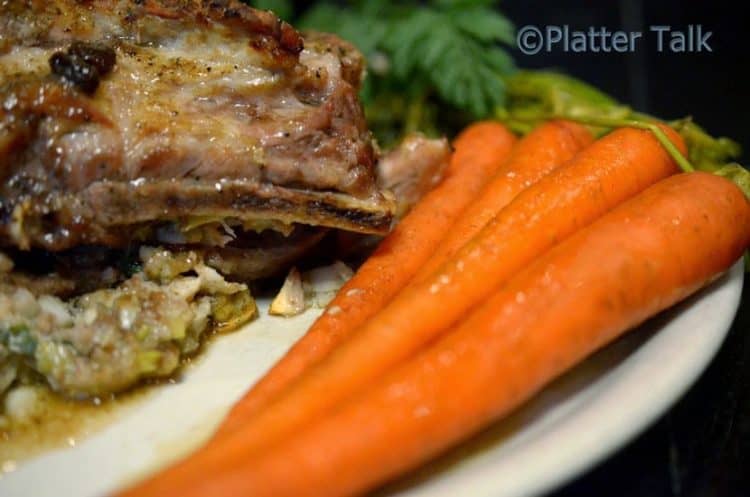 The answer of course to that question is quite a bit. In the kitchen at least. For me, it started with Volume I of my first (and oldest cookbook,)
The Doubleday Cookbook
. I had poured through, muddied, and chocolate dozens of the pages from Volume II, which features a plethora of baking recipes. Remember the
Swedish Limpa Bread
from a couple of months ago, from those pages to our cottage oven it came. Besides rummaging through a previously unvisited volume of one of my oldest and dearest cookbook series, I was able to pull off a few more fun antics on that otherwise cold and miserable afternoon.
I used baker's twine for the first time. O.K., before you judge me let me just say that sometimes in life it's the little things that can make a day. It was more than just the twine and Doubleday Cookbook though. Remember those braised carrots and the
white bean and tomato salad
? Both were spur-of-the-moment ideas, and both complimented this meal most graciously.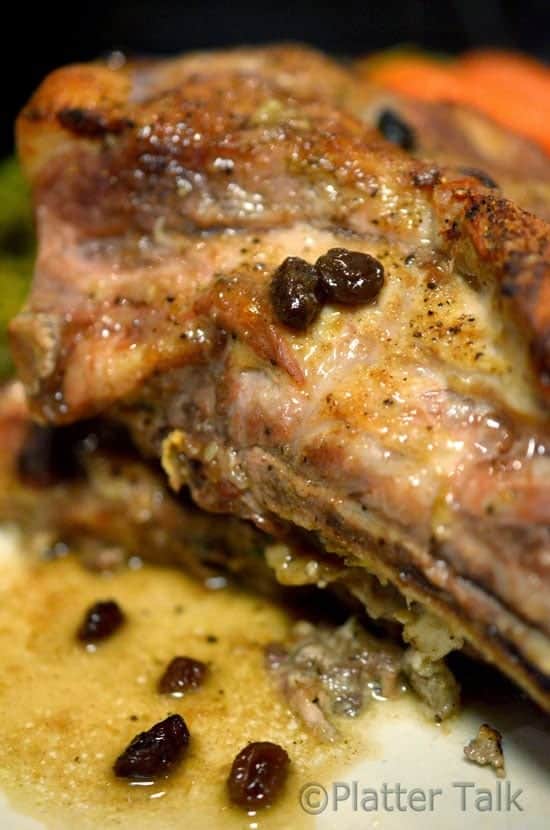 Let's get back to the day's main event, those baked spareribs. They were lovely. Slow roasted pork sandwiches of apple and celery, glazed with a smattering of raisins and broth. How could such a dish be anything but mouthwatering? I've made ribs – only a couple of times; sometimes in the oven, sometimes on the grill, and sometimes a combination of both. They've always been tasty and delicious and with today's post here on Platter Talk, I'm happy to say we can add one more method of preparing ribs that will please everyone, in spite of the season or its weather.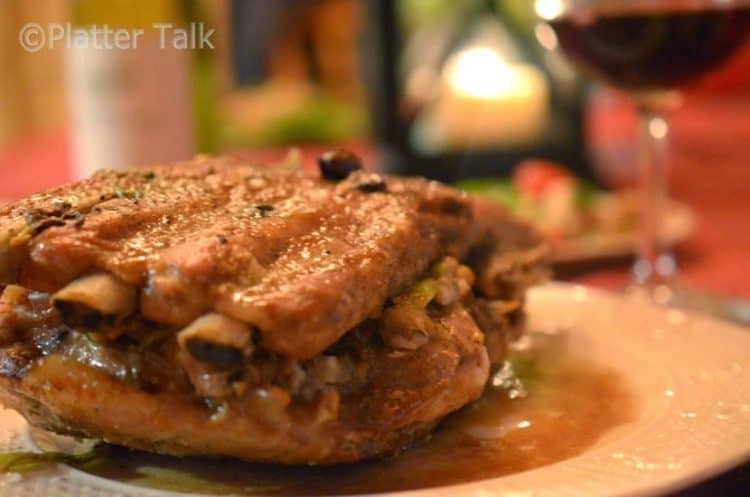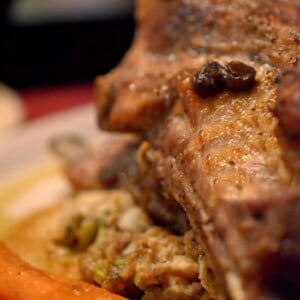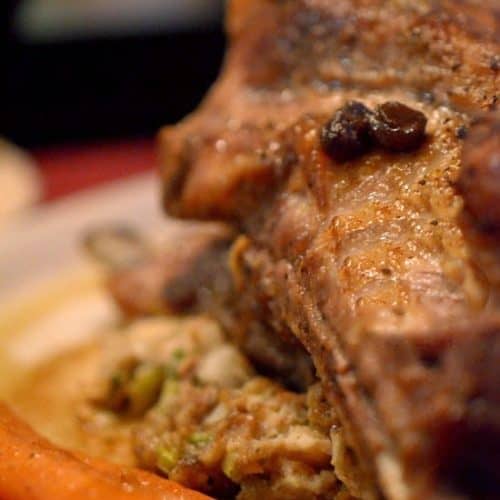 Baked Spareribs with Apple-Celery Stuffing
Inspired by The Double Day Cookbook
Ingredients
3

lbs.

spareribs

,

cut into portions of 3-4 ribs wide

1

teaspoon

salt

1/2

teaspoon

pepper
for the apple-celery stuffing
1

cup

soft white bread crumbs

1

cup

finely chopped apple

1/2

cup

minced celery

1/4

cup

minced yellow onion

2

tablespoons

minced parsley

1/2

teaspoon

cinnamon

1/2

teaspoon

salt

1/2

teaspoon

pepper

1

egg

,

lightly beaten
for the glaze (optional)
1/2

cup

chicken or vegetable broth

2

tablespoons

raisins
Instructions
Preheat oven to 350 degrees F.

Toss together stuffing ingredients.

Turn half the ribs hollow side up and spread evenly with stuffing.

Top with remaining ribs, meaty side up, to make "sandwiches."

Tie each securely with string.

Place ribs in a shallow roasting pan and sprinkle with half the salt and pepper.

Bake, uncovered, 1 hour and drain off drippings, reserve.

Turn ribs.

Sprinkle with remaining salt and pepper and bake 1 hour longer, drain off drippings to those reserved.

Cover with foil and bake another 30 minutes or until fork-tender.

Add broth and reserved drippings along with raisins to saute pan or skillet and heat over medium heat, stirring, until reduced by 1/2

Transfer ribs to warmed platter, remove strings and cover with glaze.
Notes
Because the flavor of pork is no unlike that of chicken, you can substitute your favorite poultry stuffing for the Apple-Celery Stuffing. You might also try the Apple-Celery Stuffing for chicken. It's delicious.
Nutrition
Calories:
726
kcal
,
Carbohydrates:
17
g
,
Protein:
39
g
,
Fat:
55
g
,
Saturated Fat:
18
g
,
Cholesterol:
209
mg
,
Sodium:
915
mg
,
Potassium:
656
mg
,
Fiber:
2
g
,
Sugar:
4
g
,
Vitamin A:
201
IU
,
Vitamin C:
3
mg
,
Calcium:
76
mg
,
Iron:
3
mg
Nutrition information is automatically calculated, so should only be used as an approximation.