Chocolate Cheesecake Brownie Bars
on Jun 04, 2014, Updated Aug 06, 2020
This little dessert started out as a batch of brownies from scratch. My intention was to create a dark chocolate pan of brownies and top it with some cream cheese and seasonally fresh blueberries. The whole process was going quite well until I became involved in a conversation between our English bulldog Ellie and her chihuahua brother, Buddy Guy. The little guy was begging for a couple of the Ghiradelli chips that were being thrown in the batter, while Ellie explained to him the dangers of dark chocolate, especially for smaller dogs. It was somewhere between Ellie's warnings and Buddy's begging that I became distracted and before I knew it, there sat an extra cup of flour, right in the center of the batter.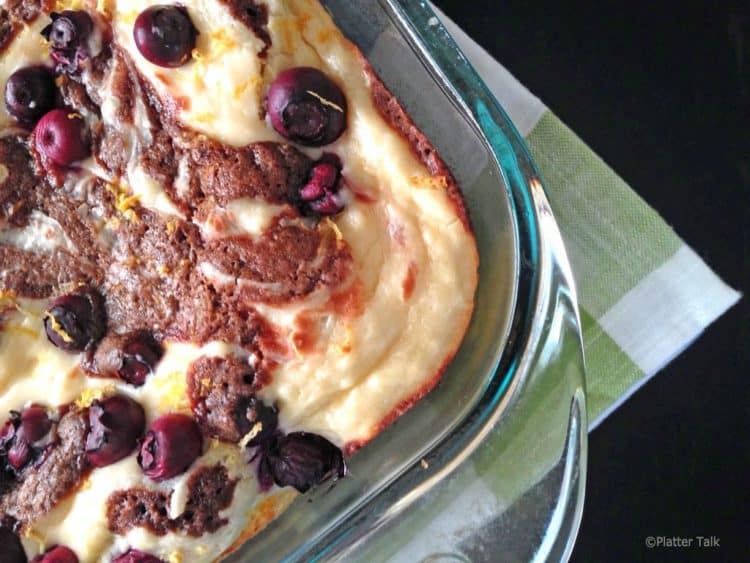 Without being overly daunted by my oops, I continued along the confectionery path I was on, not entirely certain where I would end up. For a while, I felt like a genuine recipe developer. In spite of the unintentional flour, I kept plugging away at this creation, egg by egg and morsel by chocolaty morsel. As you may be able to discern from the photos, this dessert came out of the oven more cake than brownie, but more delicious than anything. The light taste of the blueberries is a perfect compliment to the cream cheese topping, commingled and baked with a chocolaty base.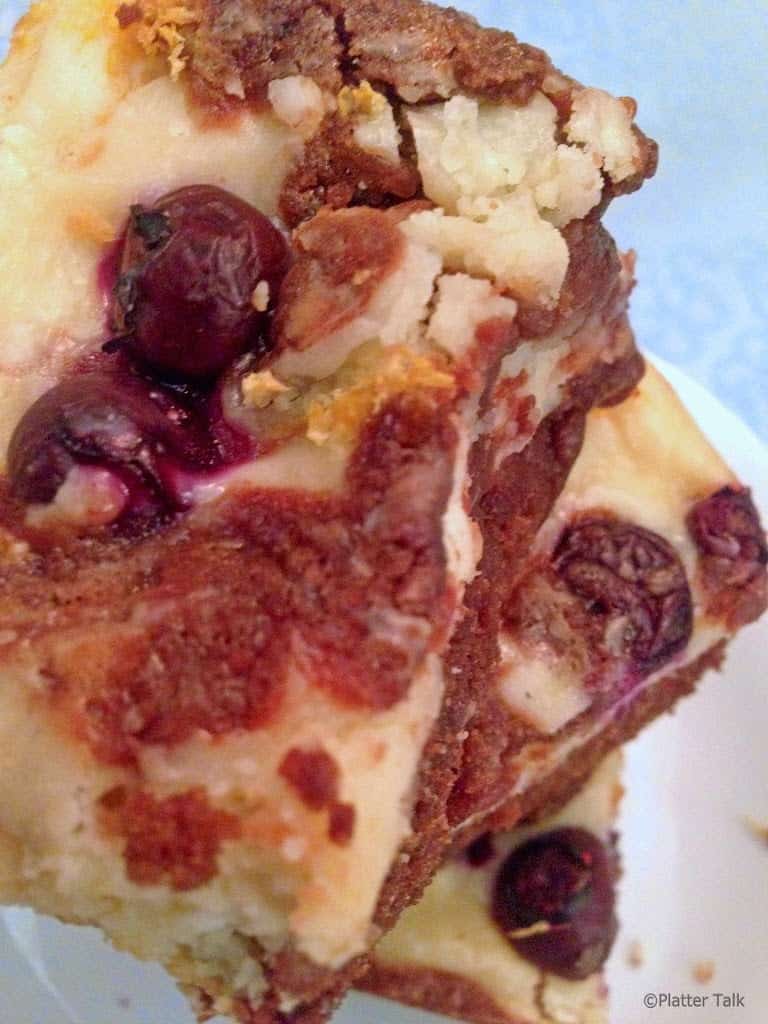 I had these in the oven for 45 minutes, thinking there were baked all the way through. If you use the amount of flour in the recipe below, I would suggest 55 to 60 minutes as these were somewhat under-baked in the center. If you want to go for a texture that is more brownie and less cake, then cut the flour in half per my original intent. It's fun to try new things in the kitchen, especially when there's no pressure to perform. It's not unlike going for a Sunday drive on a beautiful sunny afternoon. You may not be certain of your destination, but the leisurely journey along the way is bound to be enjoyable.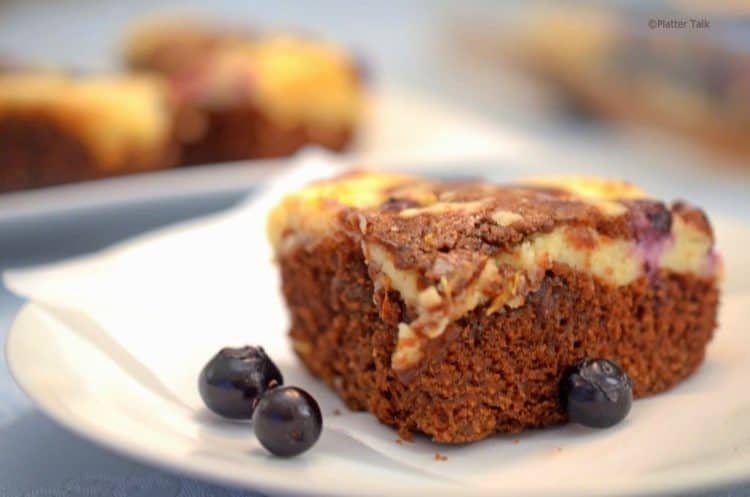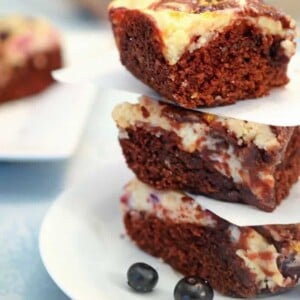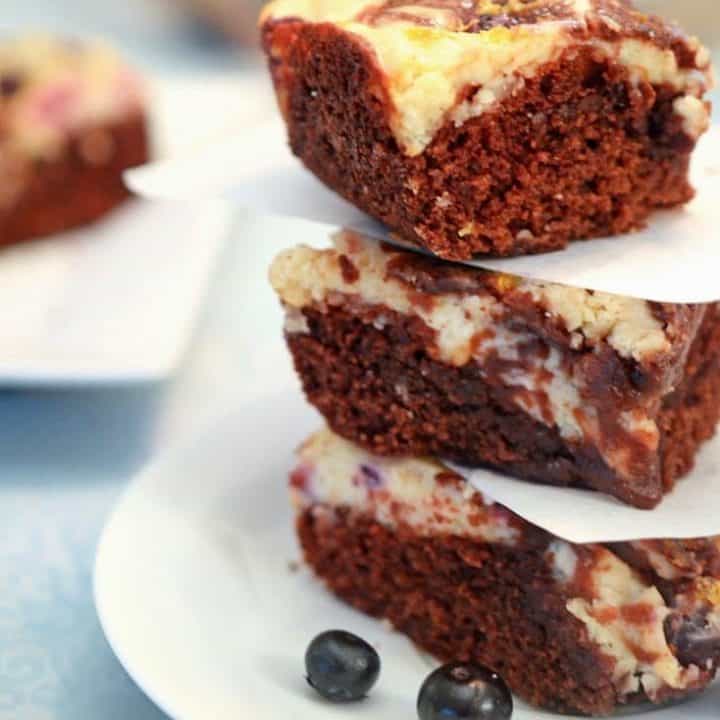 Blueberry & Chocolate Cheese Brownie Cake
A Platter Talk Exclusive
Ingredients
for the base
6

oz

Ghiradelli bittersweet cacao chips

2

sticks butter

4

eggs

2

cups

all-purpose flour

2

cups

sugar

1

teaspoon

baking soda

1

tablespoon

vanilla

1/2

teaspoon

salt
for the topping
16

oz

cream cheese

,

at room temperature

1/4

cup

of milk

1

egg

1/2

cup

sugar

juice from 1/2 small lemon

1/4

cup

flour

1

tablespoon

fresh lemon zest

1

cup

fresh blueberries

,

thoroughly washed
Instructions
for the base
Preheat oven to 350 degrees F.

Butter a 9 x 13 baking pan.

Melt butter and chocolate together in a small saute pan, over low heat.

In a large mixing bowl combine eggs, sugar, and vanilla. Mix thoroughly.

Add flour, baking soda and salt and stir well.

Add melted chocolate and butter mixture. Blend until completely mixed together and a smooth batter forms.

Spread batter evenly in prepared baking pan. Reserve a few spoonful to incorporate into topping.
for the topping
Combine cream cheese, egg, sugar, lemon juice, and flour in large mixing bowl.

Use electric hand mixer to beat until creamy.

Spread evenly over base.

Use teaspoon to drop small amounts of reserved base onto topping. Gently blend in with tip of wooden spoon.

Evenly distribute berries on topping, gently press them part way into the topping.

Evenly sprinkle lemon zest over topping.

Bake for 55 to 60 minutes, until toothpick comes clean out of center.
Nutrition
Calories:
333
kcal
,
Carbohydrates:
51
g
,
Protein:
6
g
,
Fat:
12
g
,
Saturated Fat:
6
g
,
Cholesterol:
88
mg
,
Sodium:
272
mg
,
Potassium:
93
mg
,
Fiber:
1
g
,
Sugar:
36
g
,
Vitamin A:
497
IU
,
Vitamin C:
2
mg
,
Calcium:
45
mg
,
Iron:
1
mg
Nutrition information is automatically calculated, so should only be used as an approximation.