A couple of weeks ago, we were at a friend's home one Saturday evening.  There were a handful of adults, and a handful of kids as well – a pretty good mix.  For food, my friend echoed the company he had over.  The main course was a variety of delicious sub sandwiches and a big tray of appetizers, consisting mostly of fresh fruits.  There were grapes, there was mango, there was pineapple, and there were pomegranate seeds.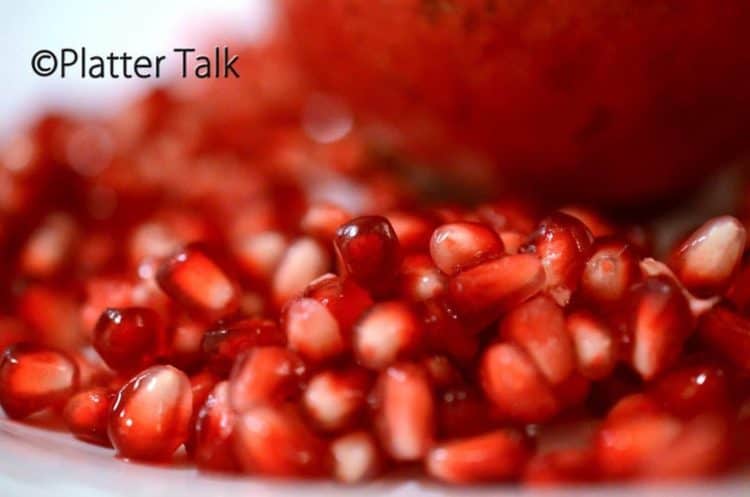 I was particularly intrigued by the pomegranate seeds.  They were almost sweet, ever so crunchy, and completely delightful.  Vaguely familiar with the ancient fruit from which these seeds were derived, I wanted to learn more about them and at the insistence of our 10 year old son Ike, who fell in love with their taste, I have been buying them on a regular basis since that night.
Fast forward a few weeks from that night at our friends, when two days ago I received this iMessage from my sister, Chef Kathy, which had an almost urgent tone to it.  It stated simply: "Look @NYT article on pomegranate & candied ginger bark."  My sister is infinitely more creative than I am and when she suggests something like this, 9 times out of 10 I will take heed and follow her lead.  I'm especially happy I did, in this case.
I put these holiday-centered treats together in a snap.  Not having any candied ginger on hand, I instead slipped some fresh ginger root into my small food processor and added a touch of pure maple syrup to balance the hot zing of the fresh ginger. Similarly, I did not have bittersweet chocolate on hand but instead both unsweetened and semisweet baking chocolate.  Long story short, I made do with what I had and the result was nothing less than completely delightful.  What follows is essentially the recipe that I found for this treat but don't be afraid to improvise to what you have on hand, and to your taste.  You will love these, as will your family and guests.
Never Miss Another Platter Talk Recipe