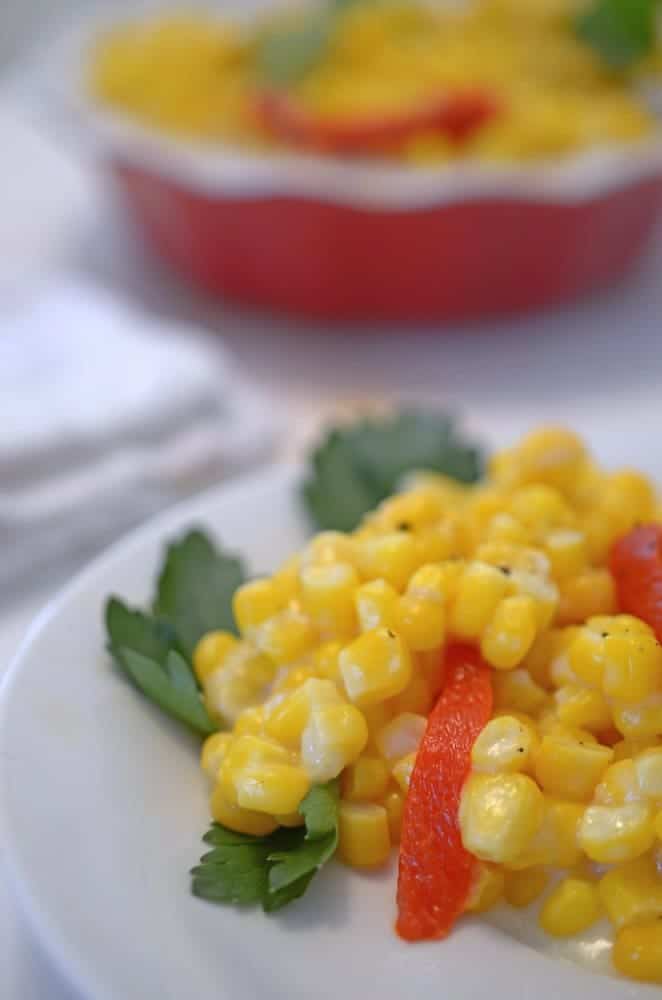 Growing up, there always seemed to be be plenty of corn on our table. It was on our table, it was in our garden, it was in our farm fields. We enjoyed it fresh off the cob, resurrected from my mom's freezer and even in sides of relish. Aside from fresh off the cob, my favorite corn dish has probably always been the scalloped corn my sister-in-law Carol makes. Every once in a while, likely for sheer convenience, my mom would open a can of creamed corn and I can't deny that it always tasted wonderful as well. I had no idea just how easily cream corn can be put together. Until this weekend.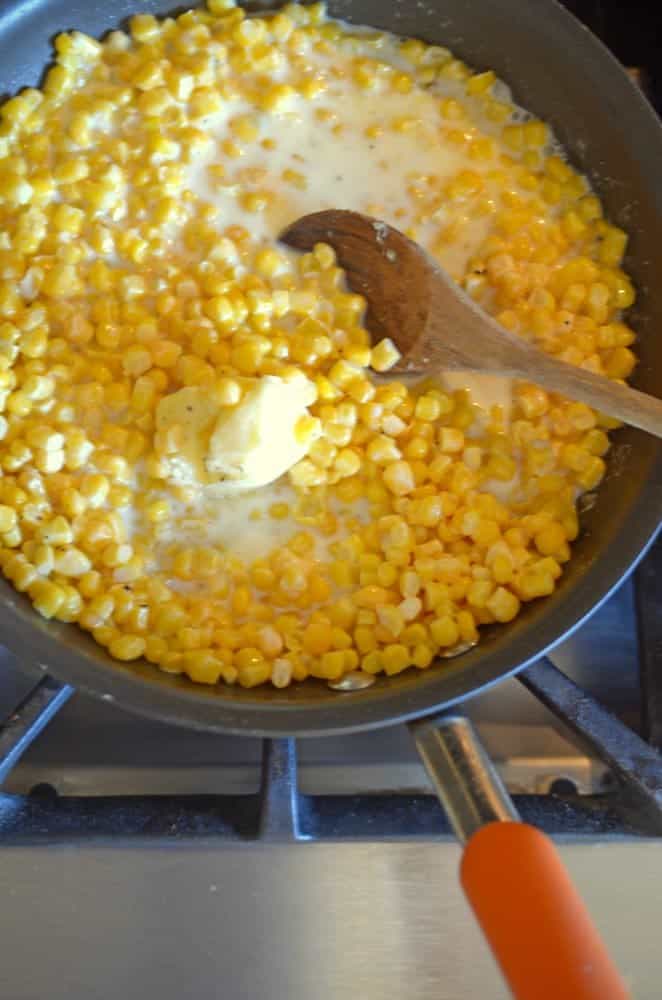 When I first tasted this very recipe, I was a bit shocked. The corn kernels were warm, plump, full of juice and flavor.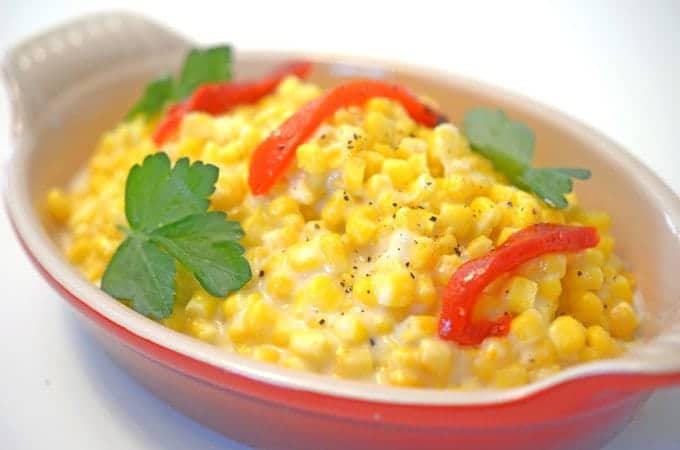 I've always loved sweet corn but it was hard for me to fathom that corn this delicious could be put together from a frozen bag in the grocery store and a little cream. And butter. And milk. And salt and pepper. That's it. Except for a touch of flour.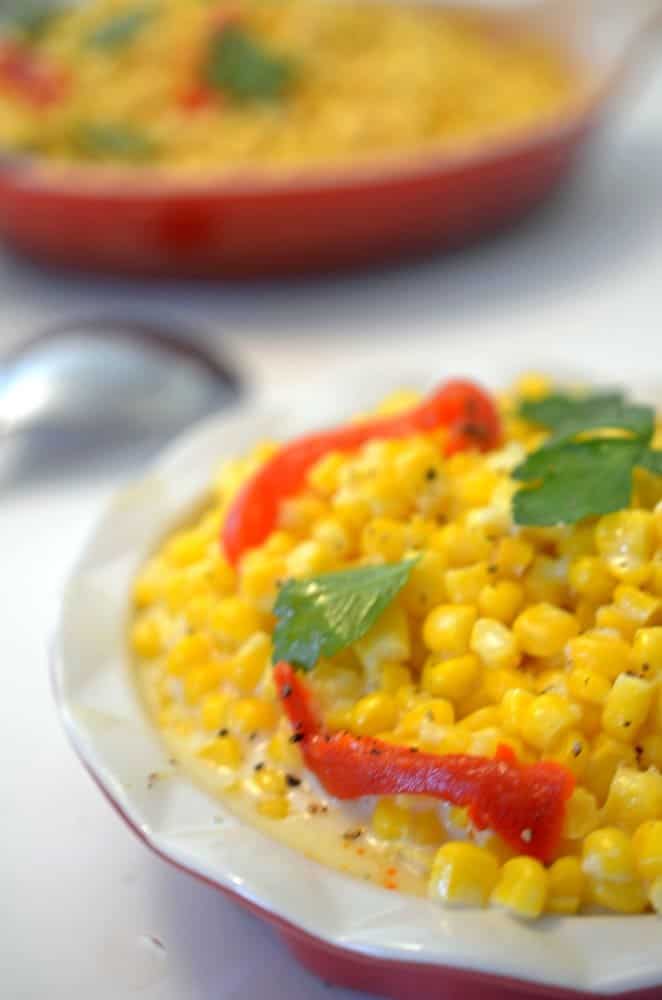 Could it get any simpler? Could it get any easier? Could it be any more delicious? No, no, and: no. The Easter holiday is upon us. It's the perfect occasion to throw a side of this together. It need not be a holiday, this dish will be a welcome addition to your dinner table on any day or night.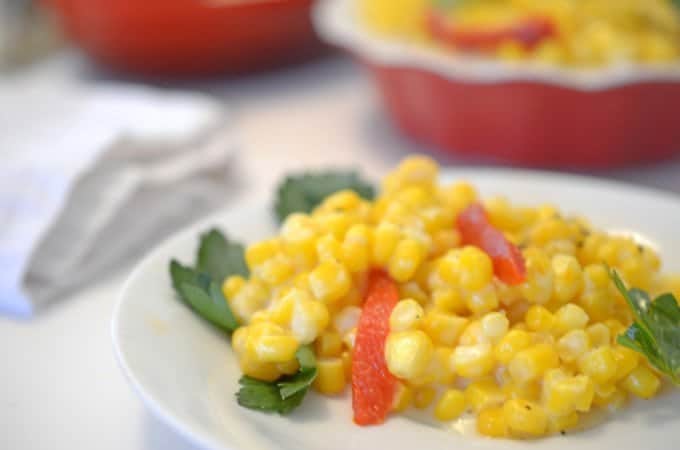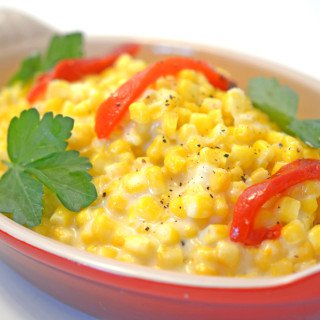 Ingredients
1 10

ounce

package frozen corn kernels

thawed

½

cup

heavy cream

1

teaspoon

salt

1

tablespoons

granulated sugar

¼

teaspoon

freshly ground black pepper

1

tablespoons

butter

½

cup

whole milk

1

tablespoons

all-purpose flour

¼

cup

freshly grated Parmesan cheese
Instructions
In a skillet over medium heat, combine the corn, cream, salt, sugar, pepper and butter.

Whisk together the milk and flour, and stir into the corn mixture.

Cook stirring over medium heat until the mixture is thickened, and corn is cooked through.

Remove from heat, and stir in the Parmesan cheese until melted. Serve hot.
Nutrition
Calories:
263
kcal
|
Carbohydrates:
26
g
|
Protein:
7
g
|
Fat:
16
g
|
Saturated Fat:
10
g
|
Cholesterol:
53
mg
|
Sodium:
704
mg
|
Potassium:
270
mg
|
Fiber:
2
g
|
Sugar:
8
g
|
Vitamin A:
779
IU
|
Vitamin C:
4
mg
|
Calcium:
104
mg
|
Iron:
1
mg