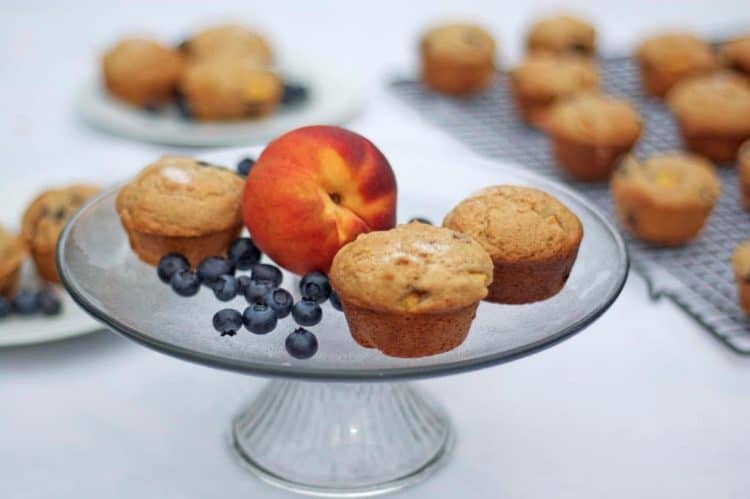 TGIF!  I don't know about you but I'm happy Friday is upon us.  That being said, I have to ask, what happened to July?!  I know it was here, briefly at least.   Isn't that how it always goes?  Here in Wisconsin, we had temperatures in the mid-90's earlier in the week and a colleague of mine confessed just this morning, she turned the heat on in her car while driving to work.  With August making its appearance in just a few short days, we are reminded with some regret that summer does not last forever.  I wanted to get a post up before the weekend but as of yesterday afternoon had no idea what to put together.   Late in the day as I was leaving work myself, a little voice inside of my head was saying, "Put those fresh peaches and blueberries to good use while you have them."  That's all it took.  With a little intuition and some indescribably delicious fruit and berries, I give to you today's Platter Talk post.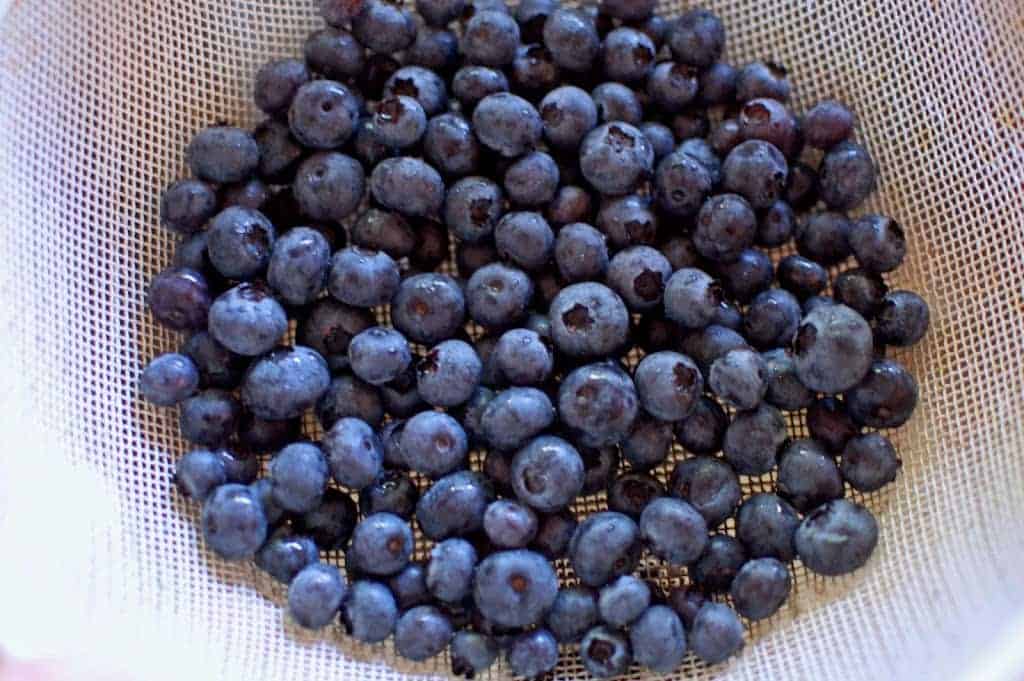 Some things were just made to go well together.  For Forrest Gump it was peas and carrots.  For Broadway it was Rogers and Hammerstein.  For me as a boy it was among other things,  johnnycake and gravy and our German Shepherds, Joe and Sue.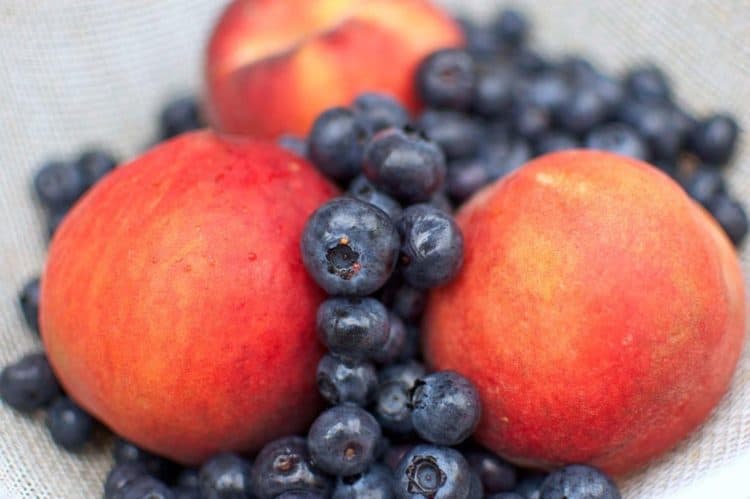 For summer, there are a lot of things that pair well together.  There are however, few that do it any better than fresh peaches and blueberries.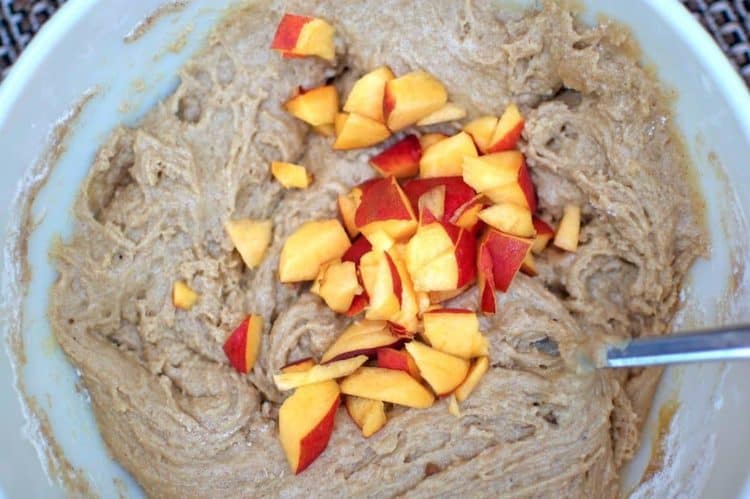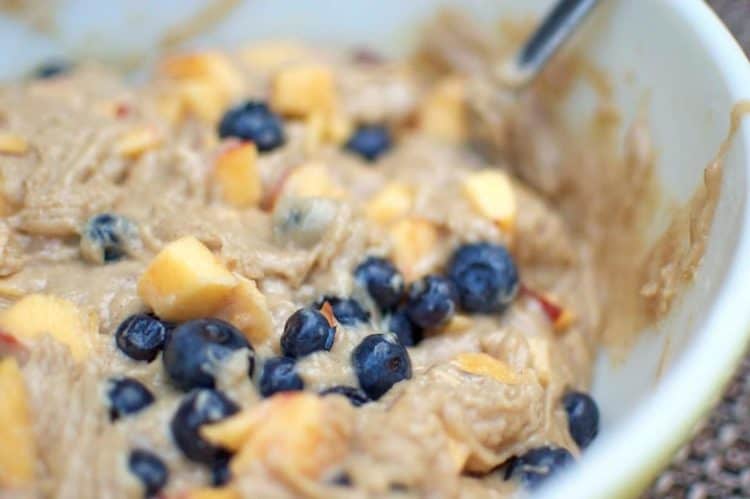 I mentioned how that little voice that reminded me of our precious but limited summer commodities.  It came to me on my short ride home from work.  I knew that I wanted to put something together for a post, and I knew with equal conviction I did not want to make a pit stop at the grocery store.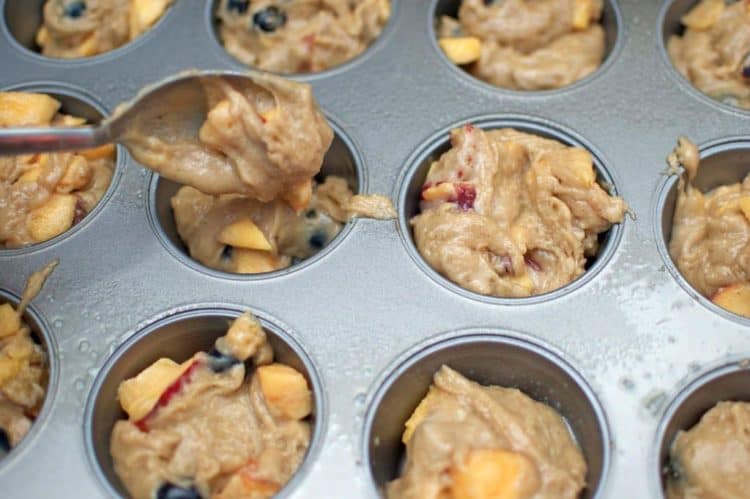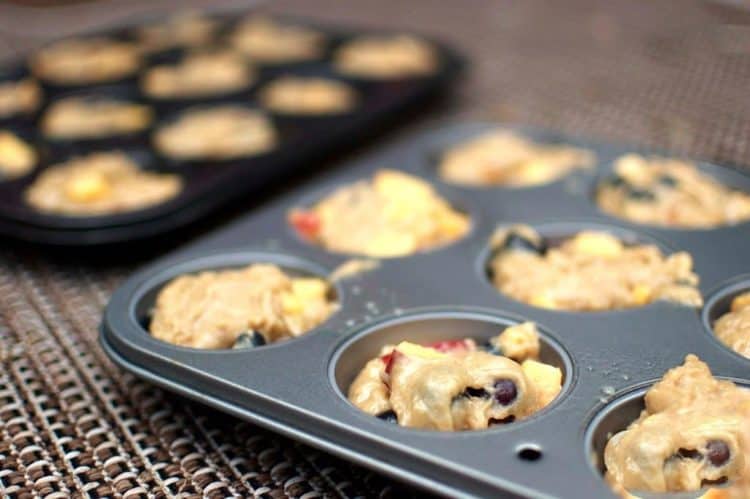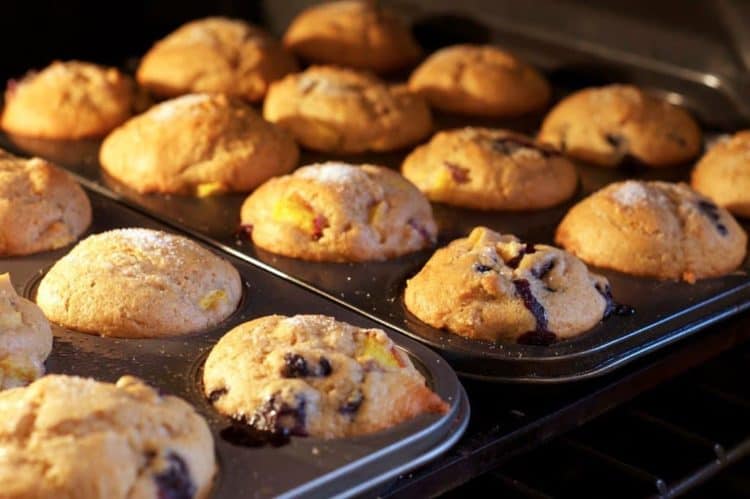 The challenge therefore was to put something together from the contents of our pantry and refrigerator.  Thankfully, because of that little voice, I also used the fruit bowl.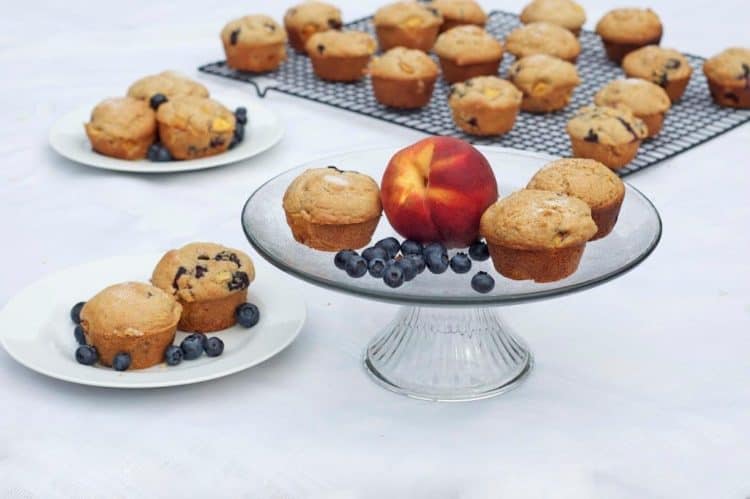 We had dinner plans with our friend Lane and also Nik, whose wife and kids are out of town.  With that in mind I knew I had only a couple of hours to put something together.  In spite of the apparent time constraint and still not knowing exactly what I was going to make, that same little voice seemed to assure me that everything was good and it would all get done.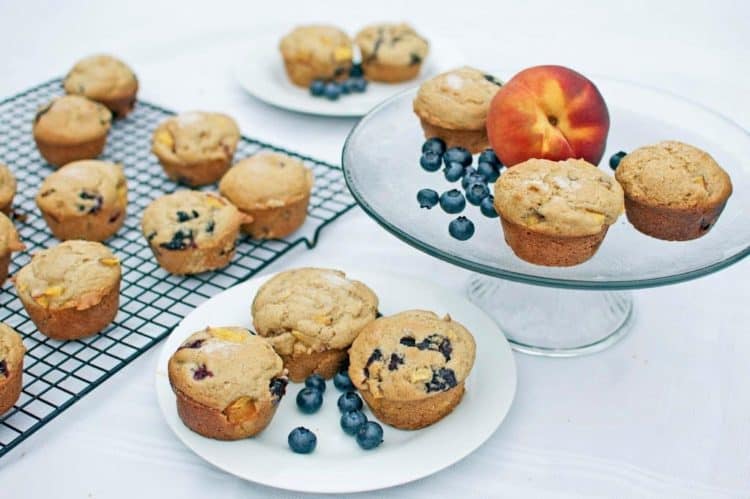 I have to say, the voice was spot on.  Given the fact that our table and kitchen counter have been graced with peaches and blueberries for the past month, it should have been obvious to me from the get-go that whatever I chose would include either or both of these lovelies.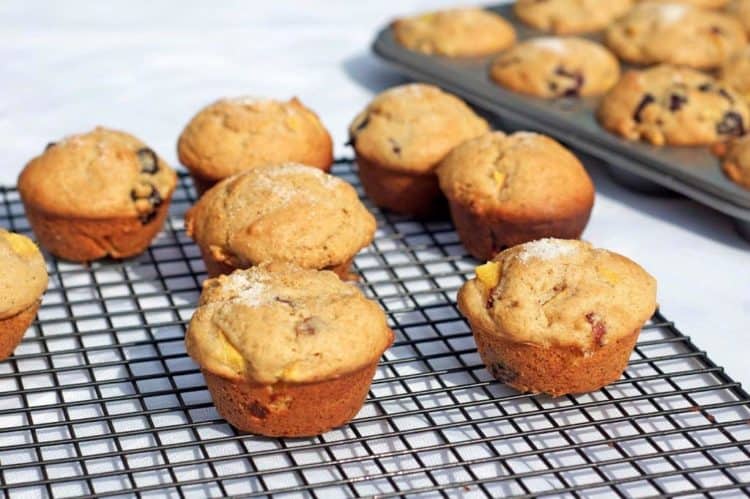 I've mentioned my fondness of King Arthur Flour, in the past.  Today that product really came through for me again.  Their website is chock-full of innovative ideas and recipes and it is from there that I found my inspiration for these muffins.  I found it particularly appealing that this recipe specifically instructs to not peel the peaches.  By the time I got home after finishing a full day at work, the only thing I was in the mood for peeling was the shoes off my feet.  This idea was sounding better and better, all the time.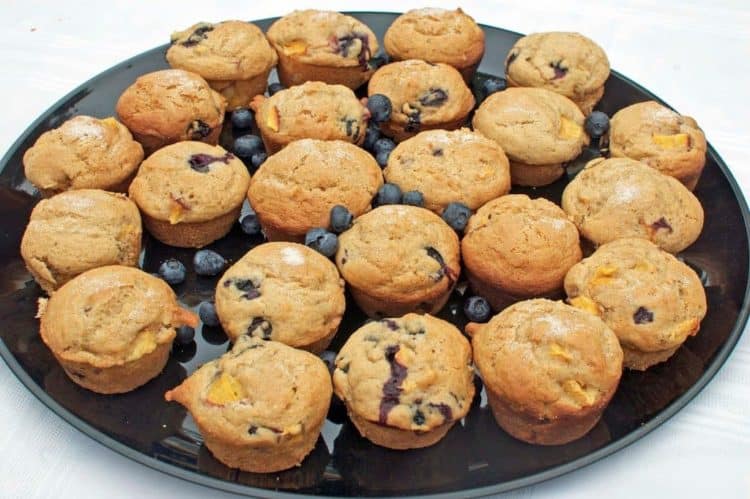 I have to tell you, not only did this recipe fit the bill perfectly for my afternoon and evening schedule, these muffins were pretty darn tasty as well.  One of them "didn't make it," coming out of the pan.  Oh shoot, I had to eat it – right then and there.  It was delicious, and even better with a cold tumbler of milk to wash it down.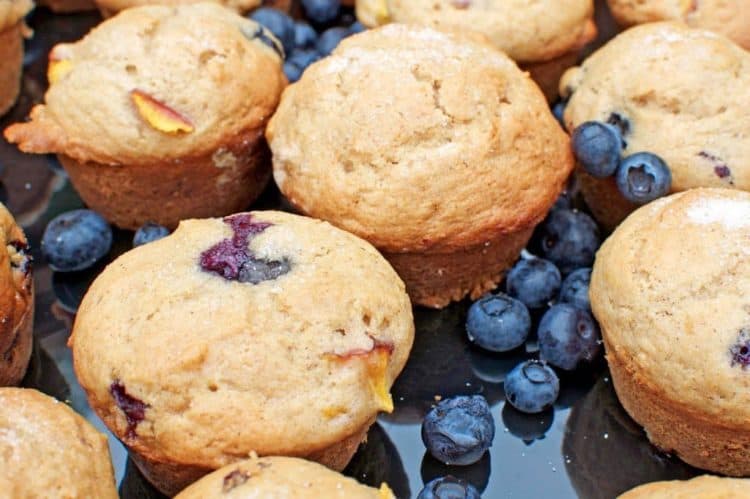 Give these babies a shot.  The recipe is straightforward and uncomplicated, much like the dynamic dual of blueberries and peaches.  What could be better?  Happy summer to you, and make it a great weekend.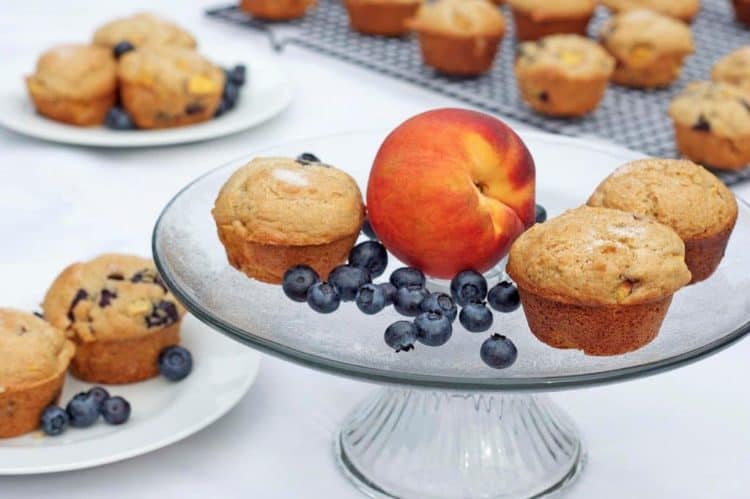 Never Miss Another Platter Talk Recipe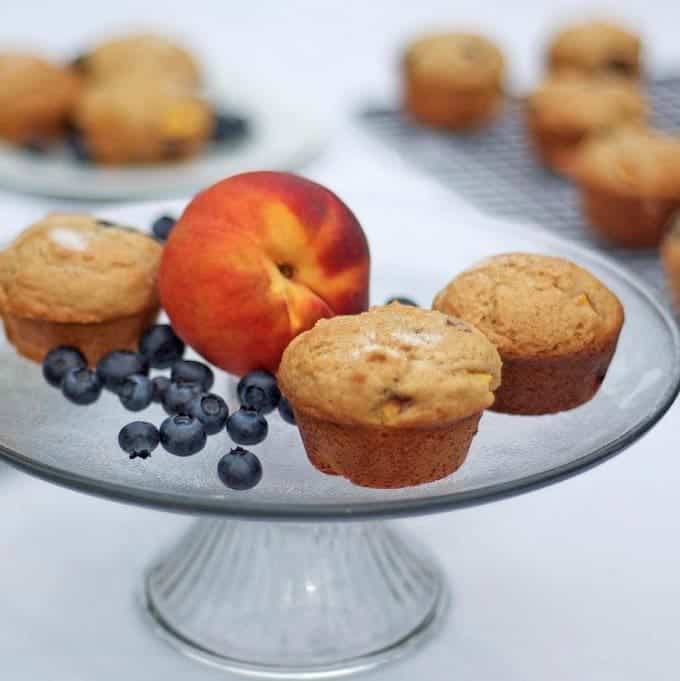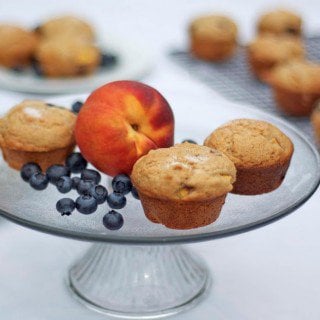 Ingredients
4 1/2

cups

unbleached all-purpose flour

1

teaspoon

salt

4

teaspoons

baking powder

2

cups

brown sugar

2

eggs

3/4

cup

vegetable oil

1 1/4

cup

milk

2

teaspoons

ground cinnamon

1/2

teaspoon

allspice

1/2

teaspoon

nutmeg

2

peaches

diced, (not peeled)

2

cups

blueberries

granulated sugar
Instructions
Preheat oven to 400 degrees F.

Combine all dry ingredients and mix well

Stir in eggs, milk, and vegetable oil until thoroughly combined

Add peaches and gently fold in blueberries

Prepare muffin pan with non-stick coating

Evenly distribute batter in muffin pans

Sprinkle sugar over batter

Bake 25 to 30 minutes or until golden brown and baked throughout.