Pesto Pizza with Sun-Dried Tomato and Asiago Cheese
on May 08, 2015, Updated Apr 07, 2020
This pesto pizza recipe uses fresh pizza dough from the grocery store and a few simple ingredients, making it a fast, convenient, and unbelievably delicious homemade pizza.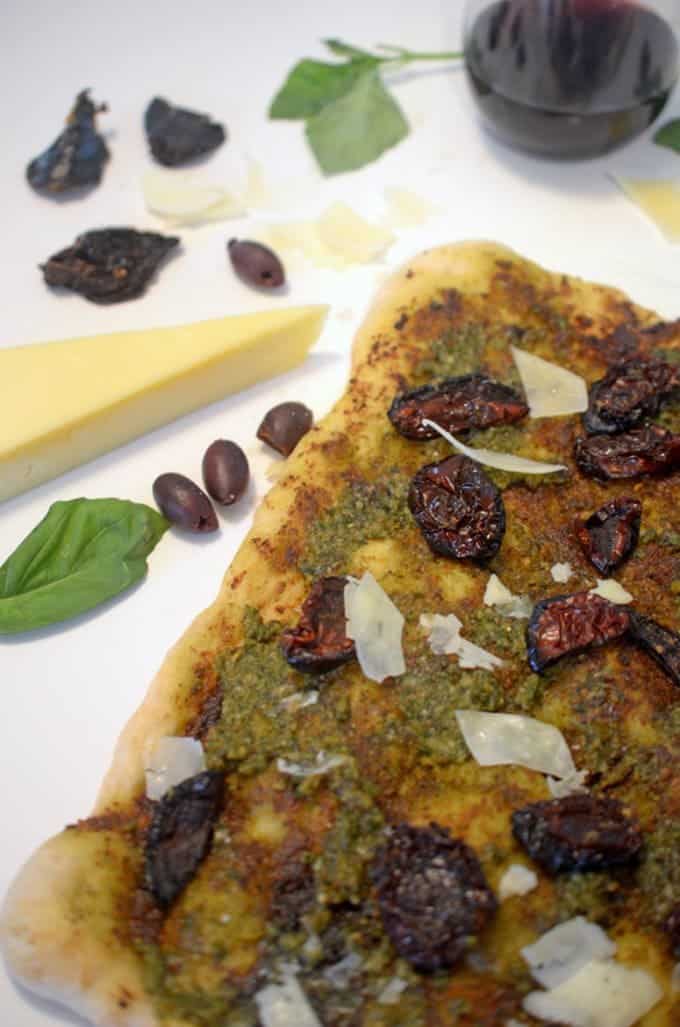 I have a long-standing history of having a love affair with pizza. In my earliest recollection, it started with Chef Boyardee pizza from a box.
Back in the days on our farm, it was usually served on Sunday nights and always welcomed as a treat, indeed almost an indulgence. Since then, I have enjoyed pizza for every meal of the day, night, and all points in between. I
t's been a while since I've put a pizza together in my own kitchen, and may I just say, the wait for this pesto pizza was well worth it.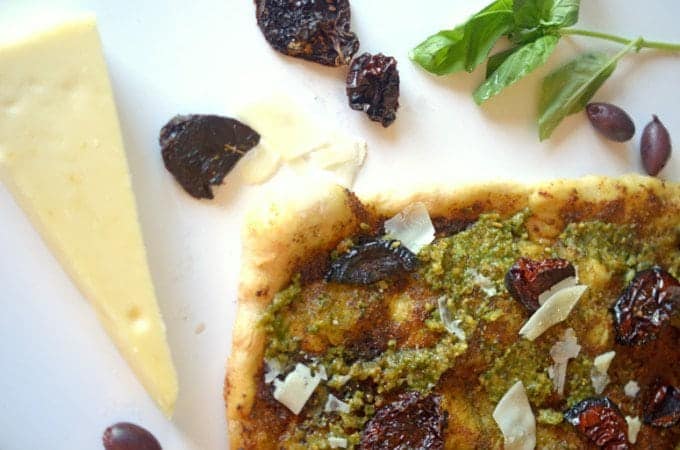 I hope you were able to try the mini quiches that we put together earlier this week. From that tasty project, I had a few spare sun-dried tomatoes and extra Asiago cheese. Both seemed to be whispering, "Use me, use me, please turn me into something good!"
"…when it comes to making pizza, less is often more."
Now, perhaps food doesn't whisper in your ear, and if that's the case, you have my sympathy. Those of you who don't consider food to be among your closest of friends, you don't know what you're missing.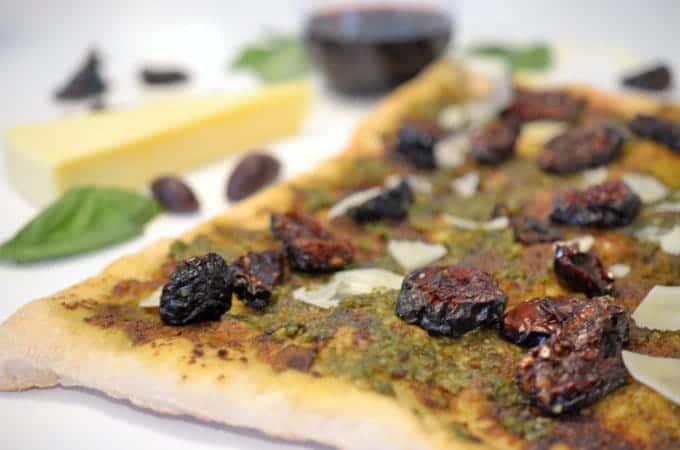 Not only do I have a close relationship with food of all sorts, as alluded at the start of this post, but I also have a particularly close bond to pizza. For years I worked on my crust, using a very hot oven with a very hot pizza stone, and thanks to a basic recipe from Mario Batali I was eventually able to reach what I can only refer to as self-actualization with my pizza making.
Thus it was several years ago that I finally felt very good about pizza that I put together with my own hands. I made it in all seasons, at home, at our cottage, and even at the home of friends. In a vast departure from my past routine of always making my own crust, I took a cue from Scott's lesson of ease and convenience in the kitchen and for this pizza creation, I went with a fresh dough that I picked up from my favorite grocery store.
For this pizza, I had a couple of jars of pesto that had been gifted to me last fall, still sealed in their small min mason jars and waiting in the back of the fridge for special use.
I had never tasted a pesto pizza prior to this one, and I now that I have, I won't ever forget it. The aroma of this one, baking in the oven, is unforgettable.
Just as the asiago cheese and sun-dried tomatoes got along very well with the quiches that I referred to earlier, they were the perfect savory complement to the roasted pesto that topped this crust. If you have never had a pesto pizza, make this the day. -Dan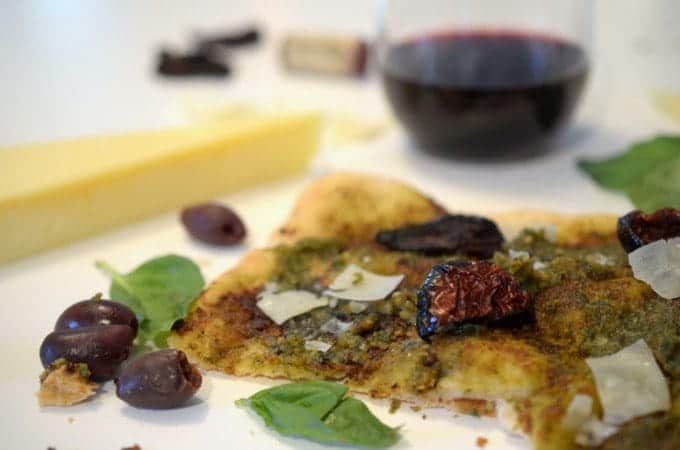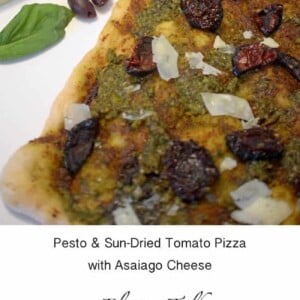 Pesto Pizza with Sun-Dried Tomato and Asiago Cheese
A Platter Talk Exclusive
Ingredients
1

fresh

,

pre-made pizza dough (or make your own cruse with our easy recipe.)

1

cup

pesto

1

handful sun-dried tomatoes

,

coarse chop

1/2

cup

Asiago cheese

,

thin shave
Instructions
Preheat oven to 500 degrees F.

Heat pizza stone in oven.

(If using metal pizza pan, reduce oven to 425 degrees F.)

Roll dough out on lightly floured piece of parchment paper.

Use tablespoon to spread 3/4 cup of pesto on rolled out dough, reserve remaining pesto for when pizza come out of oven.

Evenly distribute remaining ingredients, first sun-dried tomatoes, then cheese.

Remove hot stone from oven and slide parchment paper (with pizza) on the stone.

Place pizza in oven.

Reduce heat by 50 degrees after 10 minutes.

Bake another 8-10 minutes until crust is done.

Allow pizza to set for 5 minutes, then spread remaining pesto on pizza.

Serve immediately or slice and serve as a room temperature appetizer.
Nutrition
Calories:
89
kcal
,
Carbohydrates:
8
g
,
Protein:
4
g
,
Fat:
5
g
,
Saturated Fat:
2
g
,
Cholesterol:
7
mg
,
Sodium:
399
mg
,
Potassium:
194
mg
,
Fiber:
2
g
,
Sugar:
5
g
,
Vitamin A:
297
IU
,
Vitamin C:
3
mg
,
Calcium:
110
mg
,
Iron:
1
mg
Nutrition information is automatically calculated, so should only be used as an approximation.