Pizza Margherita con Burrata
on Aug 20, 2013, Updated Apr 07, 2020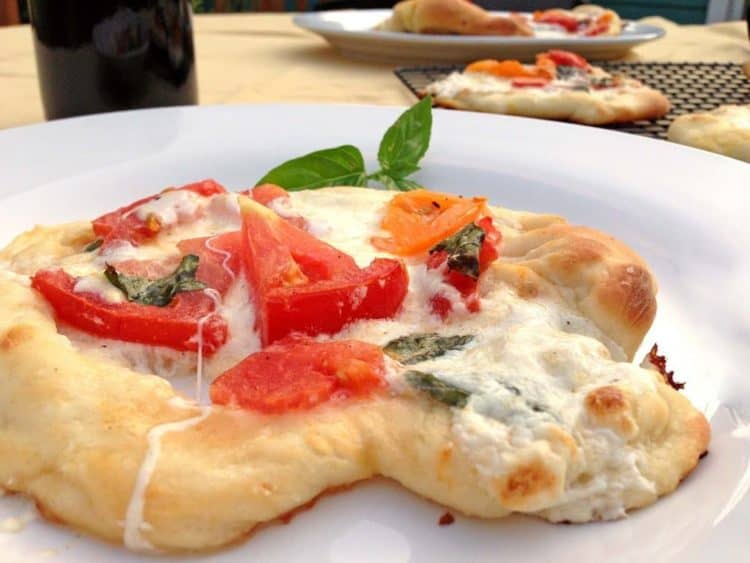 This post almost did not happen. Earlier last week I was spiffing up the kitchen a bit and going through the fridge in an effort to do the same. I came across the remnants of our weekend at the cottage realizing that they were approaching the 2 day leftover mark and probably "needed to go." The cucumber salad still tasted good on Sunday but we have a ton of fresh garden cukes begging to be used. The grapes were from well over a week ago and beginning their transition toward raisindom; buh-bye. And then there was caprese salad with the imposing but soft hearted burrata cheese. I had the plate poised over the kitchen trash when suddenly my senses kicked in and screamed to me, "WHAT ARE YOU DOING?!" That's when I fired-up my oven and got out my mixing bowl.
| | |
| --- | --- |
| | |
Thankfully, the caprese was spared, and indeed reincarnated to a degree. To 550 degrees to be more precise. My intent was to make a bunch of personal size margherita pizzas and that is exactly what I did. I love all things pizza. In fact, I freely admit that it is a "hobby" of mine. As unusual as that surely sounds, there could be less upstanding past times, I suppose.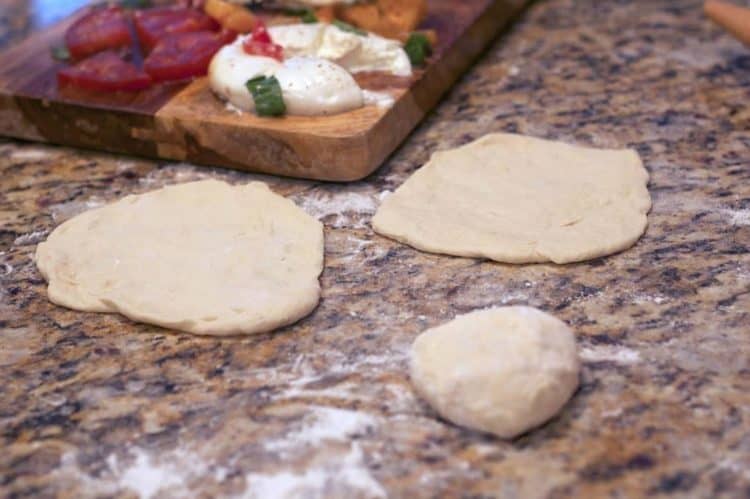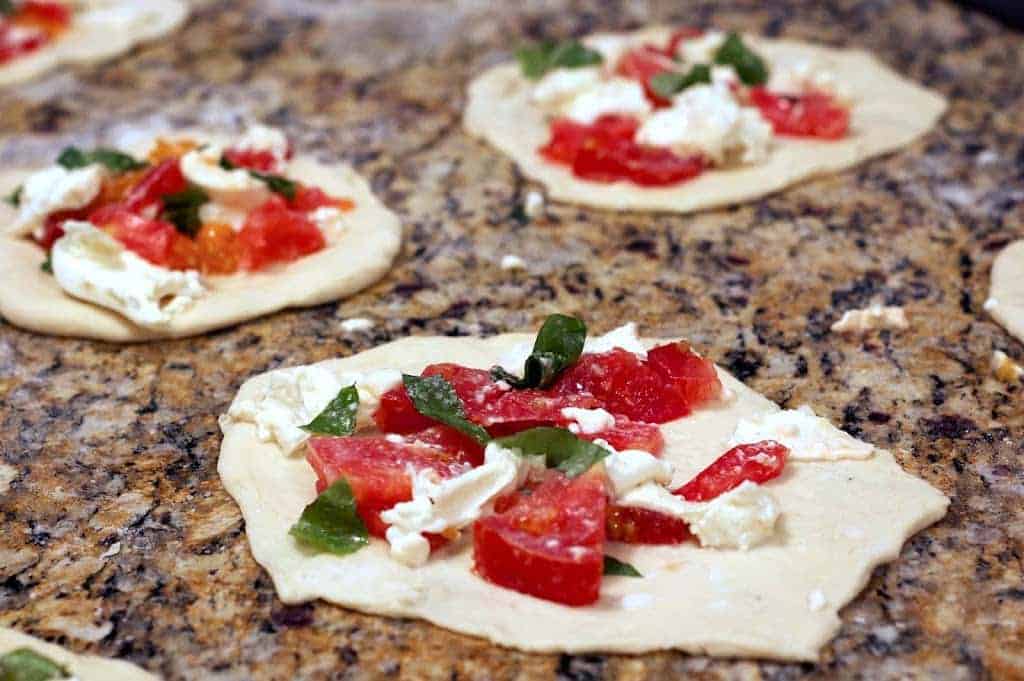 For the pizza-making-loving-man that I am, this is without question the time of year for which I wait to arrive. The season of freshness. The season of garden basil, of fresh tomatoes, and with both of these – fresh mozzarella.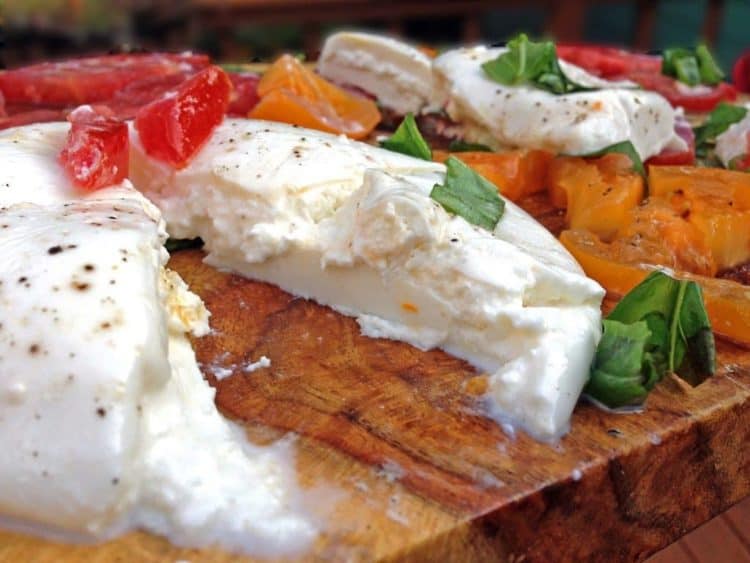 Fresh mozzarella, that's what this post is truly about. I'm not talking about any fresh mozzarella, I am talking about Burrata – silky-soft sacks of mozzarella filled with stracciatella, strands of mozzarella bathed extravagantly in cream. I mentioned burrata briefly in a previous post here on Platter Talk when I espoused the wonder of my good friend Jeff's culinary prowess and specifically the Caprese he put together a couple of weekends ago. Burrata first caught my eye in a New York Times recipe, where it was used to make a ravioli.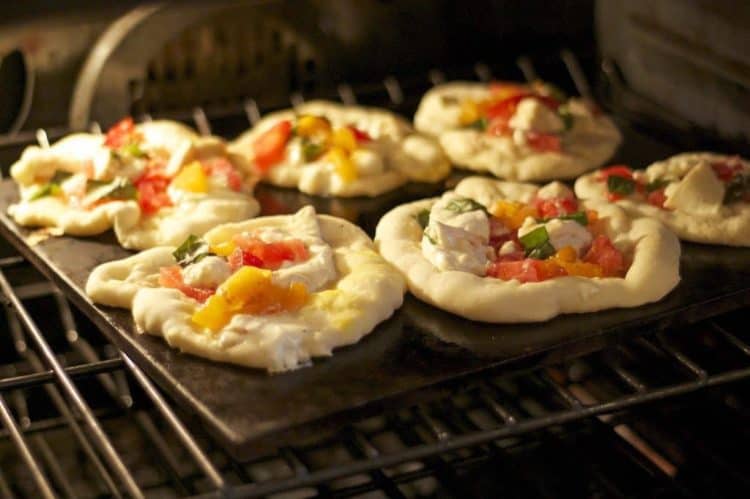 By some stroke of coincidence and no small bit of good fortune, I was able to enjoy this very cheese for the first time, thanks to Jeff. Thanks to my love of all things pizza, we enjoyed it a few nights later – this time on a bunch of small pizzas that were as fun to put together as they were to enjoy with a cold beer on a hot August night.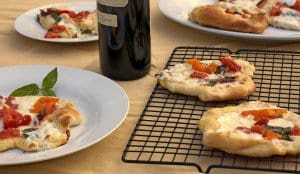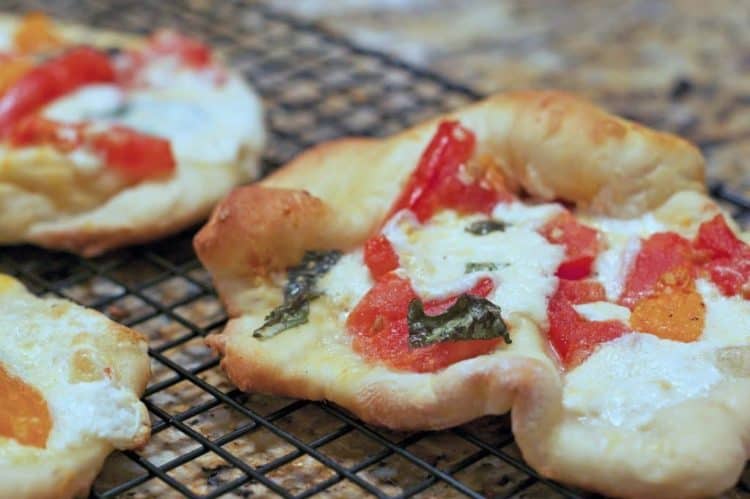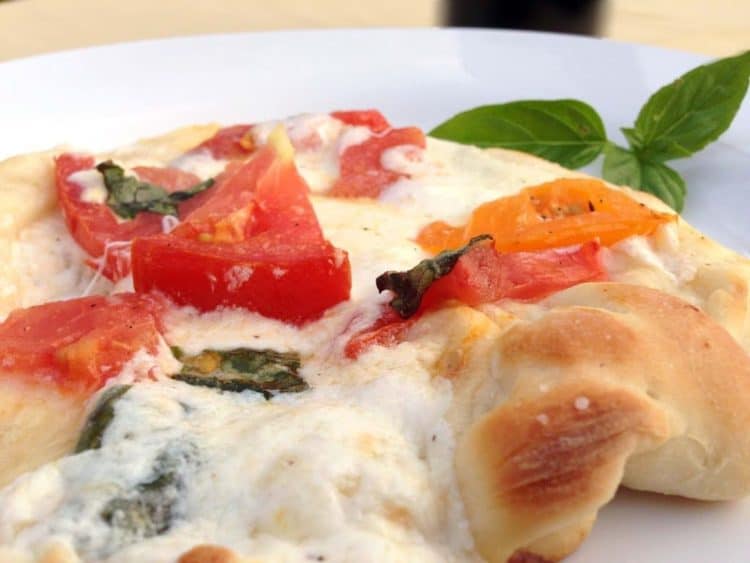 I've made my own pizza for a while now and hands-down, the Margherita is my personal favorite. There is no mistaking though, the burrata procured from our leftover Caprese salad knocked this already regal pizza completely out of the ballpark. During the baking process, the rich, creamy innards of the stuffed mozzarella found their way into the dough base where the high heat and hot stone quickly baked the two – together. All drama aside, this created a synergy that was nothing short of a life-changing experience,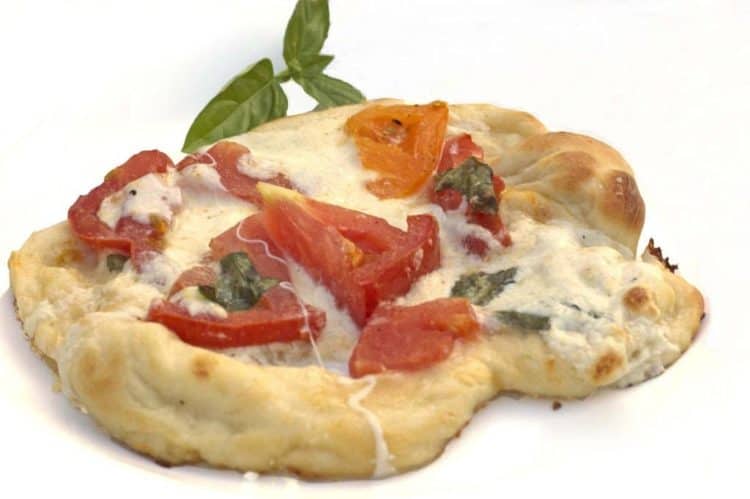 Grab some burrata, then make this pizza.
Pizza Margherita con Burrata
Recipe
a Platter Talk Exclusive
for the topping
Ingredients
2 large, fresh tomatoes
6-8 oz. burrata cheese
1/2 cup fresh basil leaves, coarsely chopped
1 tablespoon kosher salt
Instructions
Prepare dough – see the above link for pizza dough recipe
Roll dough to desired size(s)
Slice tomatoes to 1/4 inch thickness and allow to drain on paper towel.
Evenly distribute tomatoes on unbaked dough
Cut burrata into pieces about 1″ thick and evenly distribute on unbaked dough.
Evenly distribute basil
Sprinkle with kosher salt, to taste.
Refer to pizza dough recipe for baking instructions.