Polenta Conciata (Oven Baked Polenta Dressed with 4 Cheeses and Cream)
on Oct 21, 2013, Updated Apr 07, 2020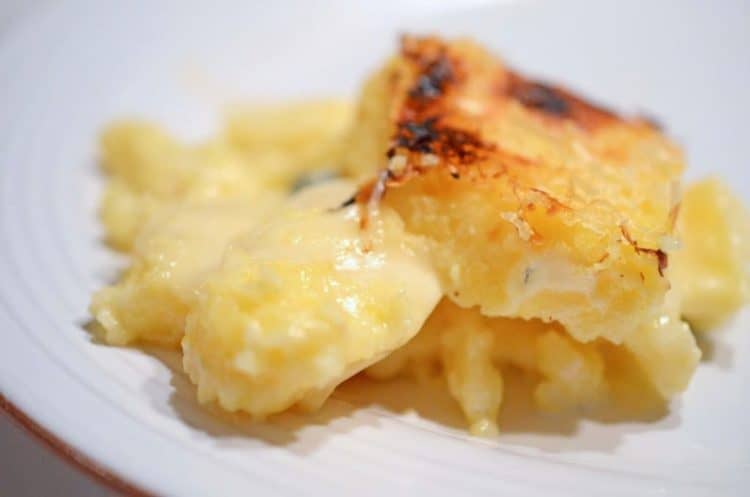 We are getting down to the nitty-gritty, here on Platter Talk, with our series on authentic Italian cuisine that will be featured at Viva Italia – the annual and major fundraising event for The Family Church here in Neenah, Wisconsin, of which our very good friend Paola is Pastor. In case you've been under a culinary rock and are not quite up to snuff with this series (just kidding about the rock thing 🙂 ), Paola comes from Italy and although she most lovingly devotes a huge amount of herself to her spiritual calling, she could handily enjoy great success as a master artist of fine Italian cooking. She is incredible. She is the real deal. She is like almost nothing I have ever witnessed in the kitchen. No joke. This post features Polenta Concetta, as Paulo translates to me, "Lightly dressed polenta." Like the other Viva Italia features I have covered, this will be served to those fortunate enough to attend the event, the details of which are at the conclusion of this post. For now, read on and drool…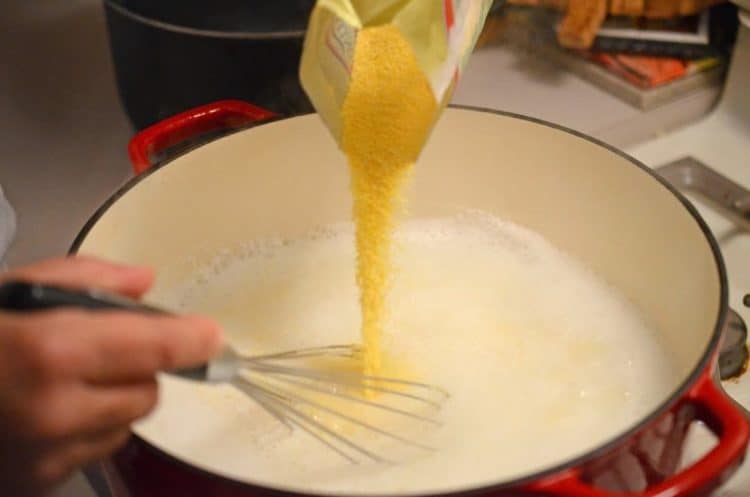 I have to start this post with a disclaimer which is far less important (bothersome) to me than it is to my friend Paola. For this recipe, we used( for lack of a better term,) "instant" polenta. This fact alone horrified our hostess. Normally when making this dish, the polenta cooks for 40 minutes or so. The type Paola used for this post only required a few minutes on the stove. There are two primary reasons Paola did not use the type of polenta that she prefers: 1) We were in east central Wisconsin. 2) We were not in Italy. With all due respect to Paola and other Italian purists, I say, "Who cares?" The end product was fantastic, just the same.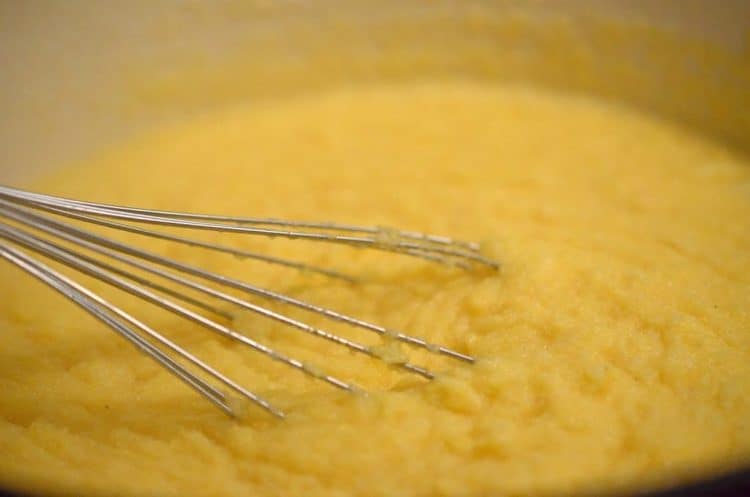 Some of you may not be familiar with polenta. It reminds me a bit of a cornmeal bread, or johnny cake as we called it growing up. Of course this version has an Italian flair and is delicious in its own right.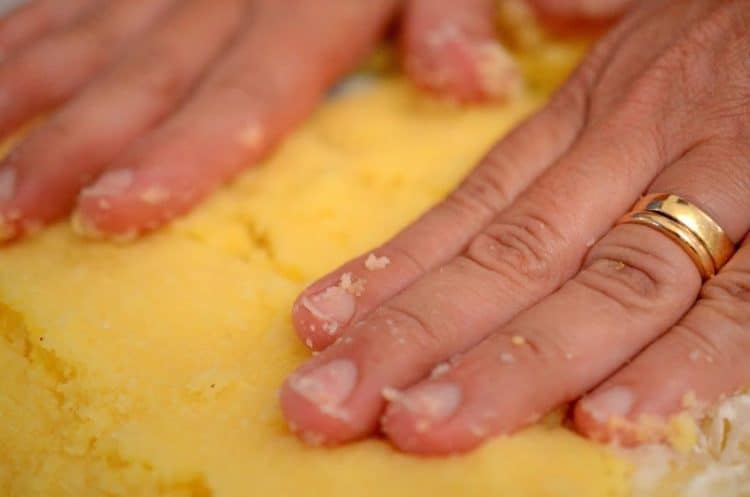 One of the things that I enjoy the most about cooking and baking is the tangible component involved. Over the past several posts, I've particularly noticed the "hands-on" involvement, especially evident by Paola in the above photo when she forms and pats down the unbaked polenta, and also in the making of her gnocchi, where the dough is carefully formed, cut, and rolled – all by the use of her hands. When a person creates a food for others using their hands, it can be contrived as a very personal gesture of one human being extending a part of themselves so that others can be fed. It's an unspoken form of communication, at some level. When this occurs among friends and family, to me there is always an element of love conveyed from one to the other.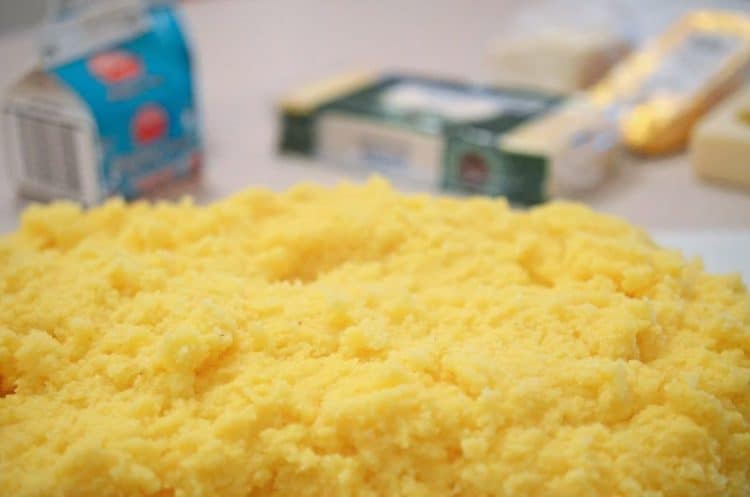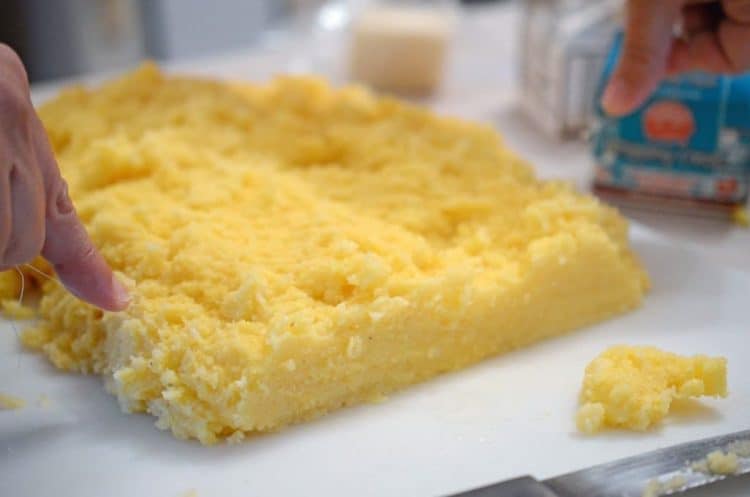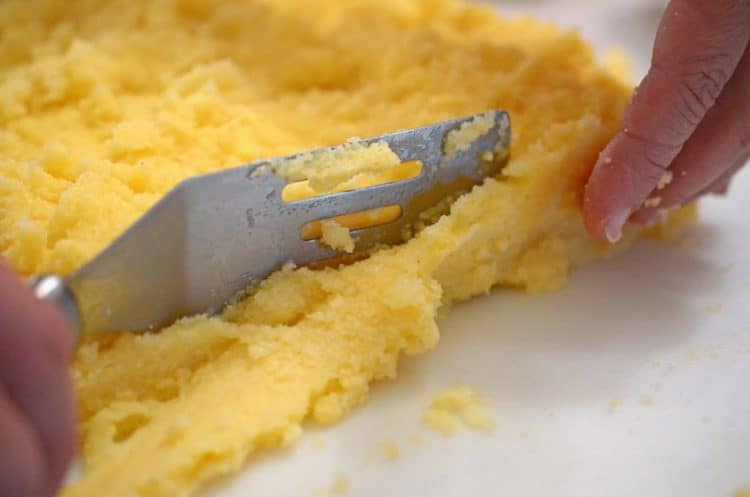 Take a peek at this short video where Paola talks briefly about the layering process with this polenta.
While she prepared this, Paola recalled to us, with great clarity, days of her childhood and her grandmother who often made polenta and served it piping hot with bowls of very cold milk. From these times, she recounts here memories of an impoverished people who frequently prepared this affordable and hot, nutritious dietary staple.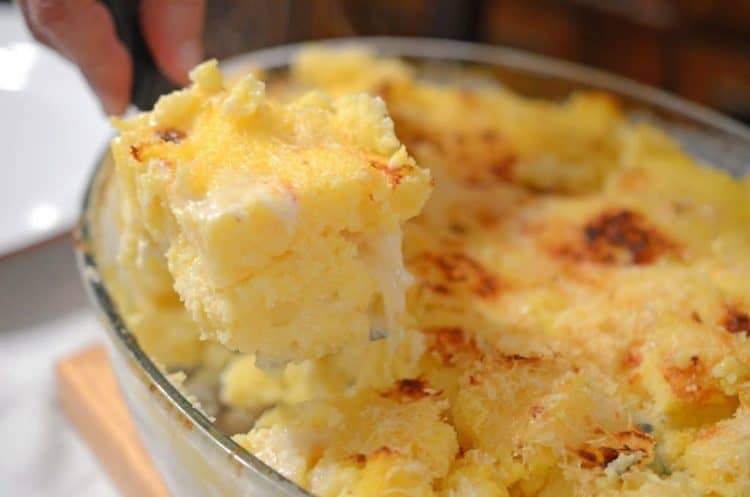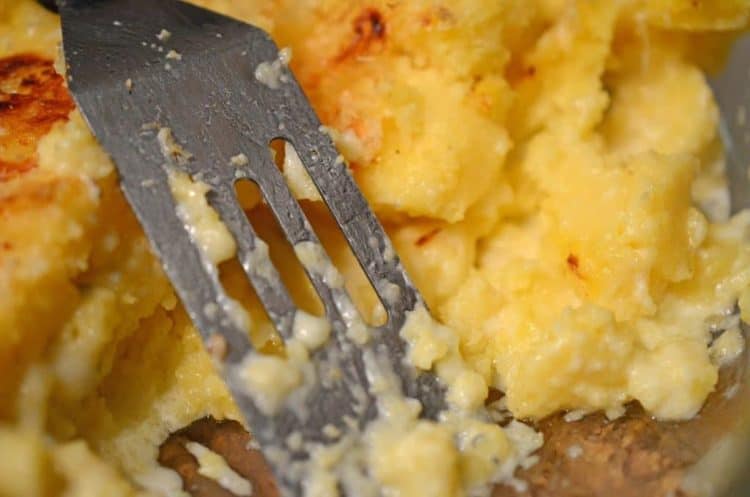 Paola adds that this dish is found primarily in the northern parts of Italy and is particularly popular during the cold winter months. Citing the fact that throughout the ages, the people of Italy generally migrated from the southern to the northern part of the country, for this reason polenta is not commonly found in southern regions of Italy.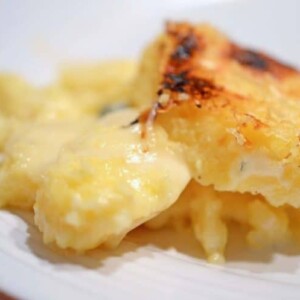 Polenta Conciata (Oven Baked Polenta Dressed with 4 Cheeses and Cream)
By Pauola Benecchi
Ingredients
2

liters

slightly more than 2 quarts water, salted

1 1/2

cup

milk

1

lb

polenta

4

oz.

Fontina cheese

,

in coarse, small pieces

4

oz.

creamy Gorgonzola cheese

,

in coarse, small pieces

4

oz.

Swiss cheese

,

in coarse, small pieces

4

oz.. Pecorino Romano cheese

,

grated and divided

1/2

pint

heavy cream

,

divided

2

tablespoons

coarsely chopped butter

2

tablespoons

kosher salt

,

divided
Instructions
Preheat oven to 375 degrees F.

In heavy (cast iron etc) pot, combine water, milk, and 1 tablespoon salt and bring to rolling boil.

Add a little polenta at a time and stir.

Reduce heat to simmer and finish cooking, per package directions.

Pour cooked polenta onto clean surface and form a rectangle, approximately of approximately 8" x 12" dimension.

Using a piece of thread or thin string (dental floss etc), cut slices of polenta, width-wise, approximately 1 inch thick.

Line 9" x 13" (or similar size) casserole dish with 1/4 pint of cream.

Using small spatula, carefully layer bottom of dish with polenta slices.

Disperse a small handful of cheeses evenly on first layer of polenta.

Evenly distribute a pinch of kosher salt.

Place second layer of polenta on top of cheeses.

Repeat cheese layer

Repeat polenta layer

Repeat salt.

Evenly distribute remaining cream on top of second layer

Repeat cheese and polenta layers, and salt.

Top with remaining Pecorino Romano cheese.

Evenly distribute chopped butter on top.

Bake 30 minutes or until golden brown on the outside and fully settled and completely baked in center

Broil for about 5 minutes to lightly brown the top..

Allow to rest 10 to 15 minutes prior to serving.
Notes
Paola reiterates, at multiple times, the importance of using a very heavy duty sauce pan or pot when preparing the polenta in the water and milk mixture.
Nutrition
Calories:
537
kcal
,
Carbohydrates:
16
g
,
Protein:
24
g
,
Fat:
42
g
,
Saturated Fat:
26
g
,
Cholesterol:
143
mg
,
Sodium:
3063
mg
,
Potassium:
217
mg
,
Fiber:
1
g
,
Sugar:
4
g
,
Vitamin A:
1371
IU
,
Vitamin C:
1
mg
,
Calcium:
661
mg
,
Iron:
1
mg
Nutrition information is automatically calculated, so should only be used as an approximation.