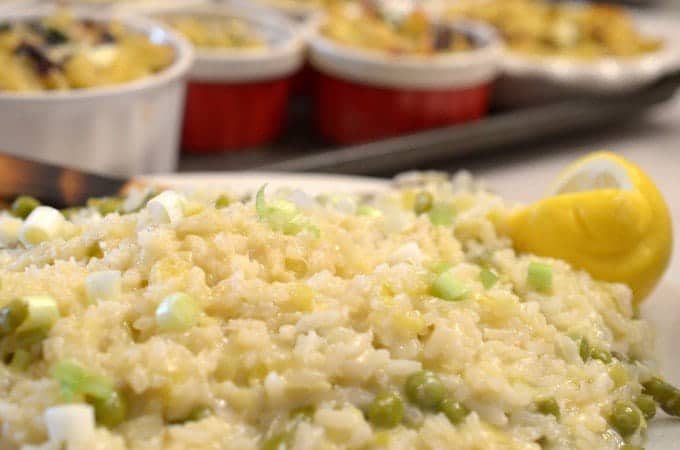 A few weeks ago we were invited to a special dinner, previewing the talents and skills of our friend Paola who hails from Italy and serves as pastor of The Family Church in our little town that we call home.  The food Paola put together that night will be showcased in this years Viva Italia, the annual major fundraiser for the church.  This risotto verde (green risotto), is a fresh twist on a classic Italian side dish.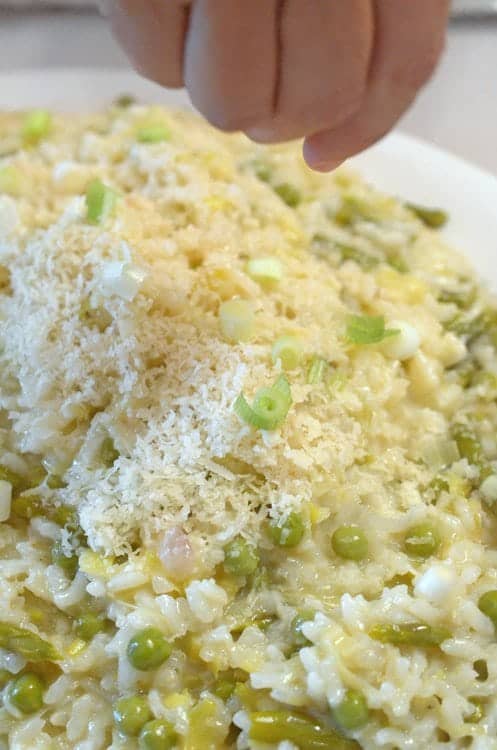 Chopped leeks, thinly sliced sections of asparagus, garden fresh peas – all the ingredients we associate with the end of the growing season, yet all green and as such, a wonderful culinary celebration of summer's transition into fall.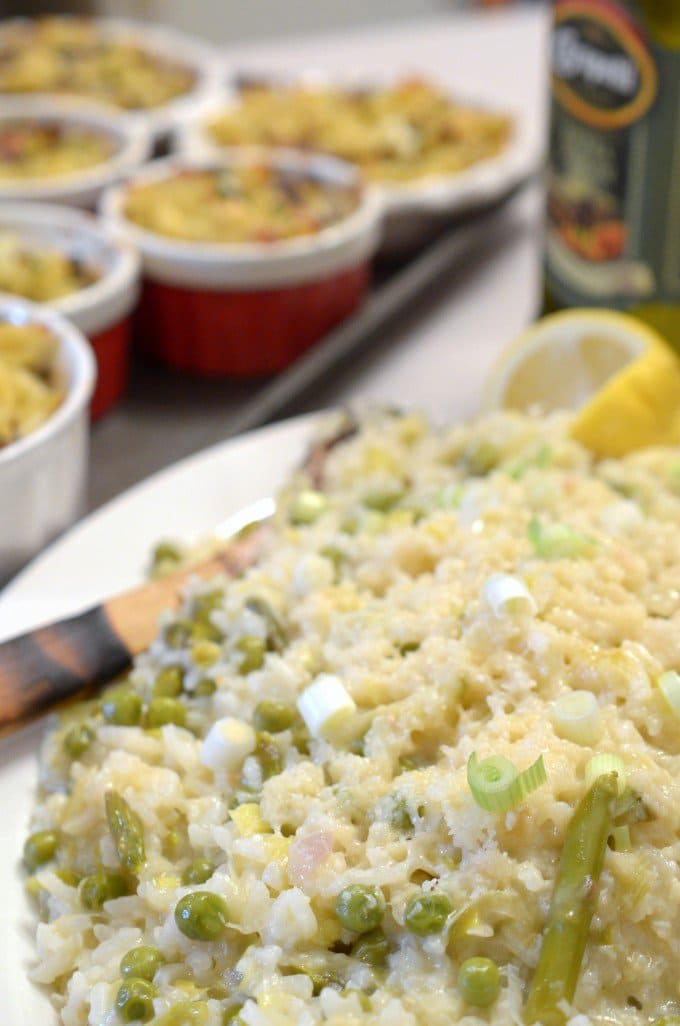 Aside from the verde components of this rendition of risotto, all the standards of basic risotto make up the supporting cast.  The Arboro rice, the white wine, and of course what is arguably the most Italian ingredient of any risotto:  Parmesan cheese that helps join it all together.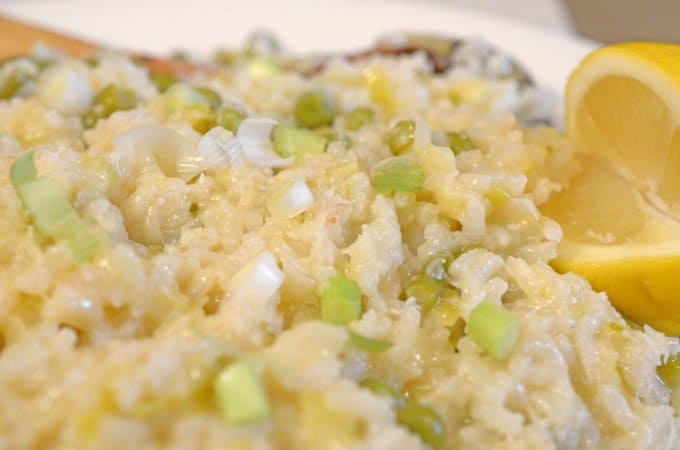 While putting this piece together, it struck me how this dish is somewhat reflective of our  friend Paola.   A beautiful person on the outside and within, humble, steadfast, and like the Parmesan in this dish – Italian do the core.     Just like this  Parmesan, Paola has the unique gift for bringing people together and keeping them together to ultimately help one another, something she has clearly made part of her life mission, not without great success.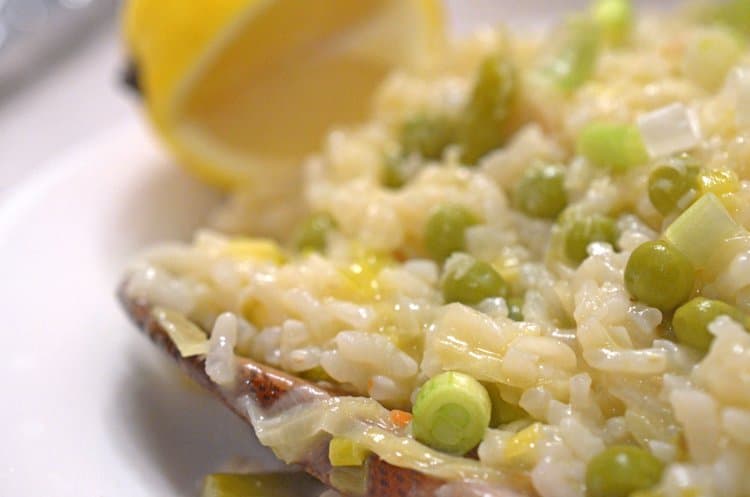 If you are in the area, I hope you will consider joining us for this year's Viva Italia, this Friday evening.   Feel free to email us here at Platter Talk for details.   If you can't attend, consider putting this dish together, or any of the others featured from the Family Church's  previous Vivia Italia events.   The delicious taste of these authentic Italian dishes won't surprise you, who they bring together just may.  To you and yours, I say, "Viva Italia!"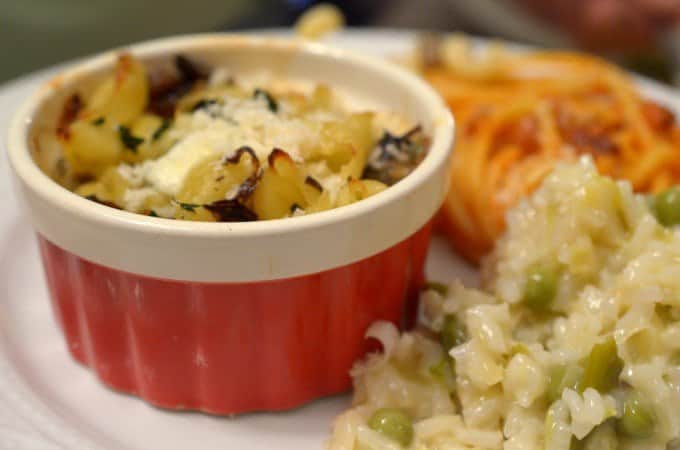 Never Miss Another Platter Talk Recipe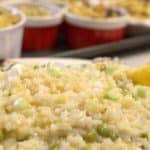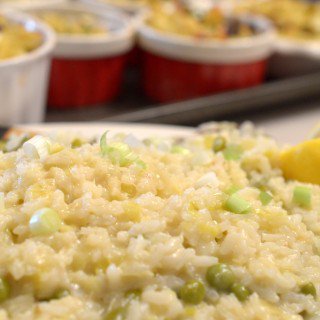 Risotto verde
Recipe from Paola Benecchi
Ingredients
1/2

tablespoons

extra virgin olive oil

1 1/2

tablespoons

unsalted butter

3

cups

chopped leeks

white and light green parts

1

pound

thin asparagus cut 1-inch lengths and discard the tough ends

1 1/2

cups

Arborio rice

2/3

cup

dry white wine

4 to 5

cups

simmering chicken

or vegetable stock or preferably homemade

1

tablespoon

freshly grated lemon zest

2 lemons

Kosher salt and freshly ground black pepper

1/3

cup

mascarpone cheese

1/2

cup

freshly grated Parmesan cheese

plus extra for serving

2

tablespoons

freshly squeezed lemon juice

3

tablespoons

minced fresh chives

plus extra for garnish
Instructions
Heat the olive oil and butter in a medium saucepan over medium heat.

Add the leeks and saute for 10 to 15 minutes, until tender.

Add the asparagus and saute them with the leeks.

Add the rice and stir for a few minutes to coat with the vegetables, oil, and butter.

Add the white wine and simmer over low heat, stirring constantly, until most of the wine has been absorbed. Add the chicken stock, 2 ladles at a time, stirring almost constantly and waiting for the stock to be absorbed before adding more. This process should take 25 to 30 minutes.

When the risotto has been cooking for 15 minutes, add the lemon zest, 1 tablespoon salt.

Continue cooking and adding stock, stirring almost constantly, until the rice is tender but still firm.

When the risotto is done, turn off the heat and stir in the mascarpone, Parmesan cheese, lemon juice and chives.

Serve hot with a sprinkling of chives and more Parmesan cheese.