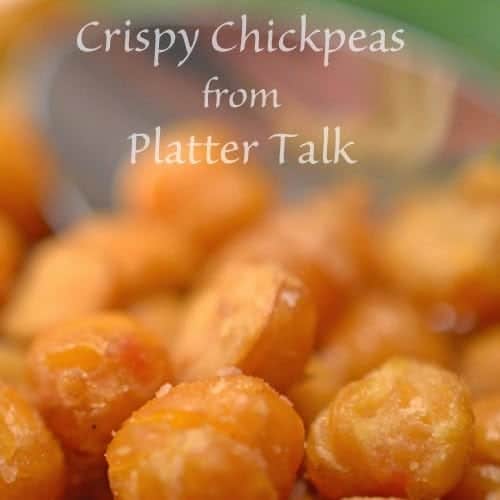 A month or so ago we decided to check out a restaurant that had opened its doors for business just five or six weeks prior to our visit.  Their small menu features market fresh fare, seasoned and accompanied with locally grown herbs and produce.   At the top of the starters list was something that caught my eye, something I had not heard of before, and something that featured a food that is commonly found in our pantry and as such is an ingredient of which we are very fond.  Although I didn't order these on my first visit, I knew I would have try them at some point and then make a batch myself.  They are healthy and delicious, they make for an elegant yet satisfying appetizer, they are simple to put together.  They are crispy chickpeas.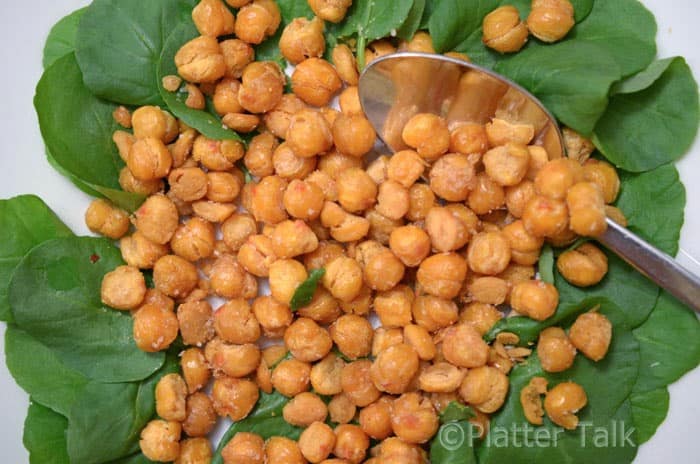 Are you familiar with chick peas?  If not, you may want to become acquainted.  Chock-full of fiber and anti-oxidants they are an affordable and versatile power food.  Most of us buy our chickpeas in cans but they can be readily reconstituted in a slow cooker overnight, flavored with some broth or just plain ole' H2O.  One caveat to consider when buying canned chickpeas:  Look for the low-sodium preparations.  Regular canned chickpeas can have as much as 500 mg of sodium per half cup serving, about one-third of the recommended daily allowance (RDA.)  Low-sodium chickpeas often contain half the sodium of the regular ones with no discernible difference in taste.  Of course reconstituting dry chickpeas is probably the best way to treat your cardiovascular health, by avoiding a sodium overload from these little bites of goodness.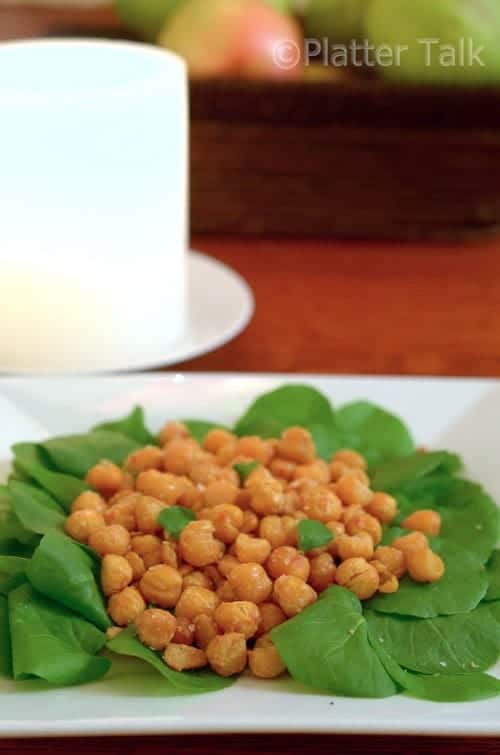 I remember my introduction to chickpeas.   It was in the form of a succulent falafel sandwich from the Far East eatery, on Syracuse University's "hill", the infamous Marshall Street.  My freshmen housing was literally a stone's throw to the entrance of Marshall Street and thus at the gateway of what this country boy considered nothing less than completely exotic foods.  Across the street from where I lived I had my first taste of guacamole, a mere 30 feet from my three windows is where Zorba the Greek operated, infiltrating my studio and bedsheets with the aroma of pizza and warm subs, and of course further up on "M" Street is where I I had my first taste of chickpeas, ground up and deep fried in nugget-sized falafels – warm and deliciously bathed in a succulent tzatiki sauce all contained in a fresh, soft pita.  I was never able to wrap my head around the fact that there was no meat in those falafaels; the texture and taste of chickpeas eluded the perception of my palate and taste buds.  Even today, I find garbonzo beans to be an excellent substitute for meat, affording the protein of the latter while avoiding the health concerns that many contend to be associated with a non-vegetable source.
Garbonzo beans (which are much more fun to say) are easily among my favorite legumes.  I can eat them with nothing else, atop a crisp green salad, and mixed up with some tahini sauce and cumin and lemon all dabbed over a baked pita chip, in the form of hummus.   I can now add one more form of preparation to the list, Crispy Chickpeas.   Roasted and crunchy, these little beans offer a taste not a great deal unlike an unpopped kernel of roasted corn, only softer and with the meaty texture of chickpeas.  Try these, I think you will like!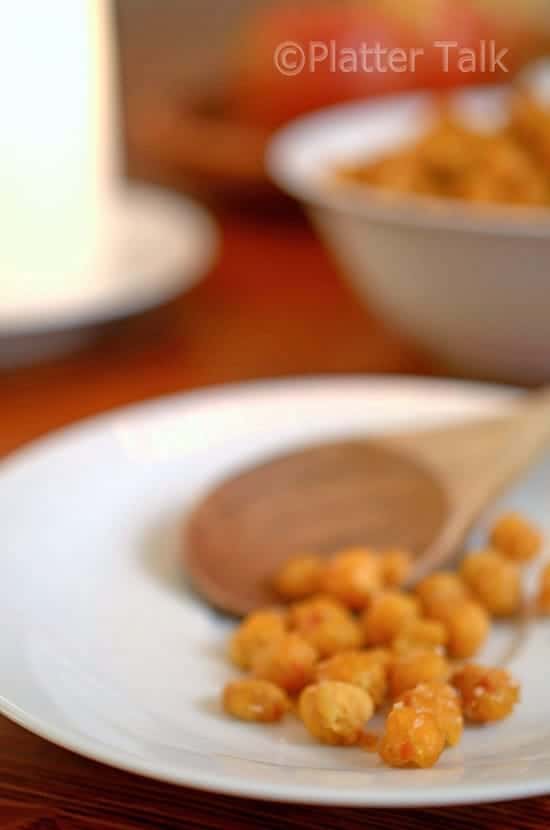 Never Miss Another Platter Talk Recipe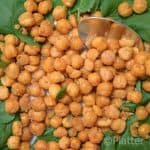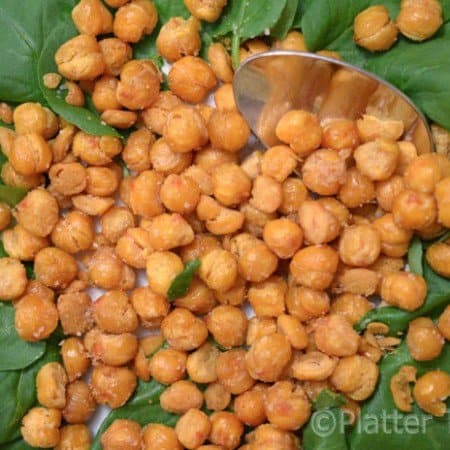 Crispy Chickpeas
Healthy snack loved by all
Ingredients
1 16

oz.

can chickpeas

low sodium

2

tablespoons

olive oil

1

teaspoon

kosher salt

1

teaspoon

cumin

1

teaspoon

ground cayenne pepper
Instructions
Preheat oven to 400 degrees F.

Drain and rinse chickpeas

Remove skins from chickpeas (see how here.)

Toss skinned chickpeas in olive oil, place on baking sheet (or oven-safe pan.)

Roast for 30 to 40 minutes until light brown and crisp.

Shuffle chickpeas around pan occasionally to make ensure they are not sticking to pan.

Remove from oven, sprinkle cumin and cayenne pepper over chickpeas and coat thoroughly.

Serve warm.
Recipe Notes
Don't be afraid to use your own unique spice blend for seasoning.
Use an oven-safe skillet or saute pan to heat on stove (to remove skins) and then use same pan for roasting making this a one-dish wonder.