Chocolate on Chocolate Cream Pie
on Mar 15, 2018, Updated Jan 03, 2021
This easy chocolate cream pie recipe is one of many reasons to be glad for the miracle of wonderful friendships and the wonders of modern medicine. It's no secret that I have had a chocolate addiction for most of my life. It's an issue that I have learned to embrace and thanks to a quick jaunt to the emergency room as a five year old, I found out that in the event you do O.D. on chocolate, it's usually nothing that a little shot of epinepherine can't take care of (true story).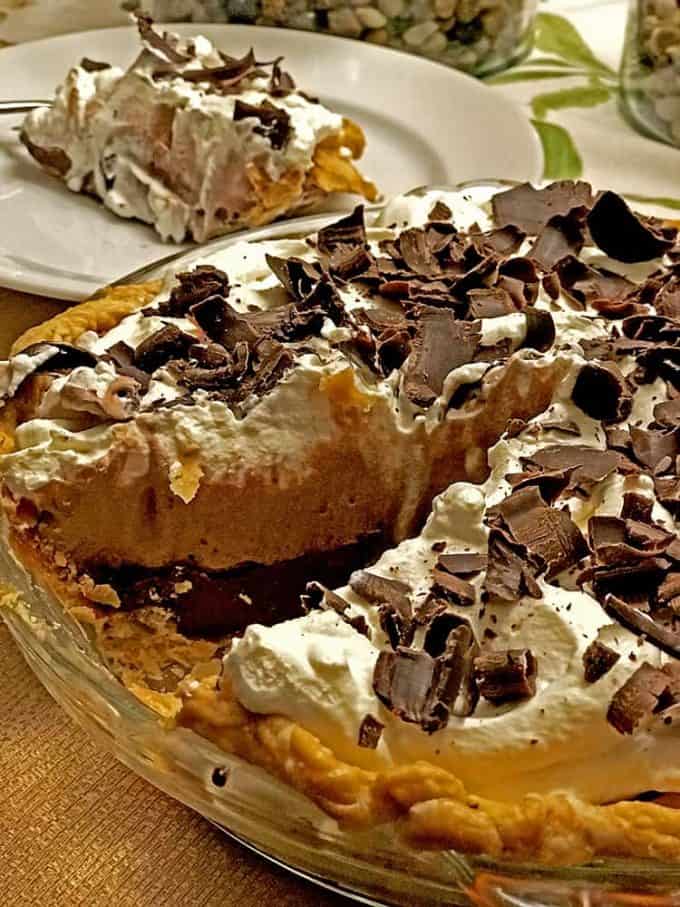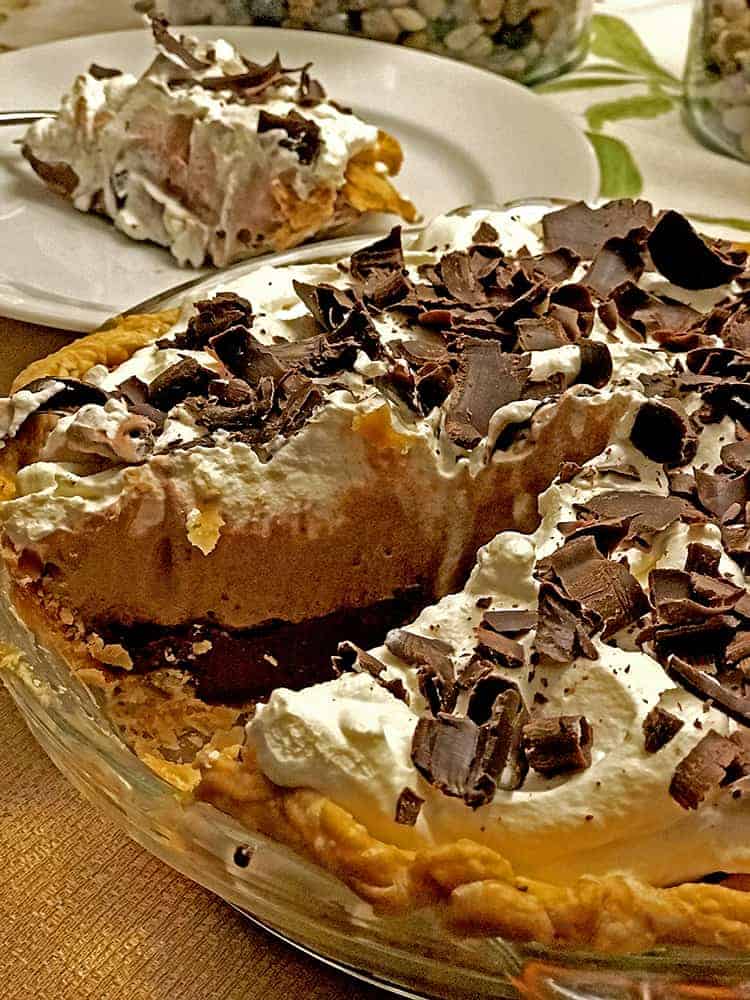 About this recipe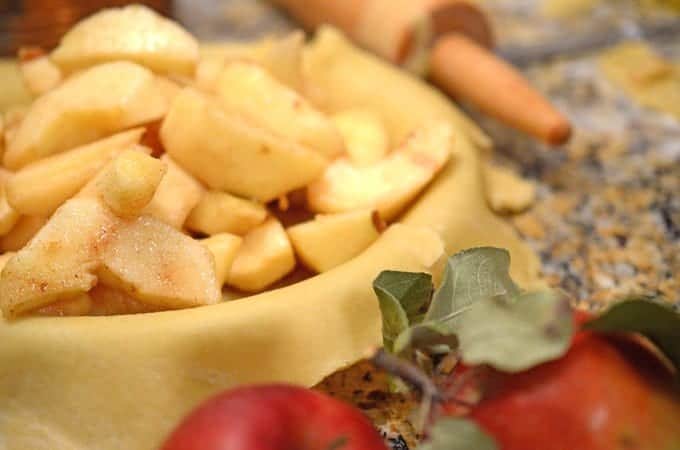 I can't take credit for making this fancy but simple dessert recipe. My dear friend Jeri who I met over our story on burrata cheese, way back when, is the lady behind this decadent creation.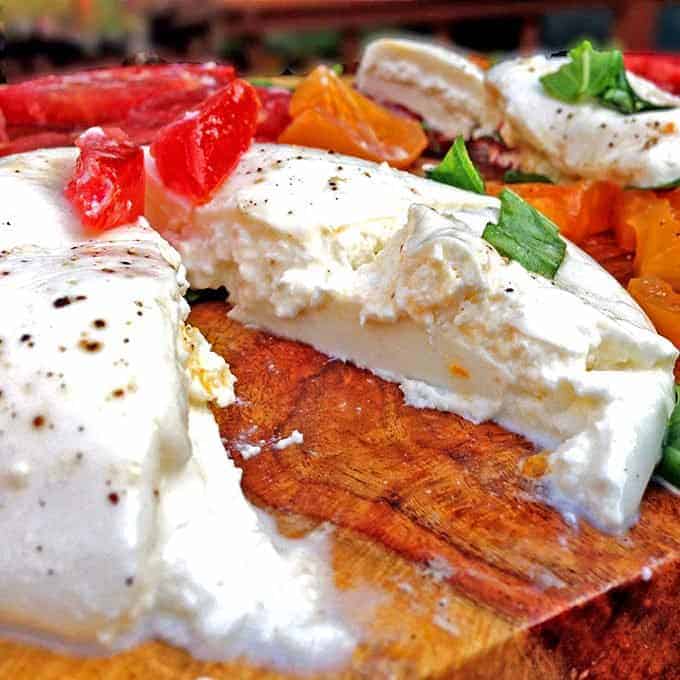 Since our initial encounter some five years ago the friendship between my special lady Jeri and me is as strong and delicious as ever. We've had many mutually tasty adventures since that time, not the least of which was our joint coverage of Patricia Wells , one autumn afternoon when she came to town for lunch.
The relationships that can develop over food can be pretty amazing. Whether it be a family dinner around the kitchen table, a first date at your favorite Italian restaurant, a luncheon with a famed culinary legend, or a simple book club with just a handful of friends, food can bring people together and help keep them together better than just about anything I know.
Jeri put this easy chocolate cream pie recipe together for our most recent book club gathering that she was gracious enough to host. Our book this past month was The 100-Year-Old Man Who Climbed Out the Window and Disappeared. A bit quirky but easy to read and definitely entertaining, I can give this book by Jonas Jonasson two thumbs up. As good as this story is to read, Jeri's pie is even better.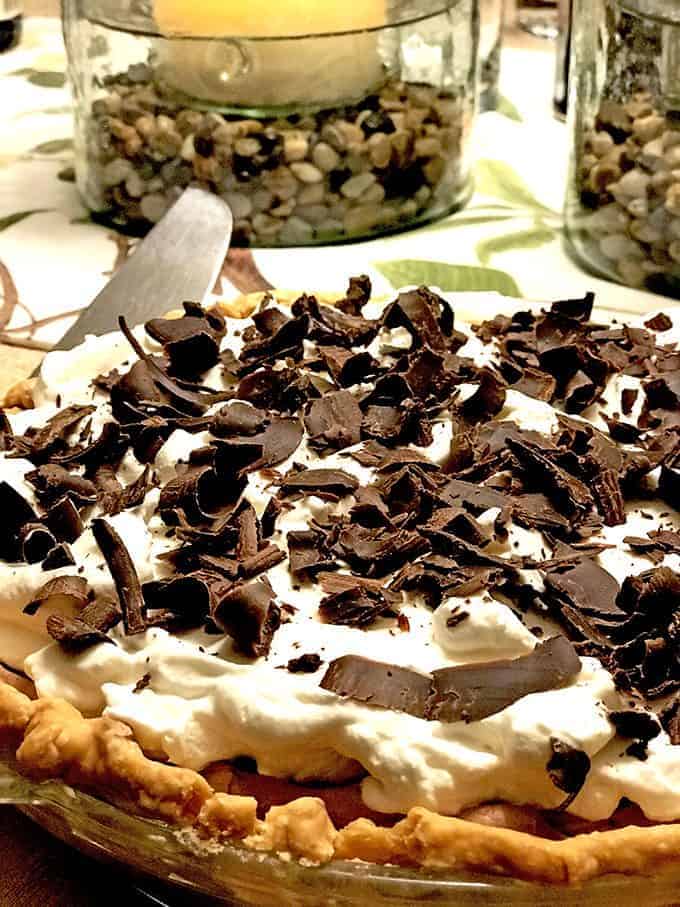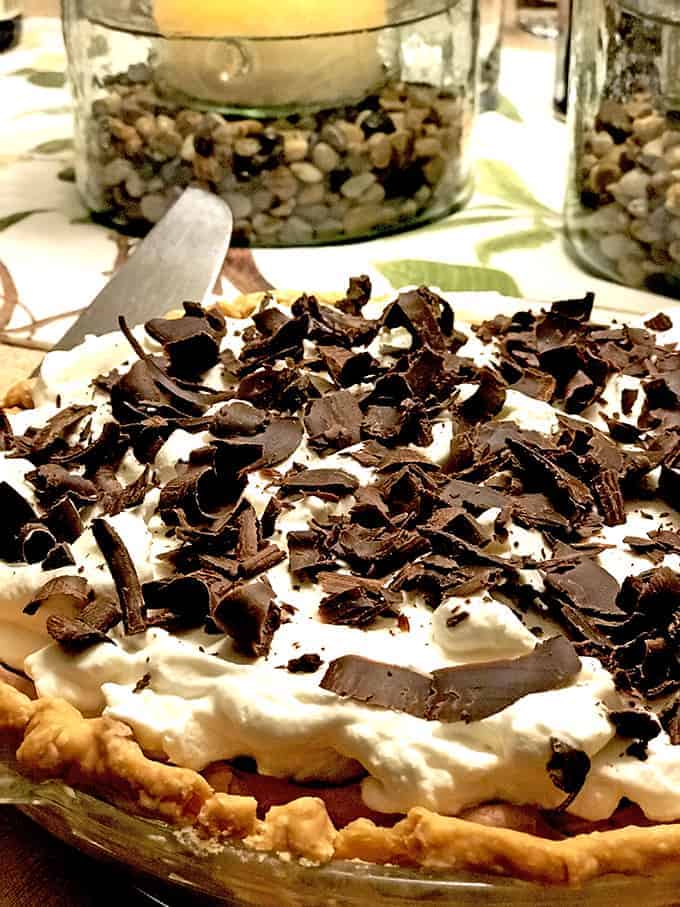 Main ingredients
Cream
Chocolate Chips
Egg Yolk
Milk
Butter
Make this easy chocolate cream pie recipe and let it help you celebrate the special people in your life. Find a good book, call some friends and then dole out a few slices of this rich and dreamy chocolate indulgence. Your life will be better for it, try it and see.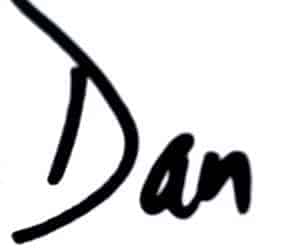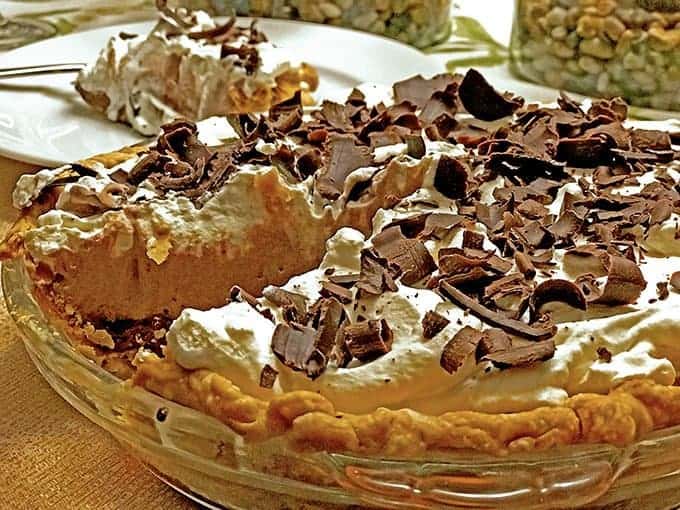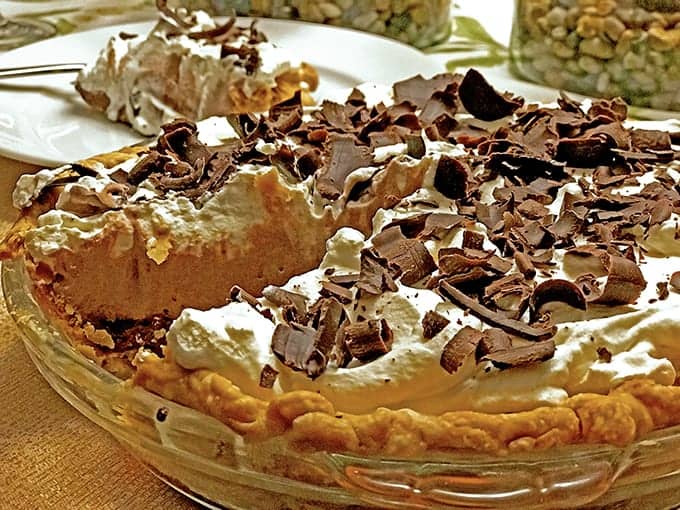 Other delicious dessert recipes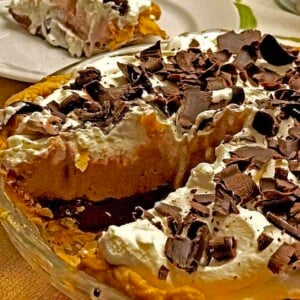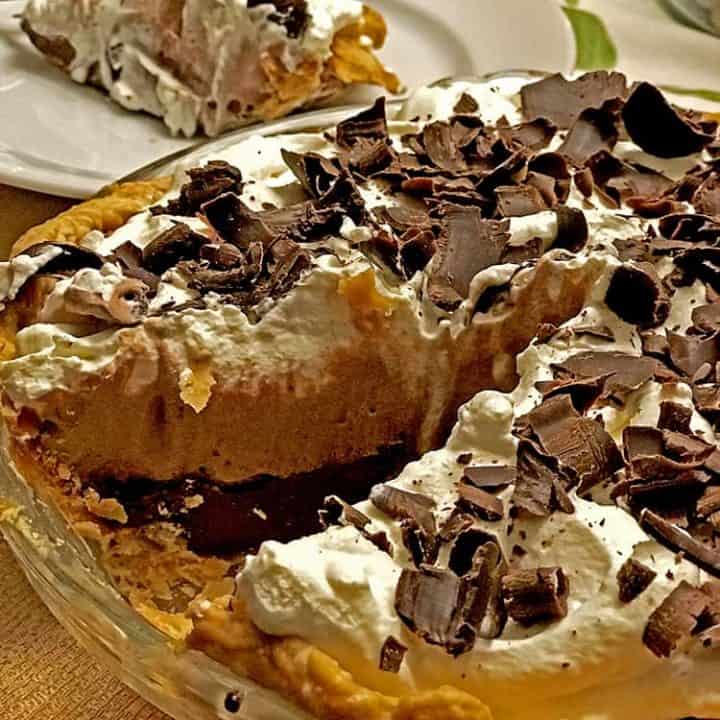 Easy Chocolate Cream Pie Recipe
This rich and creamy dessert can be made ahead of time and baked in a store-bought crust. The only question about this dreamy indulgence is, "Why wouldn't you?"

Ingredients
For the Dark Chocolate Mousse
1.5

cups

heavy cream

1/2

cup

chocolate chips

,

semi-sweet

1

pinch

kosher salt
For the Crust
1

store-bought crust,

,

0r see instructions below for a link to our homemade pie crust
For the Chocolate Tuffle Filling
3/4

cup

heavy cream

1/2

cup

milk

1

cup

chocolate chips

,

semi-sweet

2

tbsp

butter

,

unsalted and cut into small pieces

1

pinch

kosher salt

2

egg yolks
For the Garnish
2

cups

whipped cream

,

optional

3

oz

high quality dark chocolate

,

shaved
Instructions
To Make The Dark Chcolate Mousse
Bring the cream just to a boil, using a small pot. Using a large and heatproof bowl, combine chocolate and salt and add the hot cream and whisk mixture until well combined. Allow. mixture to cool to room temp and cover and chill for at least 8 hour or overnight.
To Make The Crust
Preheat oven to 350° F. Then, use some parchment paper to line the sides and bottom of pie shell and then anchor the parchment paper with dried beans or use pie weights to hold it in place. Bake the pie crust for about 30 to 35 minutes or until golden brown. Remove the parchment paper along with anchors and allow the pie shell to cool to room temperature.
To Make The Chocolate Tuffle Filling
Use a small pot and bring the milk and cream just to a boil. Use a medium sized heatproof bowl and combine chocolate and hot cream mixture, stir until well incorporated. Add the butter, salt, and egg yolks and whisk thoroughly. Pour truffle filling into the pie shell and bake in oven until slightly jiggly in the middle, for approximately 20 minutes. Allow to cool to room temp for about 2 hours.
To Make this Dessert Even More Decadent
Spread a generous layer of whipped cream over the mousse. Then, garnish with shaved chocolate. Serve immediately or wrap with plastic and chill until ready to indulge.

Nutrition
Calories:
519
kcal
,
Carbohydrates:
34
g
,
Protein:
5
g
,
Fat:
40
g
,
Saturated Fat:
23
g
,
Cholesterol:
133
mg
,
Sodium:
145
mg
,
Potassium:
155
mg
,
Fiber:
2
g
,
Sugar:
20
g
,
Vitamin A:
1070
IU
,
Vitamin C:
0.4
mg
,
Calcium:
106
mg
,
Iron:
1.9
mg
Nutrition information is automatically calculated, so should only be used as an approximation.