Hazelnut Biscotti
on Feb 24, 2014, Updated Jul 28, 2020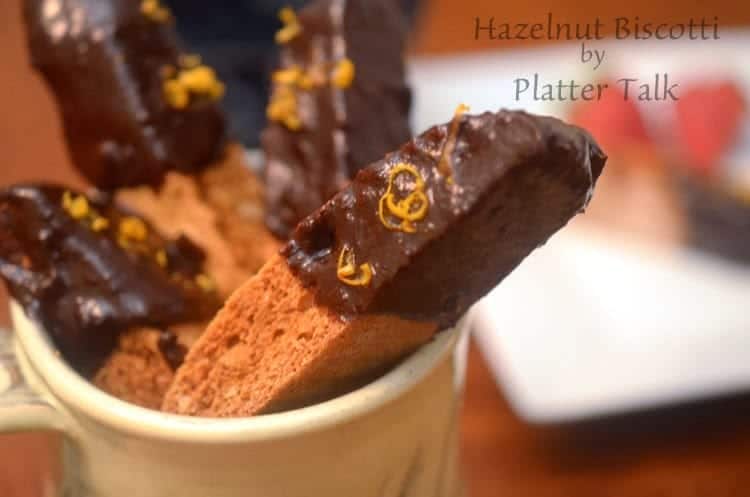 Sometimes you never know what you're going to get from a weekend. Just seven short days ago Scott was shivering the night away, pining the loss of a broken furnace while the boys and I were at our cottage just wishing we had had functional indoor plumbing. Fast forward a week and the whole family is at our warm and cozy house and the kitchen counter is filled with a fresh batch of hazelnut biscotti.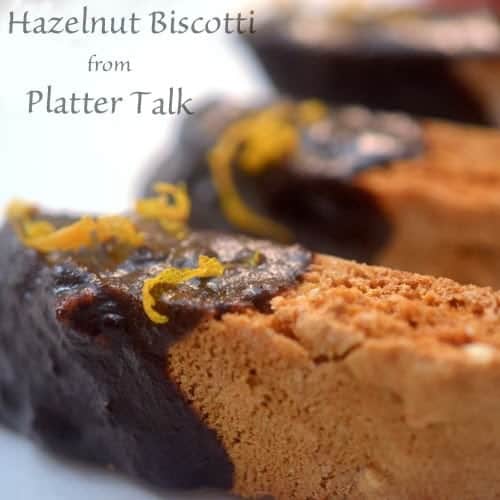 Saturday morning started with another subzero day of 8 degrees below zero. We are well beyond the 40 day mark of temperatures below zero and although I hesitate to say we are acclimating to the cold, I will say we are finding things to do inside.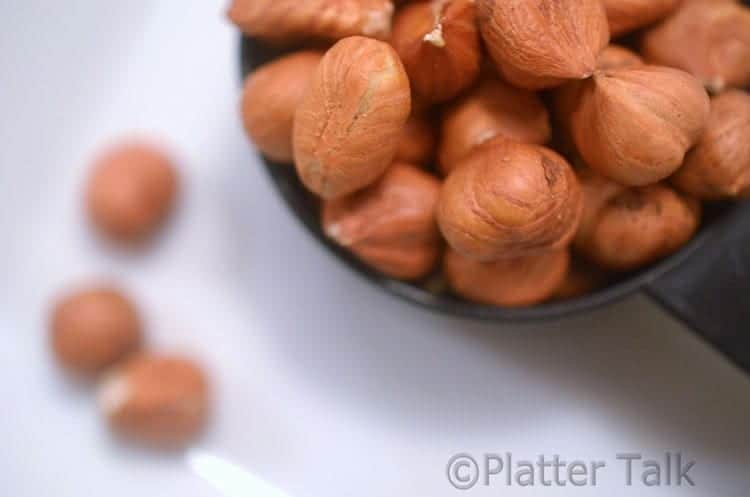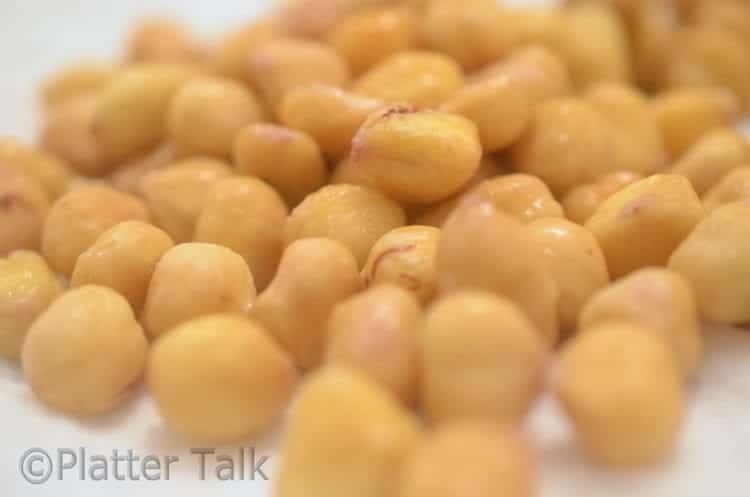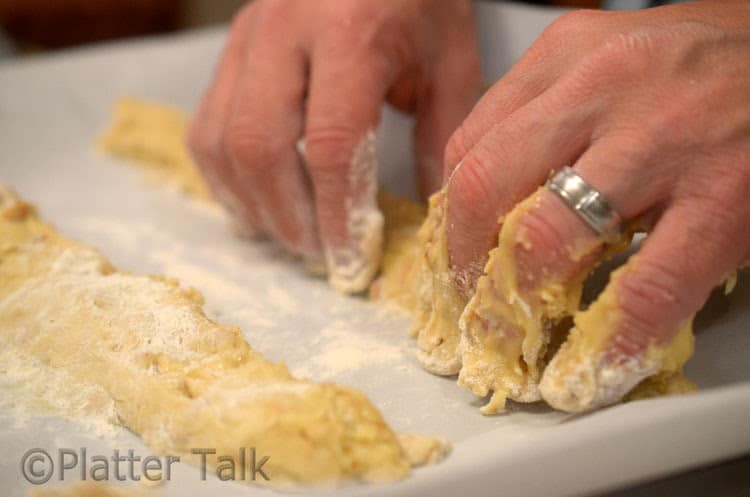 It seems we are cooking more inside with the cold weather, not a bad thing. One of the most common questions among all of our six boys, the last couple of days has been, "Dad, what smells so good?" Other comments included, "Smells like bacon," (it wasn't.) "What's that?" (Biscotti.) "Do I like hazelnuts? Mmm, not bad!" "Can we play racquetball?"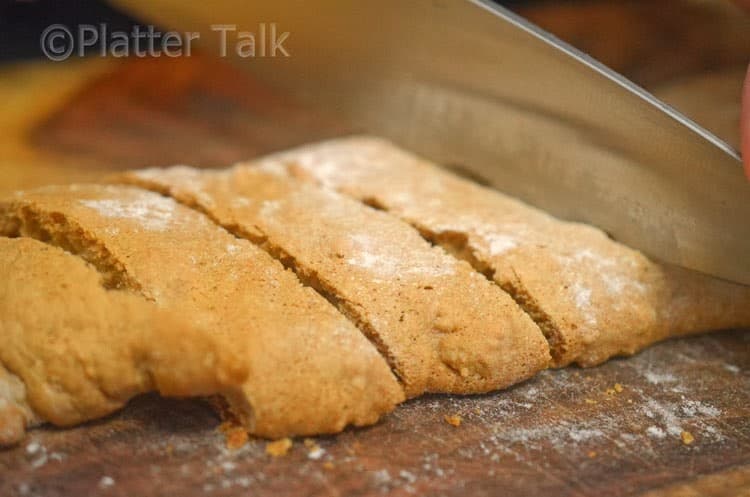 The boys did play racquetball, not this dad though. He was still recovering from his maiden tour of the T25 workout program that Scott talked me into embarking up with him. I learned a couple of things very quickly, in that first 25 minute workout. 1.) I've somehow allowed myself to get terribly out of shape, and 2.) 50 is most certainly not the new 35, in my case at least!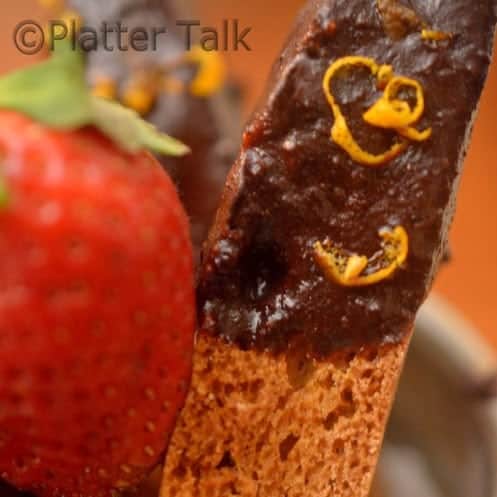 Now that I've established that little fact, let's just say there is always room for improvement, for most things. I will say however, I'm not sure how this biscotti could be much better tasting. This was my first batch and with that in mind, you can bet your little biscotti that we will be making more of this delicious treat, in one form or another.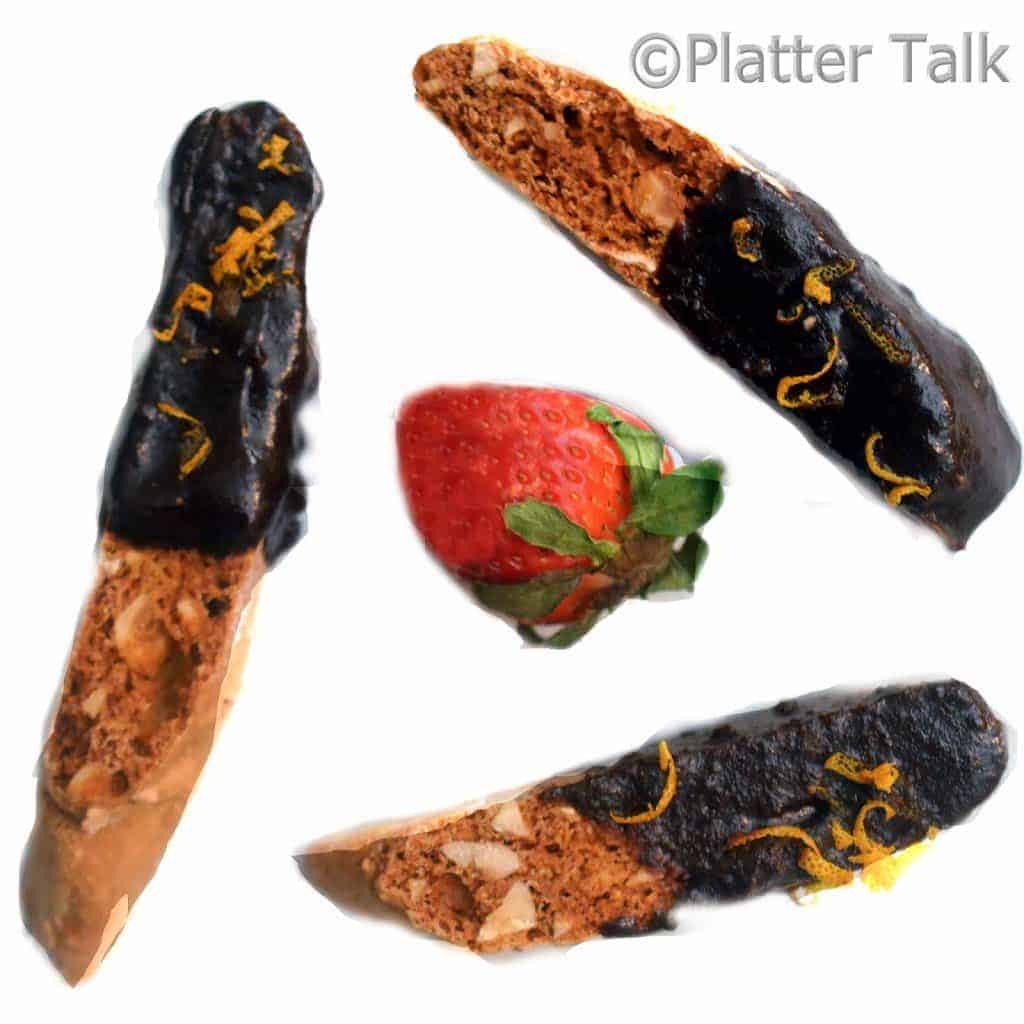 I actually came across this recipe in a most round-about fashion. On our way home from they gym, the boys and I stopped at our favorite local grocer and I picked up some hazelnuts, fully intending to try something entirely different than what I ended up putting together. I've used hazelnuts a time or two in the past here on Platter Talk and I wanted to learn if there was a better way to get the annoying skins off these the little round nuts that that also are referred to, by some, as filberts. Turning to my ever-increasingly reliable resource of Google, this is the first source I found – a video of Alice Medrich demonstrating, to none other than Julia Child, an excellent method of not only skinning hazelnuts but ultimately making this biscotti.
Julia comments in the video that this biscotti was some of the best she had ever tasted. I figured, 'If it's good enough for Julia Child perhaps it would pass the mustard with us, as well.'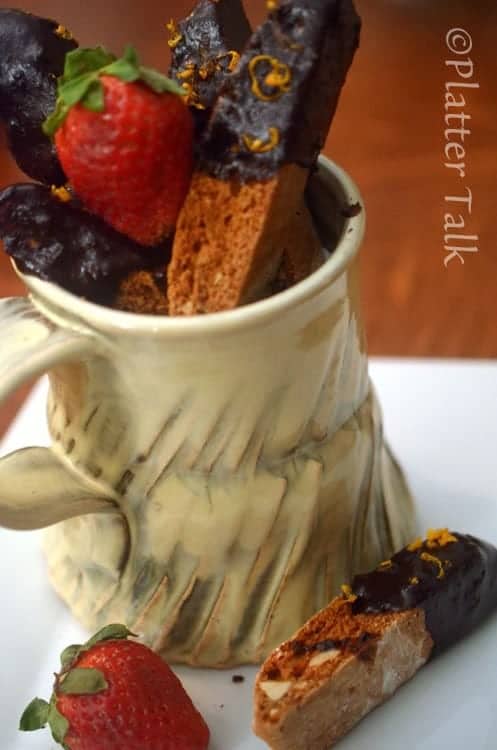 For the record, we can take the "perhaps" out of the equation. Putting this recipe together was fun and painless. Furthermore, the skinning technique demonstrated by Alice is spot on. There was nary a shred of skin left on any of the nuts.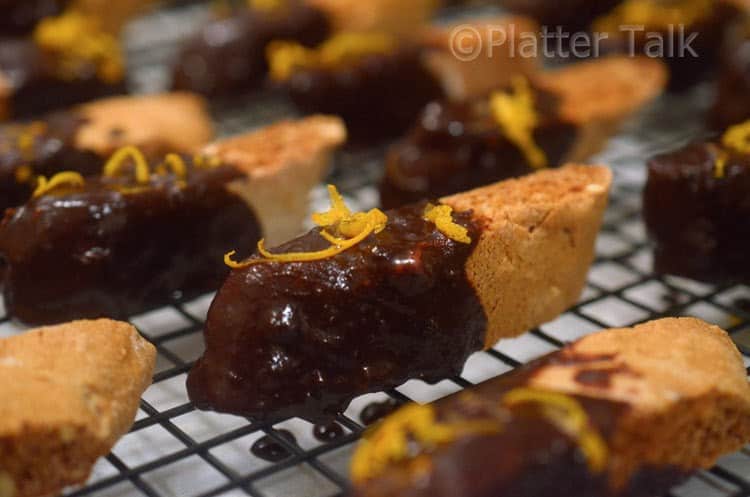 As I often do, I may have modified these a bit from Alice's recipe, as depicted in the above video. For the most part though, it's pretty straight-forward. Alice calls for 1/2 of tablespoon of baking soda fro the dough, I would consider a full tablespoon, next time, for a bit more height. Give these a try and let me know your thoughts – I'm always looking for new ideas and thoughts for taking an already great recipe to the next level!
Other deliciously sweet treats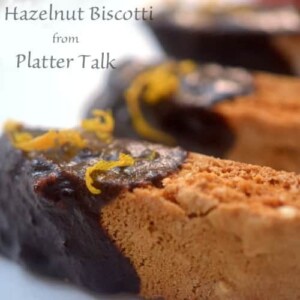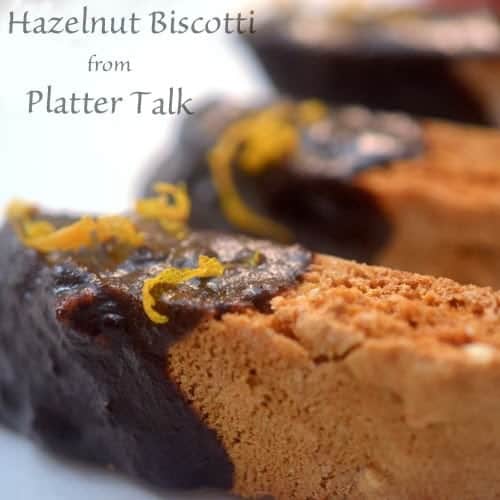 Hazelnut Biscotti
adapted from Alice Medrich
Ingredients
for the biscotti
2/3

cup

hazelnuts

1/2

teaspooon

baking soda,

divided

1 2/3

cup

all purpose flour

1/4

teaspoon

salt

2

large eggs

1

teaspoon

pure vanilla extract

1

tablespoon

Frangelico

3/4

cup

sugar
for the chocolate for dipping
2

oz.

unsweetened chocolate

2

tablespoons

butter

1/3

cup

sugar

1/3

cup

water

1

tablespoon

hazelnut liquor

juice from 1/2 an orange
Instructions
for the biscotti
Preheat oven to 300 degrees F.

Line a baking sheet with parchment paper.

Prepare hazelnuts for skinning

Combine 2 cups water and 3 tablespoons baking soda in small sauce pan and bring to boil.

Add hazelnuts to boiling water.

Boil for 3 minutes then use slotted spoon to remove.

Rinse hazelnuts under cold water and remove skins.

Pat dry with paper towel.

Place hazelnuts on cookie sheet and roast in oven for 15 minutes.

Remove from oven, allow to cool, then coarsely chop with chef's knife.

In small mixing bowl, combine flour, 1/2 tablespoon baking soda, salt, and chopped hazelnuts. Stir thoroughly.

In separate bowl, combine eggs, sugar, Frangelico, and vanilla. Whisk thoroughly.

Add dry ingredients to egg mixture, stir with wooden spoon until completely mixed.

Used hands to mix if necessary.

Divide dough in two and place one half on prepared baking sheet and form a "rope" approximating length of baking sheet, and about 2 inches thick.

Repeat with second half of dough.

Use light amount of flour if dough is too sticky to work with. Use caution not to add too much flour to dough.

Bake for 35 minutes at 300 degrees F.

Remove from oven, allow to cool for 10 minutes.

Cut slices of biscotti, about 1/2 inch thick, using diagonal cut, if desired.

Place slices on oven safe rack (I used an oven rack) and place back in oven for 25 minutes, at 300 degrees F.

Remove from oven, allow to cool.

Dip in chocolate (optional) and garnish with fresh orange peel zest.
for the chocolate for dipping
Combine all ingredients in heavy sauce pan and heat over medium heat.

Stir till thoroughly melted and combined, add more water or reduce with heat to desired consistency.
Notes
May substitute brandy or rum for Frangelico
Melted semi-sweet chocolate chips can also be used as an optional covering.
Nutrition
Calories:
284
kcal
,
Carbohydrates:
42
g
,
Protein:
5
g
,
Fat:
11
g
,
Saturated Fat:
4
g
,
Cholesterol:
39
mg
,
Sodium:
107
mg
,
Potassium:
136
mg
,
Fiber:
2
g
,
Sugar:
23
g
,
Vitamin A:
117
IU
,
Vitamin C:
1
mg
,
Calcium:
23
mg
,
Iron:
2
mg
Nutrition information is automatically calculated, so should only be used as an approximation.