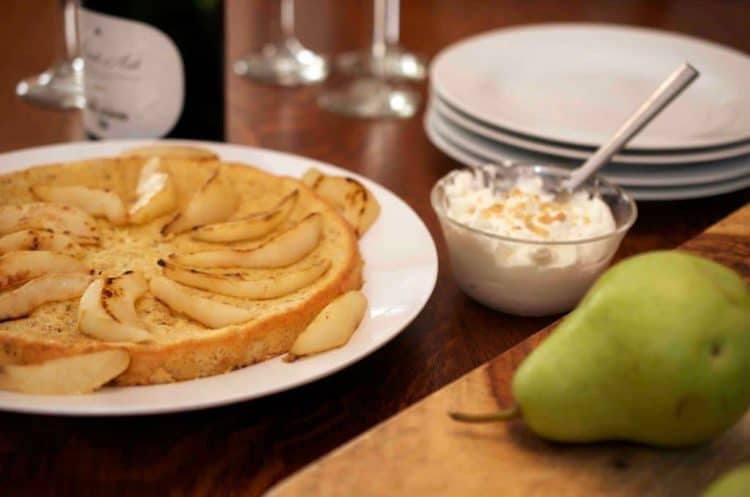 This year perhaps more than any other, I have realized a benefit of where I work that seems to have become more and more apparent, every day. This fall in particular it seems, that colleagues are bringing their harvest produce from home to share with everyone. I've been the fortunate recipient of apples, cucumbers, tomatoes, plums, raspberries, goat cheese, and just yesterday a bag of plump, sweet, and deliciously juicy pears.
Wanting to take advantage of this beautiful fruit, I did a quick search of ideas and came up with this one using one of my partner's favorite wines, Mosccato, and an ingredient I love but had no experience working with, hazelnuts. After reviewing the ingredients and technique a bit more closely, I concluded this would be a delicious way to put these pears to good use.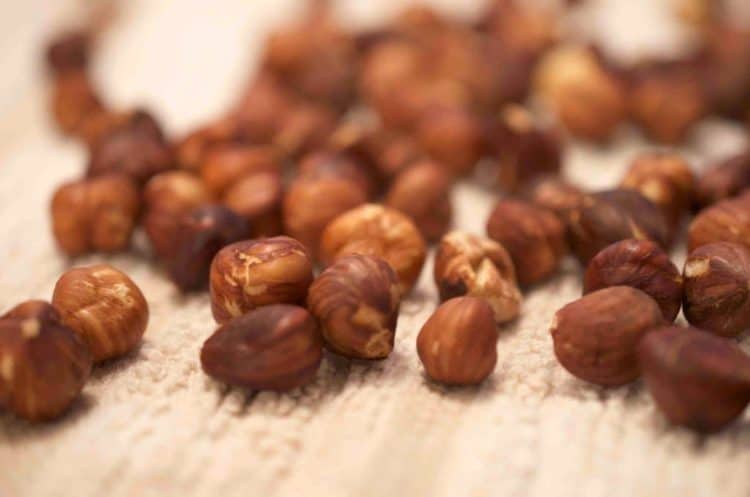 We use hazelnut flavored creamer in our morning coffee, so in that sense it is a flavor with which we are well acquainted. I was aware of course hazelnuts are found in countless other foods. Ice cream, nutella, chocolate bars and baked goods are only a few of the foods we commonly associate with the buttery sweet nuts with a smokey undertone.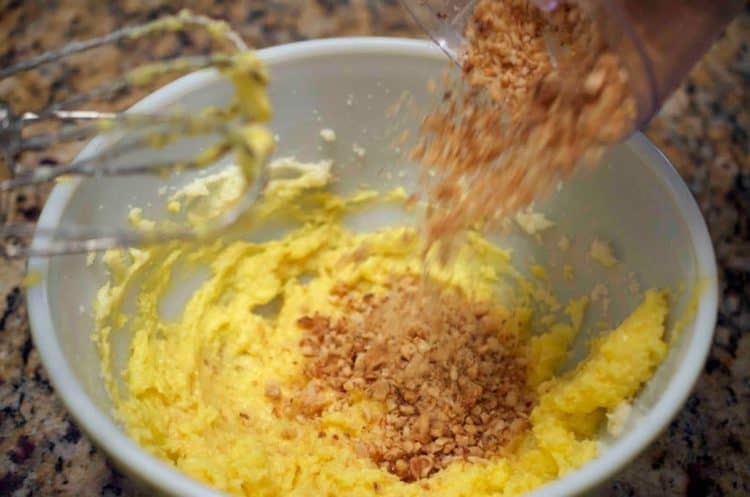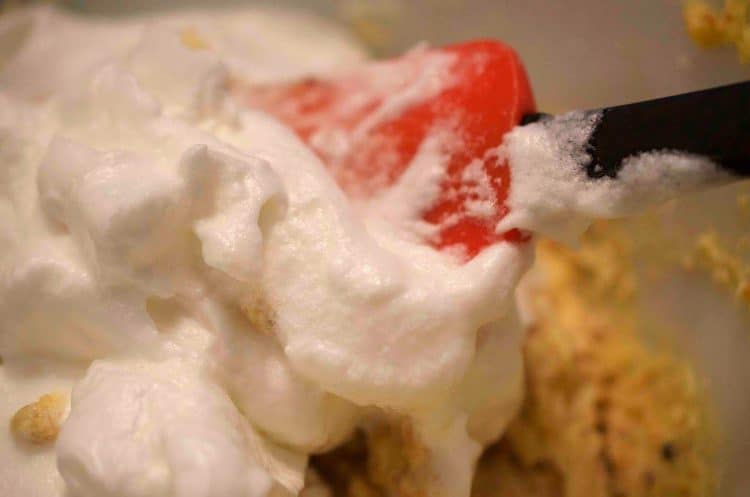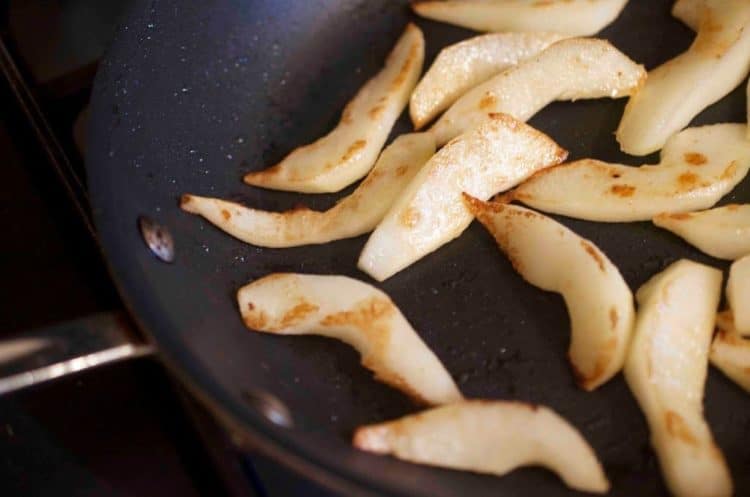 Roasting the hazelnuts for this recipe was my favorite part of making this tea cake. A warm, mellow and nutty aroma filled the kitchen during the short roasting process. Removing the skins from the 4 ounces of hazelnuts was my least favorite part. The suggested method of skin removal that accompanied the recipe I found was to rub the skins of f between layers of a kitchen towel. This worked well for about half of the hazelnuts, not so much for the other half. Consequently I did some further research on methods of removing their skins, take a look a the "Tips" section following the recipe near the end of this post, for more on that.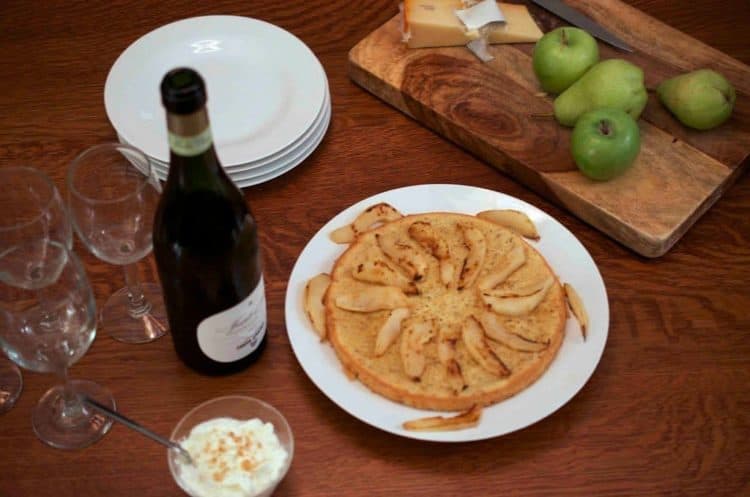 Aside from skinning those hazelnuts, the rest of the prescribed technique for putting this together was a snap. Working with the eggs was fun, and as is typical there was a 7 year old at my side requesting to practice his egg cracking skills. With plenty of eggs to spare, I obliged our little Nate and he did a darn good job.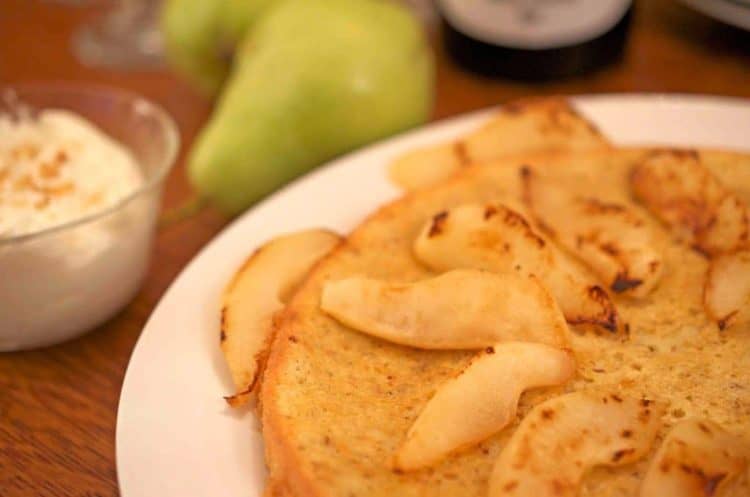 The best part of this whole process came later in the evening, around 7:30. That is when a couple with whom we are good friends showed up, at our invitation for a mid-week dessert.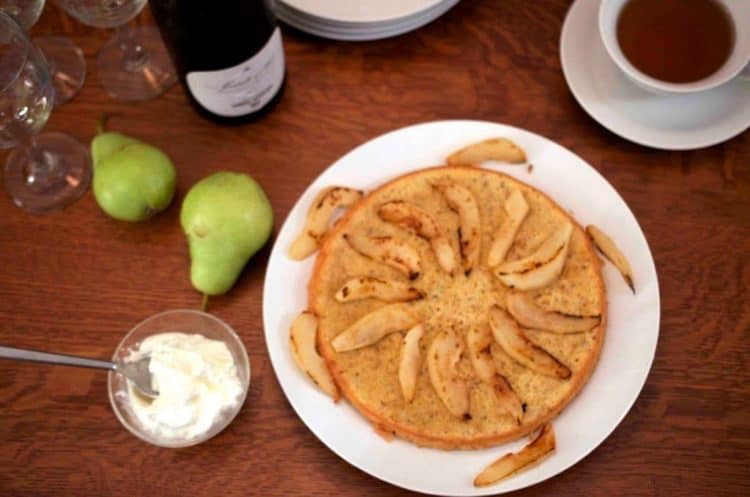 Everyone enjoyed this cake, especially with a splash of left over Moscato. After the cake was finished and we each reviewed our thoughts on it, the four of us hung out around the kitchen and chewed the proverbial fat. We laughed, we touched upon some every day topics such as work and our families, and then some pretty far out, esoteric subjects as well, and we probably gossiped just a little (isn't that pretty typical of good friends? Let's be honest.)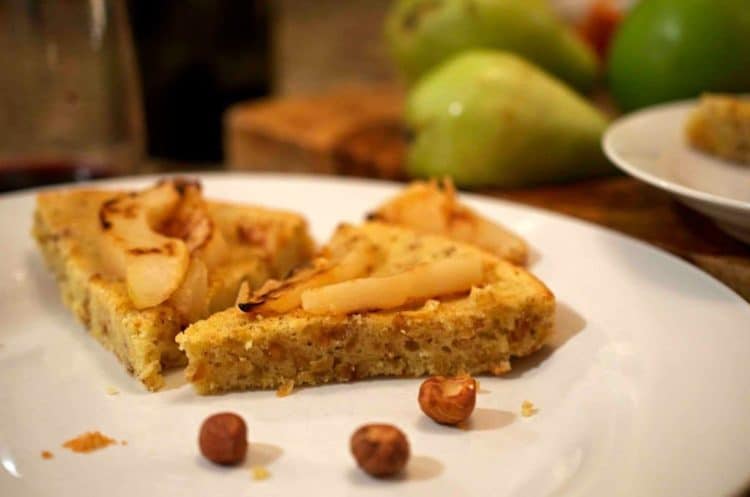 At the short evening's conclusion though, I feel pretty confident we were all reminded of the blessing and good fortune of having friends in our lives with who we can share dessert and a glass of wine along with some good laughs, even in the middle of the week.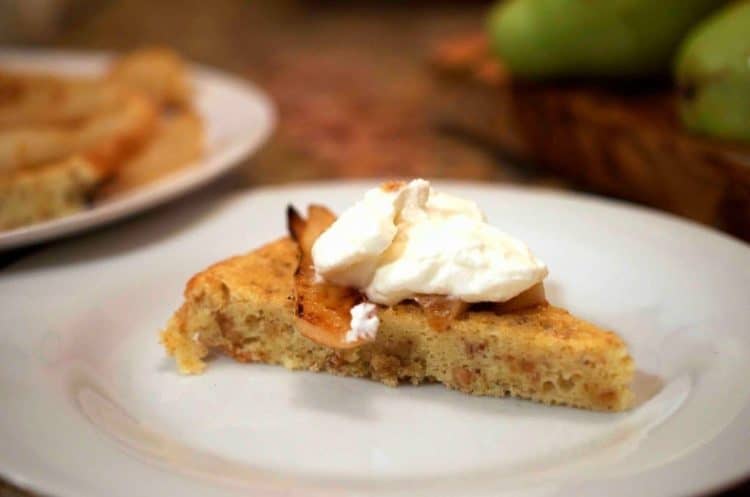 👨‍🍳 Tried this Recipe? Please leave a ⭐⭐⭐⭐⭐ rating in the recipe card below and leave a comment. We love hearing from our readers!
⏩ Stay in touch with us on social media by following us on Facebook, Pinterest, Instagram, and YouTube!
📬Get our Recipes delivered to your inbox for FREE!

📖 Recipe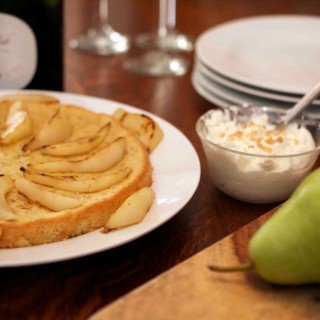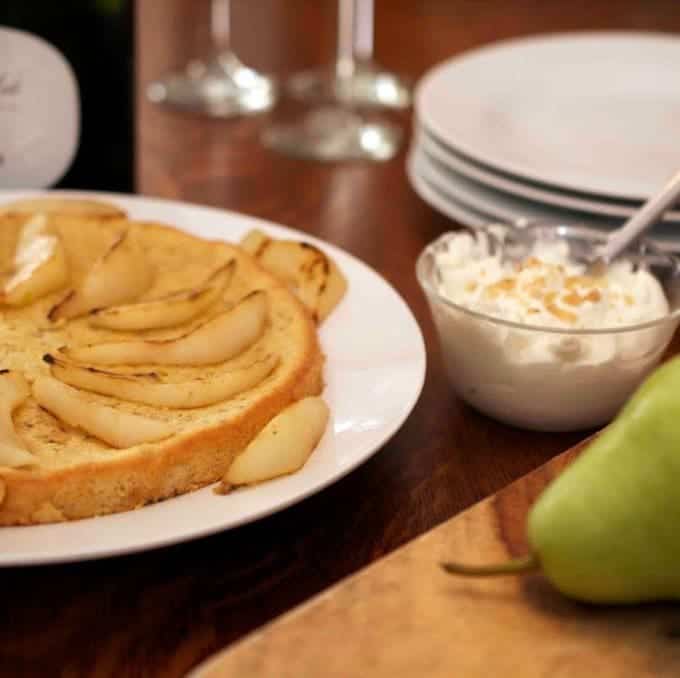 Hazelnut Tea Cake with Moscato Pears
From Food and Wine
Print
Pin
Rate
Ingredients
2

Bartlett pears—peeled

cut into 8 wedges and cored

¾

cup

Moscato d'Asti

1

cup

hazelnuts

4 ounces

7

tablespoons

unsalted butter

softened

¼

cup

plus 2 tablespoons sugar

4

large egg yolks

½

teaspoon

pure vanilla extract

¼

cup

all-purpose flour

3

large egg whites

½

cup

heavy cream
Instructions
In a bowl, combine the pears with the Moscato d'Asti and let stand at room temperature for 2 to 4 hours.

Preheat the oven to 350°. Butter and flour an 8-by-1-inch round cake pan. Put the hazelnuts on a rimmed baking sheet and bake for 12 minutes, or until richly browned. Transfer the hazelnuts to a kitchen towel and let cool completely. Rub the hazelnuts in the towel to remove the skins. In a food processor, pulse the nuts until they're finely ground; be careful not to overprocess to a paste.

In a large bowl, using a handheld mixer, beat 6 tablespoons of the butter with ¼ cup of the sugar until light and fluffy. Beat in the egg yolks, 1 at a time, until thoroughly incorporated. Add the vanilla, then fold in the hazelnuts and flour.

In a stainless-steel bowl, beat the egg whites until soft peaks form. Add the remaining 2 tablespoons of sugar and beat until almost-firm shiny peaks form. Stir one-third of the egg whites into the cake batter to lighten it, then fold in the remaining whites. Scrape the batter into the prepared pan and bake for about 20 minutes, or until a cake tester inserted in the center comes out clean. Transfer the cake to a rack and let it cool slightly in the pan. Run a thin knife around the cake and unmold it. Cover loosely with a kitchen towel.

Drain the Moscato d'Asti into a small saucepan. Simmer over low heat until reduced to 3 tablespoons, about 10 minutes. Let the syrup cool, then refrigerate.

In a large skillet, melt the remaining 1 tablespoon of butter. Add the pears and cook over moderately high heat until browned, about 4 minutes per side. Arrange the pear wedges on top of the cake in a spoke pattern.

In a stainless-steel bowl, beat the cream until it starts to thicken. Add the reduced Moscato d'Asti and beat until soft peaks form. Serve the hazelnut cake with the whipped cream.
Notes
Alternative methods of removing those pesky skins from the hazelnuts included bringing 2 cups of water with 2 tablespoons of baking soda to a boil, then adding the hazelnuts for about 2 minutes. I tried this method and was happy with the way the skins came off the hazelnuts after draining them and rinsing them under cold water.
For a little added interest, taste, and texture, crush a few of the hazelnuts and incorporate them into the whipped cream prior to serving.
Nutrition
Calories:
468
kcal
|
Carbohydrates:
27
g
|
Protein:
8
g
|
Fat:
36
g
|
Saturated Fat:
15
g
|
Cholesterol:
192
mg
|
Sodium:
42
mg
|
Potassium:
279
mg
|
Fiber:
4
g
|
Sugar:
16
g
|
Vitamin A:
888
IU
|
Vitamin C:
4
mg
|
Calcium:
63
mg
|
Iron:
2
mg
Wondering how to make your own fresh whipped cream? It's a snap! Take a look at this previous post which includes that recipe at its conclusion.