Honey Maid™ Lemon Pie
on Apr 11, 2014, Updated Jul 27, 2020
I've never been much of a social activist, indeed I've led a relatively boring existence and have for the most part done my best to live my life and be a good person, a good parent, and a good spouse. In general, I think these aspirations could be described as wholesome and for the most part, ordinary. To be honest, I never gave any of it much thought until last week when a YouTube video put out by the Nabisco company caught my attention.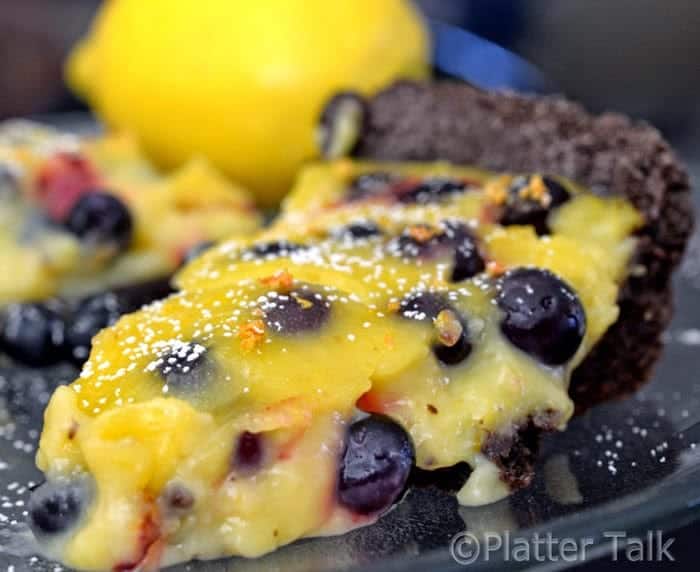 When graham cracker brand Honey Maid™ initiated their "This is Wholesome" campaign and released an ad featuring gay and interracial couples, it received tremendous backlash. In response to the hateful outpouring, company owners released a new ad that reinforced their earlier message, and in essence created some beautifully delicious lemonade out of a bucket load of lemons that were thrown at them.
As an answer to the vehemently hateful responses elicited from groups who pride themselves in virtues such as nonjudgement and a love for everyone (with the exceptions of families headed by same-sex couples of course,) the company graphically demonstrated how Love does indeed conquer all. Noting that positive responses to the the ad outnumbered the vitriolic backlash by a ratio of 10:1, Nabisco brilliantly and effectively surrounded all that hate with ten times as much Love.
It took just a few seconds to see that my own family could have been the family in the ad. With this realization, along with my life-long love of graham crackers, it became clear to me there was only one thing to do: Create a post that features a Honey Maid™ product, and to do it well.
I put this post together last weekend at our lake cottage, a place where we as a family often seek refuge from all the craziness inherent to every day life. A break from work, a break from traffic, a break from school, a break from the World Wide Web. It's a place where we spend time together, for the most part uninterrupted. It's where our kids are kids, Scott and I are parents, and we are a family.
Although Scott and I have not encountered open criticism to our faces, neither of us are so naive to think that we haven't been the center (albeit likely short-lived) topic of disapproving gossip and criticism from others who, sadly for them, have never been able to move beyond their own piety and self-righteousness.
Like this lemon pie, we are all different; and like this lemon pie, that doesn't have to be a bad thing. The truth of any virtue is usually found in the pudding. In the case of people and families, it is how they live their lives. In the case of this recipe, it is found in the graham cracker crust and the contents within. If by chance you can't discern by the pictures alone, I'm here to confirm that this creation is delicious and wonderful. Who would guess that lemons and graham crackers could get along so well? Who would guess that families can be just as wonderful regardless of their composition? Never underestimate the power of Love or the wonder of graham crackers.
With my concoction of this Lemon Pie, I think I made pretty good use of a box of ordinary (but chocolate) graham crackers. I paired them with eggs, lemons, and blueberries. Yes, these may be construed as unlikely allies, yet as individual ingredients and as a combined and finished product, they are undeniably wholesome. And delicious. I hope you will support and recognize families comprised of Love, in whatever form they take. This is our family. This is wholesome.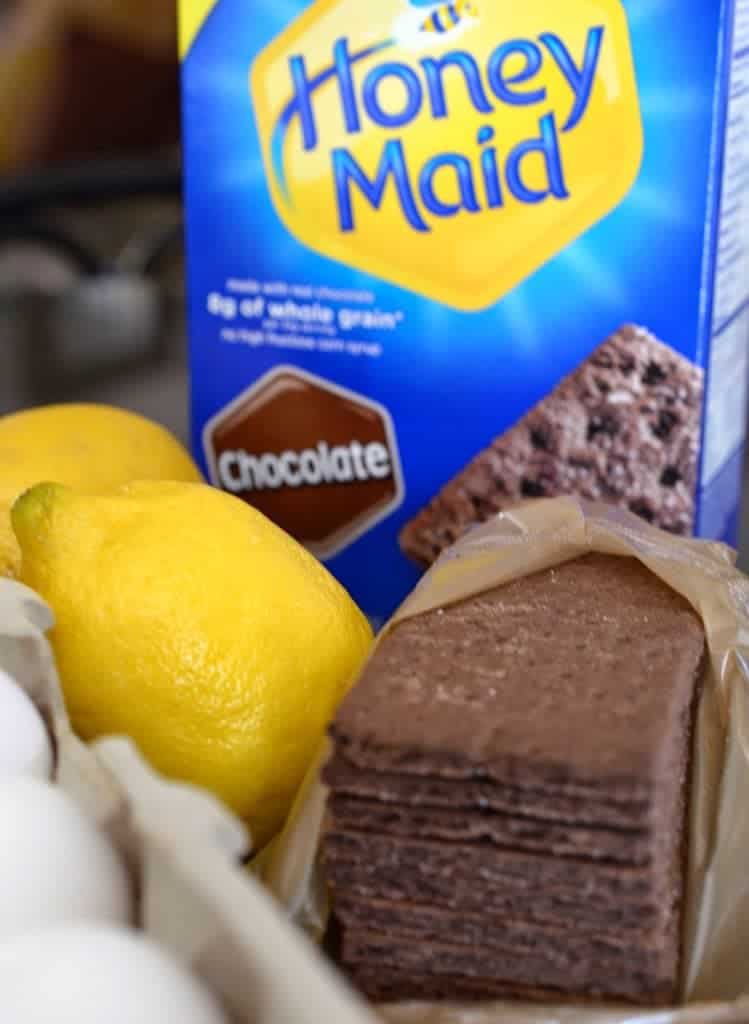 More homemade pies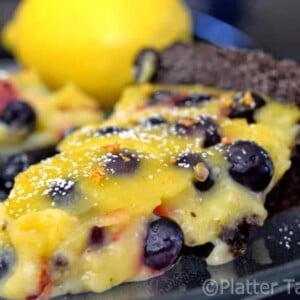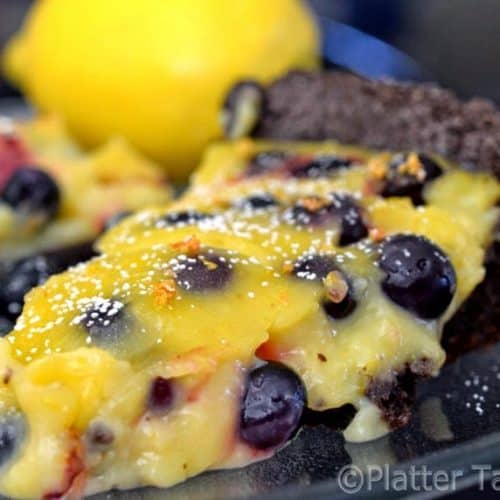 Honey Maid™ Lemon Pie
A Platter Talk Exclusive
Ingredients
10

oz.

2/3 box of Honey Maid™ chocolate graham crackers

1/2

cup

of butter

,

softened to room temperature plus 3 tablespoons

8

oz.

cream cheese

,

softened to room temperature

1 2/3

cup

sugar

,

divided

1/3

cup

corn starch

1 1/2

cups

water

8

egg yolks

juice from 3 large lemons

1

tablespoon

lemon zest

1

cup

fresh blueberries

2

tablespoons

powdered sugar for garnish

,

optional
Instructions
Preheat oven to 350 degrees F.

Finely crush graham crackers and place in large mixing bowl.

Add 1/2 cup butter, cream cheese, and 2/3 cup of sugar to crumbs and thoroughly mix, using either hands or stand mixer.

Place mixture in ungreased 9" pie plate or iron skillet of comparable size.

Use hands to uniformly spread mixture on bottom and sides of pan or skillet.

Place in oven and bake for 15 minutes, leave oven on.

Meanwhile, combine 1 cup of sugar, cornstarch, remaining butter and egg yolks and place in non-reactive pan and over medium heat.

Gradually add water and stir mixture for about 8 minutes adding lemon juice and bring to simmer.

Reduce heat to keep filling warm until crust is out of oven.

Place filling in crust and add evenly distribute blueberries, using rubber spatula to gently incorporate berries.

Top with lemon zest.

Place pie in oven for additional 25 minutes or until filling is firm.

Remove from oven, allow to cool and set.

Garnish with powdered sugar, if desired.
Nutrition
Calories:
587
kcal
,
Carbohydrates:
81
g
,
Protein:
7
g
,
Fat:
28
g
,
Saturated Fat:
14
g
,
Cholesterol:
257
mg
,
Sodium:
322
mg
,
Potassium:
79
mg
,
Fiber:
1
g
,
Sugar:
54
g
,
Vitamin A:
1005
IU
,
Vitamin C:
5
mg
,
Calcium:
56
mg
,
Iron:
1
mg
Nutrition information is automatically calculated, so should only be used as an approximation.