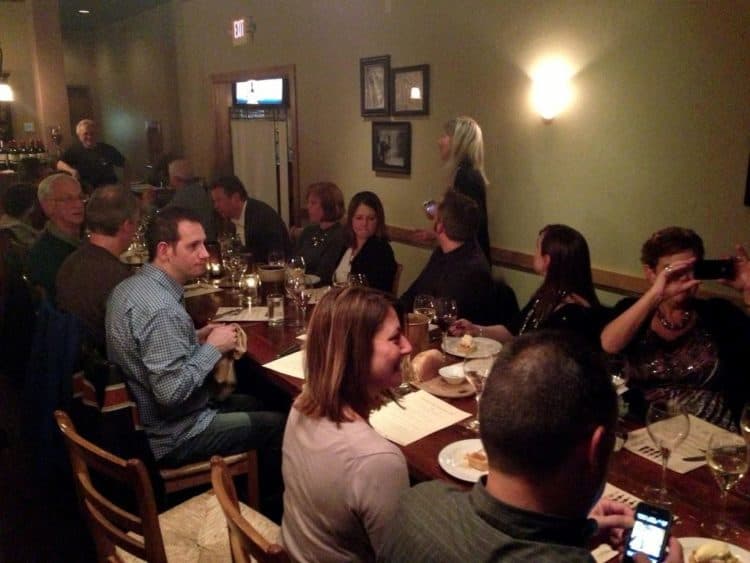 Most people can say they have a favorite place to eat.   To the chagrin of my waistline, I must acknowledge that I have a few.  Carmella's Italian Bistro in Appleton, Wisconsin ranks high on my list of places to enjoy amazing food and I have promised myself to do a Platter Talk post dedicated solely to this wonderful, authentic Italian restaurant.   First though comes their winemakers dinner with Anna Abbona of Marchesi di Barolo.  About a month ago Carmella's placed a notice on their facebook page, announcing a winemakers dinner.   The event was limited to 25 attendees and before you could say Montepulciano I was on the phone with Simon of Carmella's and he promised two seats, assuring me we were in for an amazing night.  Once again, Carmella's delivered in a big way as the evening was filled with sumptuous fare and exquisite wines from the Piedmont region of Italy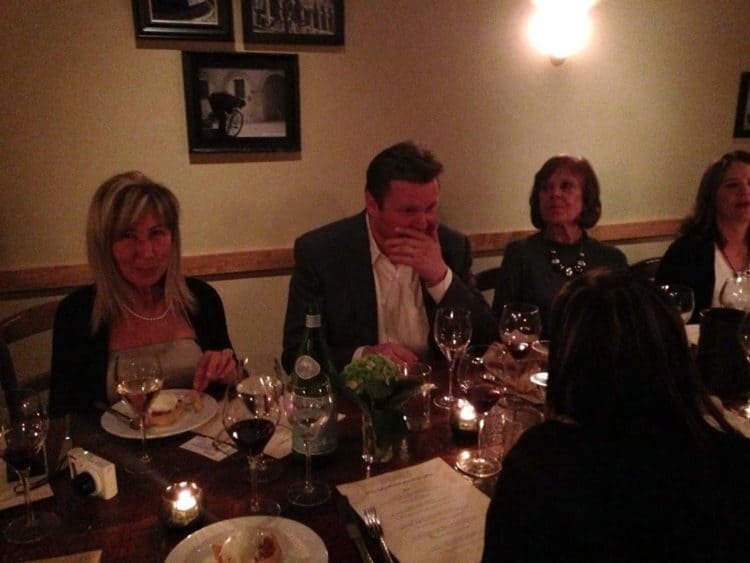 The evening was hosted by Anna Abbona who was accompanied by her daughter, 5th and 6th generation Italian winemakers.  The Abbona clan has been making wine for over  80 years in the cellars of Marchesi di Barolo which have been producing wine for over 150 years.   Having  this mother and daughter team present to articulate the rich history of their family and the wine they have produced for generations made for an unforgettable night,  replete of all things Italian.  Carmella's made the food, the Abbona family made the wine, and the two mixed together made for  a gastronomical odyssey that was nothing short of magical.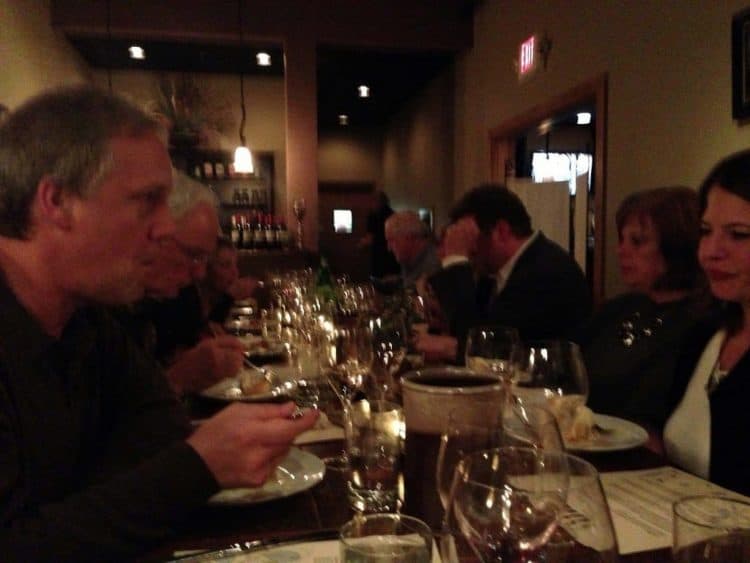 Marchesi Di Barola Winemaker Dinner with Anna Abbona.
Menu
Pan Seared Sea Scallops/Spring Onion Puree /
Sweet Carrot Gnocchi / Peperonata / Warm WBF Bacon Vinaigrette
Paired with
An intense and fine aroma with persistent fruity and flowery scents similar to those of golden apples and green almonds as well as a clean aroma of chamomile flowers.  The flavor is full-bodied and remarkably sapid, balanced, harmonious.
Grilled Asparagus & Radicchio /
Shaved orel Mushroom / Crispy Speck /
"Hooks"
Gorgonzola Cream
Paired with
Dolcetto d'Alba Madonna di Como expresses its finest characteristics in its early years.  A classic wine for a whole meal, it is a fine match for starters and main-course dishes not too imposing.  Intense ruby-red color with lilac shadings.  The odor is fresh and particularly fruity with scents of almonds.  The flavor is dry, agreeably balanced due to the low level of acidity and velvety with a typically slight bitter aftertaste that recall the olfactory sensations.
Veal Canneloni / Aged Parmegiano Reggiano /
Dried Blueberry /
Malek Farms
Tri-color Carrot / Local Pea Shoot / Veal Jus
Paired with
Ruvei translates into "old oak tree."  The color is a dark ruby-red with crison shades.  The aroma is fresh and intense with clean scents of wild berries and spices.  Clear but perfectly blended with the wooden note.  The flavor is warm and robust, pleasant, good body and harmonic
Herb Marinated Skirt Steak / White Corn & Pecorino Pepato Polenta /
Tri-color Beet Salad / Aged Balsamic Reduction / Local Radish Sprout
Paired with
Garnet-red in color with ruby shades.  An intense perfume with clean scents of spices, vanilla, roasted hazelnuts, liquorices, cacao and wild rose.  A full, elegant flavor, austere and good-bodied, with recurring olfactory sensations.  The hints of spices and of wood blend perfectly.
Apricot & Pignoli Nut Crostada / Vanilla Bean Crema /
Orange blossoms Honey Syrup / House Made Buttermilk Gilatto
Paired with
A soft, yet rich perlage gives way to more orange blossom and peach notes with a sweetness balanced by refreshing acidity and a long, yet delicate finish.  This sweet and aromatic wine is delicious paired with custard and fruit-based desserts or on its own.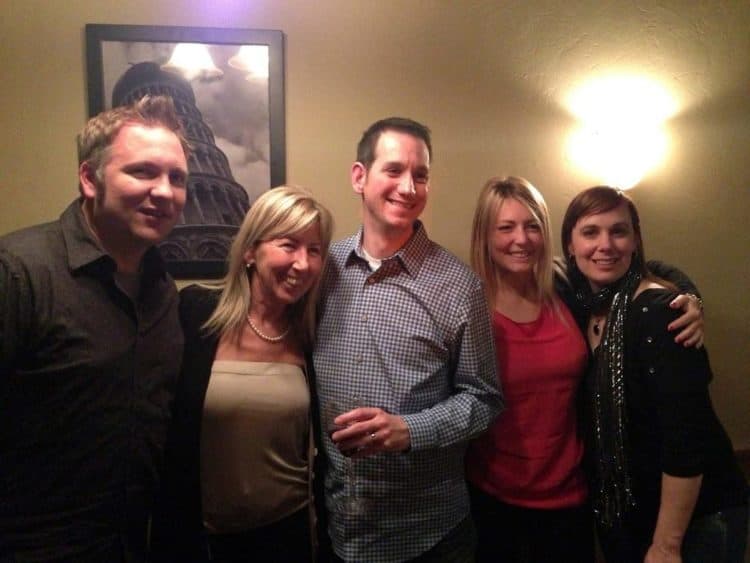 Anna Abbona, second from left and daughter,  second from right, with some of the winemaker dinner guests.