Creamy Butternut Squash Soup and Harvest Chutney
on Oct 22, 2013, Updated Jan 01, 2021
This creamy butternut soup is great for the holidays but why limit yourself to just a few days out of the year? Enjoy this savory squash soup throughout the season and add one more reason to celebrate fall.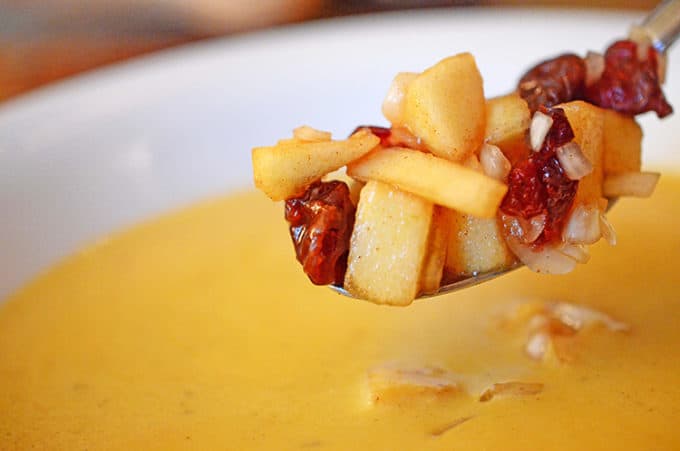 Creamy Butternut Squash Soup
When I woke up this morning and saw the weather forecast, I was shocked to see the possibility of some flakes in the air. I was not sure that I was ready for that, but what I was ready for was a great big bowl of soup.
Little did I know at that early hour, by day's end I would be sitting behind a big bowl of an oh so savory and flavorful squash soup.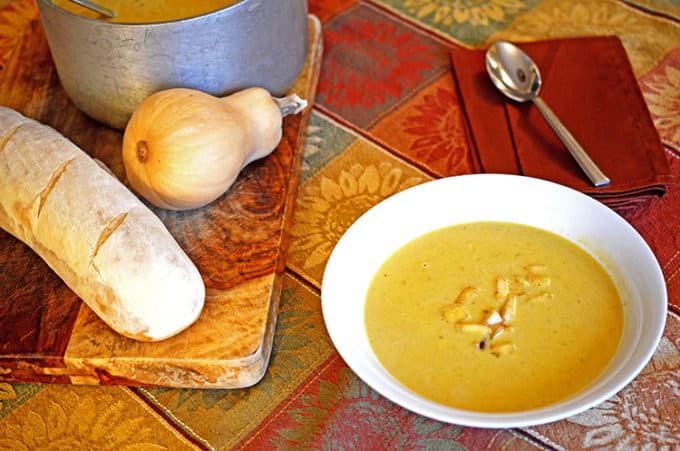 I sat at the counter wondering what kind of soup to make. I had leftover chicken in the refrigerator from the night before, so I started a pot of that. While I knew that the chicken noodle soup would be delicious, it just seemed like an easy way out.
Then, out of the corner of my eye, I saw on the television someone making roasted butternut squash soup recipe. I had my inspiration. I watched politely while they made their version, thinking to myself that I could do it better, or at least have fun trying.
How to Make Butternut Squash Soup
Start by slicing a buttenut squash in half and then roasting it, as outlined in the recipe directions below.
Then, you will make an autumun mire poix, substituting apple for carrot. To this fall version of a mirepoix, you will amp up the savory flavor by adding some ground sage and poultry seasoning.
The roased squash is then added to the pot along with some chicken broth (or vegetable broth, if you prefer).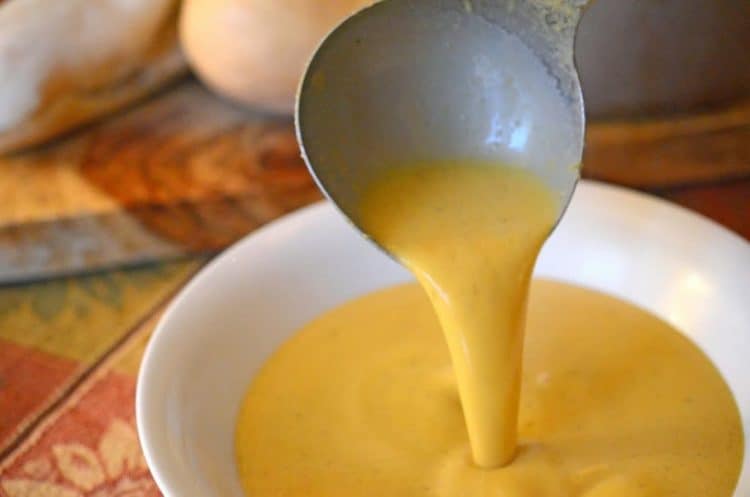 One thing I like about the fall is all of the harvest fruit and vegetables available.
This time of year, I always have squash on hand. Usually Dan and I head to the farmers market and pick up an assortment of different types of squash. My favorite however is butternut squash.
I normally eat my squash roasted. I have never eaten a soup made from it, nor have I made a soup from it either. Until today.
I can't think of anything better then the warmth of the oven from the squash being roasted.
Or the smell of apples cooking on the stove with all of the different spices.
I tell you, at that moment, I did not mind the possibility of a snow flake or two.
I almost dared Mother Nature to send some down to us. Luckily, she must have a sense of humor because she held off.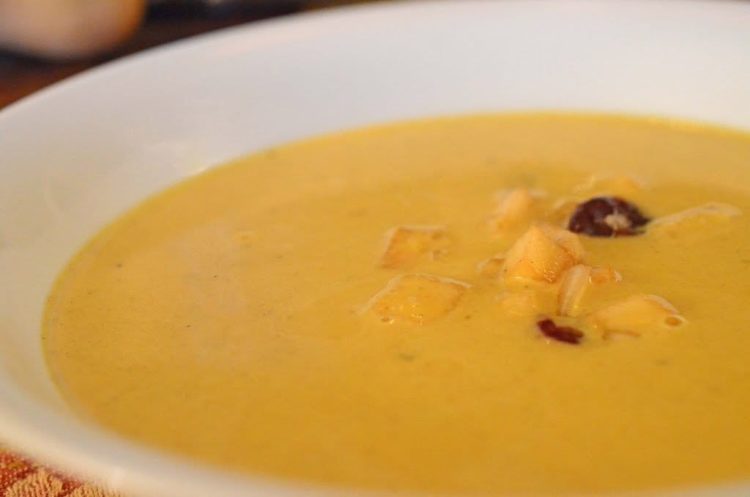 I must admit, I got into the moment of making this soup.
Throughout much of it, I added a pinch of this or that at a time, hence, all of the spices in the recipe below are approximate.
The nice thing about this is that you can adjust for your own taste.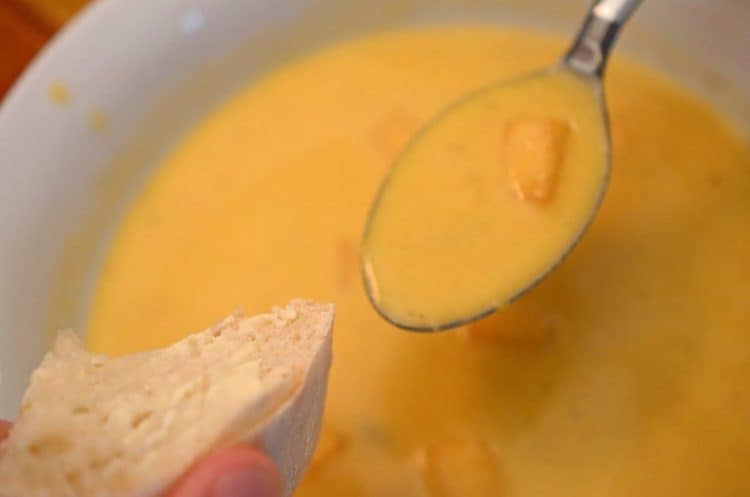 This soup came out exactly how I pictured and tasted it in my mind. I will definitely be making this one again and again. I believe once you try it, you will too!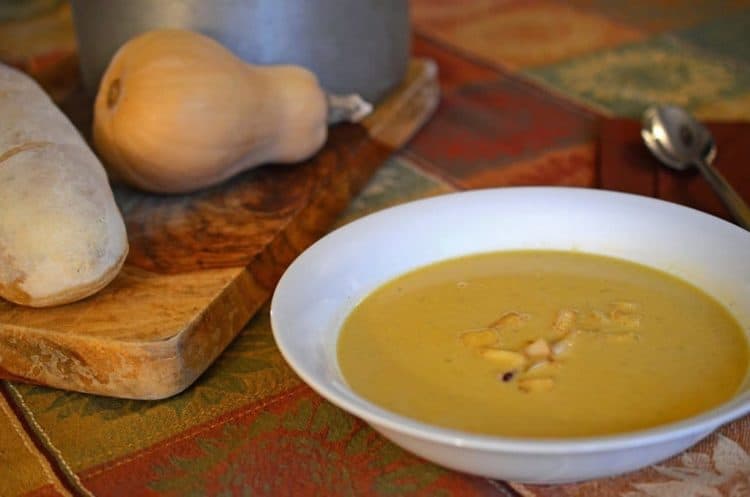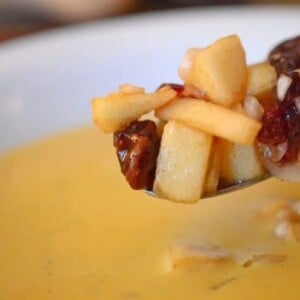 Creamy Butternut Squash Soup with Harvest Chutney
Creamy Butternut Squash Soup with Harvest Chutney Recipe a Platter Talk Exclusive
Ingredients
For the soup
1

medium butternut squash

2

medium apples chopped

,

I used honey crisp

2

stalks of celery chopped

1

medium white onion chopped

3

tbs

butter

1

tbs

cinnamon

1

tsp

ground nutmeg

1

tsp

ground sage

1

tsp

poultry seasoning

hot sauce

salt and pepper to taste

olive oil

6

cups

chicken or vegetable stock

1

half pint heavy whipping cream
for the chutney
1/2

cup

white onion finely chopped

1

medium apple finely chopped

,

honey crisp, granny smith

1/2

cup

dried cherries

3

tbs

honey

1

tbs

cinnamon
Instructions
Preheat oven to 350 degrees F.

Cut squash in half, lengthwise and scoop seeds out.

Place squash on baking sheet cut side up.

Drizzle olive oil over the squash and season with salt, pepper and cinnamon.

Cook squash for approximately one hour or until you can insert a knife into the squash and the knife comes out without any resistance.

Remove from oven and allow to cool slightly.

In a stock pot, over medium heat, add the butter.

Allow butter to begin to melt and then add onions, celery, apples, ground sage, poultry seasoning.

Cook until apples and celery soften and onions become translucent.

Scoop out the butternut squash from the skin and add to the pot.

At this time, add the chicken or vegetable stock.

Using an immersion blender, blend the soup until completely smooth.

Add a couple of dashes of hot sauce (use more or less for taste), cinnamon and nutmeg.

Simmer for a few minutes to allow flavors to combine.

In a small skillet, warm the whipping cream on low heat, being careful not to allow the cream to scold or boil over.

Once the cream is warm, add to the soup. Stir to incorporate the cream into the soup.

for the chutney

In a small bowl add all of the ingredients for the chutney.

Mix thoroughly.

Ladle the soup in a bowl and garnish with a spoonful or two of the harvest chutney. Enjoy!
Nutrition
Calories:
323
kcal
,
Carbohydrates:
53
g
,
Protein:
3
g
,
Fat:
14
g
,
Saturated Fat:
8
g
,
Cholesterol:
42
mg
,
Sodium:
1067
mg
,
Potassium:
633
mg
,
Fiber:
8
g
,
Sugar:
30
g
,
Vitamin A:
14733
IU
,
Vitamin C:
33
mg
,
Calcium:
131
mg
,
Iron:
2
mg
Nutrition information is automatically calculated, so should only be used as an approximation.