Shredded Beef Barbecue
on Mar 16, 2013, Updated Jan 01, 2021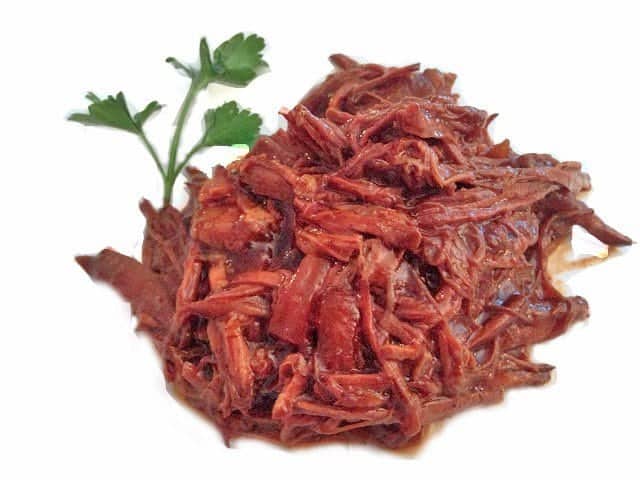 Saturdays are always a busy day for our family. Typically it involves time at our small cottage on a small lake, in the middle of nowhere, Wisconsin. Additionally Saturdays almost always involve boys, lots of boys. Nate is 8, Asher is 8, Ike is 10, Joe is 10, Noah is 14 and Jake is 16. For any given Saturday, this can translate to bowling, bowling, pinewood derby, pinewood derby, bowling, and solo ensemble. In fact, that is the agenda for this particular Saturday in late March, in a year when winter is stubbornly refusing to relinquish it's grip to spring. Planning meals on Saturdays is a priority for us, because without some nutrition to refuel this gang, things can turn south in a hurry!
Usually by mid-afternoon, the group begins to reconvene – at our small cottage on a small lake in the middle of nowhere, Wisconsin. There is almost always a moderate amount of gasoline involved and the miles on any given Saturday often accumulate in the 100's, on any of three vehicles that will be subject to use.
There will be movies – especially this time of year, there will likely be some type of electronic games, usually a board game, and always a great deal of attention given our English bulldog puppy, Ellie. And the repetitive question will be asked, over and over and over, in one form or another, "Dad, what can I have to eat?" "Dad, can I have a juice box?" "Dad, is there any gogurt?" All of these questions lead into the real question that is on everyone's mind, "Dad, what are we having for supper?"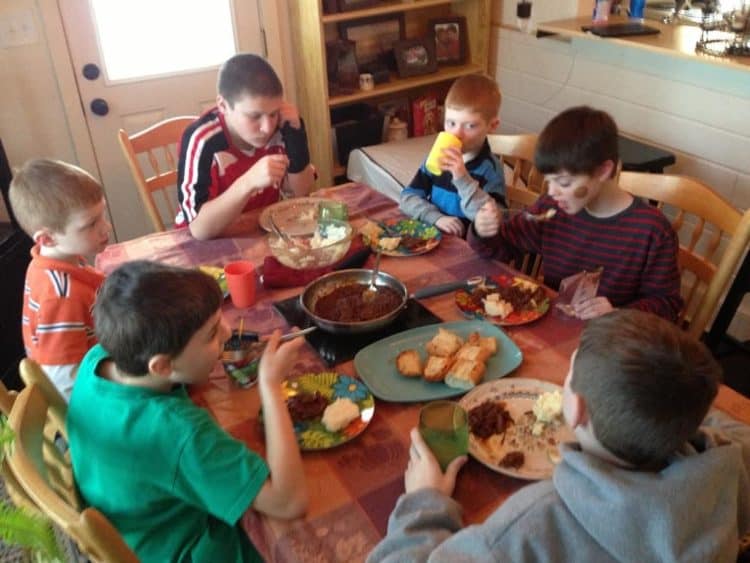 Anyone who has kids knows this question is one that always needs to be addressed. I'm not sure if it makes a difference if there are six kids at the table, or just one, dinner still needs to go on. We have several "standard" dishes that our boys enjoy. Although not always the best example setters, we are nonetheless conscious of nutrition, especially for busy and active kids. To that end we try to emphasize proteins, fresh fruits and vegetables, and lots and lots of fluids. The carbs are the one thing we don't have to worry about too much, as they seem to continuously and passively migrate to our plates and fingers, throughout.
In addition to all the miscellaneous snacks and staples that will undoubtedly be consumed this weekend, this post is featuring a simple but tasty main dish that our boys are always happy to enjoy for a meal: shredded beef barbecue. Like most things involved with busy families, this meal involves some planning ahead but it's easy and delicious.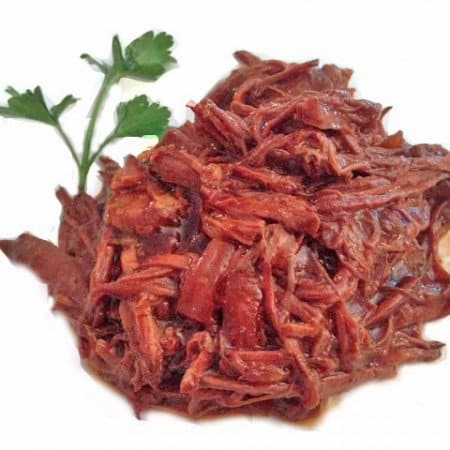 Shredded Beef Barbecue
Savory and delicious slow cooker meal.
Ingredients
2

lbs

angus boneless chuck arm roast

18

oz

bottle of barbecue sauce

,

your choice of flavor

1

medium white onion

,

diced

2

cloves

garlic

,

crushed,

1

tablespoon

brown sugar

2

teaspoons

dijon mustard
Instructions
Use slow cooker and set on low.

Place all ingredients in slow cooker and allow to cook, covered, on low for 6 to 8 hours, less depending on the temperature of your slow cooker.

When beef is cooked thoroughly use a table fork and shred, in slow cooker and incorporate watery sauce.

Stir everything together for a minute or two, the liquid will be absorbed by the shredded meat.

Keep warm, and serve at your convenience.
Notes
Serving suggestions: This meal goes well with coleslaw, country bread, steamed carrots, mashed potatoes, and anything else that sounds good to you. Give it a try, and let me know how it turns out!
Nutrition
Calories:
436
kcal
,
Carbohydrates:
39
g
,
Protein:
30
g
,
Fat:
18
g
,
Saturated Fat:
8
g
,
Cholesterol:
104
mg
,
Sodium:
1016
mg
,
Potassium:
726
mg
,
Fiber:
1
g
,
Sugar:
31
g
,
Vitamin A:
210
IU
,
Vitamin C:
2
mg
,
Calcium:
60
mg
,
Iron:
4
mg
Nutrition information is automatically calculated, so should only be used as an approximation.