Slow Cooker Rosemary Beef Tips Recipe
on Jan 11, 2016, Updated Jan 01, 2021
Slow Cooker Rosemary Beef Tips Recipe – On the Monday after New Years, I successfully got Dan off for work, made breakfast and lunch for the kids and dropped them off at school. I was able to shower and somehow make it to work on time myself. I thought that I was doing pretty well until later that morning I realized that I did not have anything planned or thawed out for supper. Thus, on my lunch hour, I literally ran to the grocery store and did a mad dash throwing things into the cart hoping that I could come up with something passable for dinner. What came from this lunchtime jog was nothing less than delicious, our Slow Cooker Rosemary Beef Tips Recipe.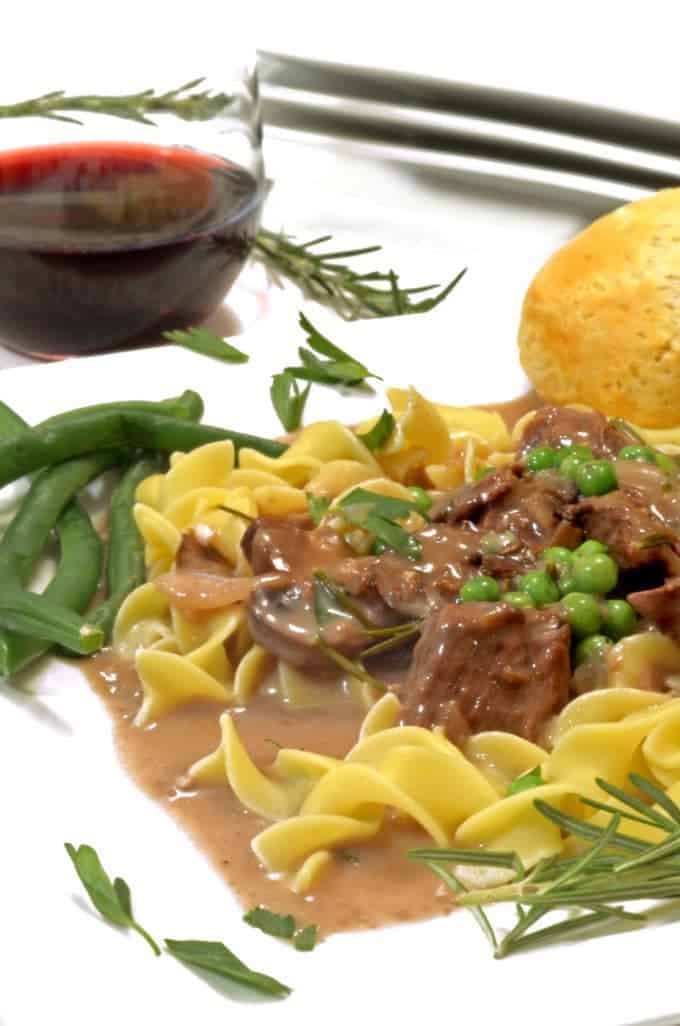 About ths
I guess that I got a bit lazy because of the holidays. We had several long weekends and some extra time off. During that time, my mom was in town and we were able to prepare and plan out meals. During the New Year weekend, I even planned out our entire long weekend of meals so that we would not have to go to the store at all. While I was successful, I forgot that Monday we were in a different game. Both Dan and I were back to work and the boys had to be back at school. I took not having anything prepared as a challenge, and I think that I rose to the occasion with my Slow Cooker Rosemary Beef Tips Recipe.
Because I had limited time and had to be back to work in an hour, I had to be quick in the grocery store. I also knew that I would be using the crock pot to cook the majority of this meal as well. Autopilot kicked in and I came up with a plan to make some sort of beef tips. I would have enough time to brown the beef tips in a skillet with some onion that I had left over from the weekend. The sauce could be assembled in the crock pot and all of the ingredients could get to know each other a little better in the crock pot while I was finishing the rest of my work day. The addition of fresh rosemary sprigs, elevated the dish and added an additional level of flavor which made Slow Cooker Rosemary Beef Tips Recipe special.
With a sauté here, and a stir there, this dish went together in a snap. I was even able to get 8 servings for around $11.00, which included fresh green beans and biscuits that my boys just love. So a win all around. Do yourself a favor and give this one a try, even if you do have a lot of time. It is big on flavor, low on cost and time. Enjoy. -Scott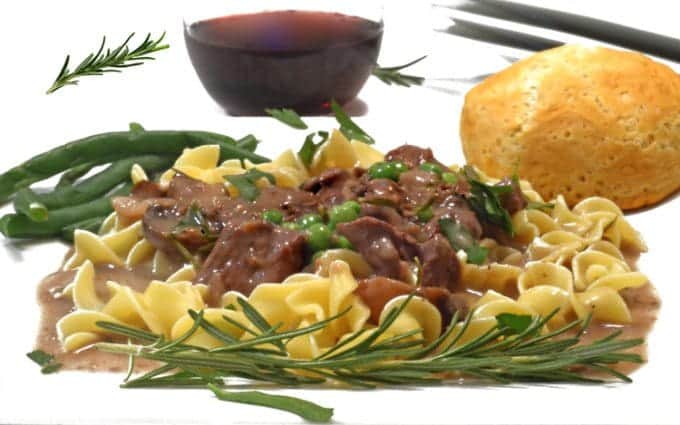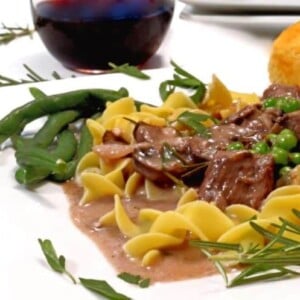 Slow Cooker Rosemary Beef Tips Recipe
A Platter Talk Exclusive
Ingredients
1-1.5

lbs

450-680g stewing beef

3 10

oz

283g cans cream of mushroom soup (low sodium)

1 15

oz

425g can beef broth (low sodium)

1 8

oz.

227g package fresh mushrooms, sliced

1/2

medium onion chopped

2

tbs

30g minced garlic

3

sprigs fresh rosemary

1

cup

236g red wine

2

tbs

olive oil

8-12

oz

reduced fat sour cream

Salt and Pepper to taste
Instructions
Heat olive oil in a skillet over medium high heat.

Add onions and 1 tablespoon of garlic and cook for a minute or two.

Add stewing beef and season with salt and pepper.

Cook until meat is browned on all sides.

Add wine and allow to cook for another minute.

In the crock pot add the cream of mushroom soup, beef broth and 1 tablespoon of minced garlic.

Whisk together until incorporated.

Add the meat and onion mixture to the crock pot.

Place the sprigs of rosemary into the sauce.

Stir and add more salt and pepper based on taste.

Cook on high for approximately 3 hours or until meat is tender.

By this time the rosemary should have separated from the sprig. Remove the stems from the sauce.

Add 8 oz of sour cream to the sauce and whisk. You may add more sour cream if you choose.

Serve over egg noodles or with mashed potatoes.
Nutrition
Calories:
708
kcal
,
Carbohydrates:
18
g
,
Protein:
37
g
,
Fat:
49
g
,
Saturated Fat:
18
g
,
Cholesterol:
144
mg
,
Sodium:
747
mg
,
Potassium:
1701
mg
,
Fiber:
2
g
,
Sugar:
4
g
,
Vitamin A:
186
IU
,
Vitamin C:
4
mg
,
Calcium:
200
mg
,
Iron:
4
mg
Nutrition information is automatically calculated, so should only be used as an approximation.