Zucchini Lasagna with Mushrooms & Microgreens
on Jul 21, 2015, Updated Aug 23, 2022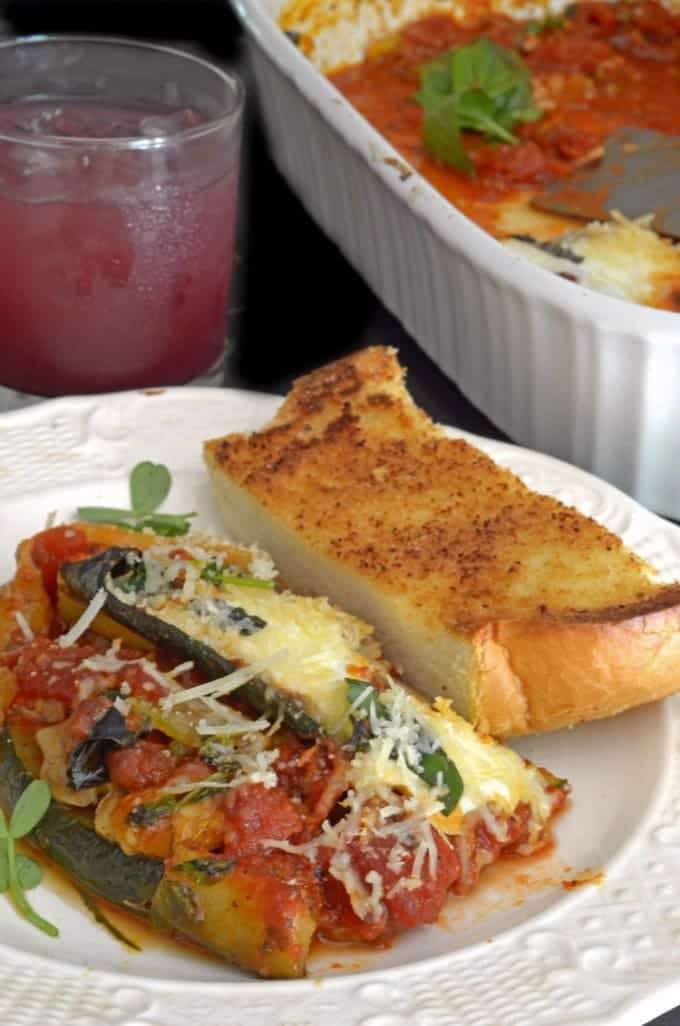 Zucchini Lasagna is another dish that's been on my radar for a while. We have been knee deep in fresh produce from our summer local farmer's markets. What's more, we've had a steady supply of aquaponics– grown microgreens and mushrooms produced by our friends from Grow Local. They are a local farm based here in our town, committed to using innovative, sustainable practices to deliver the best food possible. We are proud to support local agriculture and always urge our readers to follow suite, whenever possible. With this in the background and when my sister the chef sent me a recipe for zucchini lasagna from the New York Times, I knew I had to act.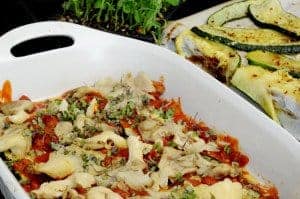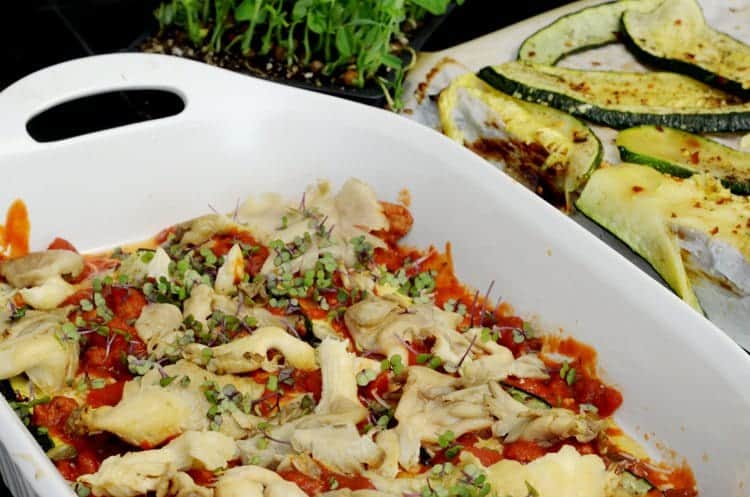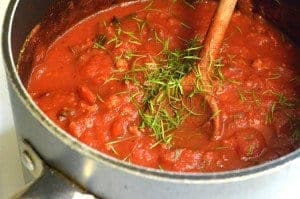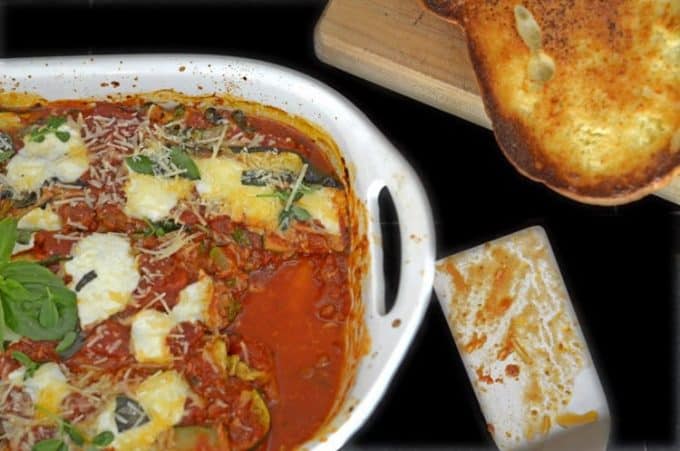 Zucchini Lasagna
I've been fascinated with microgreens for a year or so. I first noticed these small and delicate greens showing up as garnishes, served with restaurant entrees. Intrigued, I began to look for these in grocery stores but always to no avail. Then, I met one of the proprietors from Grow Local. That's when I was formally introduced to microgreens. Since then, we've featured these seedlings of common vegetables in several of our dishes.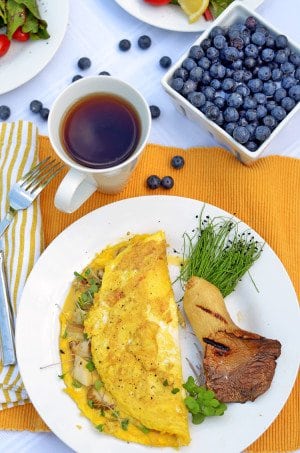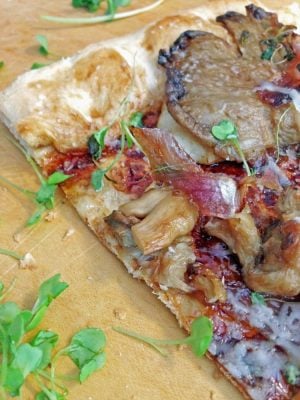 When I first started thinking about this zucchini lasagna, I realized very quickly that I had to incorporate some of our wonderful tasting and local grown produce to this dish. Doing so, I thought, could only take a good thing and make it better. I love it when I'm right.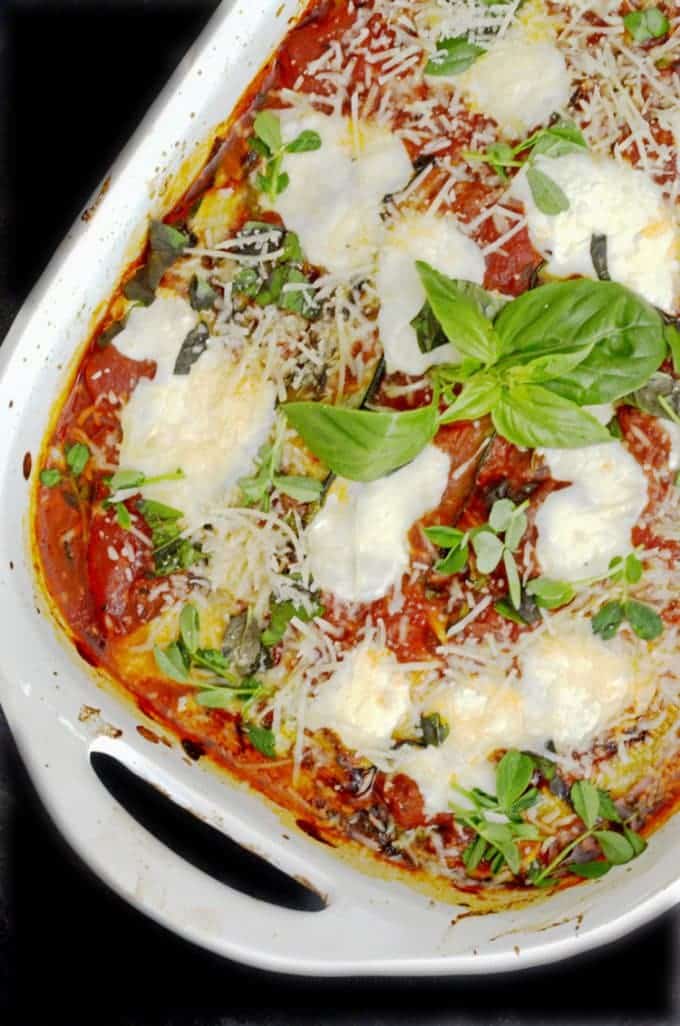 Like many tomato-based dishes, this one starts out with a great marinara. There are multiple methods of putting a sauce together. When we are making our own from fresh tomatoes, it often goes together like this. However, reality often dictates that we put a sauce together from some canned tomato products as we have a pretty short window of opportunity when tomatoes can be picked fresh off the vine. Either way, it always tastes better than buying a jar of processed sauce, laden with sugar and heaven only knows what else.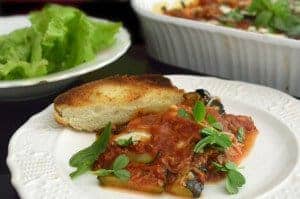 Some Hints for a Better Tasting Marinara Sauce
Make it a day or two ahead of when you plan to use it. The ingredients will "get to know each other" and the resulting taste will be that much better. Scott put half of this sauce together earlier in the week. It recycled beautifully and even more delicious the second time around with this zucchini lasagna.
Brown the tomato paste before incorporating it into the rest of the sauce. You'll be amazed at the enhanced flavor that results from doing this.
Fresh is always best. Even if you don't have access fresh tomatoes, some fresh herbs such as basil and oregano will go a long with in making your marina taste even better.
With this zucchini lasagna, we used carrot microgreens in our sauce, as shown in one of the photos above. In addition to the sauteed mushrooms from our local farm friends, we sprinkled micogreens over each layer of zucchini. We are learning that microgreens can be substituted for other greens such as spinach, an ingredient we love to use in our traditional lasagna. If you're fortunate enough to have access to farm-fresh produce like the ones we used here, give them a try with a dish like this zucchini lasagna. With or without this fresh produce, the zucchini provides a fresh and light alternative to the pasta in the lasagna with which we all grew up. It's a great way to use of some of summer's bounty and a great way to support your local farmers who, in one way or another, ultimately feed us three times or more every single day. Wishing you a fresh and delicious summer. -Dan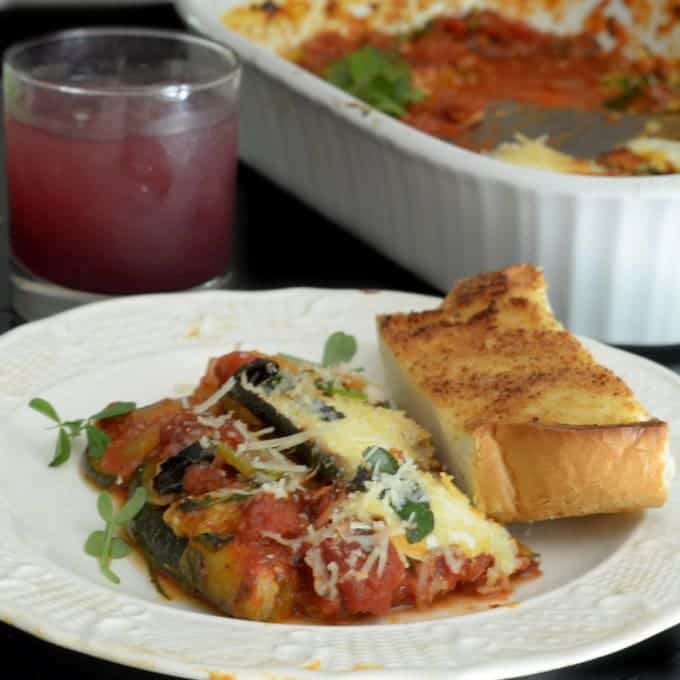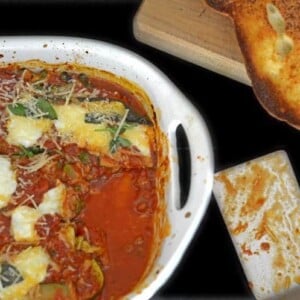 Zucchini Lasagna with Mushrooms and Microgreens,
adapted from the New York Times
Ingredients
2

lbs.

zucchini squash

1/4

cup

olive oil

1

teaspoon

each

,

kosher salt and ground black pepper

crushed red pepper flakes

1

tablespoon

butter

8

oz.

fresh mushrooms

2

oz

microgreens

1

small handful fresh basil leaves

,

coarsely torn apart

4

oz.

fresh mozzarella cheese

,

coarse chop

1/2

cup

Parmesan cheese

,

grated

3

cups

marinara sauces
Instructions
Preheat oven to 425 degrees F.

Trim ends off of squash, then cut in half crosswise. Then slice each half, lengthwise 1/4-13" thick.

Toss squash in olive oil, add salt and pepper

Line 2 baking sheets with parchment paper then place squash in single layer on each pan.

Sprinkle with crushed red pepper.

Place in oven for 15 minutes until lightly brown or fork tender.

Remove from oven and reduced heat to 375 degrees F.

Melt butter in large skillet over medium heat, sautee mushrooms 4-5 minutes until soft and tender. T

Spray 9 x 13" baking pan with non-stick coating.

Place 1/2 cup marinara on bottom of pan.

Place layer of zucchini slices in pan, top with 1/3 of microgreens, some of the basil, and then sprinkle with 1/3 of Parmesan.

Spread 1/2 cup of marinara over that layer.

Repeat process, using mushrooms instead of zucchini for next layer.

Add remaining layers using zucchini.

Top with mozzarella and remaining Parmesan cheese.

Bake for 45 minutes and allow to set 10 minutes before serving.

Garnish with additional sauce if desired.
Nutrition
Calories:
252
kcal
,
Carbohydrates:
14
g
,
Protein:
12
g
,
Fat:
18
g
,
Saturated Fat:
6
g
,
Cholesterol:
26
mg
,
Sodium:
925
mg
,
Potassium:
950
mg
,
Fiber:
4
g
,
Sugar:
10
g
,
Vitamin A:
1141
IU
,
Vitamin C:
37
mg
,
Calcium:
237
mg
,
Iron:
2
mg
Nutrition information is automatically calculated, so should only be used as an approximation.