Death by Chocolate Cheesecake
on Mar 30, 2019, Updated Jan 03, 2021
Chocolate cheesecake is a decadent dessert that's fit for the most serious of chocolate lovers.
This deep chocolate cheesecake has five different chocolates in it and is brought to you by the legendary cake master, Brooks Walker, from Cakewalker.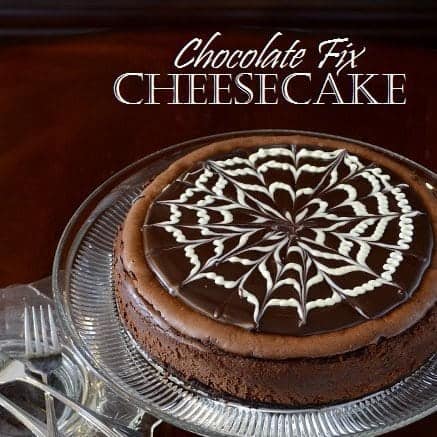 What is this?
"I believe we eat with our eyes first…," the bywords of Brooks Walker, aka Cakewalker and today's guest, here on Platter Talk.
Platter Talk Brooks, you have worn many hats throughout your career. You've worked in hospitality, radio, as a commercial voice-over talent, writer, and dad – just to name a few. Professionally and personally, which one(s) have you enjoyed the most?

Brooks Professionally, my kitchen work brings the most enjoyment. On a personal level, parenthood gets top billing. The joy of parenting seems to have an infinite supply, and the challenges of raising kids certainly spice things up and keeps me on my toes! I've been most fortunate to have the ability to explore my varied interests over the years. Each one has contributed to where I am today, to the person I've become. Having gone full circle, the stainless steel environment of the kitchen is where I'm most happy, but it took trying on those hats to realize it.
Platter Talk Typically, how frequently do you create something with the intent of putting it on your blog?

Brooks In the past, most of the posts were intentional—especially in regards to cakes. Composing a cake post entails a lot of planning and work, particularly if the project is complex. Lately, however, spontaneity has been a contributing factor. In those cases, it's been a simple matter of a successful weekend meal or dish inspiring me to share it. It may mean making the dish again in order to write it down and photograph it, but who doesn't like seconds?
Platter Talk As a food blogger, what have you found to be a couple of your biggest challenges?
Brooks Ha, photography! And post frequency. For many food bloggers at the early stages of their publication, photos are typically the elusive element to nail, and this was the case for me. I had never picked up a camera before with the intention of capturing compelling photos. I've managed to improve through the years as I learned about photography, but I consider the skill a work in progress. I prefer to choose the quality of work over post frequency—well, I hope the work is perceived as quality! Intellectually I know I should post more often, to keep my work in front of readers, and the momentum going. But the balance of life is important to me too. If I know one thing about myself, it is genuine inspiration must be present, or the motivation just isn't there. I want to give each blog entry my all, my undivided attention.
Platter Talk What person or resource helped you the most in attaining the level of expertise that is reflected in your work?
Brooks If an inner drive is a resource, then that must be it. There have been, and currently are so many people who inspire me to learn, to look at things differently and to stretch. To boil it down though, I have two I can name off the top of my head: Colette Peters and Chef Thomas Keller. Simply put, Ms. Peters' body of work is nothing short of amazing—she's a true cake artist. I align with Chef Keller's practice of growing food fresh and getting it to the table at its seasonable best. His food is astounding!
Platter Talk Your three favorite foods?
Brooks Basil, garlic and chocolate—not necessarily in that order. And any member of the chili family. Okay, that's four. I'm allowed, right?
Platter Talk Your proudest accomplishment as a foodie?
Brooks Is the culmination of all my life experience together in the stories, recipes, and pictures found on the pages of Cakewalker.
And now, readers of Platter Talk, it is my great pleasure to give to you, Brooks Walker.
BRIDGE THE GAP
I couldn't quite put my finger on it. I wasn't sad; I wasn't blue. No moping around either, but there was that certain ho-hum quality that made the daily grind just that, ho-hum.
Not even a good run with the vacuum could snap me out of it—I'm one of those who marvels at making perfectly symmetrical tracks in the carpet with the cleaning device.
There's something very pleasing and relaxing about creating carpet patterns this way. Don't ask me to explain it. There probably isn't an explanation, but I'll say those who identify with the behavior know just what I mean. Lines, patterns, crisscrosses, oh my!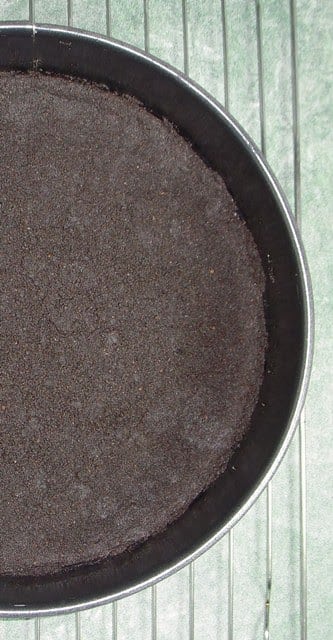 When this frame of mind sets in, I'll take up a good cookbook and read for a while. Food has a way of shifting my gears.
It can be artfully beautiful, mouth-watering and nourishing. What's not to like about that? On this particular occasion, I was thumbing through Bon Appétit Desserts by Barbara Fairchild—a thick, encyclopedia-like book of the best desserts from the magazine.
The mere act of opening the hardcover to turn the first page seemed to be an elicitation of pep. The photographs, ingredients and flavor profiles all played a hand in engaging me to a quiet calm.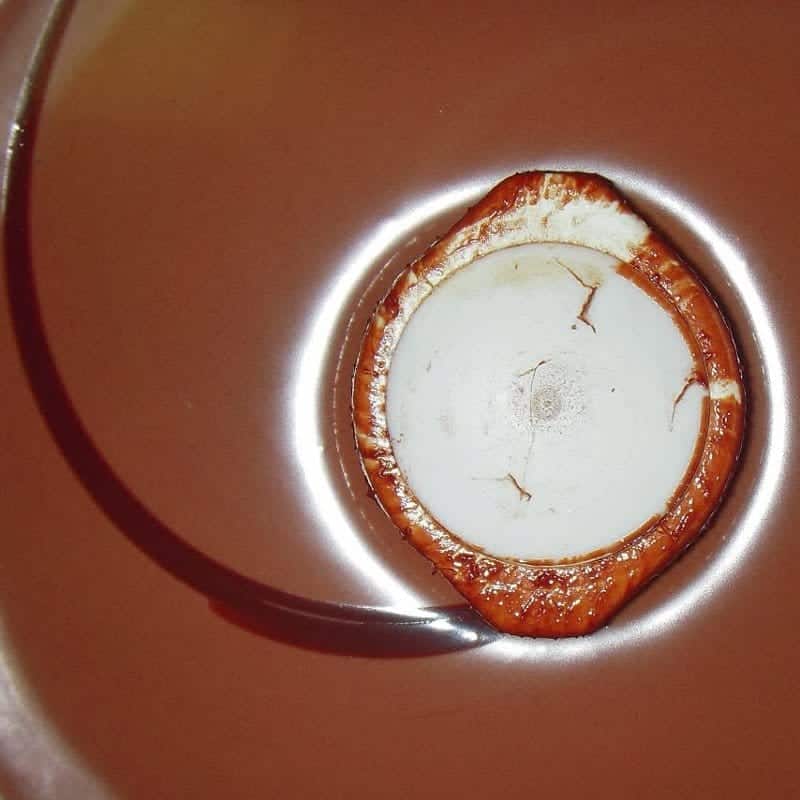 Then I saw it; a glorious, thick disc of creamy chocolate. Chocolate. CHOCOLATE.
Slowly, an eyebrow drew upward like the Grinch's did when he conjured up his plan to silence Whoville. In that instant, I understood my doldrums with the realization I had been missing c-h-o-c-o-l-a-t-e. No wonder! Valentine's chocolate was a couple of weeks ago, and Easter chocolate wouldn't come for almost two months.
That's a dreadfully long time to go without a chocolate confection. I had to do something. I had to bridge the gap.
I sprang from my chair, and quickly-stepped it to my stash of Valrhona bittersweet chocolate.
My bounty was just shy of four bars, but that didn't matter. I pulled back the gold foil to snap off a square of the 70% cacao "elixir". I placed a piece on my tongue allowing it to melt slowly as I always did.
Chocolate must truly have medicinal power for I began to feel great—less ho-hum! Still, I had to come up with a plan to tide me over to the next chocoholiday.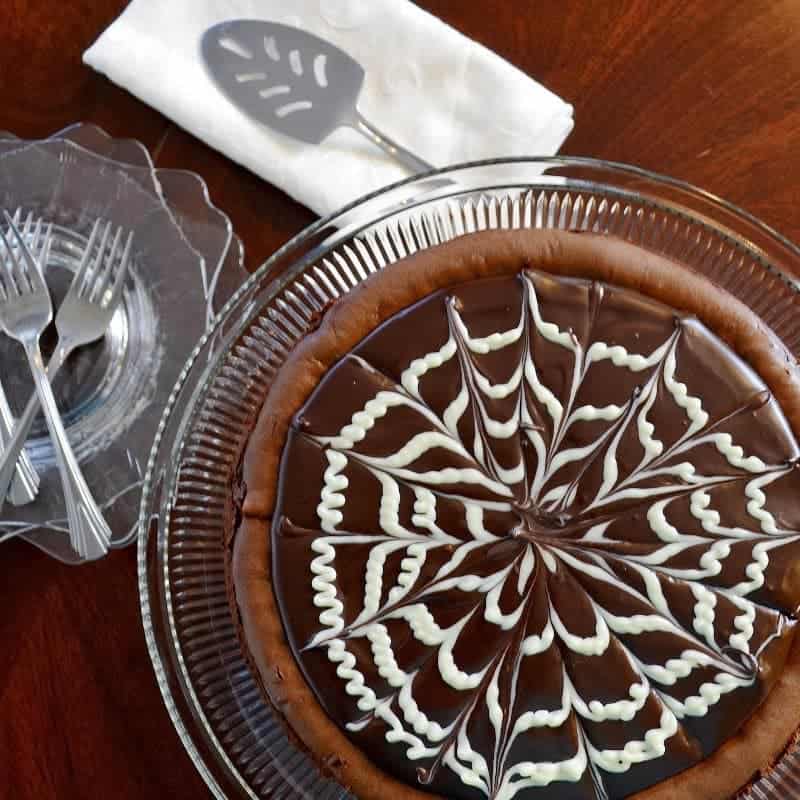 Returning to the book, the source which led me to my light bulb moment is where my answer awaited me. That thick disc of luscious and creamy chocolate was a photograph of a deep dark chocolate cheesecake—and I had just enough chocolate on hand to make one!
Content with my plan, I smiled as a wave of relaxation came over me; the kind of feeling that comes from making lines and patterns in the carpet.
Make this Death by Chocolate Cheesecake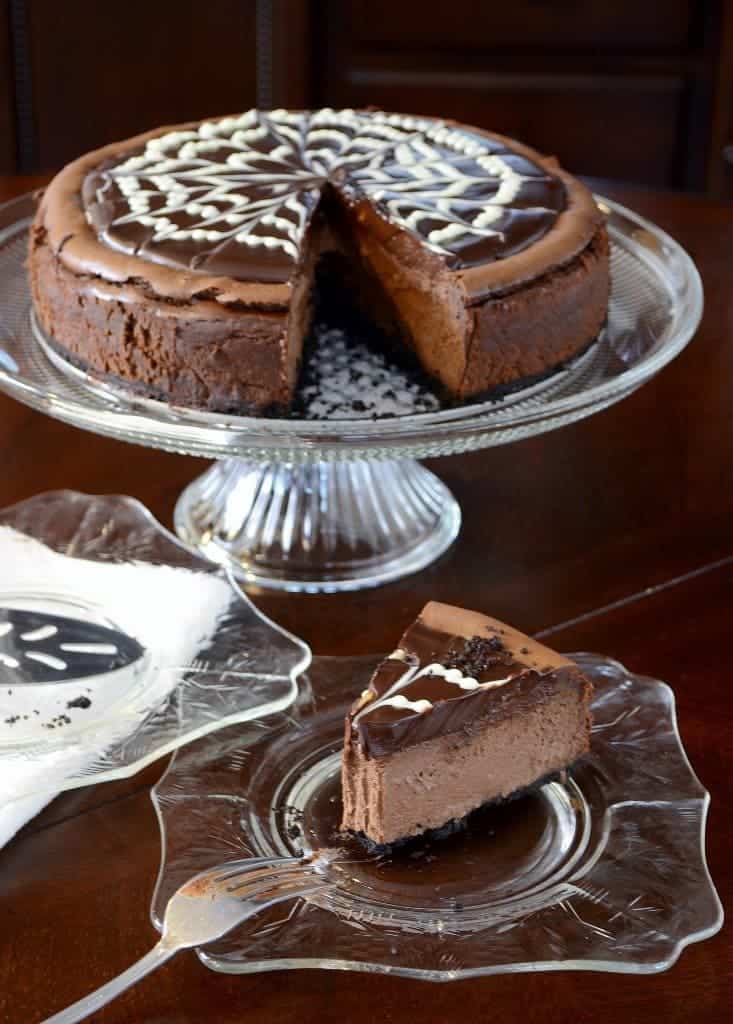 Chocolate fiends will find satisfaction in this rich, dense cheesecake. Be sure to use a good quality chocolate such as Valrhona, Scharffen Berger or Lindt with 70% cacao to achieve chocolate nirvana. The cacao nibs in the crust are optional, but the texture and flavor they impart are fabulous!
More Chocolate Recipes
Food has a way of shifting my gears. – Brooks Walker, The Cakewalker
More of our Popular Chocolate Recipes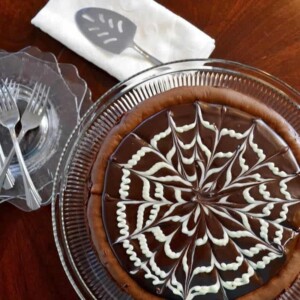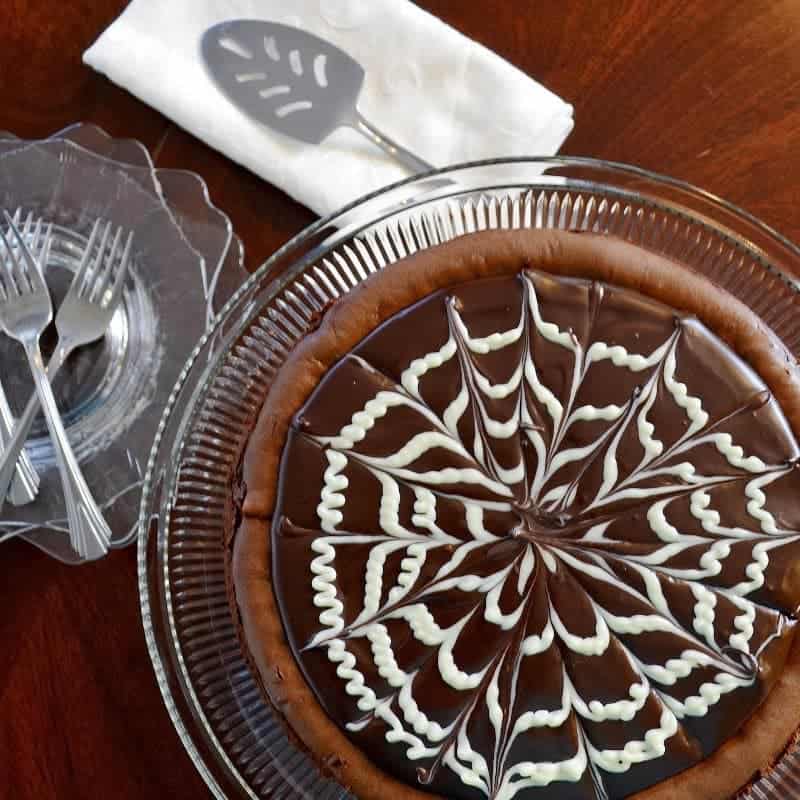 Death by Chocolate Cheesecake
Guest Post by Brooks Walker, Cakewalker. Recipe Makes one 9-inch cheesecake Adapted from
Bon Appetit
, Octobert 2006
Ingredients
For the Crust
24

chocolate wafers

1

tablespoon

sugar

1/4

cup

butter

,

unsalted

1

tablespoon

cacao nibs

,

optional
For the Filling
9

ounces

bittersweet chocolate

,

70% cacao and chopped

32

ounces

cream cheese

,

good quality, at room temp.

1 1/4

cups

sugar

,

Plus 2 tablespoons

1

teaspoon

vanilla extract

1/4

cup

cocoa powder

,

natural and unsweetened

4

eggs

,

large
For the Topping
3/4

cup

heavy whipping cream

6

ounces

bittersweet chocolate

,

70% cacao and chopped

1

tablespoon

sugar

4

ounces

white chocolate
Instructions
Preheat the oven to 350˚F. Butter a 9-inch diameter spring form pan with at least 2 1/2-inch-high sides. Blend the cookies and sugar in a food processor until crumbled and well blended. Add butter and cacao nibs if using and process until blended and the crumbs are moistened. Press crumb mixture evenly onto bottom of the pan only. Bake until the crust is set, about 8 minutes.

For the filling, stir the chopped chocolate in a metal bowl over a pot of simmering water until melted and smooth. Remove the bowl from over the water; set aside to cool the chocolate until lukewarm but still pourable. In a processor, blend the cream cheese, sugar, vanilla and cocoa powder until smooth. Remember to scrape the bowl down on occasion. Blend in eggs one at a time. Mix in the lukewarm chocolate. Pour the filling over the crust and smooth the top with an offset spatula.

Bake the cheesecake at 350° until the center is just set and the top looks dry—about 1 hour. Cool for 5 minutes. Cut around sides of pan with a knife to loosen the cake. Place warm cake in the pan in the refrigerator and chill uncovered overnight.

Assemble the topping. Stir cream, chopped dark chocolate and sugar in a heavy medium saucepan over low heat until the chocolate melts and the topping is smooth and uniform in color. Cool slightly. Meanwhile, melt the white chocolate on short intervals in a microwave-proof dish; transfer white chocolate to a plastic piping bag (or other heat-proof plastic bag with a corner snipped off to create a small opening). Pour the dark chocolate topping over center of cheesecake and spread to within 1/2 inch of edge, covering any cracks. Quickly pipe a spiral of white chocolate beginning in the center and working out to the edge of the dark chocolate. Using a knife, start at the center point and draw the tip of the blade edge through both chocolates. Now at the outside edge, skip a space and draw another line in the opposite direction towards the center of the spiral. Repeat in the same manner until a spider web effect is achieved. Chill until topping is set, about 1 hour.

To serve, cut around sides of pan again; remove pan sides. Transfer cheesecake to a platter. Let stand at room temperature for 2 hours before serving.
Notes
Can be made 3 days ahead. Cover with foil and keep chilled.
Nutrition
Calories:
923
kcal
,
Carbohydrates:
72
g
,
Protein:
12
g
,
Fat:
66
g
,
Saturated Fat:
37
g
,
Cholesterol:
207
mg
,
Sodium:
478
mg
,
Potassium:
499
mg
,
Fiber:
4
g
,
Sugar:
57
g
,
Vitamin A:
1740
IU
,
Vitamin C:
0.1
mg
,
Calcium:
168
mg
,
Iron:
4.2
mg
Nutrition information is automatically calculated, so should only be used as an approximation.
Updated from the original post of February 28, 2014
Brook's work has been showcased in, among other places, The Los Angeles Times, on NPR, and Mumm Nappa Valley's site.