Easy Caramel Popcorn
on Jul 04, 2020, Updated Jul 28, 2020
This easy caramel popcorn is a fun family treat the whole family will love. As a bonus, it is a great way to get your kids or grandchildren in the kitchen to "help" you out. It's a special treat that smells amazing and is a sure signal that something fun and delicious is soon to come.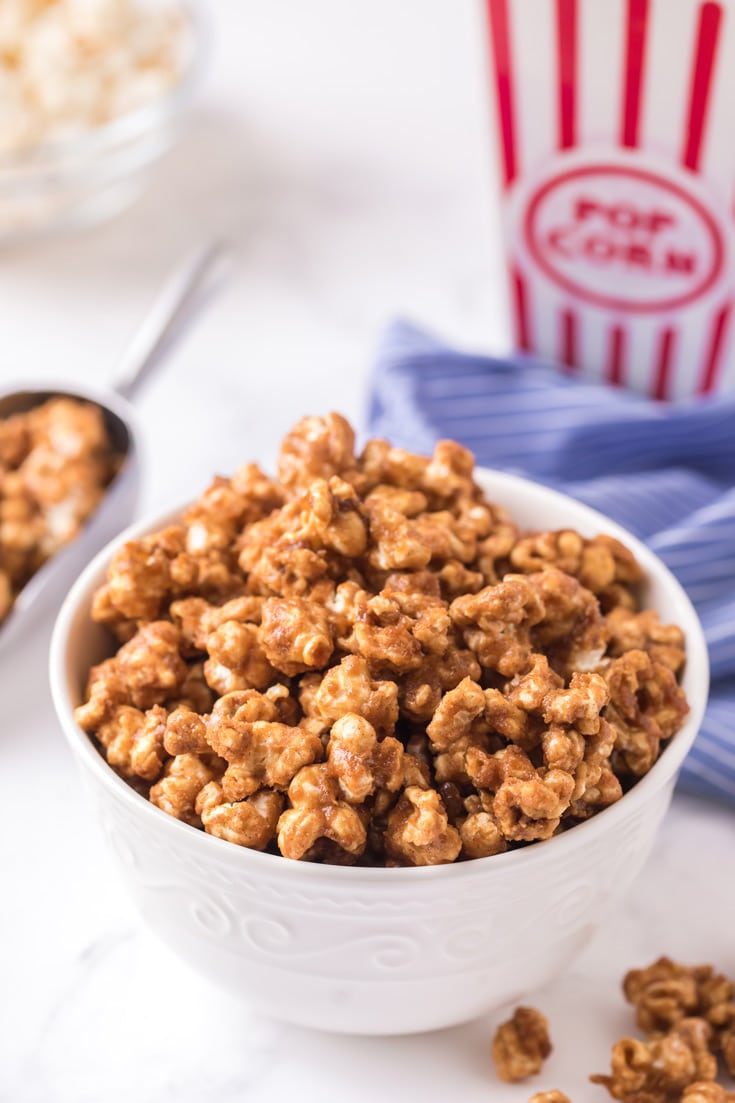 Jump to:
How to make it

Like any good recipe, this one requires minimal ingredients and kitchen equipment. Aside from a 2-quart saucepan and a rimmed cookie sheet, all you need is: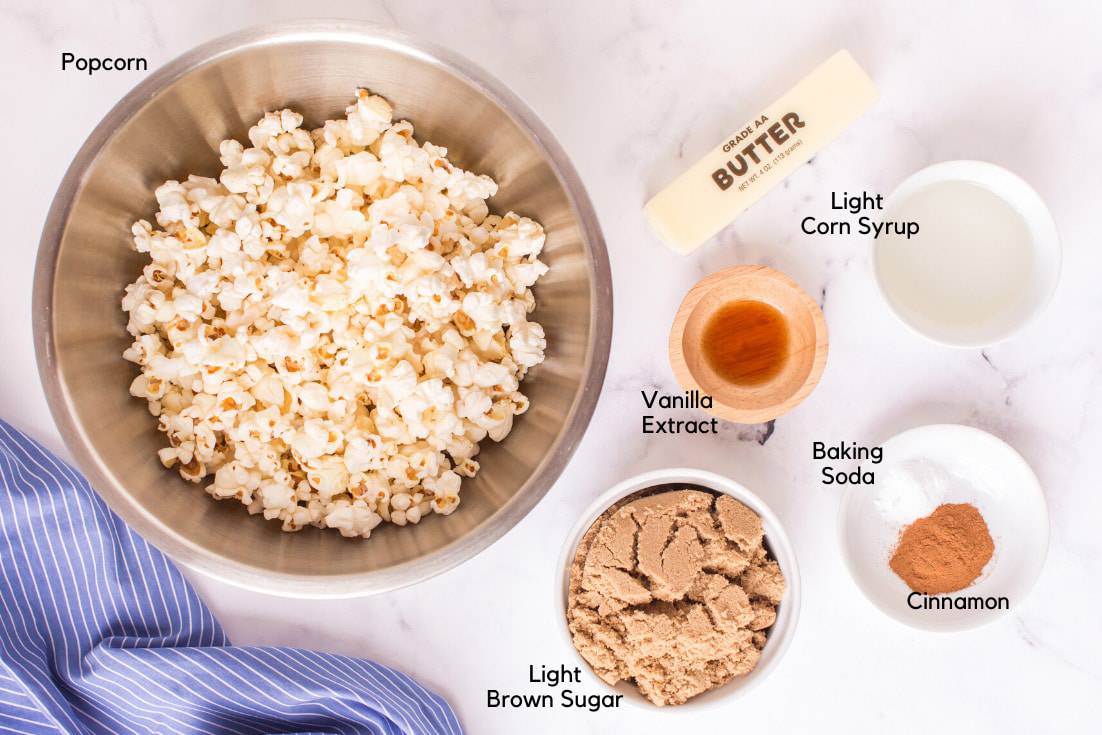 If you're wondering what makes this the best of its kind, it's because of the ingredients we use. Let me explain to you!
Popped popcorn

Although we usually pop our own corn when making this dessert snack, you can certainly buy some pre-popped popcorn. Hint: Go for the lightly salted popcorn!

Butter

I use salted butter for this recipe. I find that it helps balance out the sweetness of the sauce.

Light brown sugar

I recommend using a light Brown sugar as opposed to dark Brown sugar. I found that dark brown sugar tends to burn more quickly during the caramelization process.

Light corn syrup

I like to include corn syrup because it gives the popcorn a smoother consistency.
Pro Tip: You can substitute the corn syrup with molasses to give your popcorn a "crackerjack" flavor. We do this sometimes, along with some salted peanuts. So. Good!

Vanilla extract

Vanilla makes almost anything baked taste better. Be sure to use the pure vanilla extract and not the chemically engineered imitation stuff!

Baking soda

Once you add your baking soda into the caramel, it will become very bubbly. You want this type of reaction because it will cause your sauce to have more air, giving it a silkier texture.

Cinnamon

the cinnamon is completely optional, but I love the cinnamon flavor that it adds to this dessert popcorn.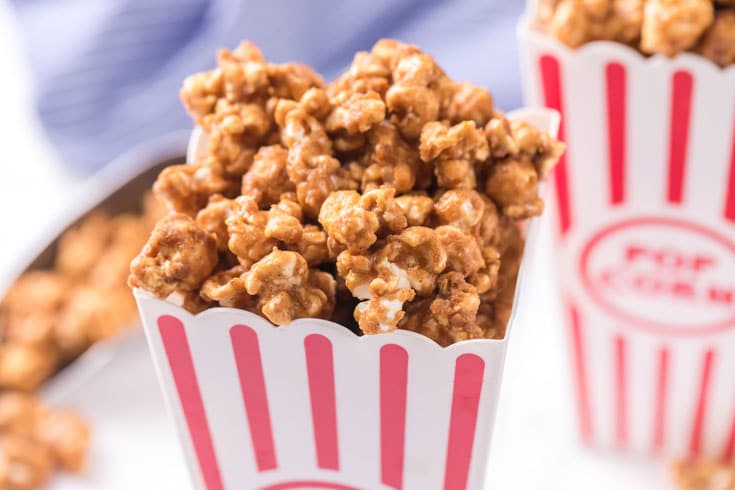 Start by preheating your oven to 215° F.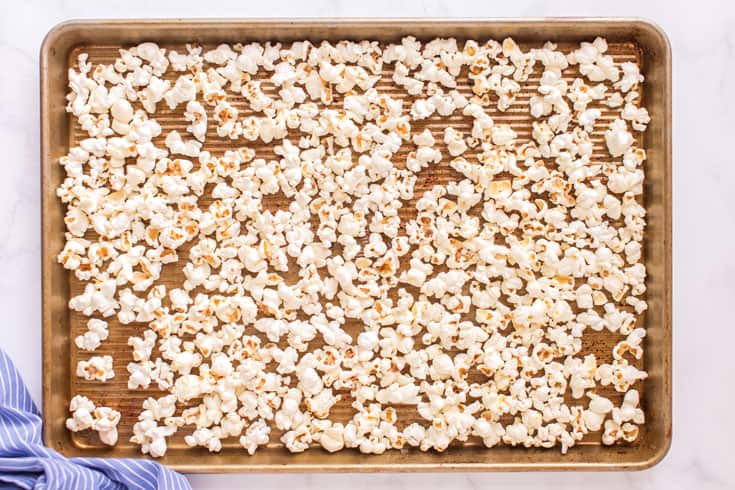 Then spread the popcorn on a rimmed baking sheet and place it on the center rack of your oven as it preheats. Heating it before pouring on the sweet stuff isn't entirely necessary, but it is helpful. I find that if slightly heated first, the sweet sticky stuff will spread easier.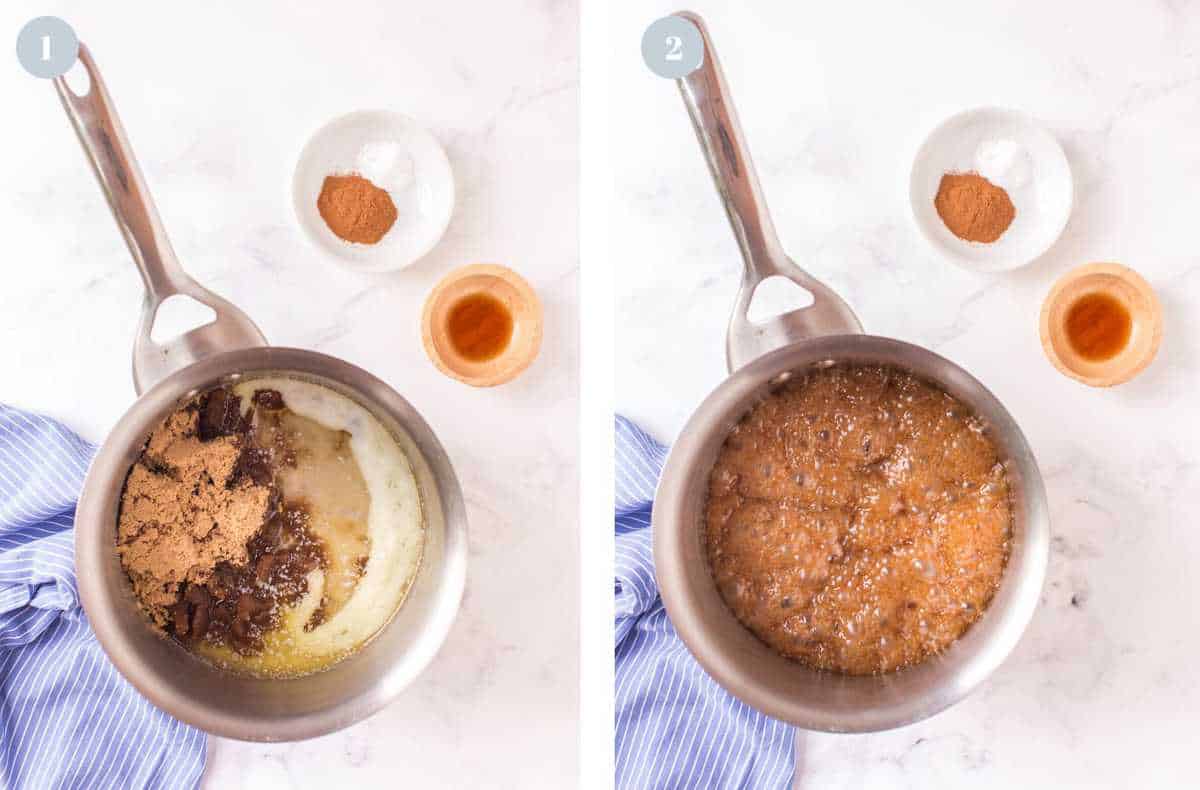 1. Make the caramel sauce by melting the butter, corn syrup, and brown sugar all together.
2. Whisk the remaining ingredients and bring it to a boil.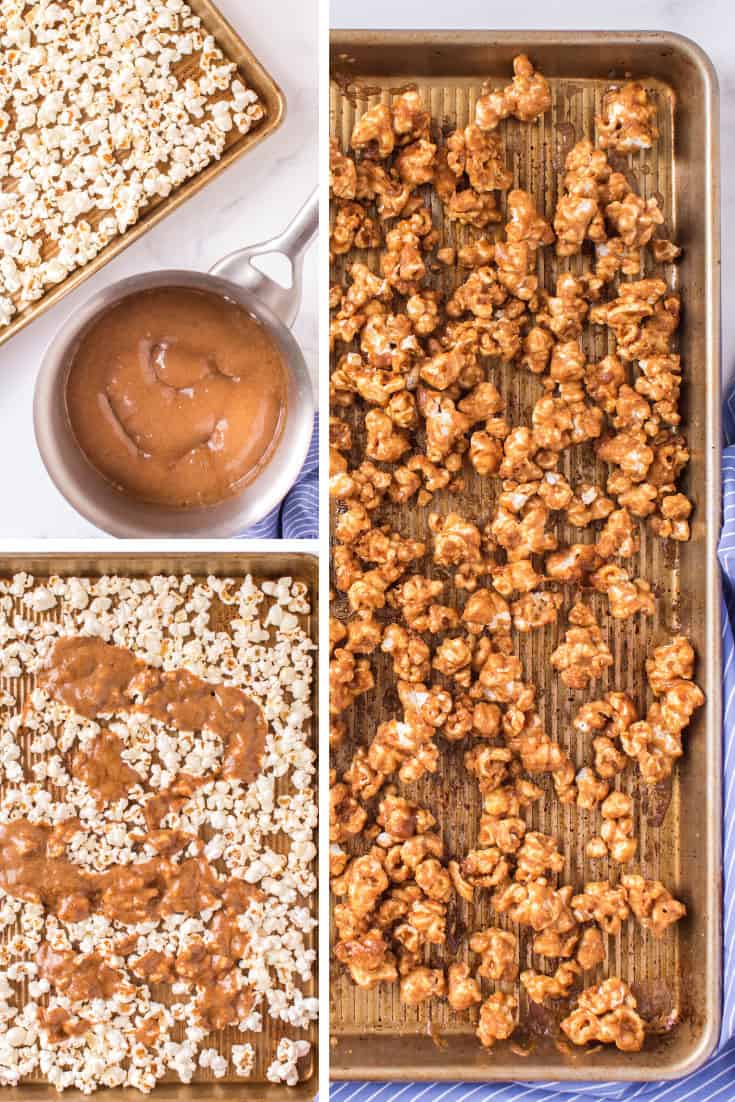 When you have the melted mixture ready to go, take the tray out of the oven. Then, use a rubber spatula to drizzle the sauce over the popcorn and toss it around gently. It's OK if you have some that is not covered because it's going back in the oven where it will eventually become evenly coated.
After you coat the popcorn, you'll place the tray back in the oven for another 45 minutes. You're going to check on it every 10 or 15 minutes and toss the contents about to help ensure an even coating.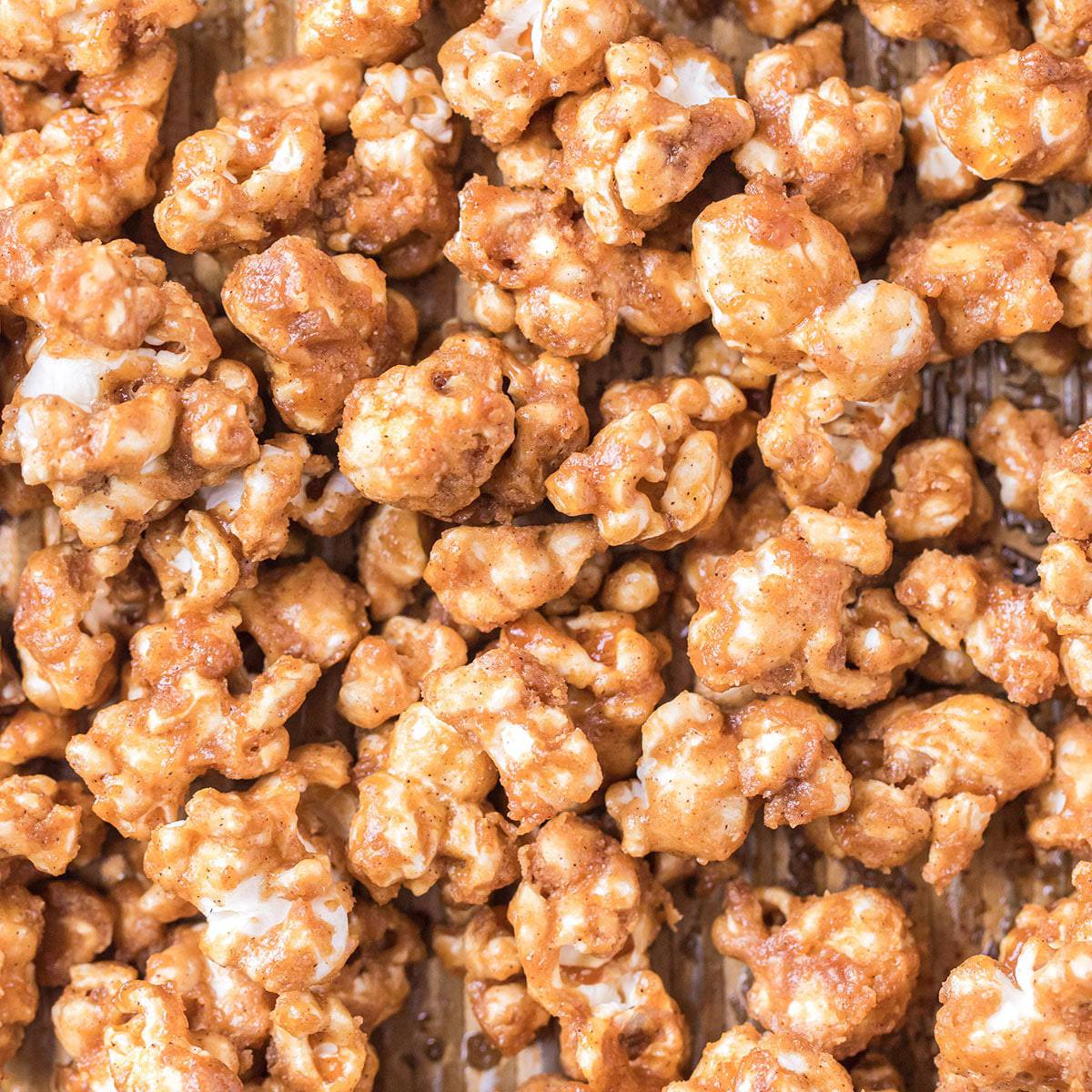 Finally, be sure you don't have any chunks of caramel when you take it out of the oven, before letting it cool. The last step is always the hardest, and that is letting it cool before eating. I learned that lesson the hard way once. What I learned is that it has to be similar to what hot tar would feel like, only sweeter, of course. It's a major ouch!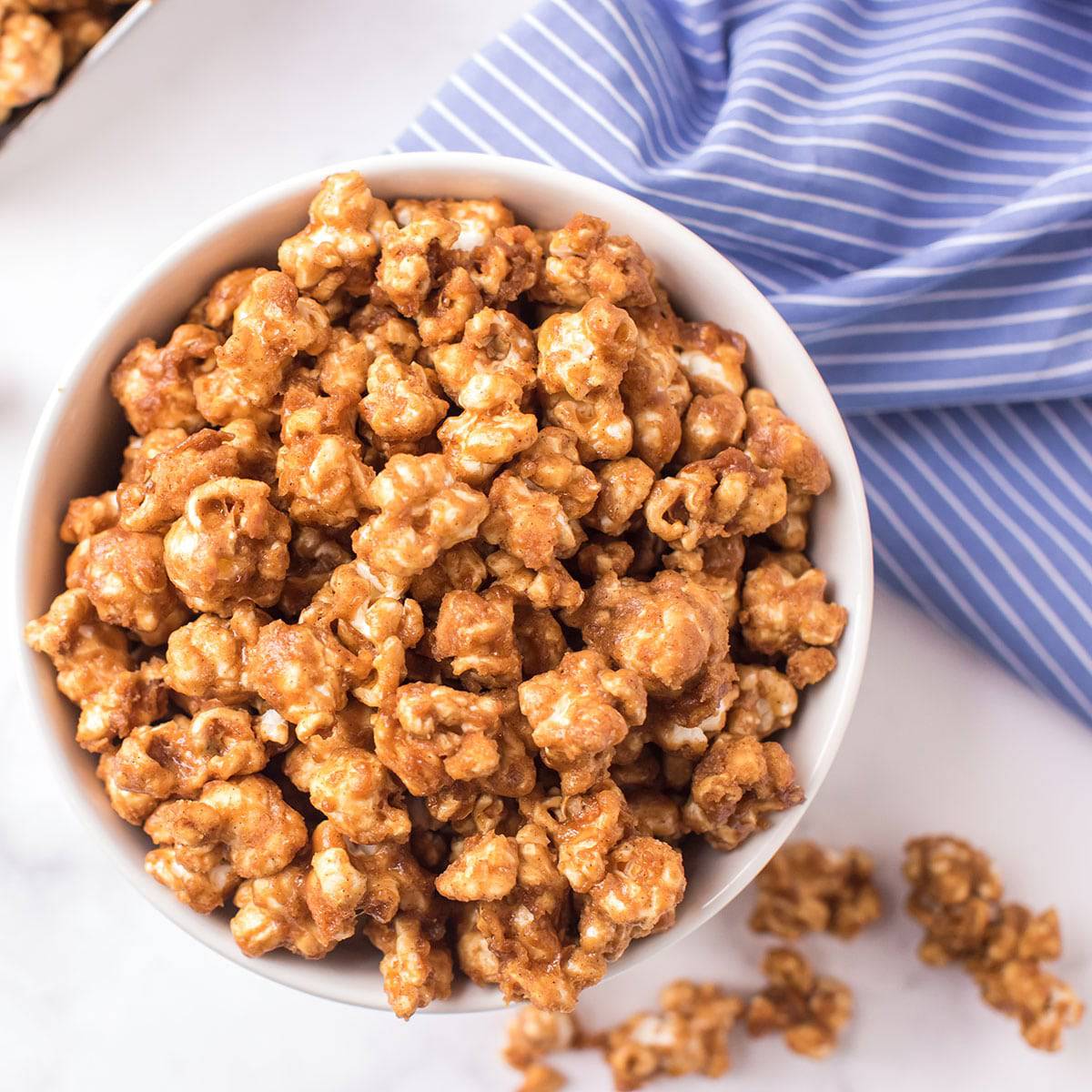 How do you store this caramel popcorn?
You can store this for an additional two weeks as long as it is stored in an airtight container.
How do I make my caramel popcorn chewy?
This recipe makes crispy corn because of the time spent in the oven. To make the popcorn chewy, you can skip the baking step.
Is it carmel or caramel?
If you're like me, you may have grown up eating Carmel apples in the fall. As I grew older, I could never understand where the extra "a" came in with caramel. Was it a mistake? As it turns out, I grew up misinformed, and like many things, I incorrectly referred to this classic fall treat.
So, which is it? Here's the deal. Caramel is the word for the sweet sticky treat we know. Here is a great recipe for how to make homemade caramel. Carmel, on the other hand, refers to a place, or maybe the name of a person. Now, you not only know how to make an easy caramel corn recipe, but you also know the difference between these two words!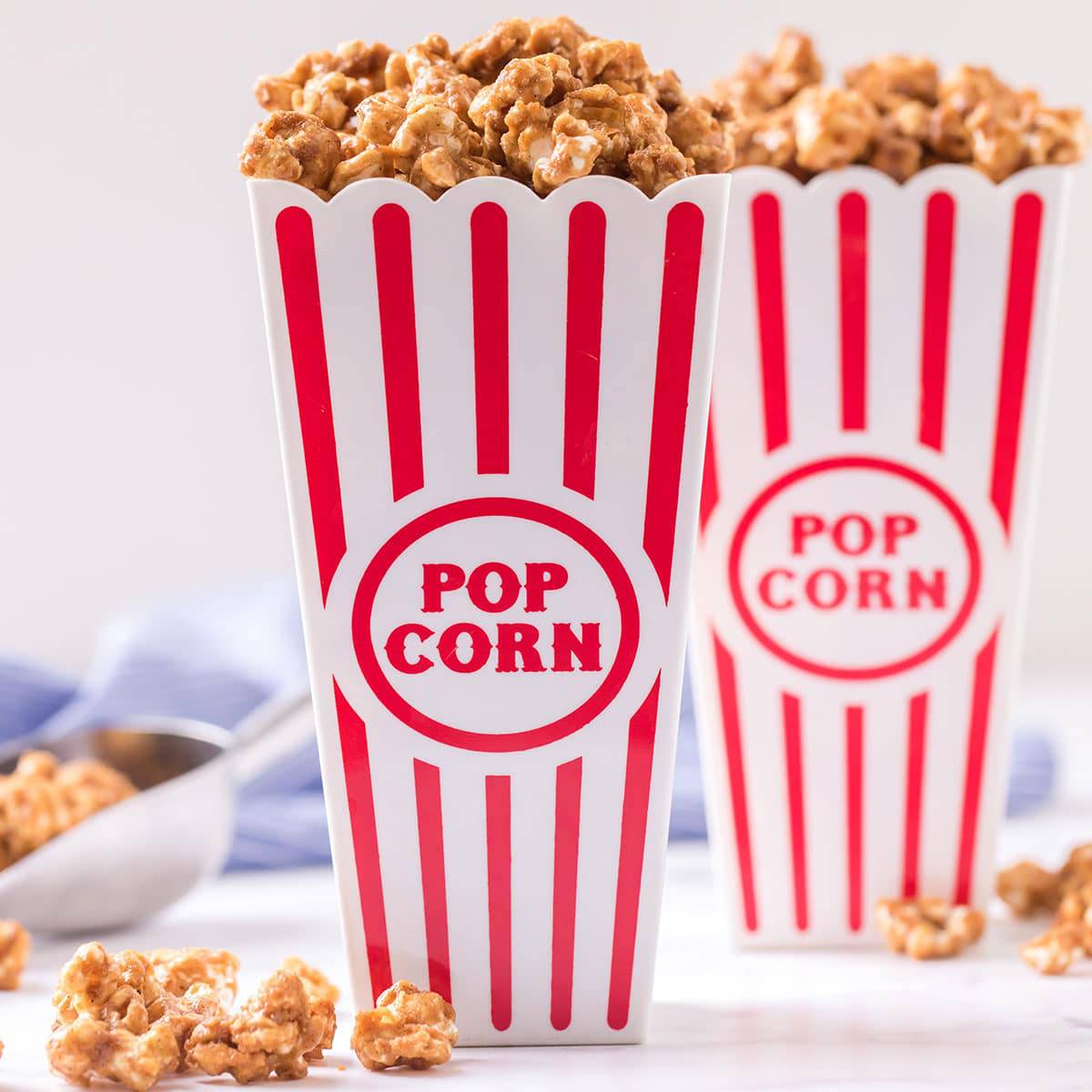 Sometimes dressing your food up a little bit can make it even better. Our boys love eating this treat from these fun popcorn boxes. We often put a movie on and then settle down with a bunch of these popcorn boxes filled with this easy dessert snack. The boys think we're at the theatre, but our wallets know the difference! Plus, this made-from-scratch caramel corn is better than any that you can buy.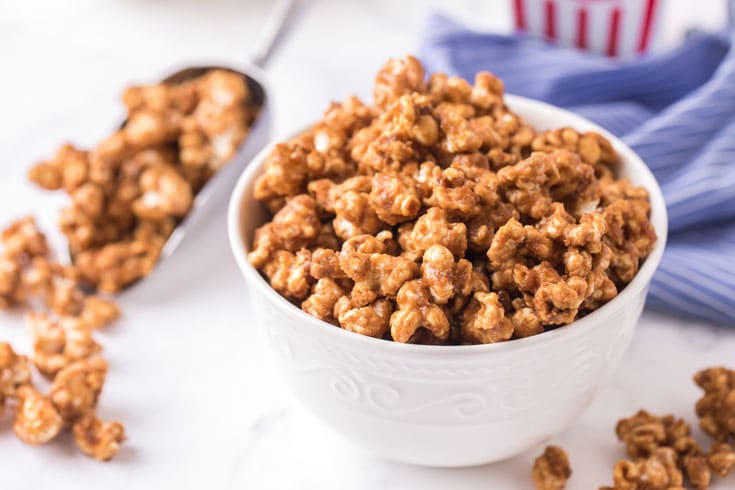 Please give this homemade treat a try. Be sure and let us know how you like it and what movie you watched with i
More recipes with caramel

See more easy snack ideas and appetizer recipes from Platter Talk.
👨‍🍳 Tried this Recipe? Please leave a ⭐⭐⭐⭐⭐ rating in the recipe card below and leave a comment. We love hearing from our readers!
⏩ Stay in touch with us on social media by following us on Facebook, Pinterest, Instagram, and YouTube!
📬Get our Recipes delivered to your inbox for FREE!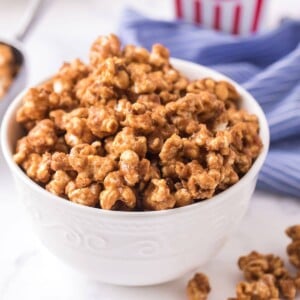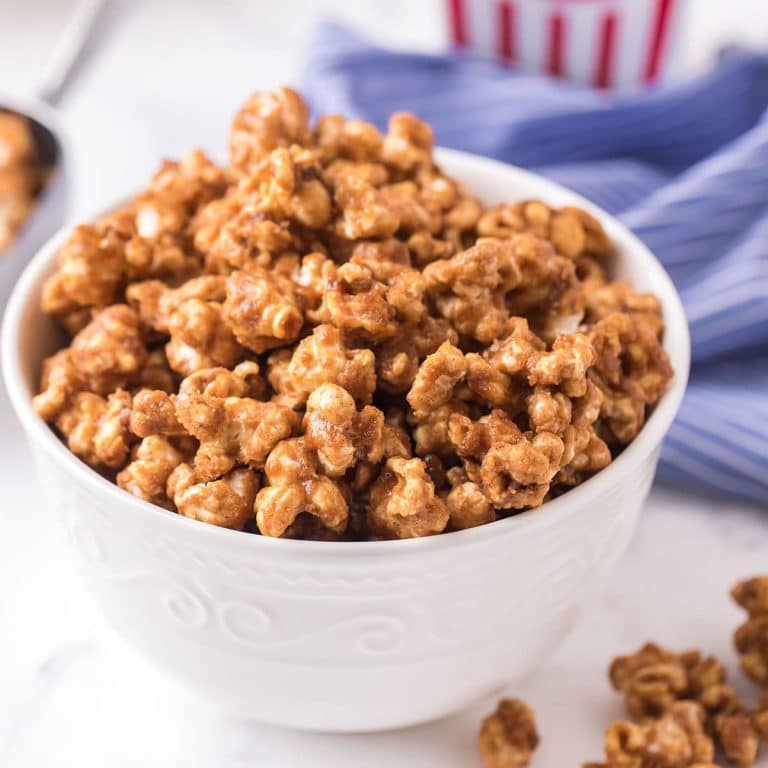 The best homemade caramel popcorn
Learn how to make easy caramel popcorn from Platter Talk.
Instructions
Preheat your oven to 215°. While the oven is heating, place the popcorn on a baking sheet and place it on the center rack of the oven.

Using a medium-size saucepan, melt the butter over medium heat. Add the sugar and corn syrup and stir until thoroughly combined. Whisk the mixture constantly until the butter and sugar come to a boil. Whisk in the baking soda, salt, vanilla extract, and cinnamon, and let boil for 1 more minute.

Take the popcorn out of the oven and drizzle the hot mixture over the popcorn then use a rubber spatula to gently fold until the popcorn is coated. It's okay the popcorn isn't completely covered. The oven will reheat the caramel and make it easier to coat the rest of the popcorn.

Place popcorn back into the oven and cook for 45 minutes, stirring every 15 minutes. Make sure to break up any large chunks before it cools completely. Remove from the oven and allow it to cool before serving.
Notes
Heating the popcorn before spreading the caramel sauce on it will make it easier to spread.
If you want to make chewy caramel corn, skip the oven part.
For a Cracker Jack taste, add a little molasses to the sauce and toss in some peanuts.
Using a large nonstick skillet will make your cleanup easier!
Use a heat-resistant, silicone spatula to work with the caramel sauce. This will clean up much easier than a wooden spoon.
Nutrition
Calories:
238
kcal
,
Carbohydrates:
31
g
,
Protein:
1
g
,
Fat:
13
g
,
Saturated Fat:
8
g
,
Cholesterol:
35
mg
,
Sodium:
170
mg
,
Potassium:
42
mg
,
Fiber:
1
g
,
Sugar:
31
g
,
Vitamin A:
405
IU
,
Calcium:
30
mg
,
Iron:
1
mg
Nutrition information is automatically calculated, so should only be used as an approximation.