In our kitchen and subsequently on our dinner plates, we've been trying a few new things over the past year.  Since officially launching platter talk we have introduce ourselves to a few culinary techniques, foods, and ingredients that are new to us and by the same token, we hope to have introduced some that are new to you, our reader.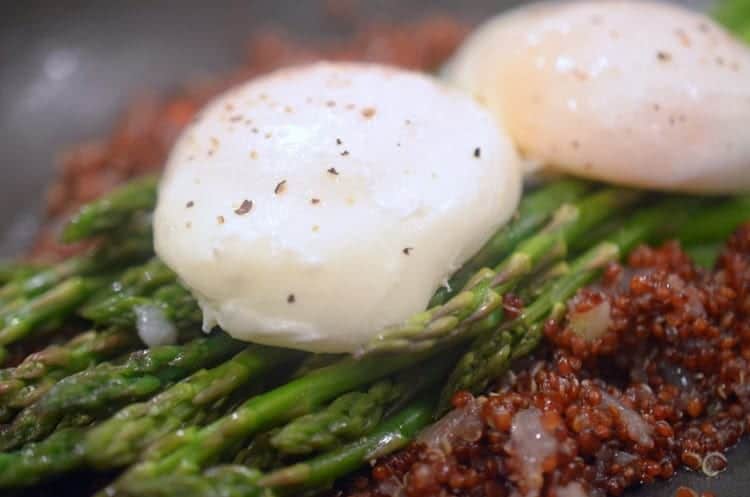 By now, almost everyone has heard about quinoa, the ancient Peruvian grain that produces edible seeds, replete with protein and lacking gluten.   Over the last several years, quinoa has become a favorite food of health enthusiast, being touted as an all natural super-food, and with it's popularity has come a constant flow of new uses and idea for quinoa.

We've featured it a few times here on platter talk, with some stuffed cherry tomatoes, where we mixed it with some goat cheese, with a delicious and colorful salad  featuring butternut squash and roasted  red peppers, and we even showed you a quick technique for rinsing the uncooked seeds to help wash away the inherent inherent of its natural state.

Today we are adding one more meal idea to our collection of quinoa dishes.  The fresh asparagus and poached egg add color, taste, and nutrition to the mix.  Taking it an even higher level of sensation, we crisped up the underlying bed of quinoa, adding more texture and crunch to an already sensational entree.  For a crowning touch, we drizzled a swirl of lemon-balsamic reduction over it all, tying the whole package together for an easily attainable meal that indulges your body and your soul.
  Never Miss Another Platter Talk Recipe
Poached Egg over Asparagus & Crispy Quinoa
A Platter Talk Exclusive
Author:
Dan from Platter Talk
Ingredients
1 cup uncooked quinoa, rinsed
1½ cup low sodium chicken broth
8 oz. asparagus
2 eggs
1 shallot, finely sliced
½ red chili pepper, seeded and finely sliced
½ cup balsamic vinegar
juice from ½ fresh lemon
1 tablespoon olive oil
fresh ground peppercorn to taste
Instructions
Using small sauce pan, combine chicken broth and quinoa over medium heat.
Cover and bring to boil, then reduced heat to simmer, cook for about 12 minutes.
Wash and stem asparagus and set aside.
Heat and prepare water in pan to poach eggs.
In small sauce pan, combine balsamic vinegar and lemon juice and heat over medium heat. Reduce to about 2 tablespoons, about 7 to 10 minutes.
Add olive oil to medium sized saute pan and heat over medium high setting.
Add shallots and chili pepper to pan and stir.
Drain cooked quinoa, reserving sauce pan.
Add half of quinoa to pan containing shallot and chili pepper. Stir for a minute, then add remaining quinoa.
Stir over high heat to crisp the quinoa, then return entire mixture to small sauce pan, cover and set aside. Reserve saute pan.
Add asparagus to reserved saute pan and stir over medium heat, until bright and al dente, firm to the bite. Set aside and loosely cover.
Poach eggs in prepared water.
Plate quinoa, asparagus and poached eggs. Drizzle with
Notes
Warm serving plates prior to serving.
Add small amounts of water to balsamic reduction to maintain desired level of viscosity.
Serve with tasted whole wheat pita bread.