If you've ever wondered how to rinse quinoa, you're going to love our Easy Rinse Method for Quinoa!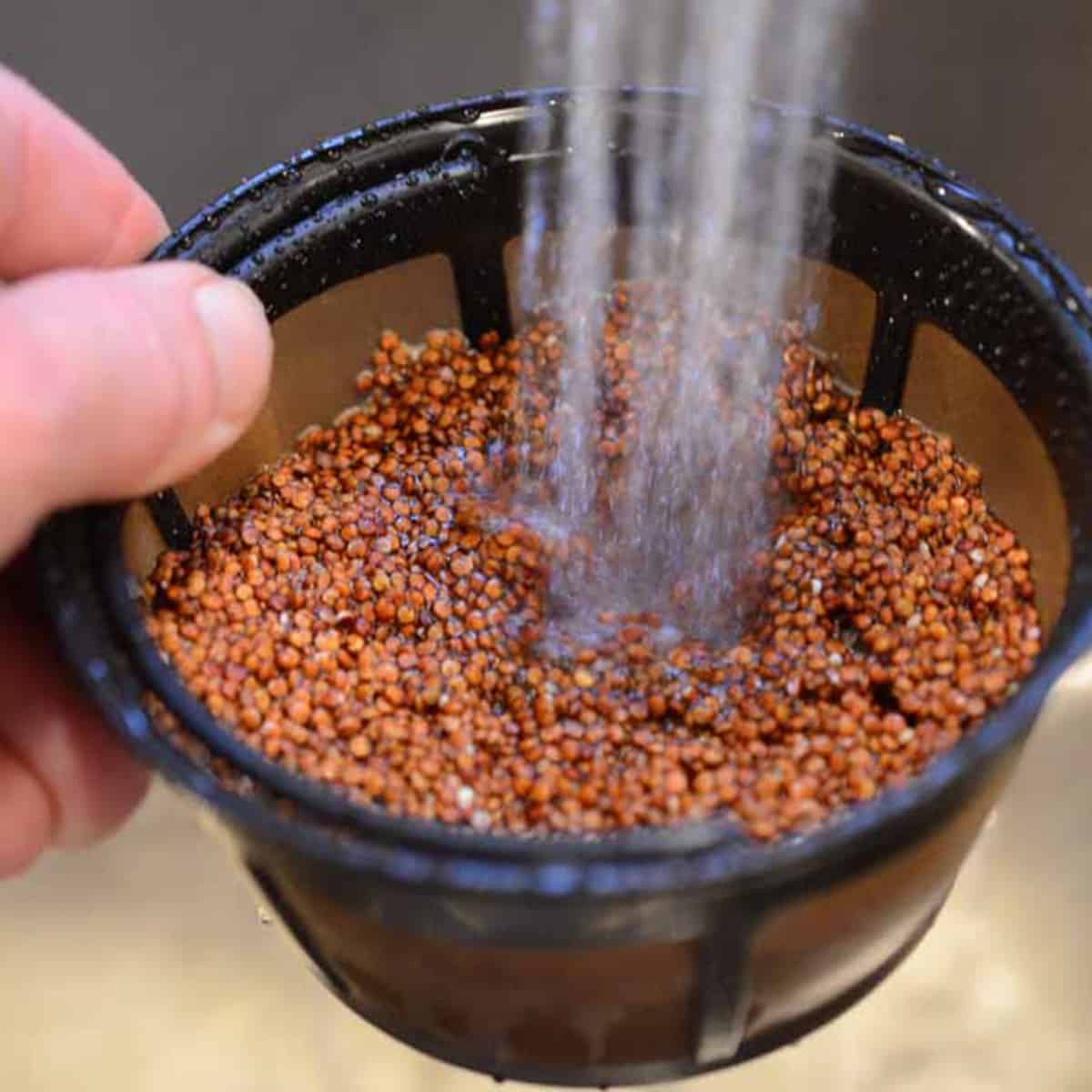 We have a few quinoa recipes here on Platter Talk. Quniona is the ancient power food that is making a resurgence in the 21 century.
I try to use more of it in our menu planning and one of my favorites quinoa recipes is Costco's Quinoa Salad. (That's on my list of must-make copycat recipes!)
How to Rinse Quinoa
As you may or may not know, quinoa needs to be rinsed with cold water before cooking it.  This simple process will help get rid of the bitter-tasting compound (saponin) that coats the tiny seeds; if you don't do it, it's going to taste wrong and you'll never want to use this ancient power food again in your diet. We don't want that!
Because the quinoa seeds are so tiny, you don't want them to disappear down your kitchen sink drain when you rise them. Here's where things get fun: Use a fine-mesh strainer.
---
This basket-style coffee filter stores easily in your kitchen drawers and make for a handy fine-mesh strainer for rinsing quinoa and so much more! Order yours from the Amazon below!
Platter Talk is an Amazon affiliate and receives a very small commission on any sales which help us to keep bringing you the best recipes and food ideas around!
How Do You Strain Without a Strainer?
If you don't have a fine-mesh strainer in your kitchen (like me) , use a coffee filter.  It does a great job of holding the quinoa while that nasty bitter-tasting stuff goes down the drain and leaves the good tasting seed for you to enjoy!
Be sure and use a clean, dry filter. Fortunately, the quinoa doesn't leave a residue, unlike those pesky coffee grounds.
Do You Rinse Quinoa Before Cooking It?
If so, let us know your methods and we will be happy to pass them on to our readers. We always love learning new ideas and techniques for useful kitchen hacks.
Be sure and check out our other Platter Talk Kitchen Tips! Who knows what you may learn to make your life in the kitchen just a little easier and less complicated.
This will wash away the saponin which is a bitter tasting plant compound - See more at: https://www.plattertalk.com/2013/09/quinoa-and-goat-cheese-stuffed-cherry.html#sthash.9OfEJZJ0.dpuf
Rinse the quinoa seeds with cold water,  prior to using.  This will wash away the saponin which is a bitter tasting plant compound.  - See more at: https://www.plattertalk.com/2013/09/quinoa-and-goat-cheese-stuffed-cherry.html#sthash.9OfEJZJ0.dpuf
Updated from original publication date of November 8, 2013