It's been cookie week in our house.   We've made ginger cookies, and cherry cookies, and fudge crinkle cookies, and even made-up cookies.  Confession Time:  I could make cookies until next Christmas.
Be sure and click the photo above for one of our latest cookie creations!
Just to keep thing interesting, this post is not about a cookie per se, perhaps something more between a cookie and a pie.    Yes, this post is about Holiday Wonton Kisses.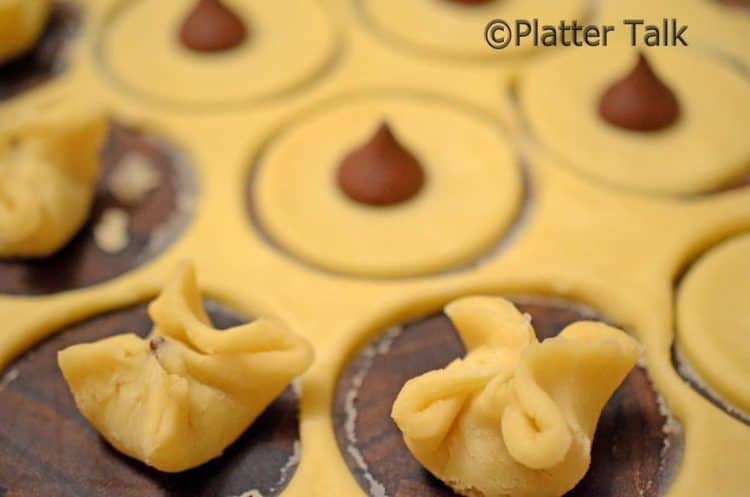 Let's face it, this time of year in particular, our pantries are stocked.   With all the fixings for our favoite cookies, a pie here and there, and of course an over abundance of confectons, the sky seems to be the limit with what we can put togeteher to keep our ovens and stove tops in good use.
These wonton kisses are a hybrid of sorts.  Part pie, part candy, and part cookie.  Sounds like a veritable trifecta, if you will.  Just two simple and classic holiay components make up these bite-size treats:  Pie pastry and Hershey Kisses.
To make them, you can simply purchase a refrigerated pie crust from the store (unless you're me) and a package of Hershey Kisses.   I found some pie crusts inside the coolers of my favorite grocery store.  I even held them in my hands.
Yet, I just could not do it.  Call me crazy, perhaphs it's the lingering Mennonite in me – I can't say for certain.  However, I can say this, given the choice betweeen commerically prepared and frozen versus 3 cups of flour and a half cup of shortening form my own pantry, along with a couple of other ingredients, I'm going to mix it up myself.  Every.  Single.  Time.
Want to make your own crust?  Check out my pie dough recipe at the end of this post.