Shoofly Pie is part of my Amish and Mennonite roots. Today I'm honored to share an easy and delicious slice of my heritage with you.
You can make this old-fashioned shoofly pie in under an hour and today I'm going to show you how to do it, step-by-step. You're going to love this Amish dessert recipe!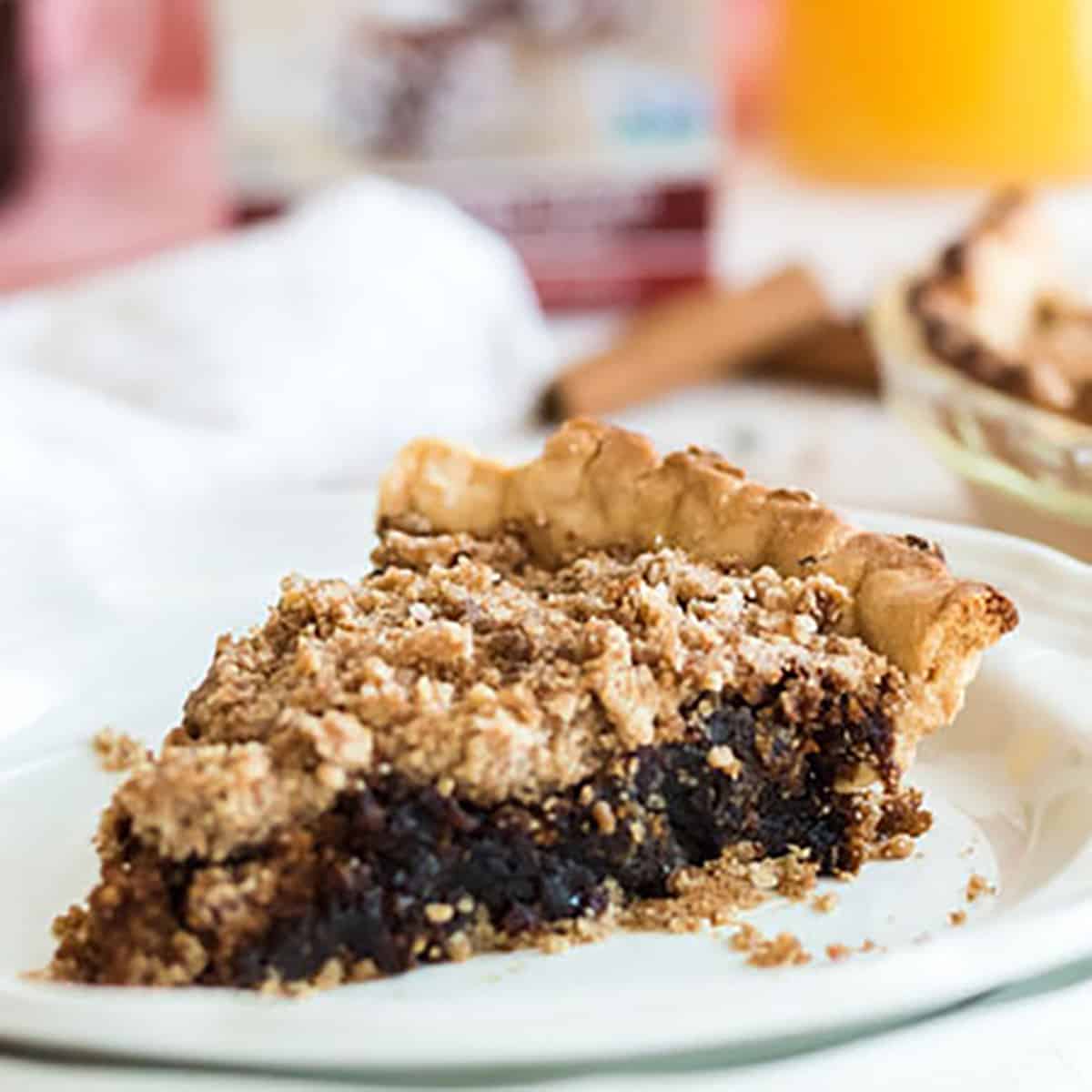 Jump to:
About this
This recipe for shoofly pie first came about as a molasses cake that was a popular breakfast item among the Pennsylvania Dutch, sometime after the civil war. There were no eggs used in the original recipe and so historians think it was first made in the wintertime when the chickens were not laying eggs. Back then there was no crust involved either.
A crust was eventually added to the recipe to make it easier to eat, and the above piece of heaven is now known as Shoofly pie. In the Pennsylvania Dutch language, this is known as Melassich Riwwelboi or Melassichriwwelkuche. This was also once known as Granger Pie but you'll call it simply delicious.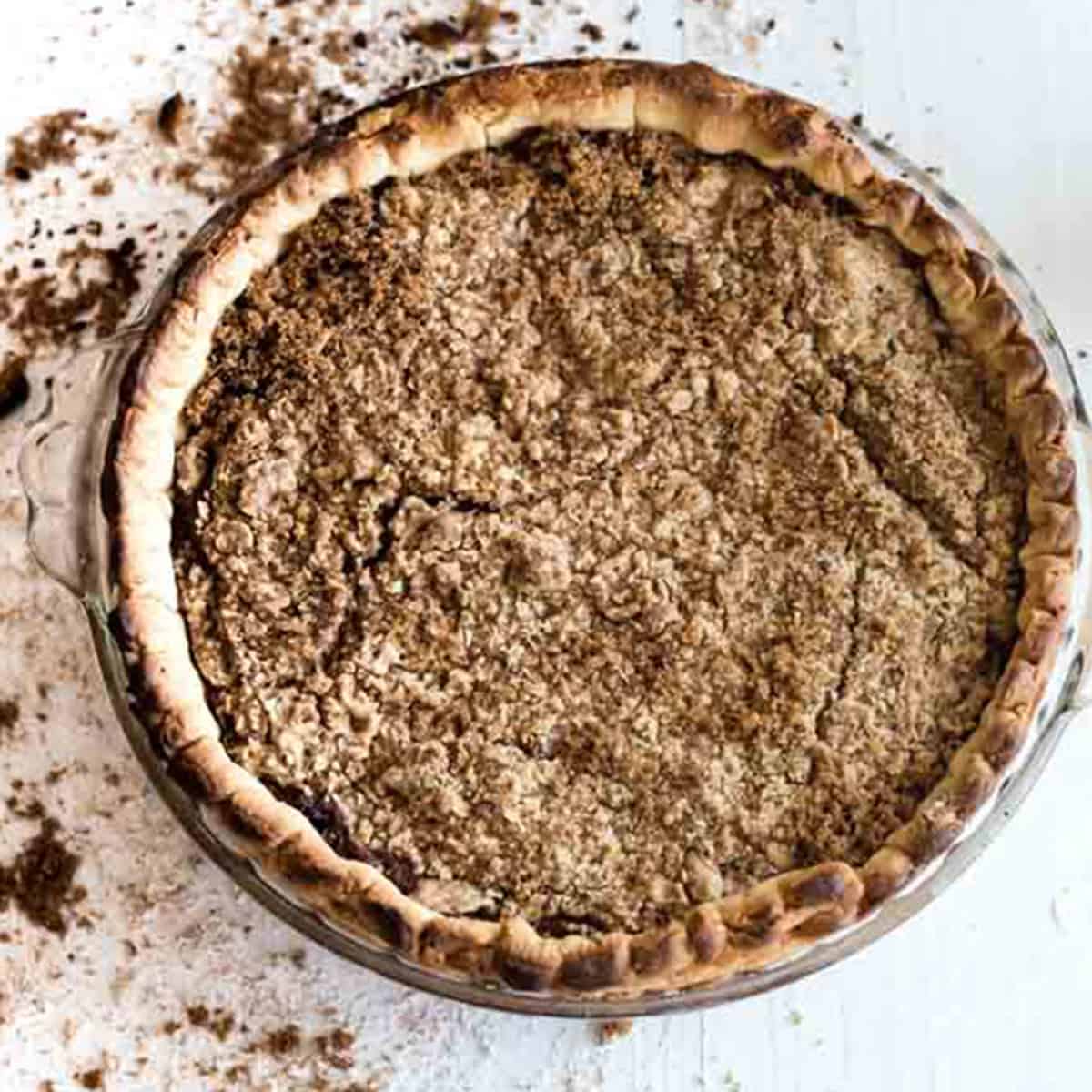 This is the food I was raised on. My mom would make these homemade pie recipes almost every single day, back on the farm.
I know that if my DNA was analyzed, strands of Fasnacht, Crusty Bread, and similar Amish recipes would all be found. Along with crumbs from this old-fashioned dessert.
What's in this?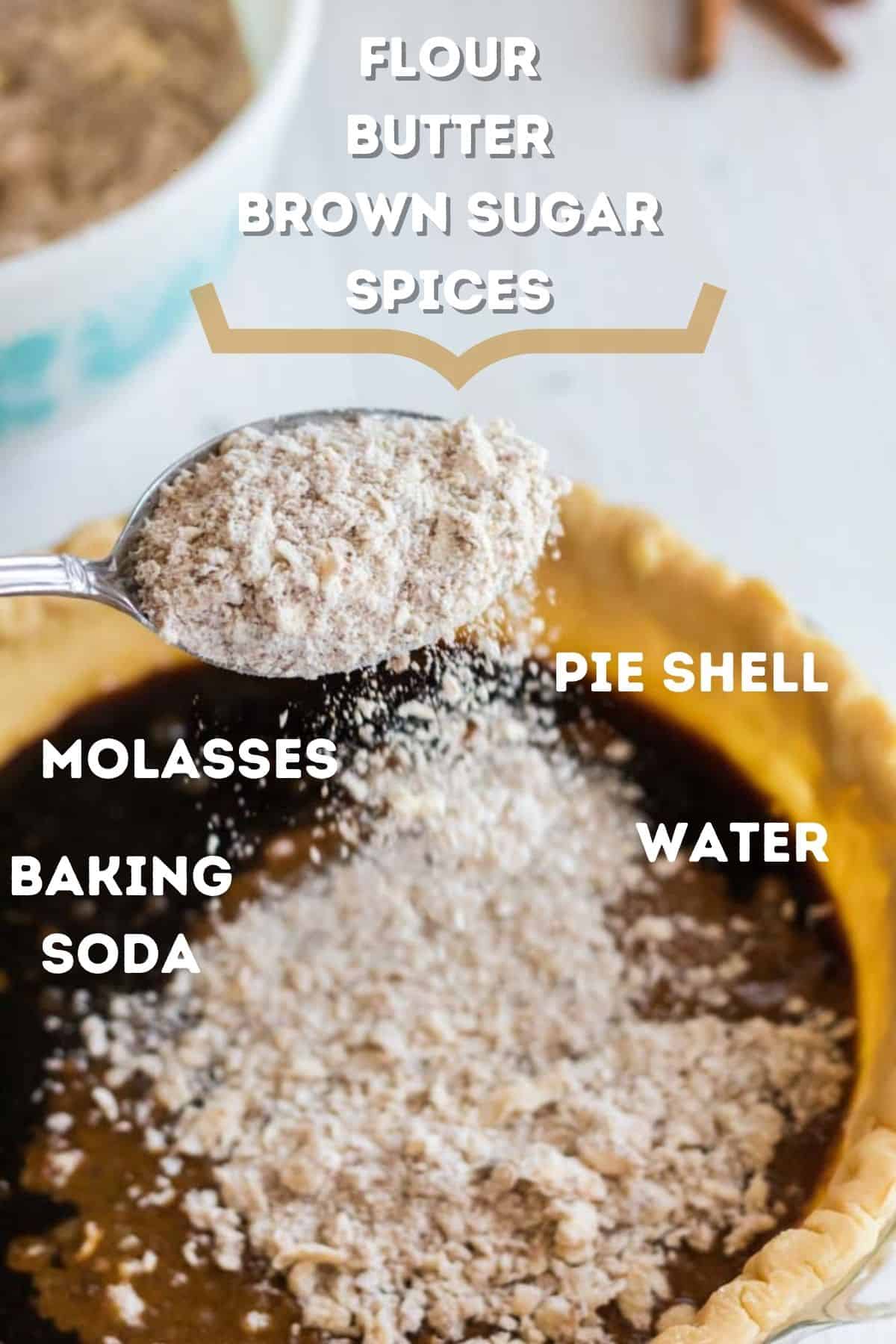 Molasses - This is the main ingredient in shoofly pie. The age-old question is light or dark? Hard-core molasses fans might even opt for the blackstrap molasses. Many bakers use a combination of light and dark varieties.
Light molasses is the sweetest form and is often used in molasses cookies.
Dark molasses is made after a second boiling. It is richer and not as sweet as the light variety. You'll use this kind of molasses for making the best gingerbread.
Blackstrap molasses is the darkest, most bitter, and highest in nutrients. I don't recommend using blackstrap in this molasses pie.
No Amish baker worth their salt would use a store-bought crust. The good news, if you are reading this then chances are very high that you are not Amish. Therefore, you are off the hook!
Take the easy way and pick up a pie shell from the grocery store. It will be our little secret!
If you want to know how to make a pie crust from scratch, we are more than happy to show you how it's done!
Variations: dry-bottom vs. wet-bottom
Dry-bottom shoofly pie comes from mixing the crumbs in the batter, before baking.
This gives the dessert a more cake-like consistency, making it easier to eat without a crust back in the old days when it was eaten for breakfast with a mug of strong black coffee.
Wet-bottom shoofly pie is what we are showing you how to make today, and the crumbs are sprinkled on top of the filling, giving each slice a more custard-like consistency.
How to make it

Start by making your own crust, or picking one up from the grocery store. Then, it's time to get down to the business of making a homemade Amish recipe!
Start with the Crumb Topping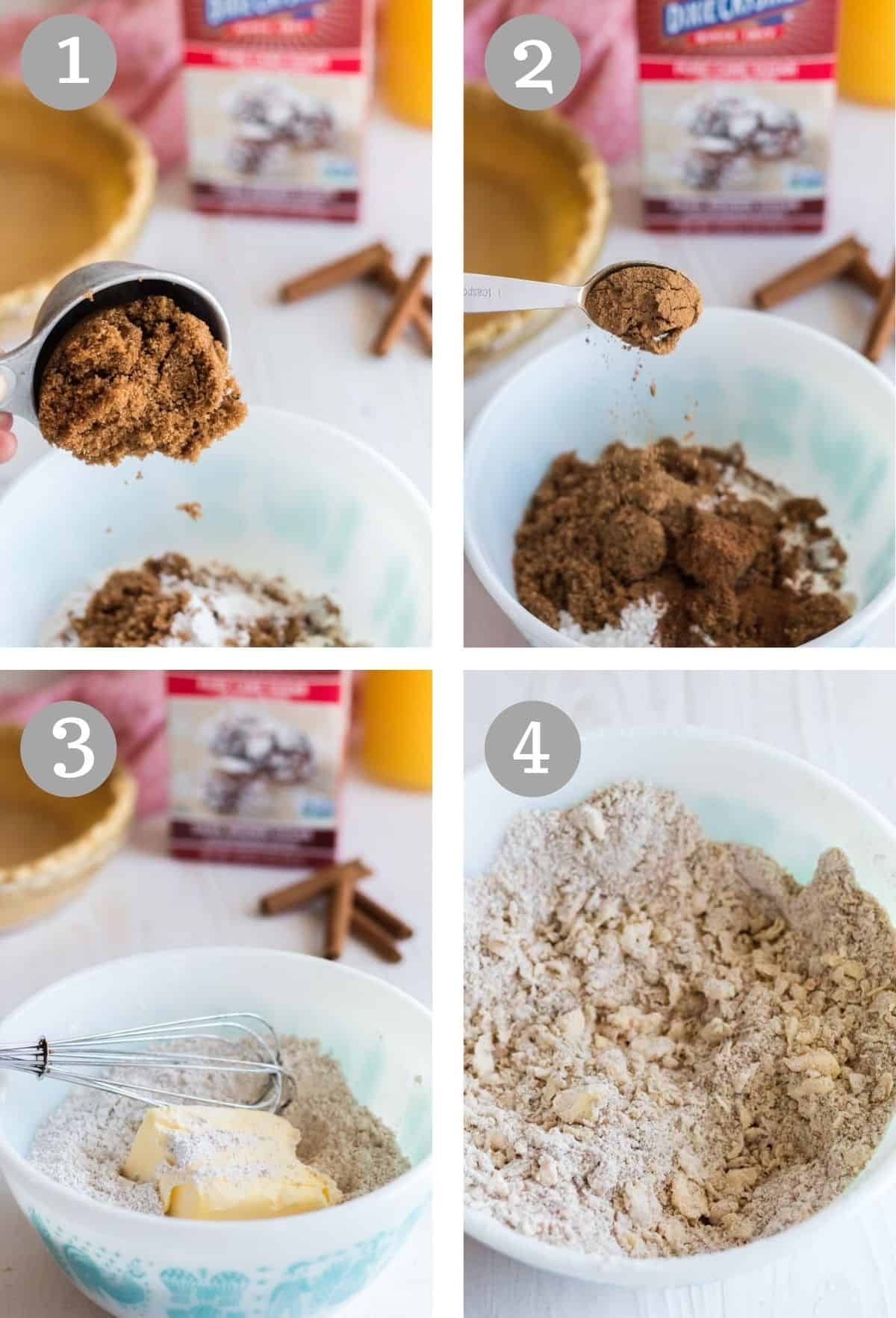 In a medium-size mixing bowl, combine the flour and brown sugar. Pro Baking Tip: Use dark brown sugar for a deeper and more caramel-like flavor to this Amish recipe.
Mix in the cinnamon and nutmeg and a pinch of salt.
Use a pastry cutter or table fork and cut in some cold butter.
The crumb topping should have a cornmeal consistency when it is finished.
Make the Filling

To make the filling for shoofly pie, you'll combine molasses, water, and baking soda and pour it into the pastry shell. You can see how we do this in steps 1 and 2 below,.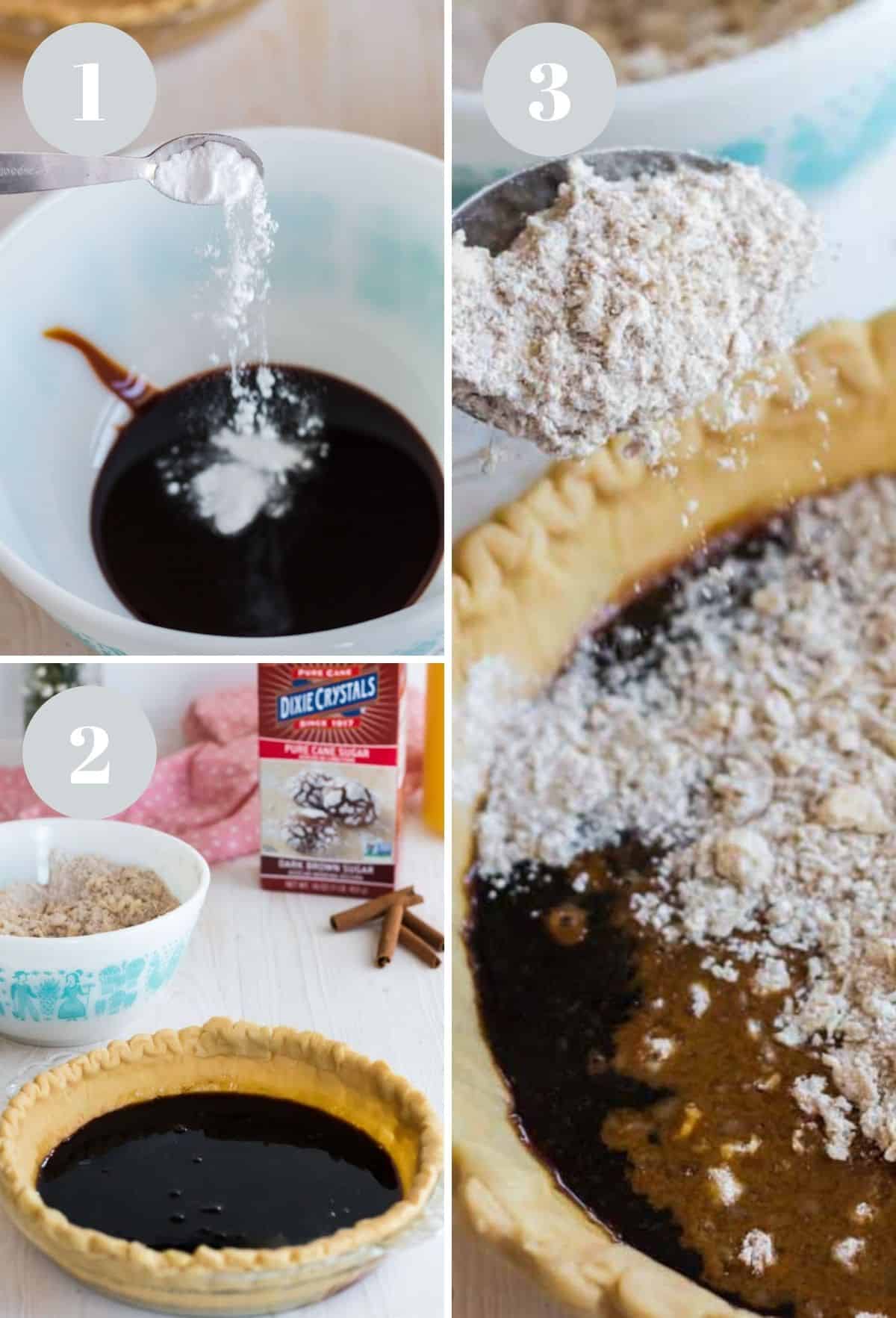 Then, add the crumb topping to the top of the unbaked dessert.
When adding the crumb topping to this Amish recipe, you can leave it on top for more custardy wet-bottom shoofly pie, or mix it in a bit and end up with a more cake-like, dry-bottom version.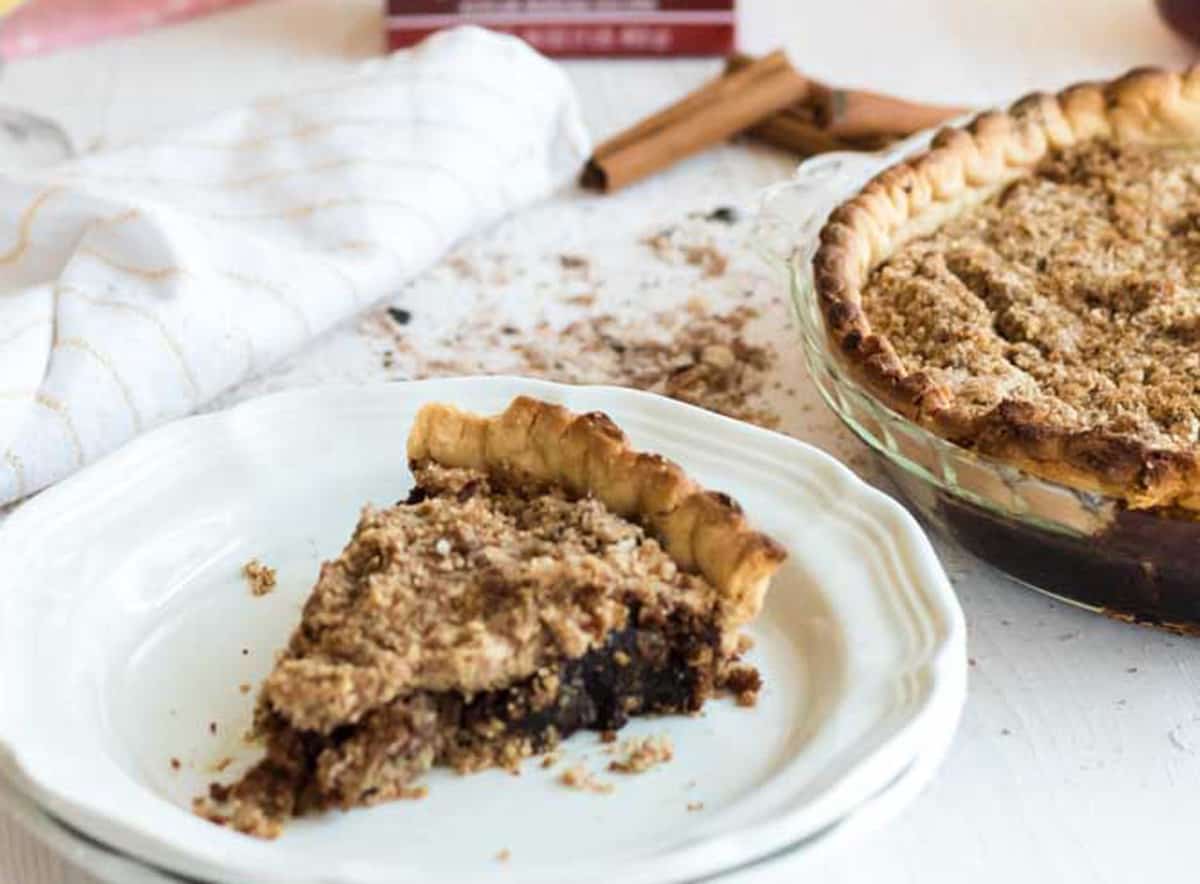 You'll bake this for 15 minutes at 450° F and then lower the oven temperature to 350° and then continue baking for another 20 minutes.
Common questions
Why is this called shoofly pie?
The sticky and sweet nature of molasses was known to be a magnet of flies. Can you blame them? "Shooing" them away eventually let to the modern name of this Amish recipe.
Does this need to be refrigerated?
No, you can safely leave out for five days. Be sure and cover it with a towel though. Otherwise, you may be saying, "Shoo fly!"
What does shoofly pie taste like?
This has a taste of molasses combined with sweet crumb, making it excellent as a dessert or breakfast treat.
What state is known for shoofly pie?
Pennsylvania, which is where Lancaster county is located, is the state where this is best known.
The shoofly pie song

Finally, I leave you with a little bit of fun to enjoy with this homemade dessert.
The shoo fly pie song was made popular by Dinah Shore, take a listen and for goodness sakes, try making this old-fashioned dessert!
Similar recipes
Many of these recipes come from The Mennonite Community Cookbook
This post is lovingly dedicated to my beautiful mom, Sarah Jantzi Zehr. She was raised in the Amish-Mennonite faith and made hundreds if not thousands of pies throughout her life. I'm not sure if she ever used a recipe.
👨‍🍳 Tried this Recipe? Please leave a ⭐⭐⭐⭐⭐ rating in the recipe card below and leave a comment. We love hearing from our readers!
⏩ Stay in touch with us on social media by following us on Facebook, Pinterest, Instagram, and YouTube!
📬Get our Recipes delivered to your inbox for FREE!

📖 Recipe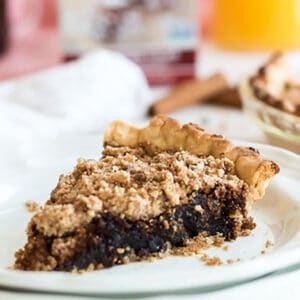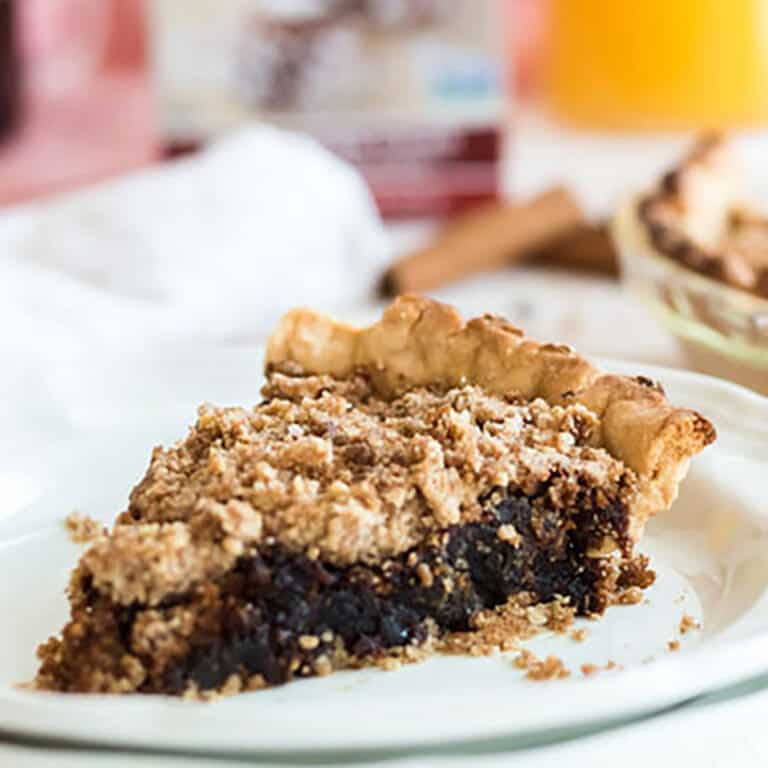 The BEST Shoo-Fly Pie
This recipe comes from the Pennsylvania Dutch and has since become a classic Amish recipe. Learn how to make a shoofly pie at home and in under an hour. Adapted from the New York Times.
Print
Pin
Rate
Ingredients
1

pie crust

rolled flat and placed in a 9-inch pie plate.

1.5

cups

flour

1.5

cup

brown sugar

dark

1

tsp

cinnamon

½

tsp

nutmeg

1

pinch

salt

¼

cup

butter

cold and unsalted

¾

cup

molasses

¾

cup

water

boiling

½

tsp

baking soda
Instructions
Preheat oven to 450° F. Prepare pie crust from scratch or use a store-bought one.

Make the Crumb Topping
Combine the flour, sugar, cinnamon, nutmeg in a bowl, add a pinch of salt and mix well. Use a fork or pastry cutter work in the butter, until you have a pebbly consistency.

Make the Filling
Add the molasses and water along with baking soda, all into a mixing bowl and combine well. Pour the mixture into a prepared pie shell. Evenly sprinkle the crumb topping on top.

Bake in the oven for 15 minutes and then reduce the oven temperature to 350° and bake for 20 more minutes. The shoo-fly pie is done when it is set and firm.

Nutrition
Calories:
483
kcal
|
Carbohydrates:
92
g
|
Protein:
3
g
|
Fat:
11
g
|
Saturated Fat:
5
g
|
Cholesterol:
15
mg
|
Sodium:
246
mg
|
Potassium:
563
mg
|
Fiber:
1
g
|
Sugar:
63
g
|
Vitamin A:
175
IU
|
Calcium:
112
mg
|
Iron:
3.5
mg