Conchigliette al forno (Italian Baked Shells)
on Oct 09, 2014, Updated Nov 02, 2021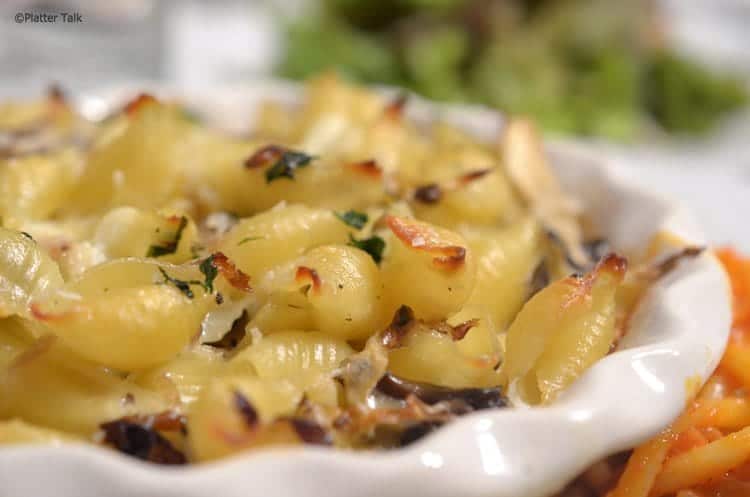 The little church that our family attends is holding its annual major fundraiser, once again in a few weeks. You are probably wondering why we are writing about it here on Platter Talk. Let me explain. Our pastor and friend Paola is a native daughter of Italia. You might recall that we mentioned her a time or two last year when we covered this same event here on Platter Talk. Still, that doesn't answer the question. Maybe this does: Authentic Italian Food. That's what it's all about for Viva Italia and guess who puts it all together. Our friend and the pastor of the church, Paola. This multi-course Italian dinner features food from Paola's heart via her hands and kitchen. We are starting out this year's Viva Italia coverage by this mouthwatering Conchigliette al forno, shells from the oven.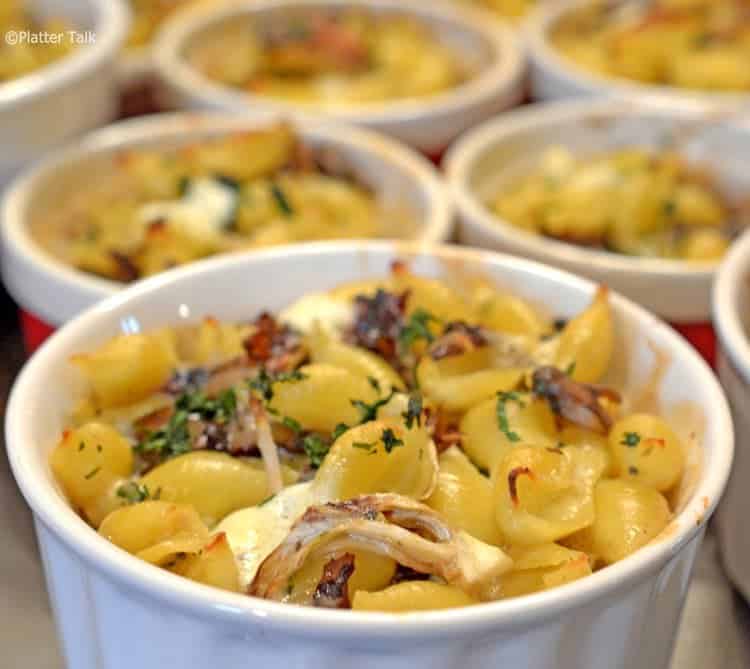 We talked a little bit about the lady behind this food last year when we featured her delicious Italian Savory Pies, Spaghetti alla Carbonara, Risotto al Pomodoro, hand rolled Gnocci, and a Baked Polenta dressed with Four Cheeses. This post is featuring a warm and heavenly pasta baked in an understated tone of creamy Gorgonzola and other cheeses, along with portabella mushrooms and sage. Truly, mouthwatering fare.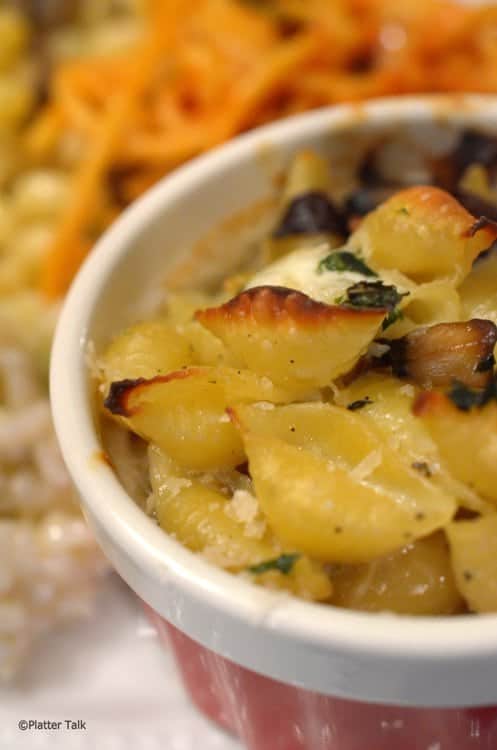 Enjoying Paola's food is never a challenge, getting her to transcribe her recipes into words has been another story. It isn't that she doesn't want to share the secrets to her creations, not at all. The real issue: Paola never uses a recipe. In fact, it seems that once some time ago, I may have had to explain to her that "some" people like to follow a written plan when putting things together in the kitchen. I also recall the wide-eyed look from her indicating she had had no idea what I was talking about.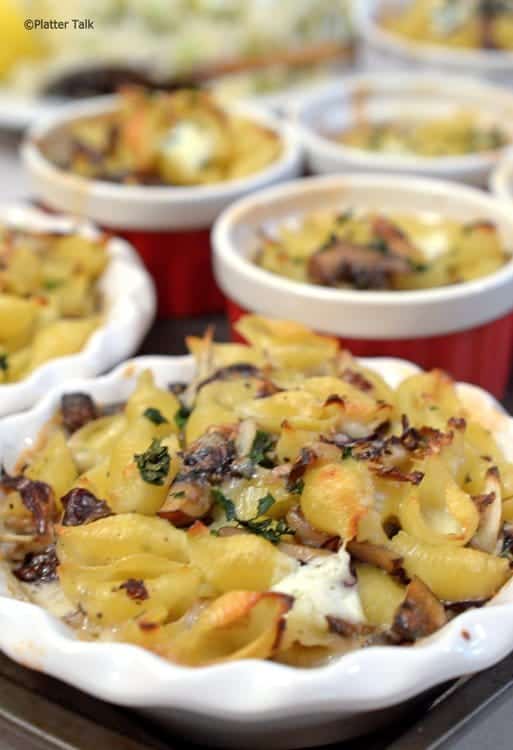 Thankfully for those of us who do use a recipe now and then, Paola is a quick study. She whipped the directions out for this dish like an old pro and I think you will be happy to know there are more authentic Italian recipes just around the corner and rest assured, all of them are equally appealing as these wonderful shells from the oven. Interested in attending this evening filled with incredibly delicious authentic fare? Email us for more information. Viva Italia!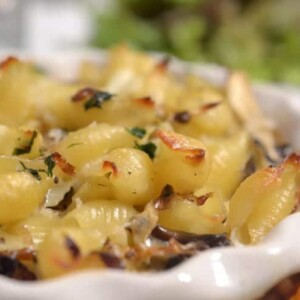 Conchigliette al forno (Baked Shells)
Recipe by Paola Benecchi
Ingredients
6

ounces

portabella mushrooms

,

cleaned and trimmed

1

stick unsalted butter

1

teaspoon

kosher salt

1/2

cup

white wine

One cup of Chicken broth

2

cups

finely shredded radicchio

2 1/2

cups

heavy cream

1/2

cup

freshly grated Parmigiano-Reggiano

1/2

cup

coarsely shredded fontina

1/2

cup

crumbled Gorgonzola

2

teaspoons

mascarpone cheese

6

leaves

fresh sage

,

chopped

1

pound

conchigliette rigate

,

pasta shells
Instructions
Preheat the oven to 500 degrees F.

Bring a pot of salted water to a boil.

Slice the mushrooms about 1/4-inch thick. Heat 6 tablespoons of butter in a large skillet; add the mushrooms and 1/4 teaspoon salt. Saute over medium heat, add half cup of dry white wine stirring frequently, add one cup of chicken broth until they are cooked through, 15 to 20 minutes.

In a large mixing bowl, combine the mushrooms, radicchio, cream, cheeses, sage.

Parboil the pasta shells for 4 minutes; drain and add to the ingredients in the mixing bowl. Toss to combine.

Divide the pasta mixture among 6 to 8 individual, shallow, ceramic gratin dishes (1 1/2 to 2 cup capacity). Dot with the remaining 2 tablespoons of butter and bake until bubbly and brown on top, about 7 to 10 minutes.

Garnish with fresh Italian parsley, but do not cook the parsley in the pasta.
Nutrition
Calories:
676
kcal
,
Carbohydrates:
47
g
,
Protein:
16
g
,
Fat:
47
g
,
Saturated Fat:
29
g
,
Cholesterol:
153
mg
,
Sodium:
702
mg
,
Potassium:
353
mg
,
Fiber:
2
g
,
Sugar:
3
g
,
Vitamin A:
1642
IU
,
Vitamin C:
3
mg
,
Calcium:
227
mg
,
Iron:
1
mg
Nutrition information is automatically calculated, so should only be used as an approximation.