Pumpkin Pizza is a fast and savory treat that has gourmet written all over it. Make this simple recipe for your holiday get-togethers and wow your family and friends!
This post is sponsored in conjunction with #PumpkinWeek. All opinions are our own.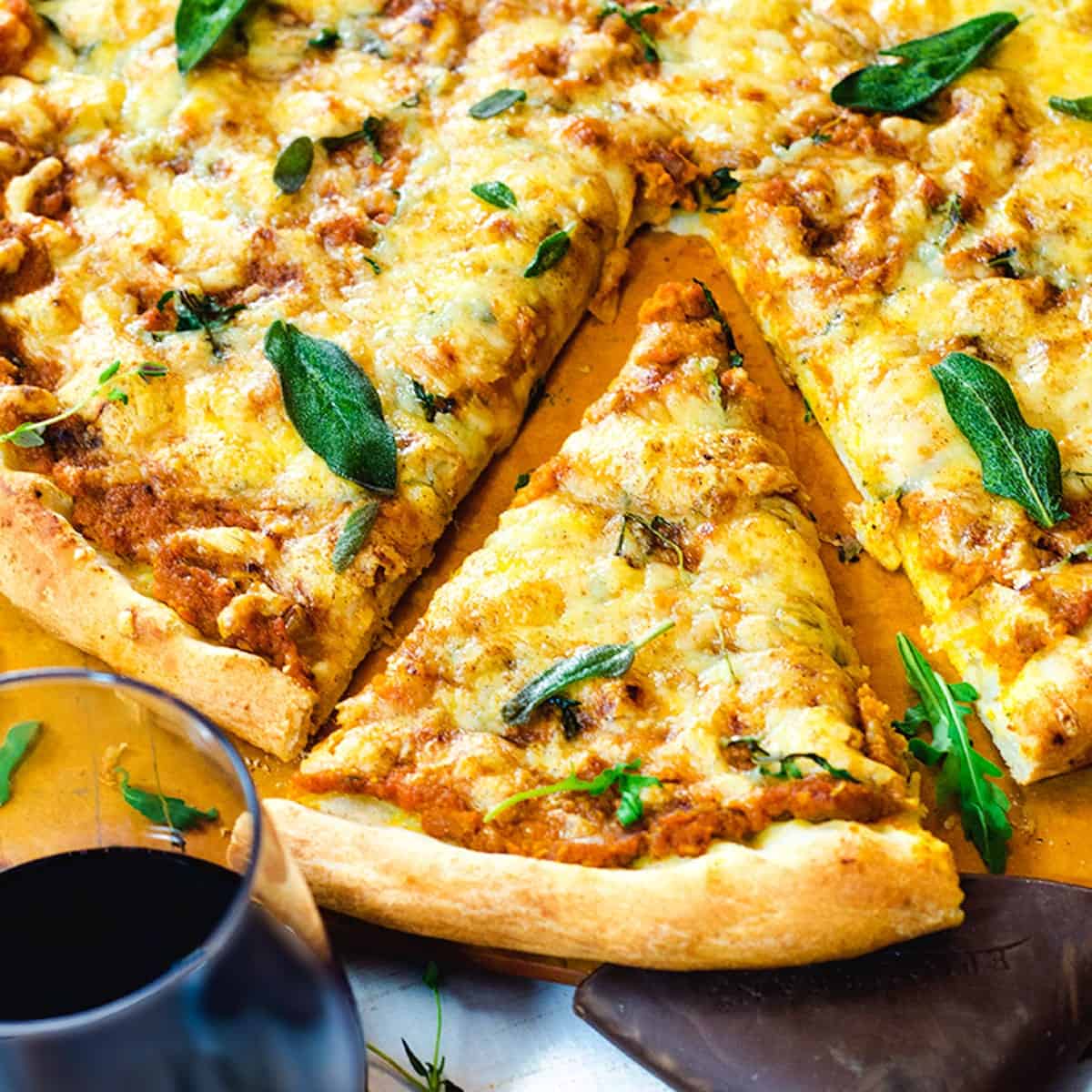 It's More than just a Halloween Pizza
You can serve this pumpkin pizza on Halloween, but why limit yourself to only one day?
Savory pumpkin, caramelized onion, and a blend of savory herbs and cheeses make this fall-inspired pizza work throughout the holiday season.
What's in this Scratch Pizza?
Pumpkin Purée
Caramelized Onion
Arugula
Parmesan Cheese
Shallot
Garlic
Thyme
Sage
Gouda Cheese
To Make this Homemade Pizza Recipe
Start by caramelizing a sweet onion. To do this, combine some olive oil with butter and melt it together in a large skillet over medium-low heat.
Using a combination of oil and butter allows you to cook at a higher smoke point when making caramelized onions.
Caramelized onion provides the perfect base for this savory homemade pizza recipe. We talk more about this process in our favorite Patty Melt Recipe.
Make an Easy Pizza Sauce
Add a can of pumpkin puree to the caramelized onions, along with some fresh thyme leaves. In case you grow your own thyme, we have an informative article on How to Harvest Thyme, for you to read.
Add some raw shallot and garlic to this easy pizza sauce. Stir in some sugar and add a little milk to help thin it out a bit, if necessary.
At this point, you will also add some freshly grated Parmesan cheese to the sauce.
Use a Store-Bought Pizza Crust for this Homemade Pizza Recipe
For years, I would make my homemade pizza crust,  inspired by Mario Batali.  I love how easy it is to make and how great it tastes.
Then, I married a man who is a wonder in the kitchen and is all about convenience when it comes to making great food. That's when I discovered the miracle of fresh pizza dough from the grocery store.
For less than $2.00, you can pick up fresh, refrigerated pizza dough and take it home for your homemade pizza. #Whywouldn'tyou?!
Top this Homemade Pizza
Fresh arugula adds more fresh and savory flavor to this pumpkin pizza and makes for a beautiful garnish when serving.
Use whatever type of cheese you like to top this pumpkin pizza. We went with a savory Gouda, but you could use a Havarti or even a nutty-flavored Gruyere. Use your imagination and your palate!
What's the Right Pizza Oven Temperature?
The answer in short, HOT!  Most home ovens will go to 500 or 550° F. This is the temperature you want, if you are using a baking stone, which I highly recommend.
Preheating the stone and then sliding the uncooked pizza onto it is the secret to a beautiful crispy homemade pizza crust.
It can be a little tricky getting a loaded pizza onto a hot stone, but we have an easy way to do this!  You'll notice that we roll our dough out on a parchment paper.
We do this so we can slide a pizza peel underneath and easily transfer the uncooked pizzas onto the piping-hot stone! Easy. Peasy. Delicious. Pizza.
If you are using a metal pizza pan, bake this homemade pizza at 400° as the hotter temperature will cause your crust to burn. Check the pizza after about 10 minutes, that's how long we bake this pumpkin pizza.
Make this Pumpkin Pizzas Perfect with One Last Step
When this pumpkin pizza comes out of the oven, garnish it with some fresh sage leaves, crisped in olive oil. This adds a beautiful taste and texture to the homemade pizza.
While the pizza is baking, simply heat some olive oil on a medium setting and place the fresh sage leaves in the oil for about 30 seconds. Then drain them on a paper towel.
With any homemade pizza, allow it to rest for at least five minutes before cutting into it. This allows the ingredients to settle a bit and for the flavors to meld even further.
To take this pumpkin pizza to the highest level of taste, drizzle a little aged balsamic vinegar on top of it, along with a pinch of kosher salt.
The Perfect Scratch Pizza for Fall
Savory goodness and convenience make this a fun and delicious homemade pizza. You can put this together for well under $15.00 and not spend all night doing it.
This pumpkin pizza makes for a great party appetizer or family dinner, try it and let us know your thoughts!
More Homemade Pizza Ideas from Platter Talk
It's no secret that we love our homemade pizza here on Platter Talk food blog and we've got many more great pizza ideas for you to enjoy! Read on and find out which pizza idea came to me in a dream! (It's one of my favorites!)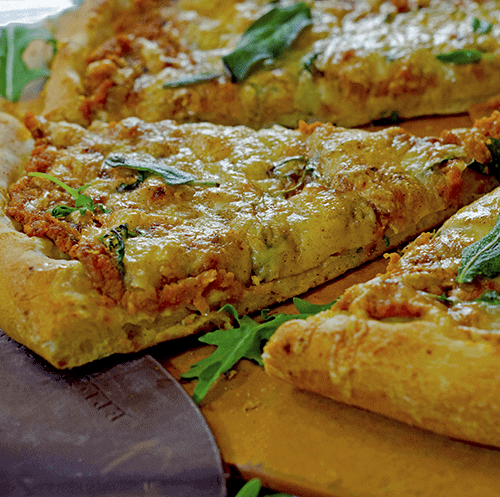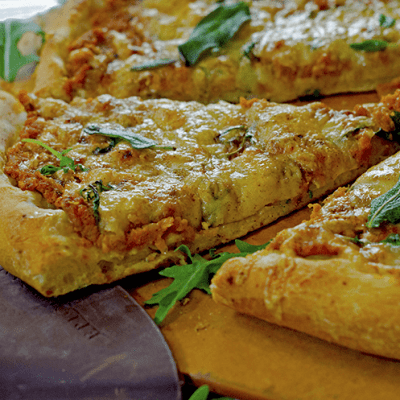 Pumpkin Pizza
If you're looking for new pizza ideas, this homemade pizza recipe features a store-bought crust, topped with a savory pizza sauce based in pumpkin puree and caramelized onions.

Print
Pin
Rate
Ingredients
pizza crust

fresh and refrigerated

1

tbsp

butter

2

tbsp

olive oil

1

onion

15

oz

pumpkin puree

1

tsp

thyme leaves

2

tbsp

sugar

1

tsp

pumpkin spice

3

tbsp

milk

2

cloves

garlic

crushed

1

shallot

fine dice

1/2

cup

Parmesan cheese

grated

8

oz

Gouda cheese

shredded

1

handful

arugula leaves

sage leaves

fresh

1

tsp

kosher salt

1

tbsp

balsamic vinegar
Instructions
Allow fresh pizza dough to proof (rise) at room temperature for one hour.


Preheat oven to 500 or 550°, if using a pizza stone. If using a metal baking pan, preheat to 400°. Preheat stone or metal pan in the oven.


Combine butter and olive oil in large skillet and melt over medium-low heat. Slice onion, at least 1/8" thick and place in skillet. Stir onion slices, over heat for about 45 minutes until brown, soft and nicely caramelized.


Add pumpkin to skillet along with thyme leaves, sugar, and milk. Stir pizza sauce and add Parmesan cheese. Remove from heat and stir in garlic and diced shallot.


Place pizza dough on large sheet of parchment paper (big enough to fit your pizza stone or pan). Roll out dough to approximate dimensions of pizza stone or pan. Gently crimp edge of the dough and the edge with a dab of olive oil.


Evenly spread pumpkin pizza sauce on the pizza dough. Sprinkle top with arugula leaves, add as many or as few as you like. Cover top with shredded Gouda cheese.


While pizza is baking, place 1 tablespoon olive oil in small skillet and heat over medium heat. Place fresh sage leaves in hot oil, a few at a time, for no longer than 30 seconds. Remove with spoon and allow to drain on paper towel.


Use a pizza peel to slide parchment paper and unbaked pizza onto hot pizza stone or pan. Bake for 10 minutes. Check the bottom of the crust. If it seems done, remove at that time. If it needs another minute or two in the oven, continue to bake and monitor until done.


Remove pizza from oven, allow to rest at least five minutes and then garnish with crispy sage.

Notes
Drizzle each slice of this homemade pizza with balsamic oil and evenly add a pinch of kosher salt.
Nutrition
Calories:
214
kcal
|
Carbohydrates:
11
g
|
Protein:
10
g
|
Fat:
14
g
|
Saturated Fat:
7
g
|
Cholesterol:
40
mg
|
Sodium:
643
mg
|
Potassium:
196
mg
|
Fiber:
1
g
|
Sugar:
6
g
|
Vitamin A:
8595
IU
|
Vitamin C:
4.3
mg
|
Calcium:
303
mg
|
Iron:
1
mg
Here are today's #PumpkinWeek Recipes:
Beverages:
Pumpkin Juice- Harry Potter Style from Jonesin' For Taste
Pumpkin Pie Bourbon Cocktail from Love and Confections
Savory:
Creamy Pumpkin Fiesta Chicken Soup from Amy's Cooking Adventures
One Pot Creamy Pumpkin Bacon Pasta from 4 Sons 'R' Us
Pumpkin Chili from It Bakes Me Happy
Pumpkin Chorizo Tamales with Pumpkin Mole from A Kitchen Hoor's Adventures
Pumpkin Grilled Cheese Paninis from Eat Move Make
Pumpkin Hummus from Sweet Beginnings
Pumpkin Mac and Cheese from Everyday Eileen
Pumpkin Pizza from Platter Talk
Savory Loaded Pumpkin Cornbread from Who Needs A Cape?
Savory Pumpkin & Pepper Goat Cheese Tart from Hardly A Goddess
Baked Goods & Desserts:
Chocolate Chip Pumpkin Bread from House of Nash Eats
Fluffy Pumpkin Buttermilk Pancakes from The Redhead Baker
Fluffy Pumpkin Pie Dip from The Beard and The Baker
Mom's Classic Pumpkin Pie with Vanilla Whipped Cream from Family Around the Table
No Bake Pumpkin Cheesecake from Cooking with Carlee
Pumpkin Banana Bread from A Day in the Life on the Farm
Pumpkin Cheddar Skillet Corn Bread from Tip Garden
Pumpkin Creme Brulee from Cookaholic Wife
Pumpkin Ginger Donuts from Daily Dish Recipes
Pumpkin Kolaches from The Spiffy Cookie
Pumpkin Maple Bark from Seduction In The Kitchen
Pumpkin Oatmeal Muffins from The Bitter Side of Sweet
Pumpkin Pie Crescents from Hezzi-D's Books and Cooks
Pumpkin Pie with Toasted Meringue from The Crumby Kitchen
Pumpkin Snickerdoodles from Culinary Adventures with Camilla
Pumpkin Souffle from Caroline's Cooking
Pumpkin Spice Cake Roll from Grumpy's Honeybunch
Pumpkin Spiced Cookies from April Golightly
Thank you

PumpkinWeek Sponsors: Dixie Crystals, Cabot Cheese, and Eggland's Best for providing the bloggers with samples and product to use for PumpkinWeek recipes. All opinions are my own

.