Homemade Ricotta Cheese
on Aug 23, 2016, Updated Apr 07, 2020
Homemad ricotta cheese is very simple to make. In addition to being easy to put together, it gives you a fun opportunity to make something in your own kitchen that tastes better than anything you'll find in the supermarket.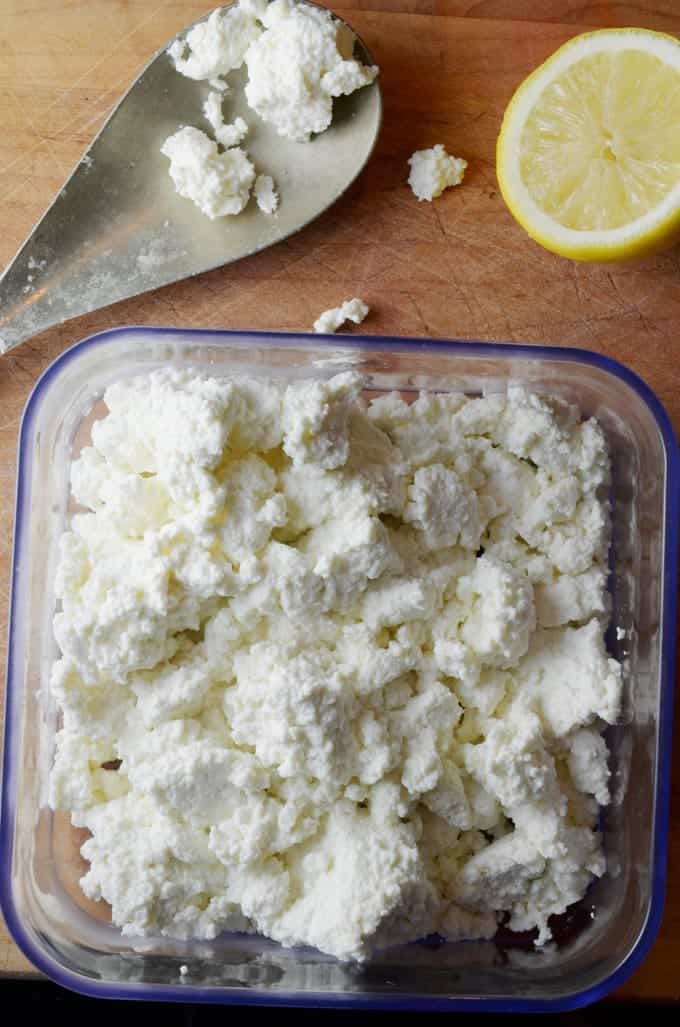 First of all, we found this recipe while doing some research for other dishes that called for ricotta cheese as an ingredient. Although it's easy to pick up a container of this cheese in the grocery store, we accepted this challenge to make it in our own kitchen. I'm definitely happy that we chose this option!
Ricotta Cheese from Scratch
To start with, the humble ricotta can be thought of as an unsung hero among the cheese family. Although it tastes great on its own, ricotta's true beauty really shines when it plays back up to a bigger taste. Its mellow flavor with sweet undertones help to buffer the robust and bolder flavors of meats, sauces, and even other cheeses. Furthermore, the slight creaminess of ricotta helps to prevent other ingredients from drying out.
How to make it
First of all, whole milk, cream and whole yogurt are added to a sauce pan, over medium high heat.

It's important to not use skim or reduced fat in this recipe. That extra fat content is going to lend both flavor and creaminess to the ricotta cheese.
For the yogurt, you can use any kind. Greek, goats milk, plain, they all lend their own unique nuances to the finished taste.
Next, add some lemon juice to the pot. The acid helps the curds to form as the mixture simmers. You'll notice that lemon lends a nice flavor to the ricotta but you can use other types of vinegar such as distilled and white vinegar.
Finally, a pinch of salt is added and the contents are brought to a simmer until curds start to form.
Throughout, be sure to stir intermittently to ensure that the mixture is evenly heated.
This first part of his homemade ricotta cheee recipe takes about ten minutes or so. Factors that can affect the time can include:
The thickness of your pot.
The temperature of the ingredients prior to going in the pot.
The heat of your flame or burner.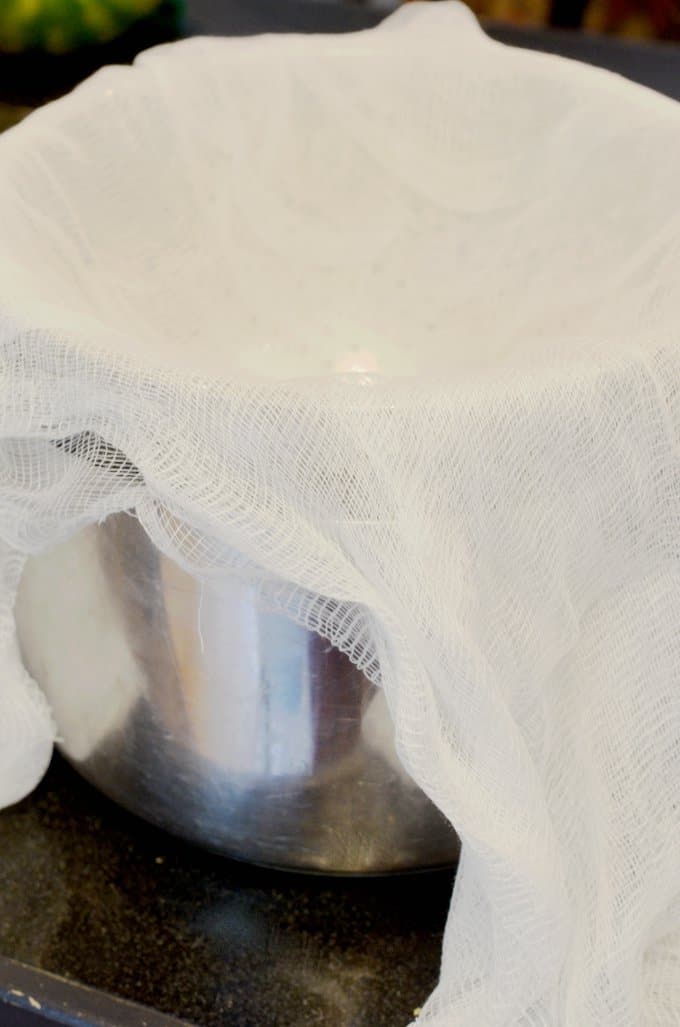 Moving on to the next part!
While the mixture is simmering, prepare a colander by draping it with four (single) layers of cheese cloth. Next, place the colander over a bowl to allow the whey to drain. Finally, be sure to leave plenty of overhang of the cheese cloth to prevent it from flopping in on itself when the mixture is poured into the colander.
Almost There!
Once you notice the formation of curds, you've got yourself some Ricotta Cheese from Scratch and you're almost finished. But first, for larger curds and a drier, less creamy ricotta, simmer for an extra minute or so. Then, pour the contents into the cheese cloth lined colander and allow to drain.
As you may have guessed, the longer you drain the ricotta, the drier the end product will be. Hence, if you prefer it to be creamier with a higher moisture content, it only needs a minute or so and you'll be good to go. Finally, be sure to check and make sure the colander is not sitting in whey. If necessary drain some of the whey from the bowl beneath the colander.
Pro Kitchen Tip: Lastly, don't throw your whey down the drain (or anywhere else!) You worked hard to get this yummy byproduct of cheese, now put it to good use!
Substitute it for water or milk in recipes such as pancakes, breads, muffins or even cookies.
Use whey to cook pasta, rice, potatoes and the like. It will add a richness to all of these.
Add it to cooked pasta for a mildly creamy finish.
Use whey to soak grains or beans.
Add whey to milkshakes and smoothies. (Can you say major yum?!)
It's suppose to be great as a facial.
If it regrows hair, I will be the first to let you know.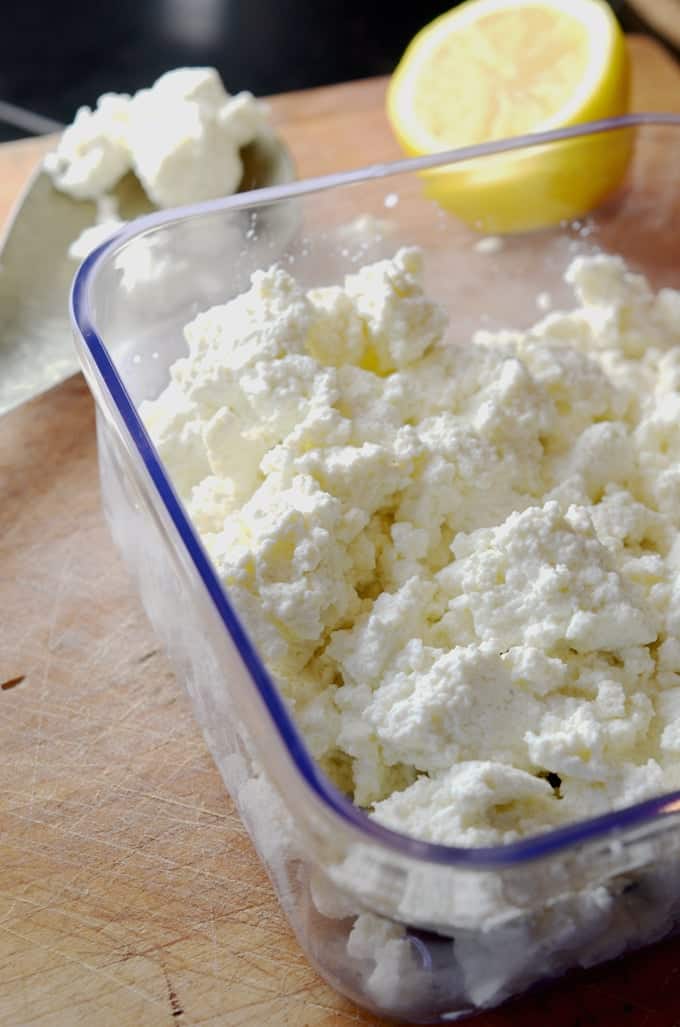 Bring Out the Ricotta!
Ultimately, this Ricotta Cheese from Scratch recipe enables you to create something simple and almost rustic. It is something that most of us are not even aware is possible. In any event, this Ricotta Cheese from Scratch will build your confidence for conquering tasks you likely felt were beyond your abilities in the kitchen.
After making this, all those feelings will be nothing but long-ago memories. In the end, we had fun making this and enjoyed eating it just as much. You will too. Thanks for reading Platter Talk and wishing you and yours peace and good taste. -Dan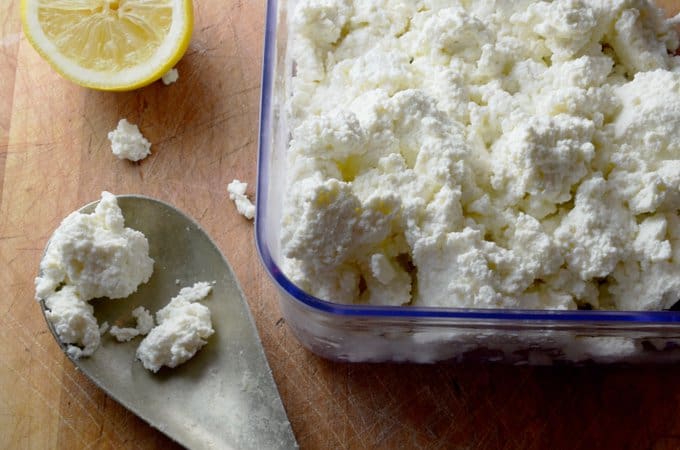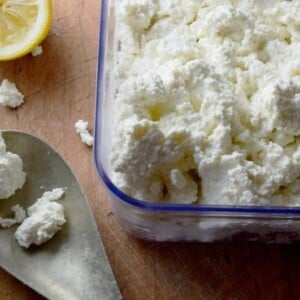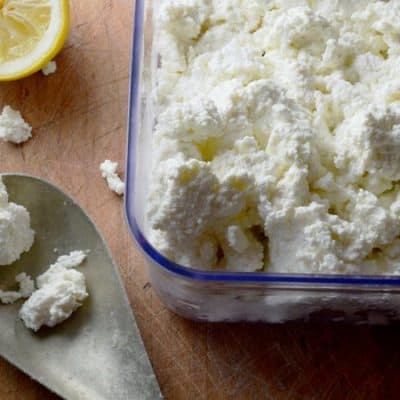 Ricotta Cheese from Scratch
Ricotta Cheese from Scratch is better than any packaged Ricotta product you can buy. It's also much cheaper to make and fun to put together. Recipe adapted from Melissa Clark via the New York Times.
Ingredients
2

quarts

whole milk

,

do not use sim or reduced fat milk.

1

cup

heavy cream

1/2

cup

plain whole yogurt

1

tablespoon

fresh lemon juice

1

teaspoon

kosher salt
Instructions
Take a cheese cloth, unfold it and refold it into 4 layers. Line a colander with the cheese cloth and set it over a large bowl.

Using a large sauce pan, whisk all ingredients together over medium high heat. Bring to low simmer and continue to stir until the contents start to curdle. (For larger curds and a bit of a drier ricotta, simmer for an additional 2 minutes while continuing to stir.) Carefully pour mixture into colander to drain.

Stop draining after a few minutes, depending on how dry you like your ricotta. Be sure that the colander is not sitting in drained whey during this process. Transfer to an airtight container and store for up to two weeks in the refrigerator.
Notes
We wanted larger curds for our ricotta and so near the end of the simmering process, we added a little bit of vinegar to the pot. This seemed to work well.
Both the ricotta and resulting whey can be frozen. Airtight and airless are always best, when preserving and reusing foods with this method of preservation.
Nutrition
Calories:
171
kcal
,
Carbohydrates:
9
g
,
Protein:
6
g
,
Fat:
13
g
,
Saturated Fat:
8
g
,
Cholesterol:
44
mg
,
Sodium:
274
mg
,
Potassium:
239
mg
,
Sugar:
8
g
,
Vitamin A:
557
IU
,
Vitamin C:
1
mg
,
Calcium:
203
mg
,
Iron:
1
mg
Nutrition information is automatically calculated, so should only be used as an approximation.