Baked Zucchini Parmesan Recipe
on Aug 15, 2019, Updated Aug 14, 2020
Zucchini Parmesan is a gift from summer as well as a healthy meal that your whole family will enjoy. This is one of our most popular zucchini recipes, for obvious reasons!
Farmers market-fresh produce make up this meal that is ultimately finished by a slow-cooked tomato sauce from the farmer's garden to your kitchen table. Not only is it delicious, it's one of our favorite Italian dishes.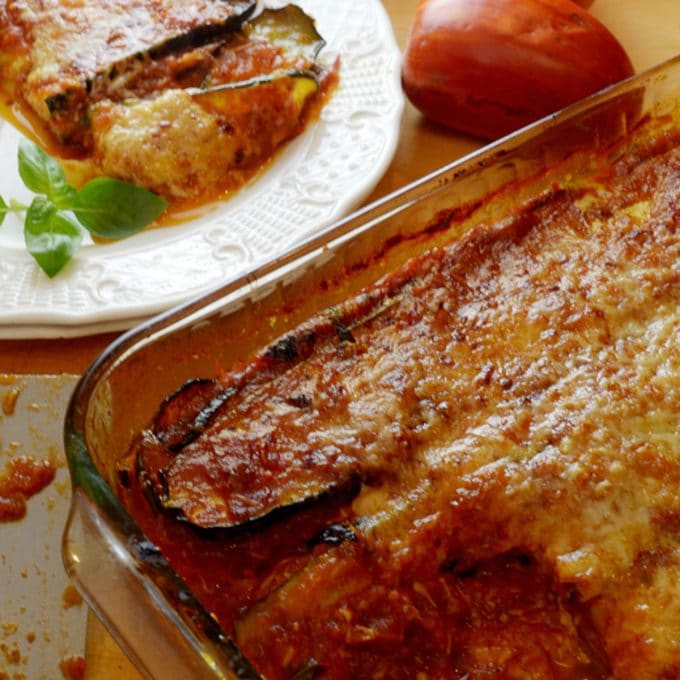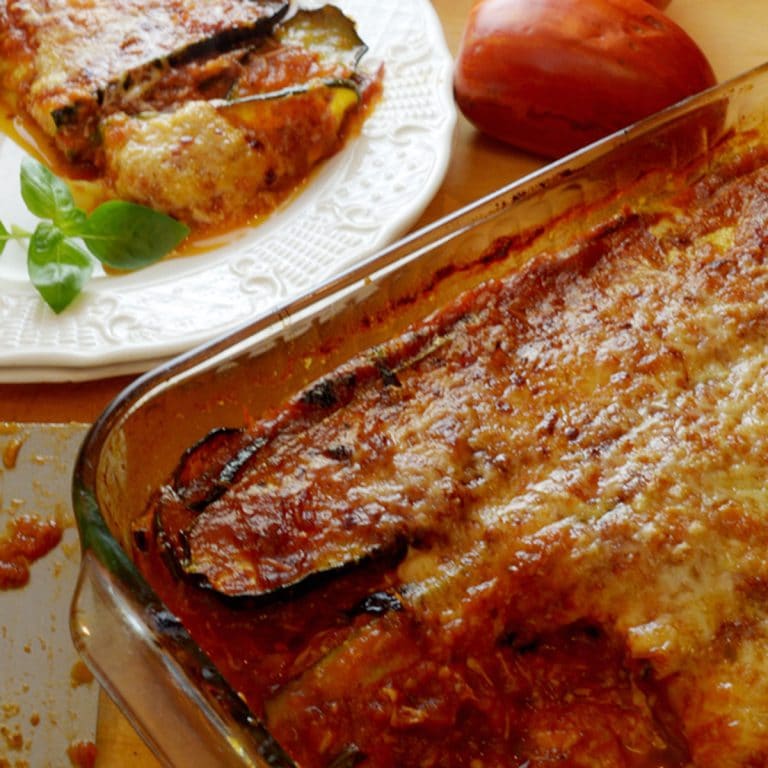 This Baked Zucchini Parmesan is a farmers market fiesta.[/caption]
Jump to:
We can't get enough summer although we will try to pack in as much of the warm green season as we can.
It's been a superb summer here in Wisconsin with lots of sun-filled days together with just enough rain and humidity to make anything that grows in soil thrive to its fullest.
Although I love eggplant recipes, although many people are not fans of eggplant.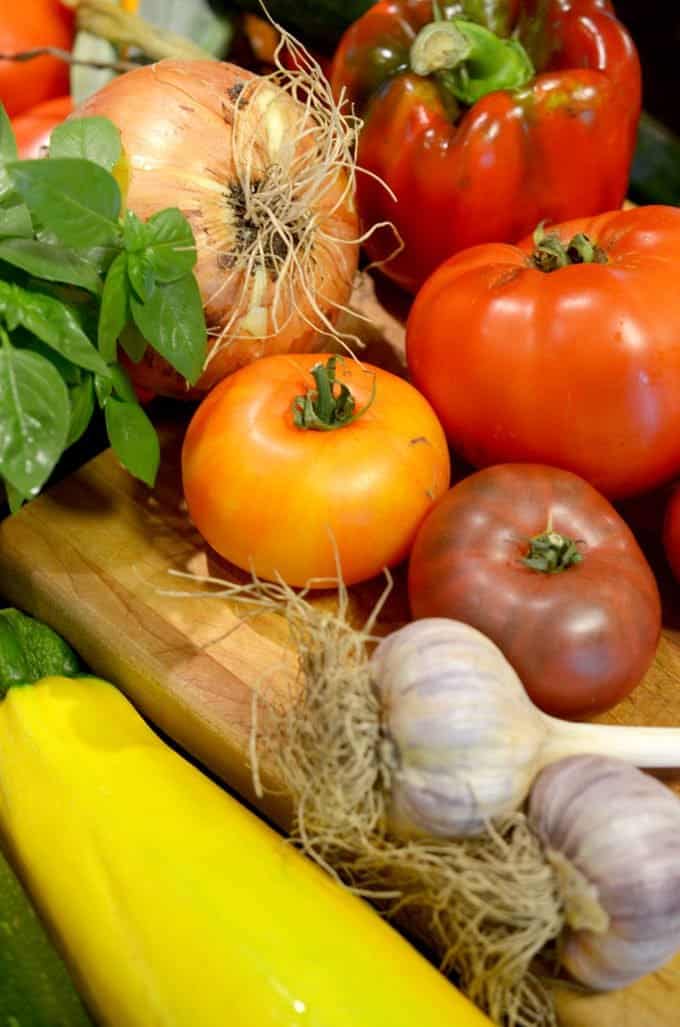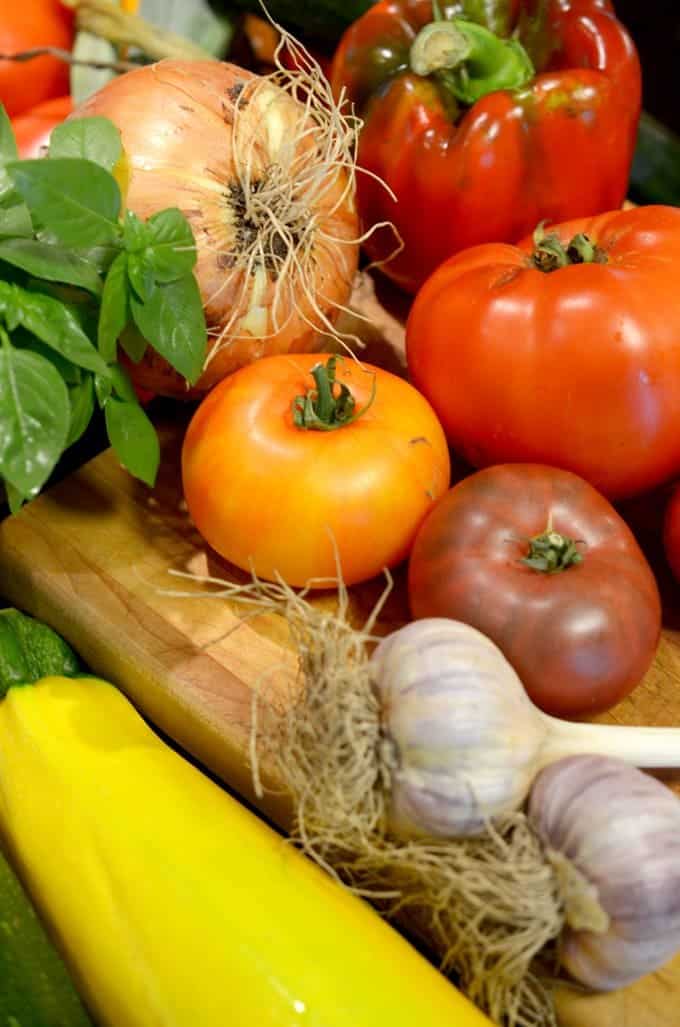 What is this?
Why use eggplant when you can use zucchini for this classic Italian recipe?
Our zucchini parmesan is the perfect use of this summer's harvest of all that zucchini that everyone and their sister is trying to get rid of!
This zucchini casserole starts by making a simple but really good tomato sauce, and it's all from fresh ingredients.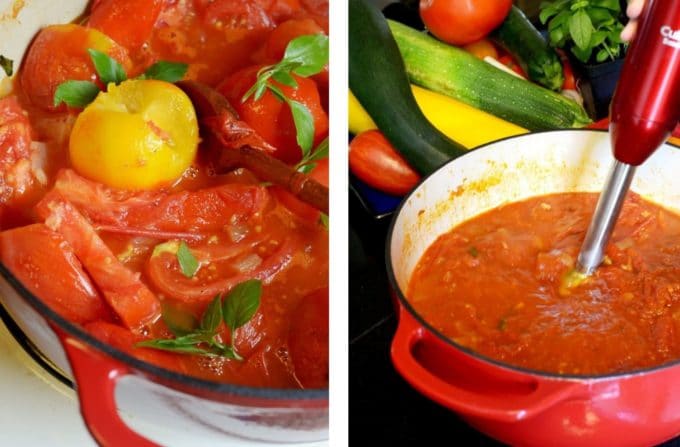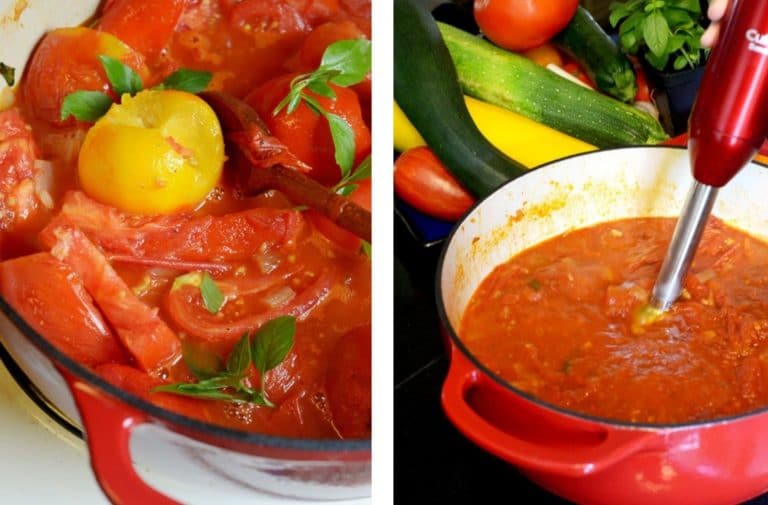 One of the occupational hazards of running a food site is to sample and subsequently eat every single recipe that we feature.
This may not sound like a problem to you, but if you had gained 30 pounds in the past few years as I have done, you might have a better idea of what I'm talking about.
For this reason, I am trying to focus a bit more on healthy foods and substituting carb-ridden foods like pasta for things like whole grains and fresh vegetables.
This zucchini parmigiana by and large does exactly that.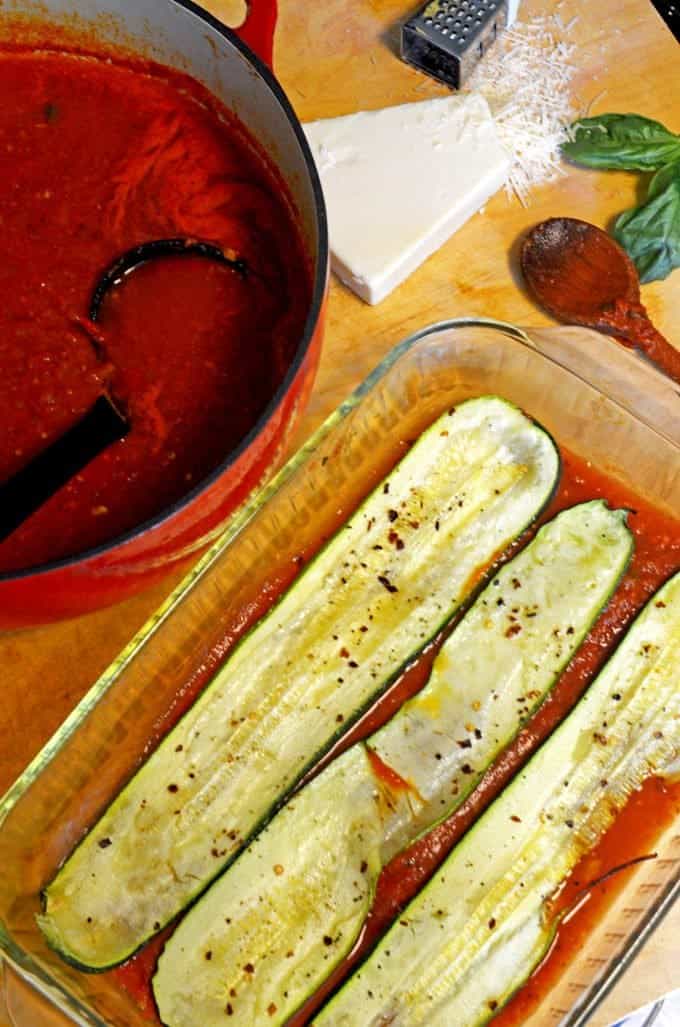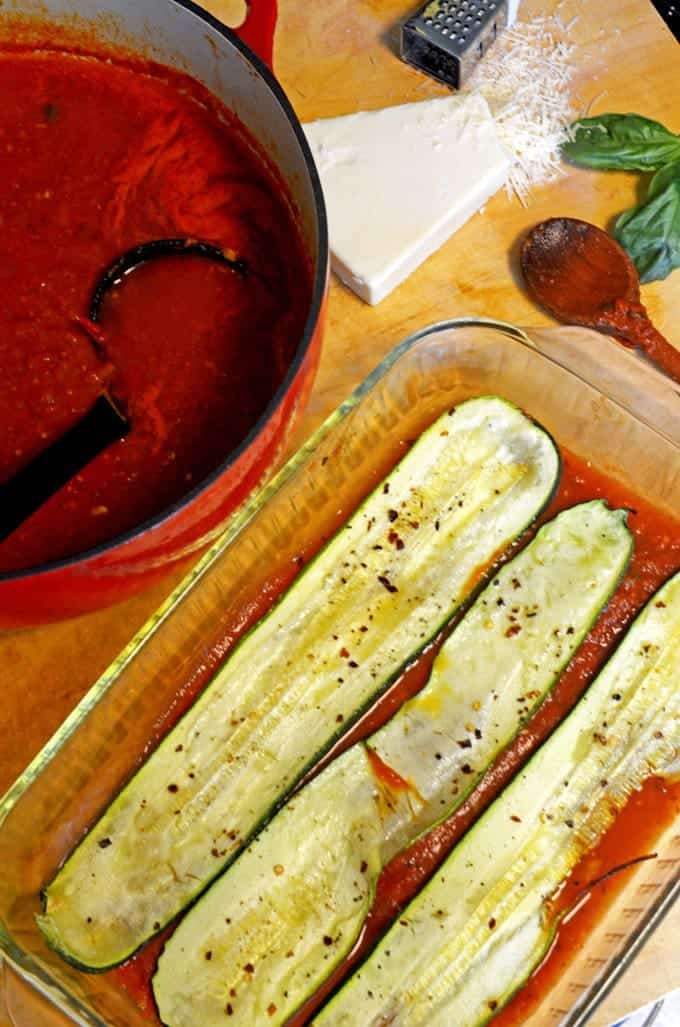 This baked zucchini uses layers of fresh zucchini, instead of pasta.[/caption]
How to make it

Slice a long zucchini into 1/4 inch slices. Then, sprinkle liberally with kosher salt and allow to drain for at least 30 minutes in a colander that is placed in your sink.
Briefly rinse the salt off of drained zucchini then pat dry with a paper towel. Brush each slice of zucchini with olive oil and then season with salt, pepper, and a pinch of crushed red peppers.
Next, lay the zucchini in a single layer on a baking sheet lined with parchment paper, and place in a hot oven to roast for about ten minutes or until fork-tender and lightly brown.
Roast the zucchini strips until fork tender and lightly brown.
Once the zucchini are roasted, scoop a ladle of sauce and spread it across the bottom of a lasagna pan.
Place a layer of zucchini in the pan, cover with sauce and then sprinkle with freshly grated Parmesan cheese.
Repeat this process to finally end up with three layers. On the top layer, spread with sauce, more Parmesan, and then bake for 45 minutes at 350℉.
Remove from oven, garnish with fresh cut basil, more Parmesan, and allow to set for 5 minutes before serving.
We suggest a mellow Italian red wine with this Montepulciano d'Abruzzo is one of our favorites and can be found for about $20 almost anywhere.
Try this Zucchini Parmesan Soon
This easy zucchini recipe can be made any time of the year, but late summer and fall are when you can find fresh zucchini at any produce stand, farmers market, or better yet in your garden.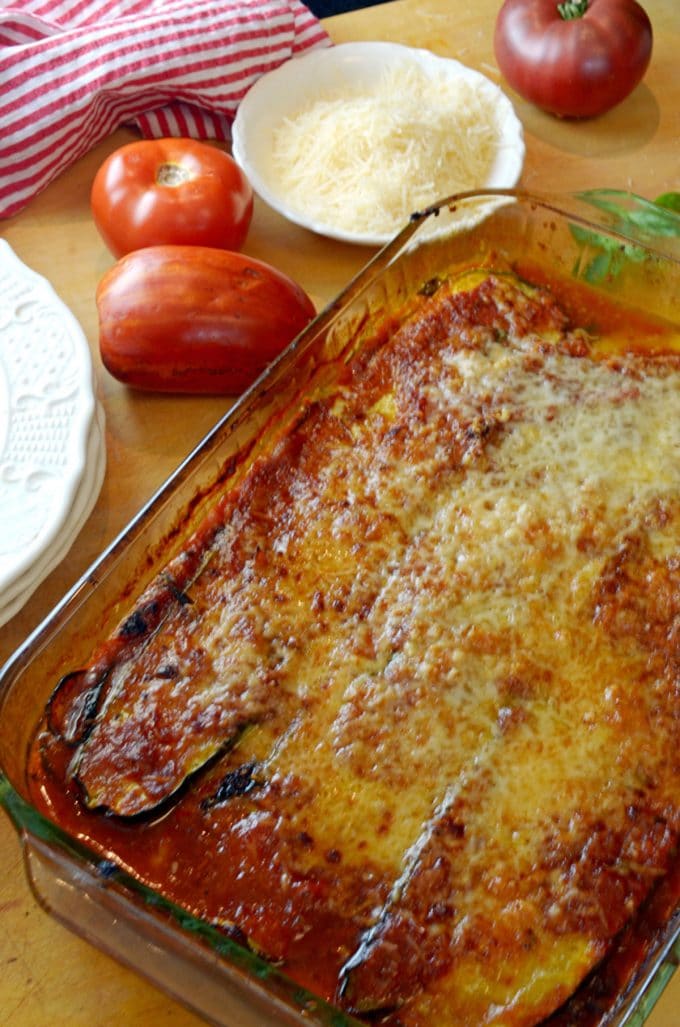 It's a fresh, delicious, and healthy meal that you will make again and again — wishing you and yours a delicious season, whenever it is that you may be reading this.
Thanks for checking out our site, it means the world to us.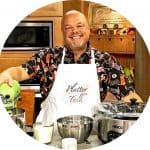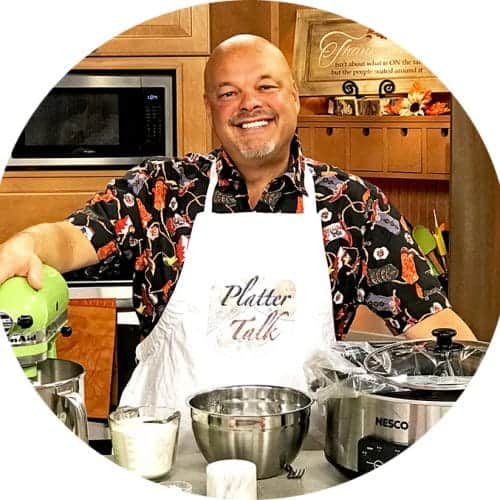 Zucchini parmigiana is a healthy, low-carb zucchini recipe.
---
FAQ
What Can I serve with this Zucchini Casserole?
Green salad, garlic bread, and a light bottle of red vino all pair well with this.
Can you Freeze Zuccchini Parmesna?
Yes, you can freeze this baked zucchini.
Allow it to cool completley.
Use plastic kitchen wrap and wrap it air-tight.
Freeze for up to 3 months and allow it to defrost in refridgerater overnight, when ready to use.
---
Our Favorite Zucchini Recipes
More Popular Farmers Market Recipes
👨‍🍳 Tried this Recipe? Please leave a ⭐⭐⭐⭐⭐ rating in the recipe card below and leave a comment. We love hearing from our readers!
⏩ Stay in touch with us on social media by following us on Facebook, Pinterest, Instagram, and YouTube!
📬Get our Recipes delivered to your inbox for FREE!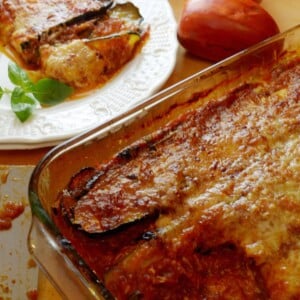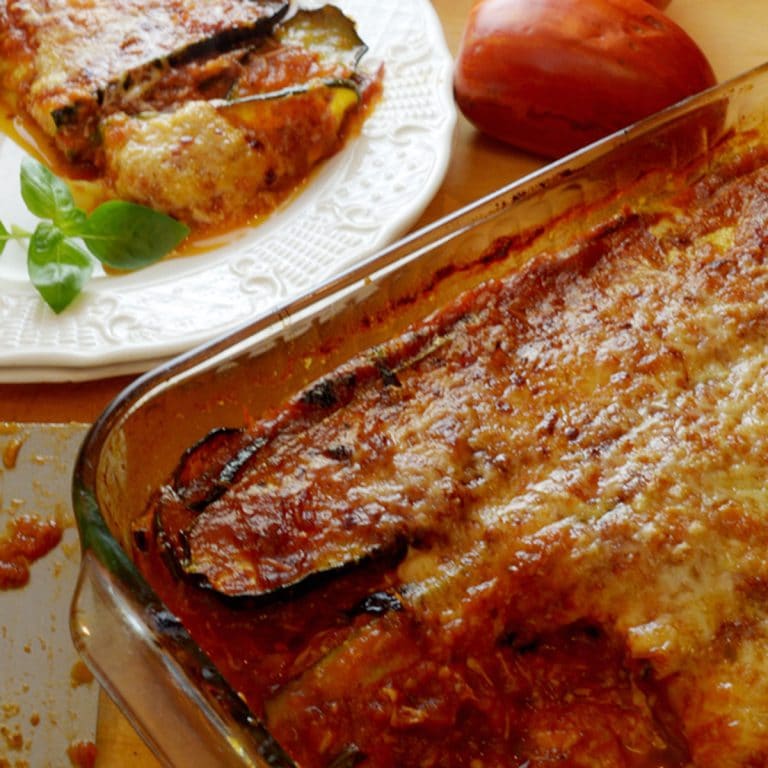 Zucchini Parmesan with Homemade Tomato Sauce
This zucchini parmigiana is adapted from Martha Rose Shulman via the New York Times. Try this zuccchini casserloe today!N
Ingredients
4

cups

Homemade Tomato Sauce

1-2

lbs

zucchini

,

use long ones if available.

Olive oil

Salt and pepper

Crushed red pepper flakes

1

cup

grated Parmesan Cheese
Instructions
Preheat oven to 450 ℉.

Slice Zucchini into 1/4 inch strips and then place in a colander or in a clean sink and sprinkle generously with kosher salt. Allow the zucchini to drain for at least 30 minutes. Next, rinse off zucchini briefly then pat dry with paper towels.

Place zucchini on a baking sheet that has been lined parchment paper and then brush each strip with olive oil, season with salt and pepper. Sprinkle a pinch of crushed red pepper flakes over each strip. Place in hot oven and then roast until fork tender and lightly browned, abut 10 to 15 minutes. Remove from oven and reduce heat to 400℉

Using a rectangular lasagna-style pan or deep casserole baking dish, evenly distribute about 1 cup of tomato sauce in bottom of pan.

Place one layer of zucchini strips in pan and then top with a cup of tomato sauce and sprinkle with Parmesan cheese.

Repeat this process for a total of three layers and then bake for 30 to 45 minutes until brown and bubbly on top.

Remove from oven and then garnish with optional fresh basil and additional Parmesan cheese. Allow to set 5 to 10 minutes before serving.
Notes
Be sure to salt the zucchini strips and allow them to drain for at least 30 minutes. It is ok to briefly rinser them after they drain, to remove the salt. Blot each strip dry with a paper towel.
You can use yellow squash for this recipe as well.
Nutrition
Calories:
144
kcal
,
Carbohydrates:
11
g
,
Protein:
8
g
,
Fat:
7
g
,
Saturated Fat:
3
g
,
Cholesterol:
14
mg
,
Sodium:
574
mg
,
Potassium:
484
mg
,
Fiber:
3
g
,
Sugar:
8
g
,
Vitamin A:
795
IU
,
Vitamin C:
17.6
mg
,
Calcium:
224
mg
,
Iron:
0.9
mg
Nutrition information is automatically calculated, so should only be used as an approximation.