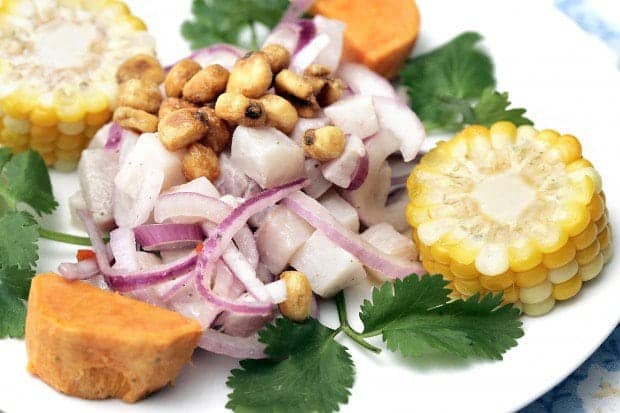 Ceviche
Todos Tienen Derecho a Comer Rico
Guest Post by Elisabetta Hobbins
The above phrase is a common saying here in Peru meaning 'everyone has the right to eat well.' That is pure food-philosophy. Peruvians are not shy about the passion and pride they have in their food. Their food is so deep-rooted in their culture that it defines the people, as well as each region uniquely.

From day one in Peru, I have been fed like a queen. Because I am taking a gap year to do Rotary International exchange in Lima, I have plenty of time to fully experience the gastronomy of this country. Besides the people and the beautiful diversity of Peru, food tops my list. My home city of Lima is the melting pot of all the cuisines of Peru (and other countries) so I have a grand variety to choose from all the time. The best food, however, is acquired only by traveling to each given region. My favorite is the north, where fresh seafood and ceviche are prominent. One constant between most regions is the three basics almost always incorporated in the meal: rice, potatoes, and meat. In the beginning of my exchange I became almost revolted by this incessant combination, but after a couple months, I started to get rice cravings if I had gone without out for a day. Thanks to my host families, trips, and self-discoveries, I have gotten to experience all types of food, from 5-star gourmet to $3 "menu." Because of the plethora of "platos tipicos" in Peru, I will touch on only the most famous and my absolute favorites.
1. Ceviche
INCREDIBLE. Just about everyone I know loves it, even fish-haters. On my trip to the north I ate it just about every day, if not twice a day, and I never got sick of it. The dish is so fresh, light, and flavorful that I cannot resist it.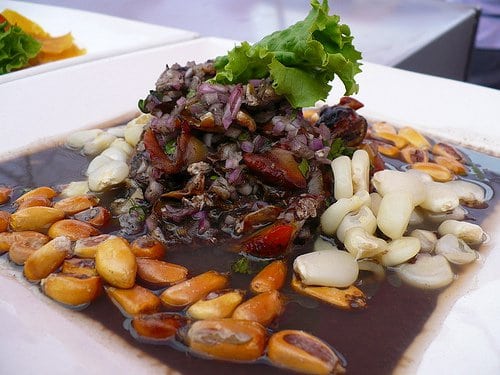 The easiest way to describe it is like a fish carpaccio. Depending on the region, it is prepared with white fish like halibut or tilapia, conchas negras (black shellfish), or pulpo (octopus.) All three are prepared in the same way; the lemon juice cooks the fish and then mounds of red onions and pieces of hot pepper are mixed in, creating a delicious marinade. Sometimes tomatoes and cilantro are added in too. In different regions it is served with different sides, but my favorite is with camote (sweet potato), canchita (toasted corn kernels), and choclo (corn.)
2. Papas
Before I go any further, I must mention the potatoes of Peru. I have never been a big fan of potatoes,
but after living here a couple months I grew to appreciate the varieties and even learn which my favorites are. Peru claims to more than 3800 types of potatoes, but you only eat a few types on a daily basis. My favorites are camote, yuca, oka, and papa amarilla. Camote is sweet potato, but much tastier and creamier than any I have had in the U.S. Yuca root is dry and starchy, great for frying up and dipping in spicy sauces. The oka is actually a tuber and one of the staple foods in the Andes. I tasted this variety when staying with villagers on an island in Lake Titicaca. After it is harvested, it is set in the sun to ripen its flavor, and then boiled to simplistic perfection. The papa amarilla (yellow potato) is probably the most versatile and common potato in the Peruvian diet, but it should not be looked over. Its natural creamy butteriness is to die for, especially if prepared right.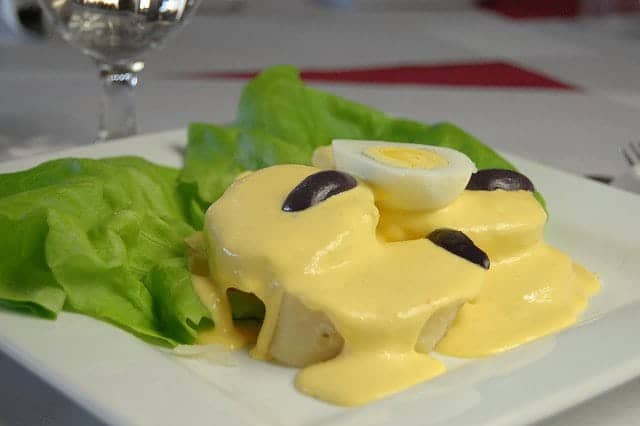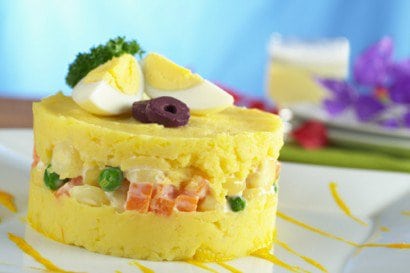 My all-time favorite potato dish is papa a la huancaina. It is potatoes topped with a thick sauce made principally with queso fresco (white farmer's cheese), saltine crackers, aji amarillo chile pepper, and evaporated milk, then topped with hard-boiled eggs and black olives. Another favorite is causa, layers of mashed potato stuffed with veggie, fish, or chicken salad.
3. Ají de Gallina, Arroz con Pollo, Lomo Saltado, Anticuchos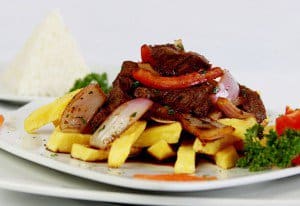 Lomo Saltado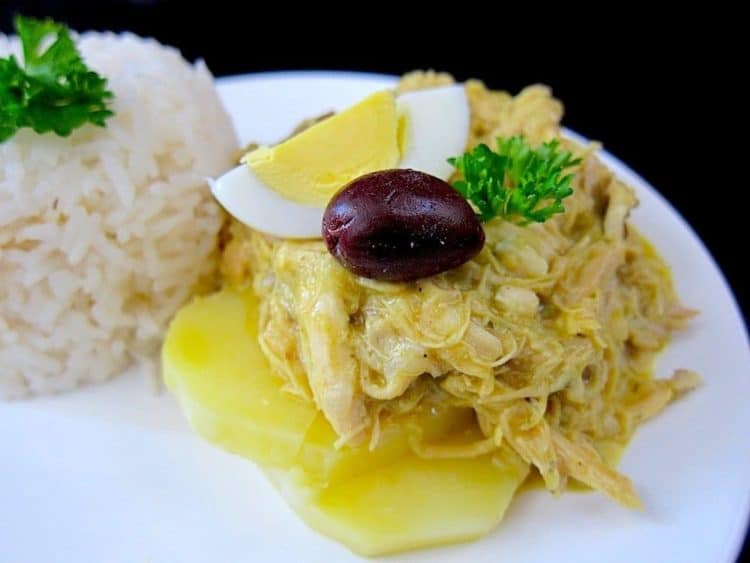 Ají de Gallina
Arroz con Pollo
Anticuchos
The above four foods are my favorite common dishes served here. Ají de Gallina is similar in taste to huancaina sauce but includes shredded chicken breast, plus it's milder and served hot. Arroz con pollo is a go-to meal in the Peruvian household. I could not count how many times I have eaten it. The browned chicken and rice are cooked in a cilantro sauce with peas, peppers, and carrots. Of course I like it with huancaina sauce, but then again, I eat huancaina by itself with a spoon. Lomo saltado – or even better, alpaca saltado – is stir-fry made with tomatoes, red onions, and steak strips, tossed with potato wedges and white rice on the side. Anticuchos are beef or chicken hearts grilled to chewy perfection on the grill, served with spicy chile sauce, choclo, and boiled potato. If not cooked well or eaten cold, they resemble car tires in consistency.
4. POSTRES!!
An indulgent dessert is what makes life worth living some days. Maybe that is why I hardly get homesick or sad here in Peru – they know their desserts! Arroz con leche with mazamorra morada is a scrumptious combo of creamy, cinnamon rice pudding accompanied by purple corn gelatin.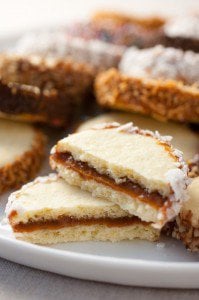 Alfajores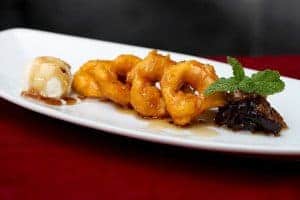 Picarones
Tres leches is a deliciously rich vanilla cake soaked in "three milks": cream, evaporated milk, and condensed milk, then topped with whipped cream or manjar blanco. Another popular one is crema volteada, which a creamier version of your standard flan. I cannot forget to mention alfajores, the most common fiesta food. These are simple cookies filled with manjar blanco (thick caramel sauce) and covered in powdered sugar. My favorite street food is picarones, a Peruvian take on funnel cake, only made with squash and sweet potato and drizzled in chancaca honey syrup. Churro stands – cannot resist those either. More often than the Mexican churro you find in the U.S., they sell Spanish churros which are donut-like and perhaps even better.
5. Jugos y Bebidas
You would think that because of the variety of delicious tropical fruits you find here, Peruvians would be fruitarians – wrong! The only way they get their daily fruit serving is in juice. They really get multiple servings though because it is more like liquefied papaya and other fruits, very little water.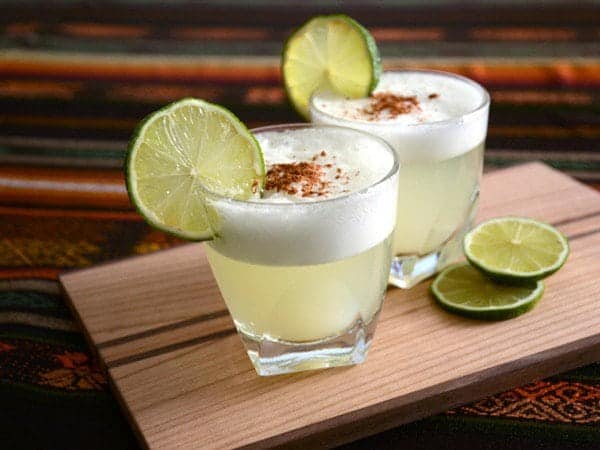 Pisco Sour
The most famous Peruvian drink is chicha morada, a purple maize drink. I prefer it more on the lemony side with a stonger cinnamon and clove taste, but it is impossible to have two identical glasses of homemade chicha.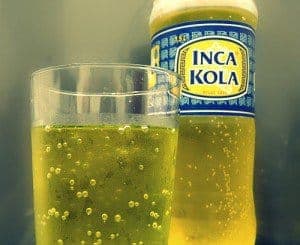 Inka Cola is the national soft drink. It was so popular that it bought out Coca-Cola. I'm not a huge fan of the head-achingly sweet bubble-gum soda, but almost all Peruvians would disagree with me. What I do love is Pisco and all the cocktails prepared with it like Chilcano, Maracuya Sour, Machu Picchu, and the classic Pisco Sour. You have to be careful how much you drink though because it's so tasty you hardly realize how strong it is until it's too late!
Well, that just about sums up Peruvian food as seen by a non-Peruvian who has experienced it for eight months now. I am no food expert, but I am a food lover/enthusiast/venturer and that is all that is required to be a good food judge. Up next on my list? CUY!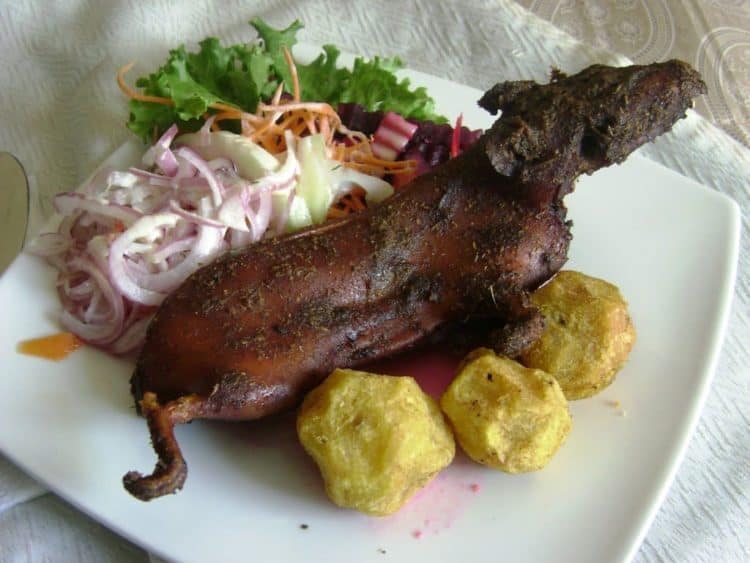 Cuy al horno
Betta Hobbins is the guest contributor for this post. Betta is on the tail-end of a year-long adventure of living and studying in Lima, Peru as a participant in the International Rotary Exchange. Upon returning from this experience of a lifetime, she will begin her undergraduate studies at Johns Hopkins and has her sites set on a career as a pediatrician. Follow Betta's Peruvian odyssey on her blog https://www.bettainperu.tumblr.com/