Chicken & Biscuits
on Oct 02, 2013, Updated Jan 01, 2021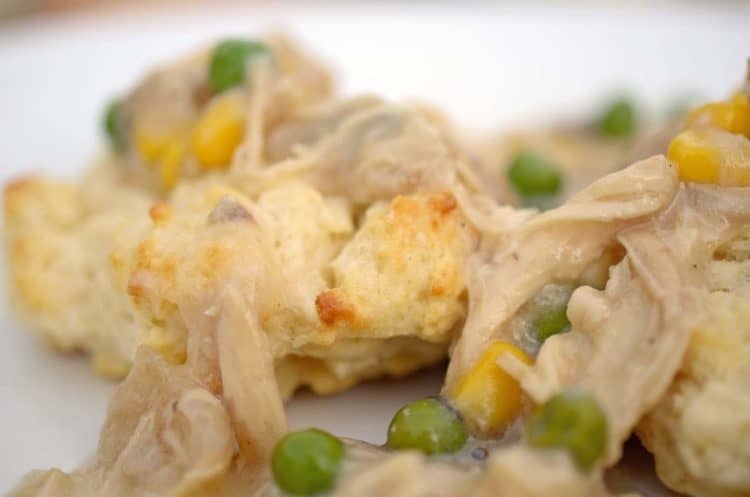 What says "All American" and "Welcome to my Table" and "We are So Happy to Have you Here" and "Here is Love," any more than good ole' chicken and biscuits? Personally I can't say too many good things about this dish. It is the most basic of basic and in my most humble culinary opinion, it is among the best of the best.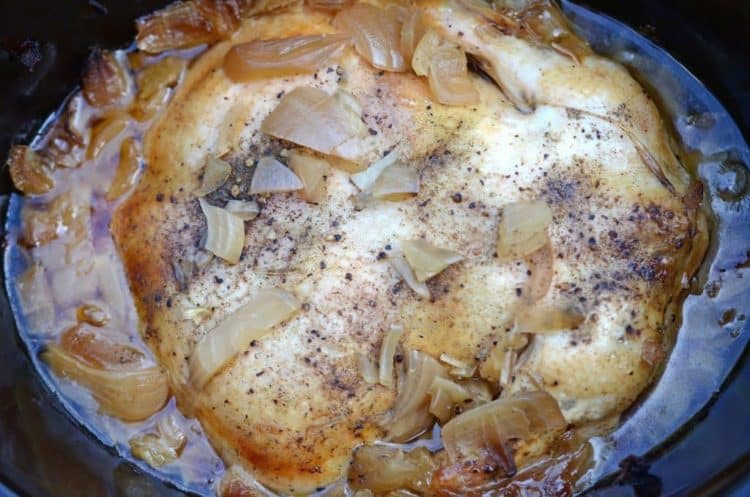 In our household, this dish holds the highly coveted position of most trusted meals. It is timeless, it is easy, it can be made for about $10.00, and I don't know of anyone who doesn't rave about it. Can you say, "Winner-winner, Chicken Dinner?!" This is it.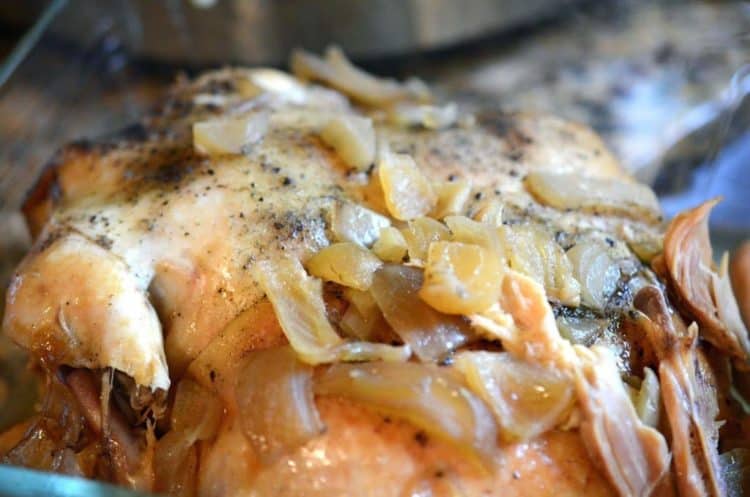 Like many of you reading this, we have a pretty busy household. Two working parents, any combination of six boys ranging from 7 to 16 years of age, an active little English bulldog, and so much more in and around all of the above to keep us occupied to the max.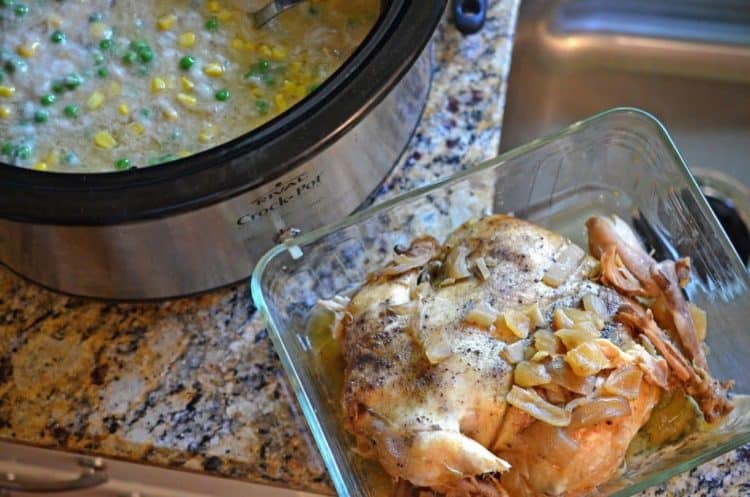 Did I mention we like to have friends over, more times than not so they can sit at our table and share a meal. We are blessed with friends from all walks of life, each of them adds some spice to our own lives and contributes to the fun and joy found in variety.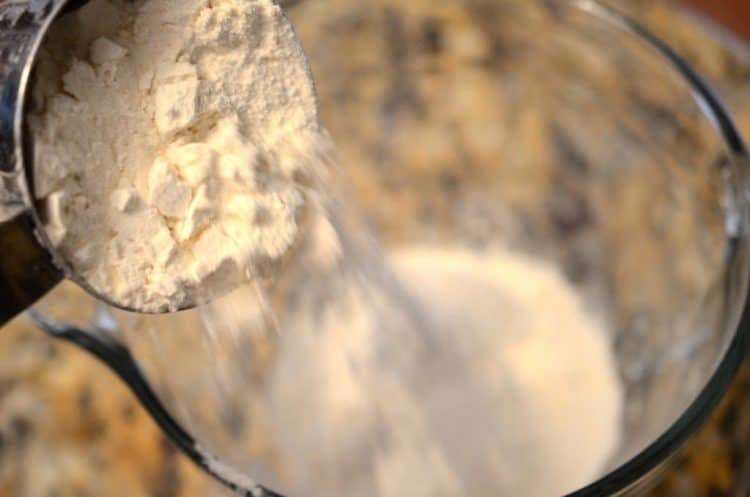 We are pretty open to all sorts of folks but if you really want to click with us, enjoying good food is going to help make that happen. We don't serve this all that often when we have guests, but it a pretty common choice when our BFF and favorite airline pilot graces us with his presence. I suppose he doesn't count in this regard as it is well known he is considered family by both Scott and me and all six of our boys. Nonetheless, this buddy of ours loves this meal, as does every one of our kids.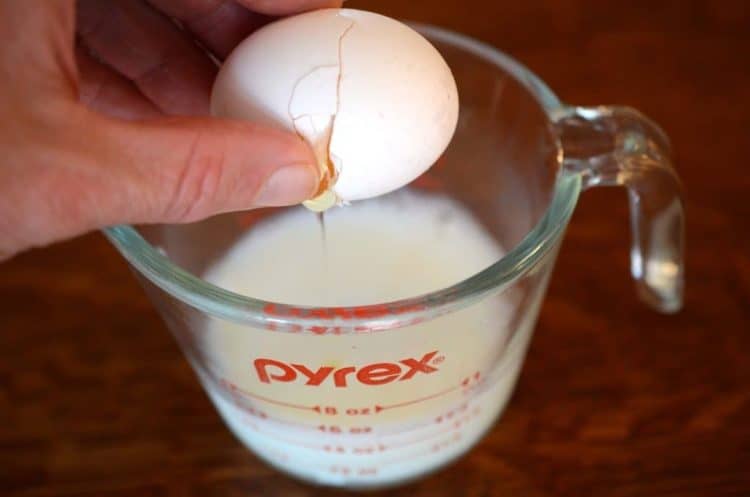 I suppose you could call this a "crock-pot" dinner. From my own personal bias, I have always shied away from that descriptor. I know there are plenty of good tasting meals that come from a slow-cooker, I have made many of them myself. My bias is based on the dilemma found only in my own mind of; "How can something really great from a crock-pot?" It seems obvious that I am in denial because one of the answers is found right here within this post.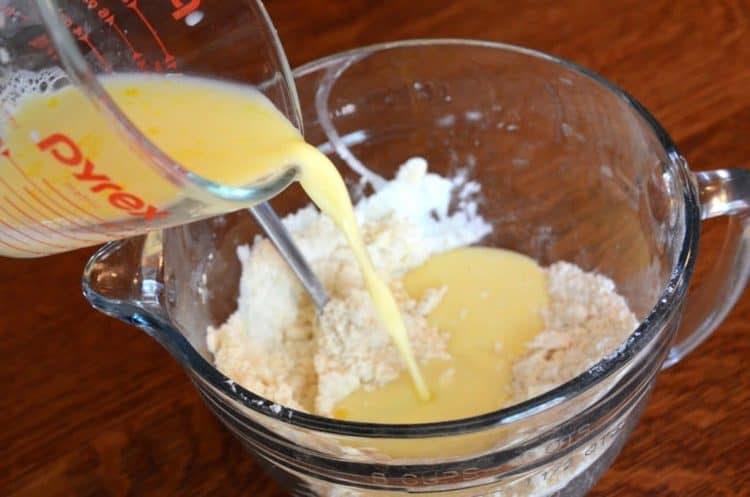 There is more than a slow cooker involved in this recipe. There is also a pantry; and an oven. Ding-ding-ding!! Besides the taste, this component of this meal is particularly exciting to me. There are biscuits! Not only that, but I have the option, indeed the freedom, to make them from scratch. You have probably already guessed the method I prefer.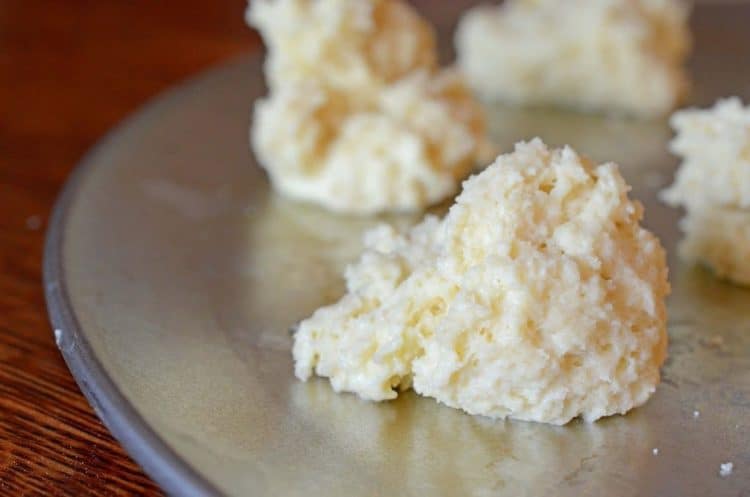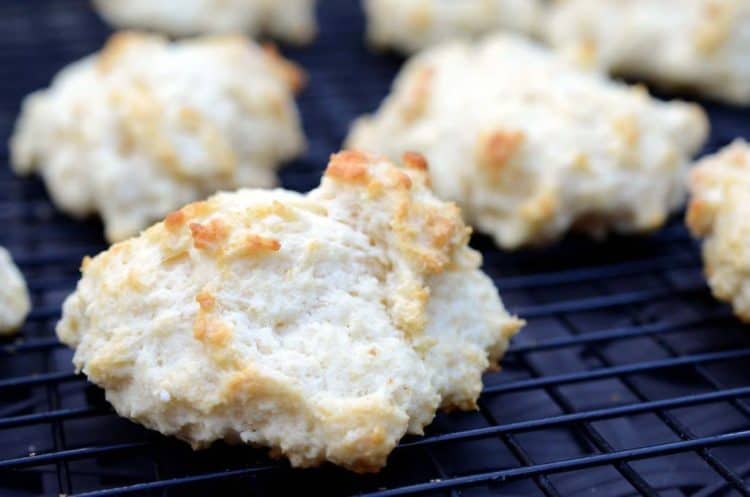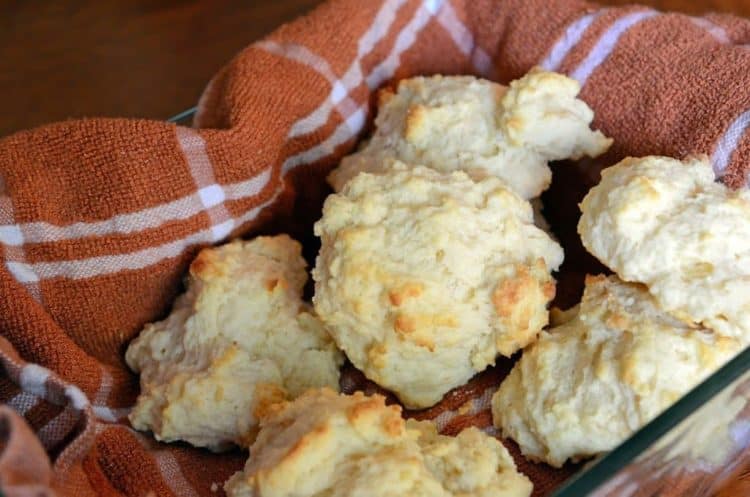 Under ordinary circumstances, we get two meals out of this recipe, the chicken and biscuits one night, and then a couple of nights later a chicken potpie put together with the leftovers. And then there is the broth. "What broth?" your are probably asking. The answer: The broth that comes from simmering the chicken carcass. Typically we can get a quart or two of broth in this manner which freezes very well and can be used for any number of dishes at some point down the road. I talked a little bit about this very thing a few months ago, if you care to take a look.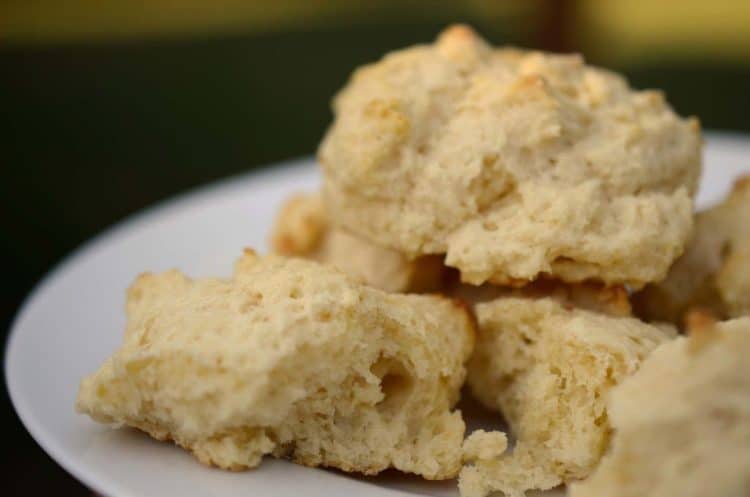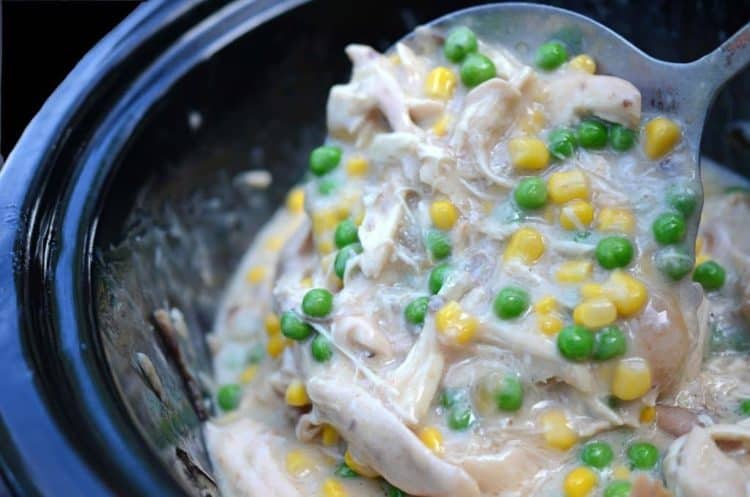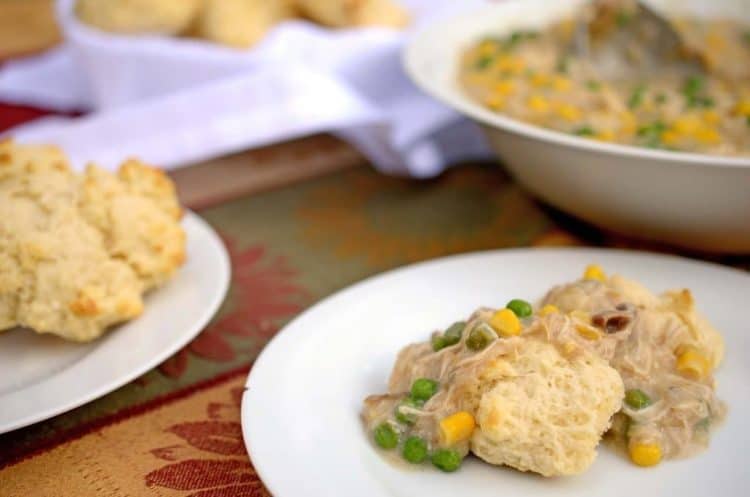 This down-home recipe makes two solid meals and a good amount of homemade chicken stock. Is this the gift that keeps giving? Maybe not a gift, but almost certainly something you will be happy with if you give it a try.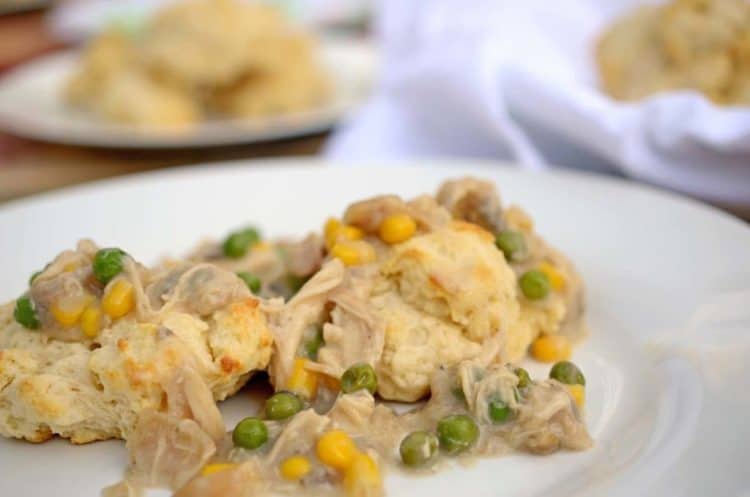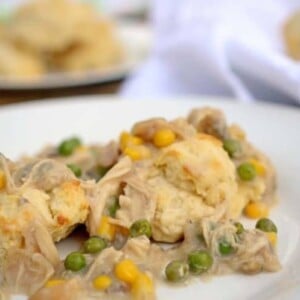 Chicken & Biscuits
Can you say, "Winner-winner, Chicken Dinner?!"
Ingredients
for the chicken
1

whole chicken

1

can cream of mushroom soup

1

medium onion

,

coarsely sliced and diced

2

cups

frozen corn

2

cups

frozen peas
for the biscuits
2

cups

all-purpose flour

2

tablespoons

sugar

4

teaspoons

baking powder

1/2

teaspoon

cream of tartar

1/2

teaspoon

salt

1/2

cup

vegetable shortening

1

egg

2/3

cup

milk
Instructions
for the chicken
Preheat slow cooker to high setting

Wash chicken thoroughly for 3 minutes using hands to vigorously rub bird under running water.

Place chicken in slow cooker.

Add cream of mushroom soup and onion

Cover bird in fresh ground peppercorn.

Reduce temperature setting to medium or low, depending on your slow cooker

Allow to cook, covered, for 6 to 8 hours

Remove cooked chicken from slow cooker and allow to cool on platter.

Add corn and peas to slow cooker and cover.

Remove meat from bones and place the meat back in slow cooker and stir with fork to incorporate meat with the peas and corn.

Keep warm and covered until ready to serve.
for the biscuits
Preheat oven to 450 degrees F.

In large mixing bowl, combine dry ingredients

Add shortening and work in with flour mixture using fork to achieve pebbly texture

In separate bowl combine egg and milk, beat until thoroughly combined.

Add liquid to to flour mixture, stirring until completely mixed.

Drop tablespoon-size portions on greased baking sheet

Bake 12-15 minutes or until golden brown.
Nutrition
Calories:
541
kcal
,
Carbohydrates:
45
g
,
Protein:
26
g
,
Fat:
29
g
,
Saturated Fat:
8
g
,
Cholesterol:
94
mg
,
Sodium:
237
mg
,
Potassium:
711
mg
,
Fiber:
4
g
,
Sugar:
7
g
,
Vitamin A:
473
IU
,
Vitamin C:
20
mg
,
Calcium:
142
mg
,
Iron:
3
mg
Nutrition information is automatically calculated, so should only be used as an approximation.