Garlic and Ginger Chicken Pizza
on Jan 24, 2014, Updated Apr 07, 2020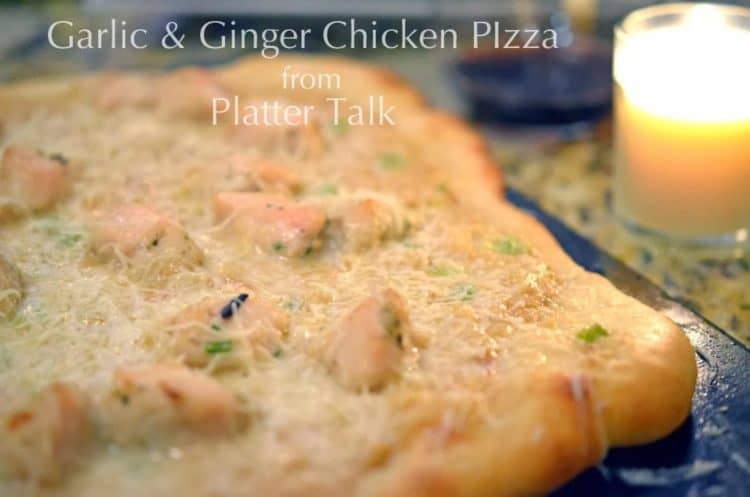 I've touched upon what I consider to be my most revered of culinary creations, once or twice in the past here on Platter Talk. There was the Garlic and Oregano Pizza that I put together last June, along with my pizza dough recipe. Then, a few months later when faced with some leftover buratta cheese, there came along this wonderful little Pizza Margherita con Buratta. Today I'm super pleased to add yet another pizza creation to the mix. Feast your eyes and your gastronomical fantasies upon this: The Garlic and Ginger Chicken Pizza, from Platter Talk.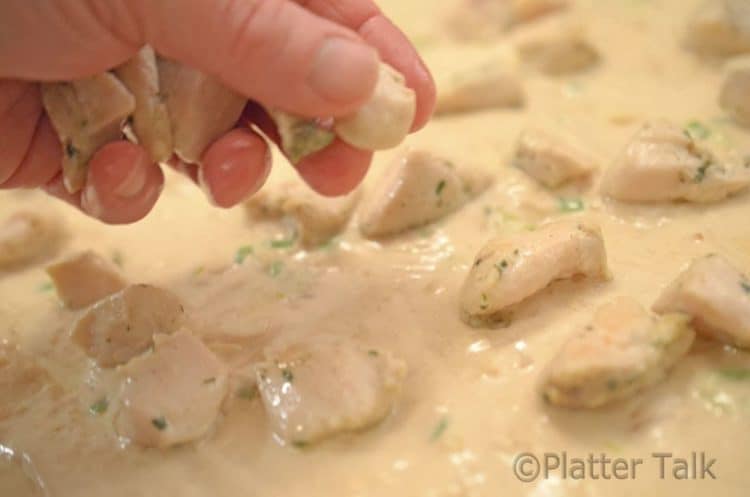 Those who know me best also know that I consider pizza to be one of the greatest gifts to humanity. As horrific as it sounds today, my first memories of pizza were from a box mix. In the box came pretty much everything you needed for a "homemade pizza." Flour mix, sauce, and a packet of grated substance purported to be cheese. Still, those mixes, made on Sunday nights, added to the magic of The Wonderful World of Disney, preceded by Animal Kingdom, all indelibly etched into my childhood memories on the farm.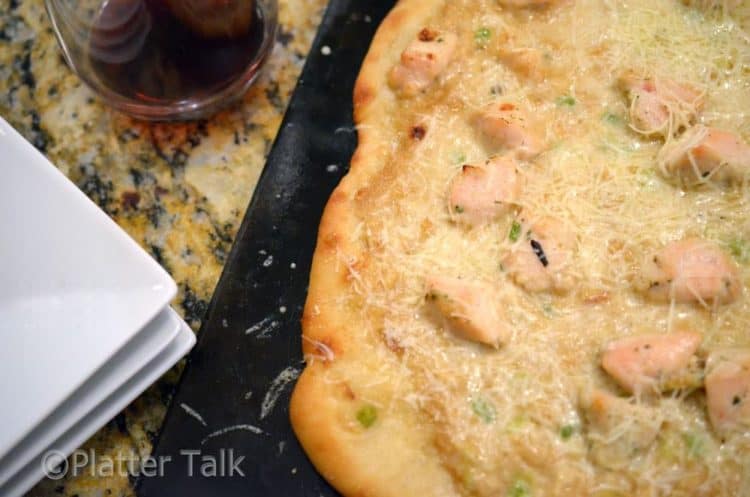 I miss almost everything about those days, box mix pizzas are the exception. Quite some time ago, I finally reached the point in my kitchen life where I am happy with the composition of my dough. Upon attaining that point of my pizza making odyssey, I felt even more freedom to develop and create pizza topping ideas.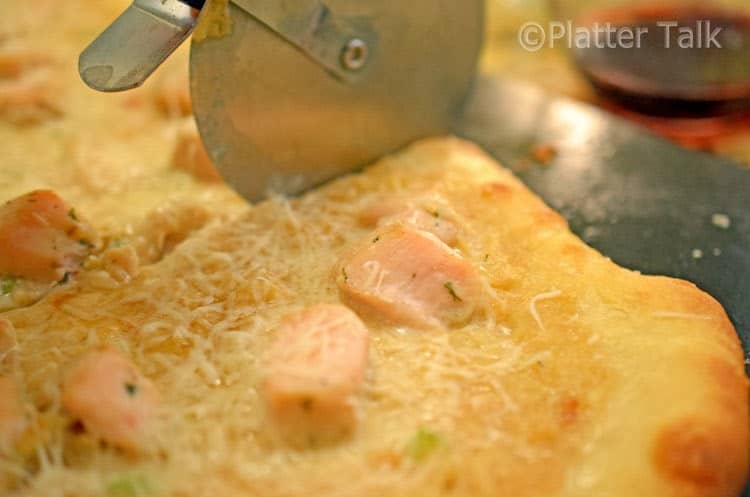 With this cold weather and a couple of unused chicken breasts from the previous night, I started thinking pizza. And chicken. I've done a couple of Thai chicken pizzas in the past the rocked my world, but tonight I was thinking a little more comfort, maybe a little cream.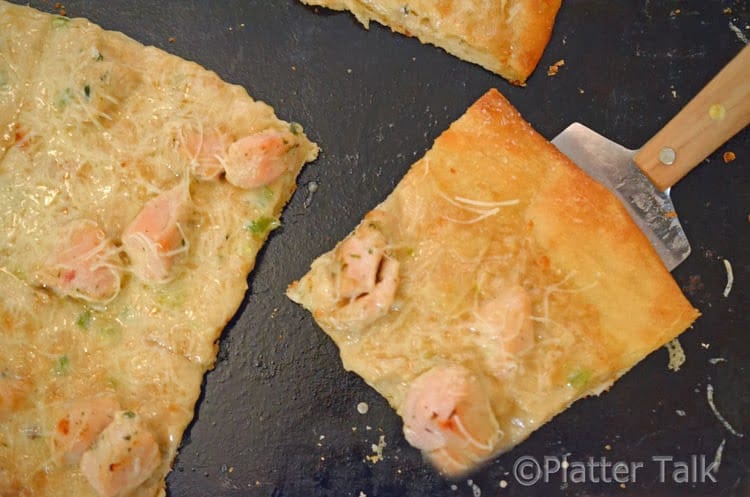 Having never made a white pizza sauce before, I was in uncharted waters but I had failed more than one attempt at new pizza ideas and was undaunted by the prospect of another. Happily, that did not prove to be an issue in this instance.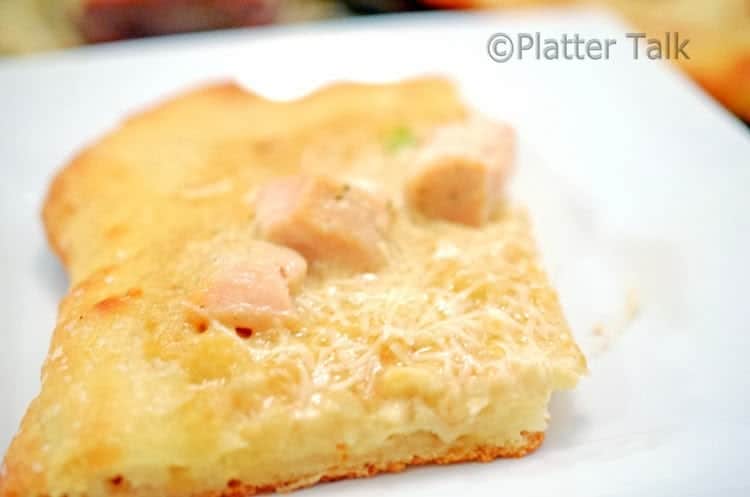 It had been a while since the last time I made a pizza and even longer since I had put a new one together. The white sauce with a cream base proved to be just the ticket to provide a nice medium for the succulents and a great base for the chicken breast and shredded Parmesan. This was the first time this pizza made an appearance in our kitchen. It won't be the last.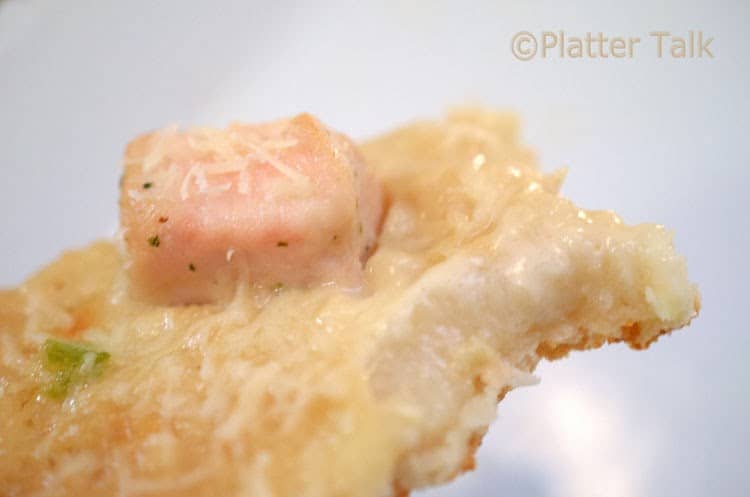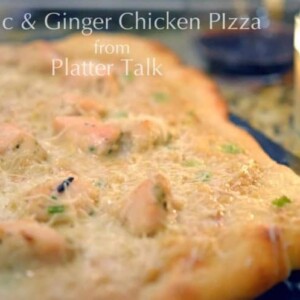 Garlic and Ginger Chicken Pizza
A Platter Talk Exclusive
Ingredients
for the topping
8

oz

of boneless chicken breasts

1

cup

heavy cream

1/2 to 1

cup

milk

1/2

cup

Sherry

3

garlic cloves

1

" x 2" cube of fresh ginger root

,

peeled

1

tablespoon

thinly sliced green onions

3

tablespoons

olive oil

,

divided

1-2

tablespoons

flour

1

tablespoon

kosher salt

4

oz

grated Parmesan cheese
Instructions
Preheat oven to highest setting, 500-550 degrees is preferable.

Place pizza stone in oven

If using metal baking sheet for pizza, reduce heat by 100 degrees.
for the topping
Combine ginger and garlic in small food processor and finely process, set aside.

Cube chicken breast into 1/2 to 3/4 inch pieces.

Heat 1 tablespoon olive oil in saute pan over medium heat setting.

Add chicken and stir until light brown but not completely cooked.

Place chicken in small bowl using slotted spoon, cover with foil and set aside.

Discard juice from pan.

Place remaining 2 tablespoons in saute pan and heat on medium setting.

Combine chopped garlic and ginger with green onion and lightly saute until translucent.

Add Sherry to aromatics and reduce to 1/2 original volume.

Add cream and milk, stir until warm.

Gradually add flour, while stirring continuously with a wooden spoon.

Mix to desired consistency which should be thin enough to spread easily but thick enough to prevent it from being runny.
to assemble pizza
Tear a piece of parchment paper to approximate size of pizza stone.

Using hand, flatten dough on parchment paper, use pizza roller or rolling pin to evenly shape edges if necessary.

Evenly spread sauce over dough.

Evenly distribute chicken atop sauce.

Sprinkle salt over chicken and sauce.

Using heavy oven mitts, remove hot stone from oven and slide parchment paper on top of stone.

Bake for approximately 20 minutes or until bottom of dough is brown hand crispy.

Remove from oven, sprinkle grated Parmesan cheese evenly over pizza.

Allow to set for 5 minutes before cutting.

Tips

For added flavor, try using marinated chicken breasts.

Adjust baking time as necessary. Using a metal baking sheet will require a slight longer baking time, at a lower temperature.
Notes
For added flavor, try using marinated chicken breasts.
Adjust baking time as necessary. Using a metal baking sheet will require a slight longer baking time, at a lower temperature.
Nutrition
Calories:
424
kcal
,
Carbohydrates:
34
g
,
Protein:
18
g
,
Fat:
24
g
,
Saturated Fat:
11
g
,
Cholesterol:
73
mg
,
Sodium:
1593
mg
,
Potassium:
180
mg
,
Fiber:
1
g
,
Sugar:
5
g
,
Vitamin A:
601
IU
,
Vitamin C:
1
mg
,
Calcium:
199
mg
,
Iron:
2
mg
Nutrition information is automatically calculated, so should only be used as an approximation.