How to Make a Pie Crust from Scratch
on Oct 03, 2016, Updated Dec 11, 2020
The truth is, few things in the kitchen have ever intimidated me. Making a pie crust from scratch was the exception.
With some flour and a little ice water and cold butter, I'm going to show you how to make an easy homemade pie crust.
How to Make a Pie Crust from Scratch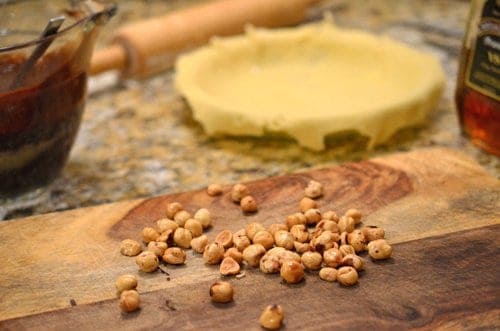 Our Brandy-Infused Chocolate Chess Pie with Roasted Hazelnuts
There was a time when the thought of making a pie crust could put me into the same state of mind as getting my yearly taxes together. Panic mode would set in. I hadn't made pie dough often but when I did it seemed as tho I was never sure of what I was doing and it seldom turned out to my satisfaction.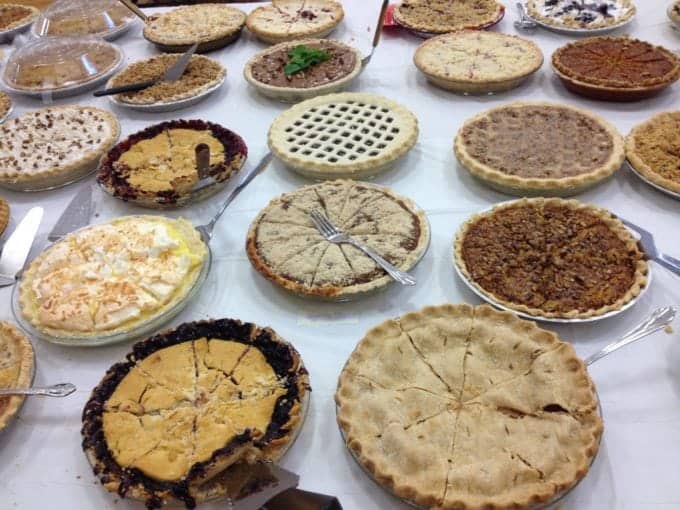 While growing up, I'd watched my mother and sisters make pie crust with the seemingly mindless effort that was required to fold a basket of towels. A no-brainer, for them. Why wasn't it easy for me? Then one day, an old saying came to my mind. "How do you get to Carnage Hall? You practice, practice, practice." I had to practice.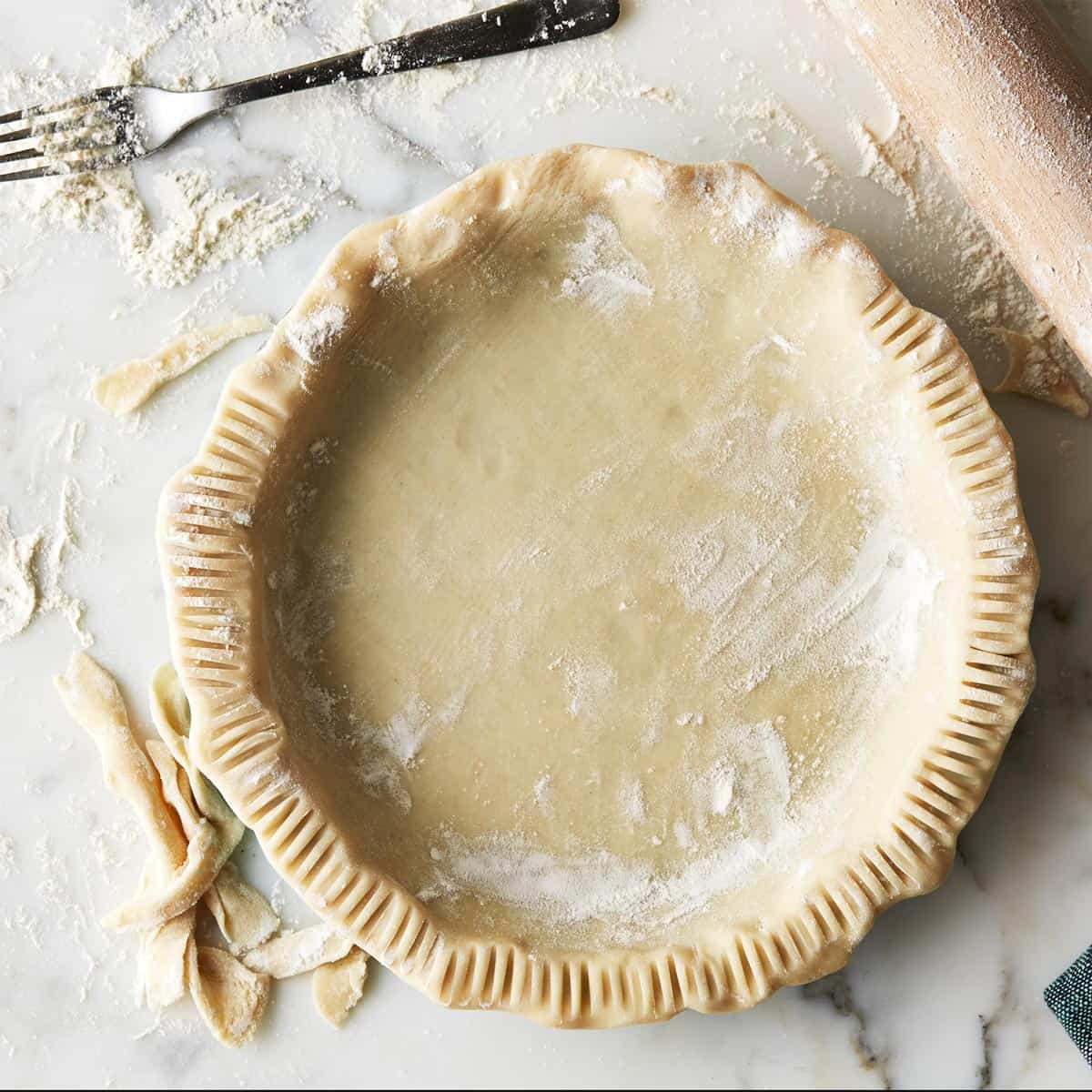 Ingredients for homemade pie crust

Flour

All-Purpose flour or Pastry Flour both work. Try different combinations of each to get the type of crust that your looking for.

Fat

You can use straight butter (best flavor) lard (homemade lard may add a savory flavor) or shortening (easiest to handle) or a mixture of any of the above. I've even seen vegetable oil called for as the fat.
If you are using straight butter, remember it starts to melt at 59*. With a body temp of 98.6* a pastry cutter might work out better then using your hands to mix.

Ice water

I use mostly ice so the water stays very cold.

Salt

Some recipes call for regular salt, others for kosher salt. You also have the option of mixing the regular salt with flour or with water.
How to make it

Use a bowl (metal) for mixing that will easily contain your hands and ingredients without spilling over when working.
Place flour into a bowl.
Cut in fat & salt with a pastry blender until your ingredients look like coarse crumbs.
Gradually add water, by the tablespoon and while gently blending with a rubber spatula or wooden spoon.
Watch for your crumbs to curd to the size of peas.
If you are uncertain, add a tad more water. If the pie dough is too dry, it won't stick together when your try to roll it out but if you add too much, you'll end up with a tough crust.
Once you add more water, and the dough sticks together when gently squeezed, you've got the correct consistency.
Place your dough on a work surface and give it a few folds over onto itself
Then, shape into a flat, 2 sided round, place in plastic wrap & refrigerate for 1/2 hour. This will give the gluten a chance to relax so that when the rolling time comes, it will stay put and won't spring back.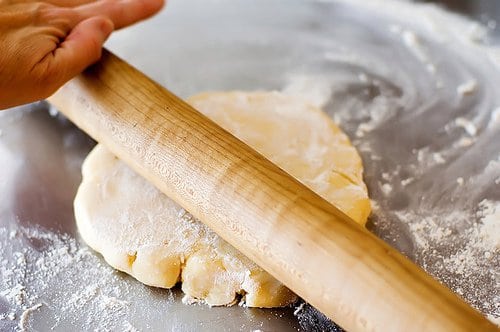 Rolling the dough was always tricky for me. First lightly flour your rolling board and rolling pin. I found that I was applying too much pressure and ended up with cracks and fishers all over my crust. With the help of my sister, I learned to ease up and apply a more evenly distributed roll. Start in the center and gently roll out to the edge, turning dough 10* at a time, making sure that the dough doesn't stick.
"The truth is, few things in the kitchen have ever intimidated me. Making a homemade pie crust was the exception."
Try to end up with a dough that is round and approx. 1/8" thick. Roll the dough 1/2 way around your rolling pin and slide it into the pan. Or, you can 1/2 then 1/4 the sheet of dough and fold it in the pan. Let the dough find the corners of the pan by gently working and lifting dough to a smooth fit with your pan. If you stretch the dough, it will shrink during baking. Chill crust once again.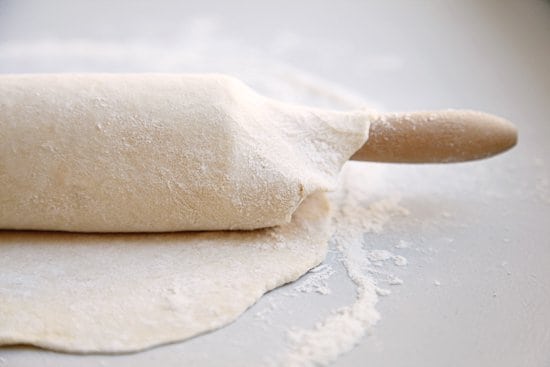 I think that my glass pans are my favorite for baking pies. I can see when the pie is done on the bottom. When I'm using a disposable aluminum, I always place it inside a glass pan to give the aluminum stability and more evenly distributed heat. I feel that dark pans absorb too much heat and have a propensity to burn. Shiny metal pans tend to deflect heat and make a soggier crust.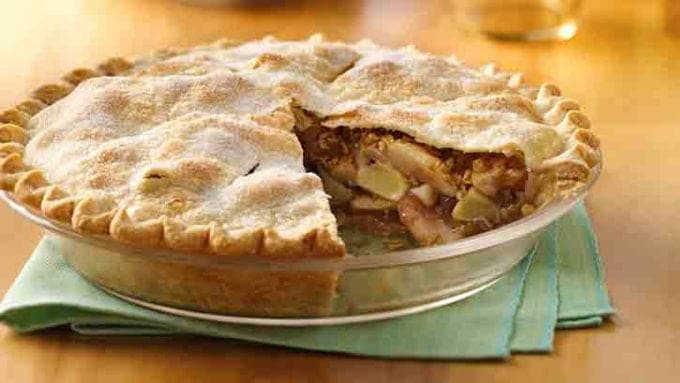 Depending on my filling and to avoid a soggy bottom, I put a baking sheet on the bottom rack of the oven. The pie enters the oven, place directly on the baking sheet at 475℉ for 15-20 minutes. This gives the chilled dough a shock of heat and helps to set the crust. Next, the temp is knocked back to 375℉ for about 40 minutes more.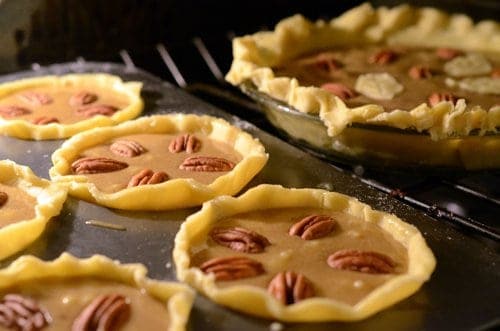 Our family recipe for Pecan Pie
About halfway through the baking time, I check the pie to see if the crimp in the crust is browning too fast. If it's almost the color I'm looking for but still only halfway cooked, I know that I have to put aluminum around the top (in a halo, shinny side out) or I'll have a burnt crust before the pie is actually finished cooking.
You will know that your pie is done soon after the aroma hits your nose. Look for steam and bubbles coming up through the vents and your pie will be done. Finally, allow the pie to cool until the contents are set, usually at least 15 minutes to a half-hour.
Homemade pie is a part of my heritage and like other foods that have been an integral part of my life, I'm often reminded of the people in my life that I associate with pie. My good friend Liz, who I grew up with, is a perfect example of this.
It's with her immortal words that I dedicate our lifelong friendship with, through this post. "If I don't get a piece of pie, I am afraid I'll simply DIE." Thank goodness, we have enough pie ideas right here on Platter Talk to keep Liz around for a long, long time.
Easy Homemade Pie Recipes
👨‍🍳 Tried this Recipe? Please leave a ⭐⭐⭐⭐⭐ rating in the recipe card below and leave a comment. We love hearing from our readers!
⏩ Stay in touch with us on social media by following us on Facebook, Pinterest, Instagram, and YouTube!
📬Get our Recipes delivered to your inbox for FREE!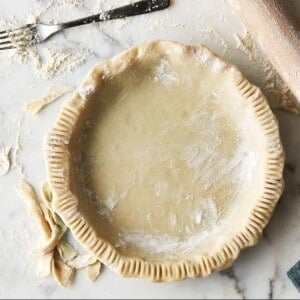 Homemade Pie Crust
This homemade pie crust will be your go-to recipe for delicious pastry desserts!

Instructions
Combine flour, shortening, sugar, and salt.

Work together with a fork until consistency is pebbly

In separate small mixing bowl, beat egg and add water and vinegar, beat again.

Add liquid mixture to flour and shortening then use a fork to stir and form into a ball. Roll out dough on a lightly-floured surface.


Notes
Adjust amounts of flour and water as necessary.
Nutrition
Calories:
410
kcal
,
Carbohydrates:
37
g
,
Protein:
5
g
,
Fat:
26
g
,
Saturated Fat:
6
g
,
Cholesterol:
20
mg
,
Sodium:
301
mg
,
Potassium:
57
mg
,
Fiber:
1
g
,
Sugar:
1
g
,
Vitamin A:
30
IU
,
Calcium:
10
mg
,
Iron:
2.3
mg
Nutrition information is automatically calculated, so should only be used as an approximation.